Panama soared to a 2-1 victory over a sloppy Mexico side on Sunday in the 2013 Gold Cup, adding to Mexico's recent struggles.
Right from the start things were rough for Mexico. Panama got a penalty kick in the seventh minute, which resulted in a goal courtesy of Gabriel Torres.
CONCACAF tweeted:
7' - #Panama takes a 1-0 lead over #Mexico ... Gabriel Torres converts the PK ... #CONCACAF #GoldCup2013 @fepafut

— CONCACAF (@CONCACAF) July 8, 2013
Fox Soccer tweeted out video of the penalty and goal:
GOAL Panama! See Torres convert a penalty to give his side the lead over Mexico: - http://t.co/xZGzU0murV

— FOX Soccer (@FOXSoccer) July 8, 2013
Mexico had a shot at equalizing in the 12th minute, but Rafael Marquez Lugo missed on a header off a cross on a corner from Marco Fabian.
Torres had a chance to score again for Panama in the 16th minute, but his attempt sailed high and wide. One thing was sure from the start: Panama was giving the young Mexican squad a run for its money.
Panama's attack was impressive early on, creating danger for much of the first half, but the defense was also strong, closing down on the ball well and not allowing many prime opportunities for Mexico.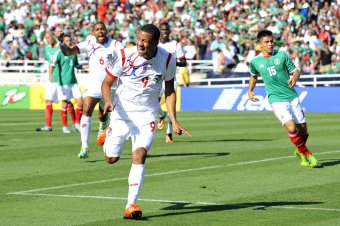 Gary A. Vasquez-USA TODAY Sports
Alejandro Castro tried to find Fabian at the back post in the 38th minute, but his touch was too strong. It highlighted a half that was largely a mixture of solid defense from Panama and ineffective offense from Mexico.
It only seemed to be getting worse down the stretch in the first half, too. Panama had two point-blank opportunities in the 39th minute, and Cecilio Waterman hit the post in the 40th minute.
But in stoppage time, Marco Fabian's determination paid off as Israel Jimenez found him with a beautiful pass over the top which Fabian converted into the bottom-right corner of the net.
Fox Soccer hit us with the video:
GOAL Mexico! Marco Fabian equalizes against Panama just before halftime. See it: - http://t.co/klaoEWJ7sT

— FOX Soccer (@FOXSoccer) July 8, 2013
It was a huge goal for Mexico that equalized right before the half.
At halftime, it was tied up, 1-1.
Bobby McMahon of Fox Soccer posed an interesting question at the half:
Mexico very fortunate to be 1-1 with a Panama side who put a lot of effort into 1st half - can Panama maintain that level of effort?

— Bobby McMahon (@BobbySoccerRep) July 8, 2013
Through the first 45-plus minutes, Mexico held the ball for 68 percent of the time but only managed four shots (three on goal). Panama registered six shots (one on goal).
The second half started just as poorly as the first one did for Mexico.
In the 48th minute, it was Torres again for Mexico with a spectacular finish into the bottom-left corner of the net off a feed from Alberto Quintero.
Fox Soccer tweeted out the highlight:
Watch as Torres scored his second goal to give Panama the lead over Mexico: - http://t.co/xFxsVDuLGW

— FOX Soccer (@FOXSoccer) July 8, 2013
EA Sports resident gamer EA Jorge was not impressed, referencing Canada's ugly 1-0 loss to Martinique earlier in the day:
Oh boy, #Mexico . Were you inspired by #Canada ? Another upset in the making. #Panama #GoldCup

— EA_Jorge (@EA_Jorge) July 8, 2013
In the 53rd minute, Fabian was anxious to equalize again, but his attempt hit the post and Panama breathed a sigh of relief.
Waterman was winning footraces with Mexico nearly every time he got the opportunity on Sunday. Mexico had clear trouble with him and the side was lucky he didn't create more goals than Panama already had.
Panama effectively killed the clock from there on out, with Mexico only occasionally threatening. It was a convincing win for Panama, and a brutal loss for Mexico.
Grades
Mexico
Grade
Panama
Grade
Jonathan

Orozco

C
Jaime

Penedo

B+
Israel

Sabdi

Jimenez

Nanez

C+
Leonel Parrish
B
Joel

Huiqui

Andrade

C-
Carlos Rodriguez
B
Adrian

Aldrete

C-
Roman Torres
A-
Jorge

Enriquez

Garcia
D+
Roberto Chen
B

Jair

Pereira

Rodriguez
C-
Gabriel Enrique Gomez
B
Marco Fabian

de

la Mora
A-
Marcos Anibal Sanchez Mullins
B
Efrain

Velarde

C-
Alberto

Quintero

A
Alejandro Castro
C-
Anibal

Godoy

B
Raul Jimenez
C-
Gabriel Torres
A
Rafael Marquez Lugo
C-
Cecilio Waterman
B+
What's Next?
Mexico will play Canada on Thursday, while Panama will face Martinique. Canada lost to Martinique on Sunday, 1-0.