UFC 162 Results: Silva's Loss to Weidman Brings out the Hypocrite in Everybody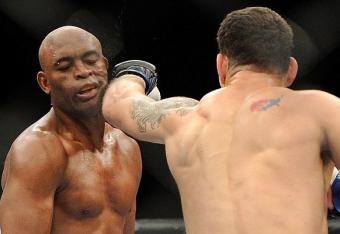 From UFC.com

The narrative of Anderson SIlva's UFC 162 loss to Chris Weidman is hypocritical to comical proportions. In an article blaming Silva's hubris for the upset loss, seasoned hypocrite Kevin Iole of Yahoo! Sports said of Silva's loss:
Anderson Silva embarrassed himself and disrespected the sport that made him rich and famous.
USA Today claimed that Sliva "showed little respect to opponent Chris Weidman." MMA Mania stated "Arrogance caught up to Anderson Silva" en route to his first career loss in the Octagon. Even Chris Weidman was caught on camera calling Anderson Silva a "disrespectful piece of s--t." A poll with more options than a buffet line on MMA Torch revealed that the majority of readers—33 percent to be exact—felt elated with Silva's loss since they hated Silva's clowning.
The lemming-like sentiment continued on Twitter, The Internet's short bus:
Karma Bites Anderson Silva After @UFC 162 Taunting Spectacle - Fight Network http://t.co/sA5CosMexs @fightnet #UFC162 #MMA @ChrisWeidmanUFC

— Fight Network (@

fightnet

) July 7, 2013
GIFS: Anderson Silva's strategy of "LOL" falls victim to Chris Weidman's strategy of "Punches" http://t.co/8NqgMA9wc1

—

theScore

(@

theScore

) July 7, 2013
A lesson for all of you out there. When you're on top, don't take you talents for granted. Just ask @SpiderAnderson

—

Geroy

Simon (@geroysimon) July 7, 2013
I'm not sure why Anderson Silva even bothered to show up to fight tonight. That was absolutely ridiculous. Fights like this hurts MMA.

— Henry

Wofford

(@HenryWoffordCSN) July 7, 2013
Remember Kevin Iole's claim of Anderson Silva embarrassing the sport of MMA after his hands-down loss to Weidman? Here's that exact same Kevin Iole, following a Silva victory using the exact same strategy:
Anderson Silva, the UFC's reigning middleweight champion, recorded one of the most sensational victories of his career by knocking out former light heavyweight champion Forrest Griffin with a jab while Silva was backpedaling.
That bout at UFC 101 saw Silva clown and taunt Griffin like an overzealous street baller at Rucker Park. At one point, Silva mockingly offered to help Griffin to his feet after knocking him down. Iole went on to call the victory "one of the most astounding knockouts of [Silva's] career."
Words such as "disrespect," "arrogance" and "hubris" were nowhere to be found.
In fact, the post-fight narrative of UFC 101 was universally glowing praise of Silva's dominance, or "MMA mastery" as Bloody Elbow referred to Silva's clowning at the time.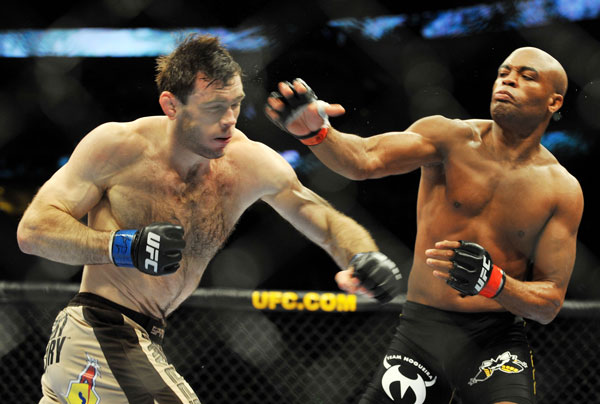 Silva has received comparisons to Muhammad Ali with his daring, flamboyant style of defense (or lack thereof) mixed with deadly striking ability. But mastery has turned to malice, with the only variable being the outlying result of a strategy once considered awe-inspiring.
Noting the use of the word "strategy" is very important for purposes of perspective. Following Silva's loss, Joe Rogan adopted a reprimanding tone as he complained that no other fighter is taught to put his or her hands down and dodge punches the way Silva does.
The answer to that dilemma is simple. There is no other fighter like Anderson Silva.
Silva's tactic to goad fighters into punching him falls perfectly into his plan. He's the greatest counter-striker of all time. Convincing a fighter to engage with Silva will only facilitate the Spider's elite counter attack, as has been the case many times in his seven-year reign.
Silva's clowning has worked especially well against American fighters, who are typically more aggressive and prone to letting ego and pride get the best of them. Forrest Griffin and Stephan Bonnar both fell victim to his counter-striking as a direct result of their foolish insistence on taking the bait when Silva dropped his hands.
Following the countless occasions where clowning has worked, Anderson Silva was Muhammad Ali. The one time it didn't, the irrational drive-by media has deemed him Roy Jones Jr.
Disrespect, arrogance, boredom and the litany of excuses used to over-explain Silva's loss are simply residual effects of delusion brought on by a disbelief of Anderson Silva's reported demise.
A risky strategy simply backfired. The fact that he was able to use it effectively for so long isn't karma coming back to bite Anderson Silva. It is a reminder that Silva's other-worldly talent is the reason it worked.
This article is
What is the duplicate article?
Why is this article offensive?
Where is this article plagiarized from?
Why is this article poorly edited?