Texas Football: Mack Brown's 5 Most Important Assistants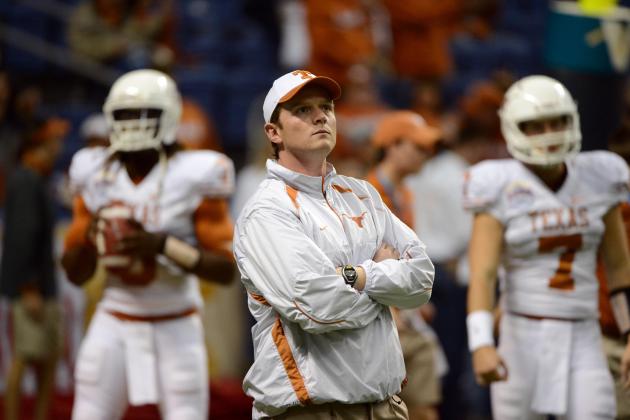 Brendan Maloney-USA TODAY Sports
Newly-minted offensive coordinator Major Applewhite heads up Mack Brown's all-important group of assistant coaches.
Every bit as important to the past, present and future of Texas football as Mack Brown are the 16 assistants on his staff. Though all eyes will be on the coordinators, this group is loaded with important under-the-radar guys who make this program go.
Just as every CEO of a Fortune 500 company needs a rock-solid assistant, so do head coaches of major college football programs. Brown is no different, and he has spent a lot of resources getting the best assistants possible on his staff.
But after three seasons of mediocrity, fans are wondering if these guys are really worth their salt, or, rather, the millions of dollars the program has invested in them. Most importantly, are these the guys who are actually going to get this thing turned around?
For some of them, this season is their last to prove that they are the answer to that question as their success will dictate whether 2013 is actually the year the program turns the corner. For others, they are just getting started on their path to becoming mainstays.
One thing is for sure, these are currently the five most important members of Brown's staff.
Begin Slideshow

»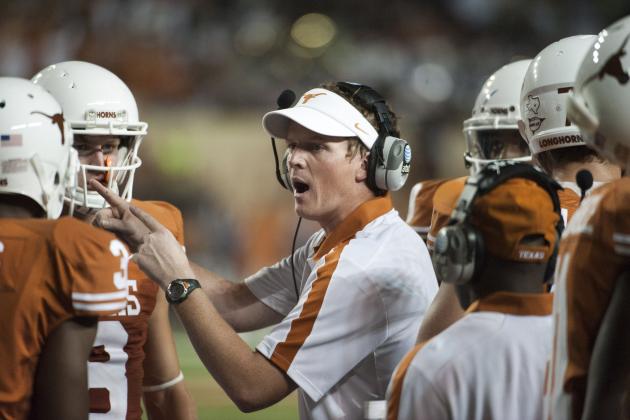 Brendan Maloney-USA TODAY Sports
Does play-caller Major Applewhite hold the key to remaking the Texas offense into a national power?
Major Applewhite's December promotion to offensive coordinator immediately made him the most important assistant on the Texas staff. And the "Eyes of Texas" will certainly be upon him throughout his debut season.
Tasked with making Texas the offensive juggernaut it was back in the 2000s, Applewhite has four major items on his plate. The first among them being the implementation of an up-tempo scheme aimed at averaging an extra 15.5 plays per game, according to ESPN Insider (subscription required).
Aside from the changing scheme, Applewhite will also serve as the primary mentor for talented-yet-inconsistent quarterback David Ash. All this while trying to balance the contributions of four talented running backs and getting the most out of a largely inexperienced receiving corps.
As if this was not enough, Applewhite is also likely to face some scrutiny for an inappropriate relationship with a student. The incident occurred back in 2009, and Applewhite was disciplined shortly after, though the story was only recently reported and will certainly draw the ire of Longhorn critics.
Offense is the name of the game in the Big 12, and it is Applewhite's responsibility to make sure his can move the ball against even the stiffest competition. With 10 returning starters, that is the expectation, and his success is paramount to Texas' conference title hopes.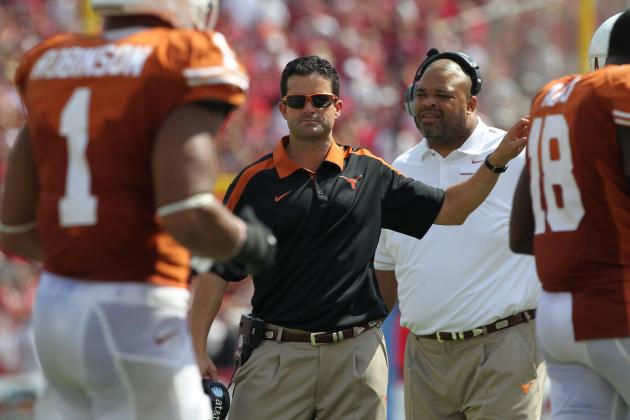 Matthew Emmons-USA TODAY Sports
Defensive coordinator Manny Diaz's bounceback from a miserable 2012 campaign will make all the difference for the Longhorns.
Defensive coordinator Manny Diaz is coaching for his job this season. If he is still around in 2013, it will mean the Texas defense had an epic turnaround in his fourth season.
Following a stellar debut season in which his unit finished 11th in the nation in total defense, Diaz's second year was the football-equivalent of the Hindenburg. His defense was the worst in school history, giving up over 40 points in three of the team's four losses.
While the offense is expected to produce at a high level, Diaz's group must be better in 2013. He returns nine of his starters, while also getting some experience back at his linebacker position that struggled with growing pains last season.
Diaz needs to get his defense allowing less than 25 points and 350 yards per game. Not only would that get it back in the neighborhood of his 2011 group, but it would also vault Texas through the Big 12 and back to the BCS.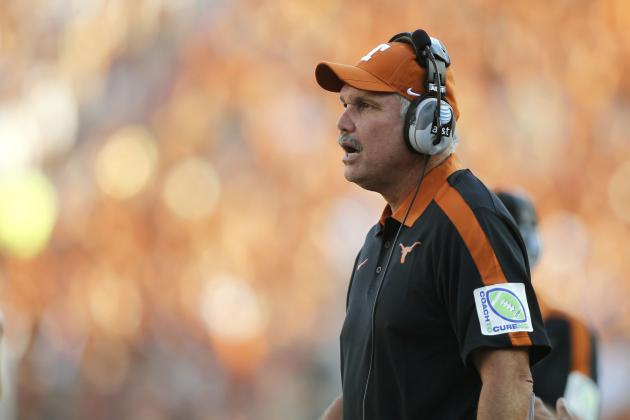 Erich Schlegel/Getty Images
Duane Akina is one the finest position coaches in all of football and has a chance to improve on that reputation in 2013.
No assistant on the Texas staff deserves more respect than defensive backs coach Duane Akina. This season gives him another chance to prove why.
Akina's resume speaks for itself. As a Texas assistant, he has almost single-handedly earned Texas the distinction as "DBU," as proven by the 11 players he has sent to the NFL and three Thorpe Award winners which he has mentored.
This season presents just the latest challenge in Akina's 35-year coaching tenure. His latest first-round selection, Kenny Vaccaro, has cost him his best player and the only reliable safety from his 2012 secondary.
Now his offseason will center around getting Carrington Byndom and Adrian Phillips back to top form, while also getting Vaccaro's replacement ready for the best of the Big 12—that and salvaging the 2014 defensive back recruiting class, which just lost out on Arrion Springs.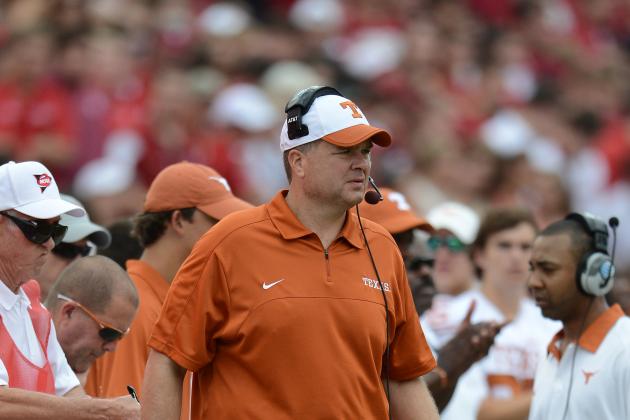 Matthew Emmons-USA TODAY Sports
Will 2013 be the year that Stacy Searels finally fields the offensive line that the Longhorns have been craving?
Like Manny Diaz on defense, offensive line coach Stacy Searels needs things to come together for him in 2013. If his recruiting efforts are any indication, he should be just fine.
When Texas hired the ex-SECer Searels, it signified a brand-new commitment to dominating the line of scrimmage. But that has not been the case, with Texas averaging a middling 4.5 yards a pop each of his first two seasons and struggling to get push against tougher defensive lines.
This season looks like the year Searels will follow through on his expectations. He has brought in nine of the nation's best lineman the past two seasons, garnering himself recognition as one of the nation's top recruiters in 2013, according to 247Sports, to make his group two-deep in 2013.
With Texas looking to push the pace, Searels must get his guys in shape and be prepared to pull an upperclassmen in favor of a freshman if necessary. Otherwise, the 'Horns will not accomplish everything that they need to this season.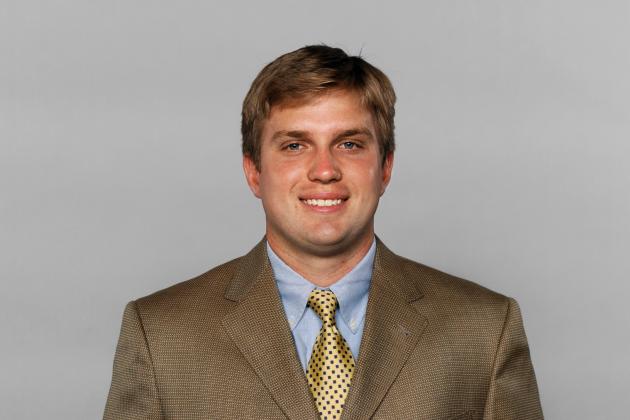 Getty Images/Getty Images
Patrick Suddes' sole mission is to revamp the recruiting process at Texas.
Though Patrick Suddes has only been a part of the Texas program since March, his impact can already be felt on the recruiting trail. It is only a taste of what is to come.
After years of debating whether to hire a director of player personnel, the 'Horns finally decided on Suddes this spring. He brings seven years of recruiting and talent evaluation experience under Nick Saban, including the last five as associate director of recruiting for the nation's premier program on the trail.
While the effectiveness of Suddes' evaluation process will not be revealed for a couple of seasons, he already has 21 commits for 2014 and the first six sophomore offers in Longhorn history.
He has yet to bring in the eye-popping recruit for the 2014 class, but Suddes is a certainly a step in the right direction for the program. He will be the first of many staff members to focus solely on talent evaluation, allowing the coaches to nurture more of what actually happens on the field.
In short, fiascos like Garrett Gilbert and Taylor Bible should be a thing of the past.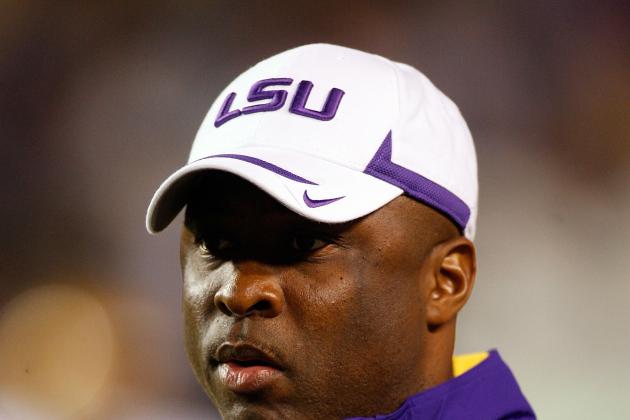 Chris Graythen/Getty Images
EX-LSU recruiting ace Larry Porter is every bit as good at coaching running backs as he is getting getting them on campus.
Also in his first season at Texas is running backs coach Larry Porter, known for great coaching and recruiting alike. He just needs more time to make his mark.
Porter's past as a running backs coach is one tattooed with success. At LSU, he sent five players to the NFL in as many years, along with a 2007 national championship averaging 214.1 yards on the ground. Last year at Arizona State, he coached the nation's No. 24 rushing offense while putting up two 300-yard games, which is two more than Texas has had since 2007.
Porter is also a legendary recruiter. In 2011, Rivals named him the Recruiter of the Decade for his mastery of the Louisiana Pipeline, landing three 5-star talents while at LSU.
Texas will need Porter to continue his awesome success in both fields. The 'Horns need help balancing the load for their four running backs, something they did well en route to a national championship in 2005. As for recruiting, their 2014 class still lacks a 5-star talent after failing land one in 2013.
Give it time and watch Porter become the offense's version of Duane Akina.