Miami Football: Power Ranking the Strongest Positional Units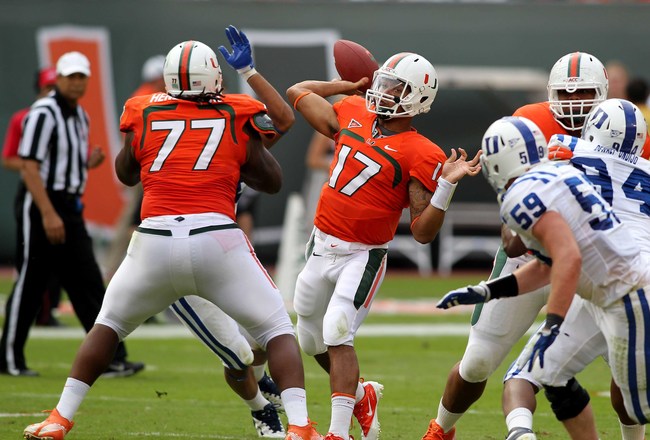 Henderson and Morris are both great players, but which of Miami's positional units is the best?
Robert Mayer-USA TODAY Sports
The Miami Hurricanes' roster is full of talent, but only one positional unit can be the best on the team.
Stephen Morris and Duke Johnson are two of the 'Canes most talented players, and each player can carry his respective position toward the top of the list.
But sometimes, the answer may be found in a commonly overlooked place.
Third-year head coach Al Golden has a bright future in Coral Gables, but where is the majority of Miami's talent for the 2013 season? Leave your thoughts in the comments section below!
8. Defensive Line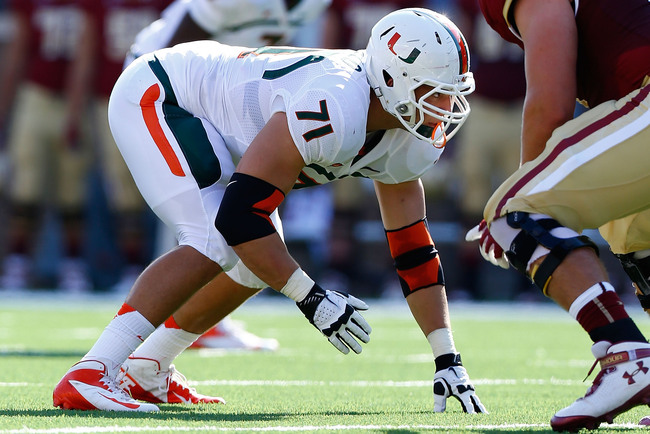 Chickillo wants to rebound from a disappointing 2012 campaign.
Jared Wickerham/Getty Images
A team's defensive success starts with the linemen, and sure enough, it is where the 'Canes must improve the most.
The Miami defense allowed 26.2 first downs per game in 2012, and the Hurricanes have a tough time scoring when the offense is on the sideline.
Anthony Chickillo and Shayon Green, the two starting defensive ends, combined for 112 tackles last season but collected only 8.5 tackles for loss. Olsen Pierre had a solid season—making 27 stops, five of them for a loss, and 1.5 sacks. But the rest of the Hurricanes' defensive linemen must make huge improvements.
A rotation comprising two of Luther Robinson, Curtis Porter, Jalen Grimble, Corey King and Earl Moore played many snaps at defensive tackle, but the five players combined for just 47 tackles and 2.5 behind the line of scrimmage.
Add in the fact that Al-Quadin Muhammad is not yet on campus, Devante Bond may not qualify and Ufomba Kamalu is in jeopardy, too, the 'Canes are completely reliant on returning linemen other than transfer David Gilbert.
That is, shall I say, not good.
7. Secondary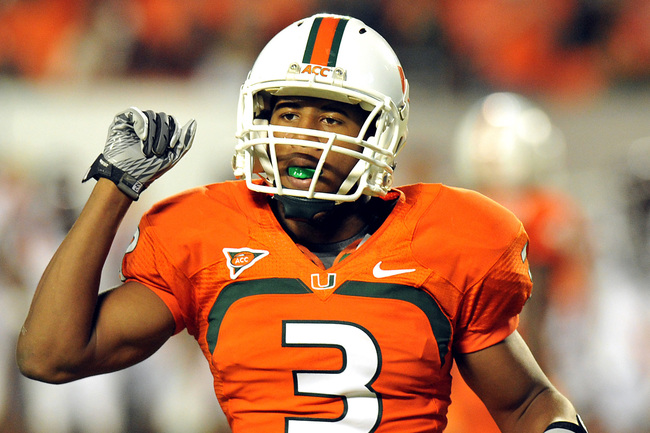 Maybe 2013 will be when Tracy Howard meets his lofty expectations.
Steve Mitchell-USA TODAY Sports
Defensive coordinator Mark D'Onofrio must find the proper time and place for Miami's talent to be on the field, but the secondary getting better results than the six interceptions and nearly 61 percent opponent completion percentage like the crew did in 2012 is crucial.
Despite constantly getting burnt, Deon Bush, Tracy Howard, A.J. Highsmith, Kacy Rodgers II and Ladarius Gunter each had significant playing time last season.
Rayshawn Jenkins, Antonio Crawford and Nate Dortch, along with newcomers Artie Burns and Jamal Carter, give the 'Canes plenty of depth at both the cornerback and safety positions.
Miami's secondary could blossom into the brightest group of the defense, but at this time, that conjecture may be based on hope rather than reality.
6. Special Teams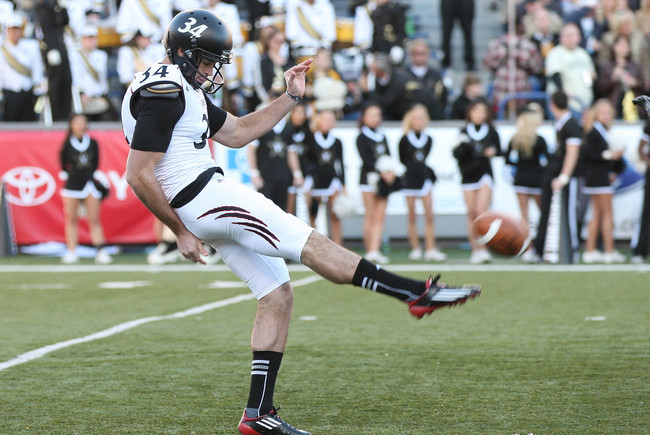 O'Donnell will be Miami's punter in 2012.
Nelson Chenault-USA TODAY Sports
Jake Wieclaw and Dalton Botts held down the kicking and punting duties over the previous two seasons, but both players moved on from the ranks of collegiate athletics.
After the 2012 campaign, it appeared Miami would have two completely new specialists. However, Pat O'Donnell transferred from the University of Cincinnati, giving the 'Canes a much-needed boost at punter.
Matt Goudis appears to be taking over the placekicking duties, and Golden is "excited" about the sophomore kicker, according to Manny Navarro of the Miami Herald.
O'Donnell brings game experience and can teach Miami's young specialists, and Goudis will be able to focus solely on kicking extra points and field goals instead of possibly punting as well during his first year on the field.
5. Linebacker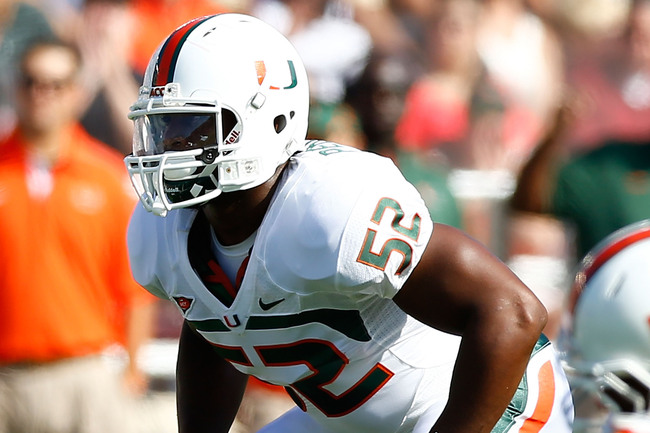 Perryman must be the anchor of the 'Canes linebackers this season.
Jared Wickerham/Getty Images
Denzel Perryman had a disappointing 2012 season hampered by injuries, but the once-Freshman All-American linebacker looks to be completely healthy this year.
And boy, did it look like the 'Canes were going to need him.
A wild offseason included departures of Eddie Johnson, Gionni Paul and Gabe Terry, as well as Ramon Buchanan foregoing a good chance at a sixth season of eligibility in favor of turning pro.
But after it looked as if Miami would be extraordinarily thin at linebacker with only Jimmy Gaines, Thurston Armbrister and Tyrone Cornelius—who each started a few games—returning, the 'Canes will be just fine.
Spring superstar Raphael Kirby will certainly make an impact at middle linebacker after being slowed by injury last season. Additionally, converted lineman Tyriq McCord, early enrollee Alex Figueroa, local product Jermaine Grace and late addition Walter Tucker complete a solid linebacker group.
4. Running Back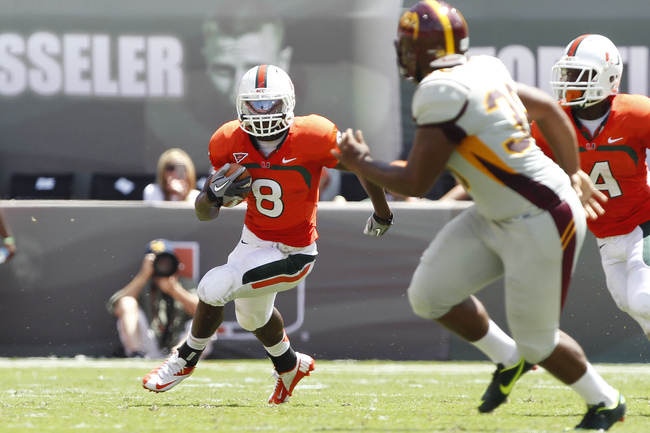 Duke exploded for more than 2,000 all-purpose yards in 2012.
Joel Auerbach/Getty Images
Little detail is needed concerning the starter, since Freshman All-American Duke Johnson is that man. Johnson compiled the second-most all-purpose yards in school history and scored 14 touchdowns while splitting carries with Mike James.
In 2013, however, Duke will be the featured runner.
Dallas Crawford is the clear backup at this time, especially since Eduardo Clements' status is still in question. But if Clements is fully game-ready and not limited in any way, the 'Canes will add another player to the handful of capable backs.
The other backs include redshirt freshman Danny Dillard, true freshman Gus Edwards and two-sport athlete Corn Elder.
Last, but certainly not least, fullback Maurice Hagens is not only a bruising blocker, but Golden said the senior "really grew as a ballcarrier" to Manny Navarro of the Miami Herald.
With Hagens leading the way for Johnson, Crawford, Clements and others—and even stealing a few carries of his own—Miami has a collection of speedy and powerful talent in the backfield.
3. Quarterback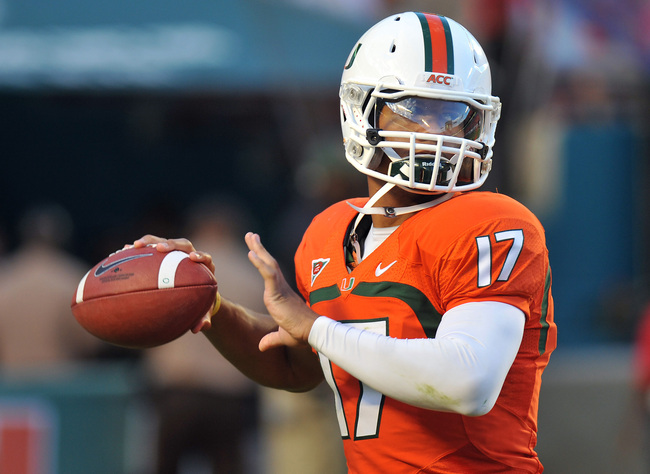 Stephen Morris is looking to lead Miami to an ACC title.
Steve Mitchell-USA TODAY Sports
Stephen Morris had a spectacular junior season after being slowed physically due to back surgery during the 2012 offseason. Though the break from the field allowed Morris to study the mental part of his position, he took a majority of the reps throughout spring practice in 2013.
Morris looked outstanding during the spring game, tossing four touchdowns. He has the potential to lead this Miami offense to the end zone an increased number of times this season.
Morris is undoubtedly one of Miami's top players, but while Ryan Williams and Gray Crow are suitable backups, the overall depth at quarterback is topped by two units.
2. Tight End and Wide Receiver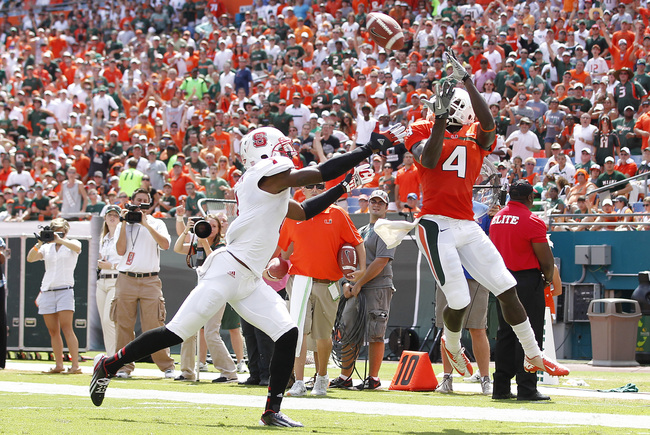 Dorsett is a fantastic deep threat for Miami.
Joel Auerbach/Getty Images
Top targets Phillip Dorsett, Rashawn Scott and Allen Hurns caught the first-, second- and fourth-most passes for the 'Canes in 2012, and Morris has the trio again this season.
Late in 2012, Clive Walford proved he was becoming a viable target for Morris, and much-heralded JUCO transfer Beau Sandland joins the talented pass-catching group.
The Hurricanes have weapon after weapon split outside, and the slot receiver spot could easily become the most dynamic position on the field this season. Shielded by the likes of Dorsett, Scott and Hurns, Malcolm Lewis and Herb Waters are both poised for a breakout year.
Incoming freshman Stacy Coley will surely be worked into the offense or special teams as well, and the duo of Jontavious Carter and D'Mauri Jones will snag a few catches, too.
Top recruit Derrick Griffin could qualify for Miami, although it's not likely according to Barry Jackson of the Miami Herald.
But even without Griffin, the 'Canes are as talented as they are deep, so Miami's air attack should be fun to watch.
1. Offensive Line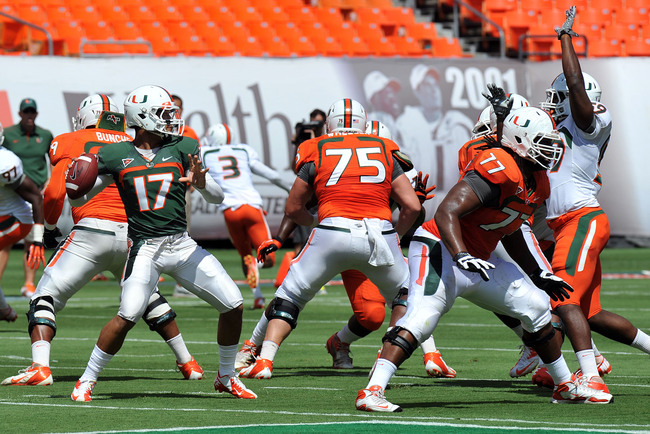 Morris will be well-protected all season long.
Steve Mitchell-USA TODAY Sports
The 'Canes' offensive linemen are plenty experienced on the field overall, but most importantly, they are very familiar with each other. With 96 combined starts between six players, the Hurricanes' O-linemen are the strongest unit for Miami.
Seantrel Henderson and Ereck Flowers appeared as the first-string tackles on the post-spring practice depth chart. Henderson is considered a top 50 NFL prospect by Dane Brugler of NFL Draft Scout, and Flowers is a budding sophomore who saw action in every 2012 contest.
Brandon Linder and either Malcolm Bunche or Jon Feliciano—each of whom started 12 games last season—will man the guard positions.
Junior and honorable mention All-ACC center Shane McDermott was a consistent protector for Miami, and he returns after starting all of 2012, too.
Henderson, Linder, Feliciano and McDermott each earned honorable mention All-ACC honors, and the group should be a force up front.
Sonny Odogwu, Danny Isidora and Jared Wheeler are the top reserves.
Barring injury to the top six players, the 'Canes may end up having one of the most productive offensive seasons in school history because of a stellar offensive line.
Keep Reading

Miami Hurricanes Football: Like this team?