UFC 162: 5 Fights for Chris Leben to Take Next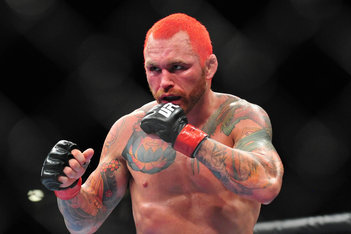 Courtesy MMAMania.com
It has become apparent there is not much left to "The Crippler's" career. He has been a valiant warrior for the sport that gave him an opportunity to change his life. Even those who dislike his style and attitude can tip their cap to Chris Leben for all he has accomplished inside the Octagon.
With all that said, Leben has not announced retirement yet. The 32-year-old may decide to give it one more go to prove he still has something to offer.
If he does, it will likely be as a fan-draw more than his working toward a title. Leben is essentially relegated to a gatekeeper or fan-requested fighter at this point. That includes fights outside his own division, either at catch weight or through the cut/gain of one competitor or the other.
But who is left for Leben to conquer before riding off into the sunset? Is there anyone who can be used as a first stepping stone to a miraculous amassing of momentum for one final push for contention?
Begin Slideshow

»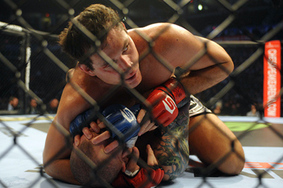 The most likely candidate for Leben—if he wants to build one final pendulum swing for a title shot—is fellow UFC 162 loser Ralph Gracie. The former Strikeforce up-and-comer fell in similar fashion as "The Crippler" at the event.
A Leben/Gracie bout could be a worthwhile opportunity for either to make a first positive step toward contending again. Each has obvious holes in his game that the other can exploit. Each will need to tighten up their game in order to avoid falling prey to his opponent's talents.
The Crippler is no slouch to the ground game, as he showed when he submitted Yoshihiro Akiyama at UFC 116. But Gracie is surely superior no matter how competent Leben can prove. Meanwhile, Leben holds clear advantage in the stand-up department.
It would be interesting to see just how Ralph closes the distance and avoid the punches of Leben.
The fight could be a bust in all honesty, but it does bring the possibility of a much-needed finish boost for the victor. The bout could be put midcard in a Brazilian-based FX/Fuel event, drawing in fans from both Brazil and the United States.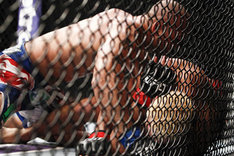 Courtesy MMAFighting.com
Siyar Bahadurzada is coming off a hard-fought loss to Dong Hyun-Kim at UFC on Fuel TV 8. Robbie Lawler is closer to retirement with every fight. The loser of their bout could be a worthwhile matchup for Leben as a headline of the prelims prior to a pay-per-view.
Both Lawler and Bahadurzada love to throw bombs, but the loser in their bout will still be hard to market for the UFC. With that in mind, Leben offers obvious benefits.
It may be a bit sadistic to put Leben through more punishment, but the man loves to brawl. He is at home throwing wild and courageously brawling. Leben is practically the Mick Foley of the UFC.
Until he decides he needs to retire, who are we to stop him from putting on memorable bouts?
Neither Siyar or Lawler are close to a title shot, and a loss moves them nearer to gatekeeper status, being cut or retirement. A fight with Leben helps little for the respective divisions involved but establishes a b-level strata of contenders as well as gatekeepers.
A loss for The Crippler could also mean the end of a respectable and entertaining career.
To be fair, Mike Pierce deserves more than Chris Leben at this point. How he continually ends up at the bottom of cards is a tad perplexing. Still, Pierce is a fun style matchup for Leben, and it would be worth watching in a vintage Leben war.
Pierce has rattled off four wins in a row but none against a large name. The two times he has faced quality marketable names in his career he lost via split decision. Maybe that's just bad luck, but beating respectable names is important on a resume for contendership, even one past its prime.
Pierce will gain needed ground in the cluttered middleweight division thanks to a win over Leben. The Crippler could use the win over Pierce to establish his viability in the league.
The bout could be placed midcard on a television event or left to the opening bout of a pay-per-view. Either way, the matchup has fireworks written all over it. Leben is competent enough on the ground to ward off Pierces takedowns, while Pierce would have a hard time not testing his hands against Leben.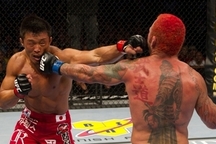 Is it farfetched? Absolutely. Would we all watch it? Most certainly.
Yoshihiro Akiyama is now technically a welterweight, has not fought in some time and has already lost to Leben. That said, think of how marketable the fight is if the UFC returns to Japan or heads to Hawaii.
Both fighters have little left to give to the organization outside of a rematch, but each also is marketable to a niche group. Together they make for a fight that can sell tickets and keep viewers' eyeballs on the screen. It doesn't hurt that their last battle was among the best of 2010.
Their first fight ended with glorious finish for Leben, submitting Akiyama late in the third round. A rematch honestly holds a lot of question marks, which only adds to the worthwhile nature of the bout.
Some might scoff at the idea, but there is no doubt the two would put on another great battle. Both would be desperate to win, and thus most interested to do so in dominant fashion.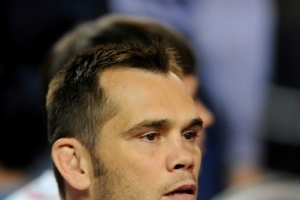 Courtesy DocSports.com
Why not? Simple as that. The two men are nearing the end of their careers.
Rich Franklin is coming off a devastating loss to Cung Le. The 38-year-old is also 2-2 since 2010. There is not a whole lot left for Franklin, but a bout with Leben can be marketable and winnable for each man.
Leben would be seen as a sacrificial lamb by some, but The Crippler has the skills to at least put up a great fight against the former middleweight champion. The bout would also be a worthwhile marketing piece for the UFC, benefiting all parties as the midcard of a pay-per-view.
More important than all logistics, both men deserve a big-name bout given all they have offered to the fans and UFC in their careers.
It may seem a bit silly or forced to some, but in a way Franklin and Leben deserve a lucrative and quality bout. We owe each an opportunity to end careers with a bang without handing them gimme fights that have potential to embarrass them on their way out of the sport.