Winners and Losers of NHL Free Agency's Opening Weekend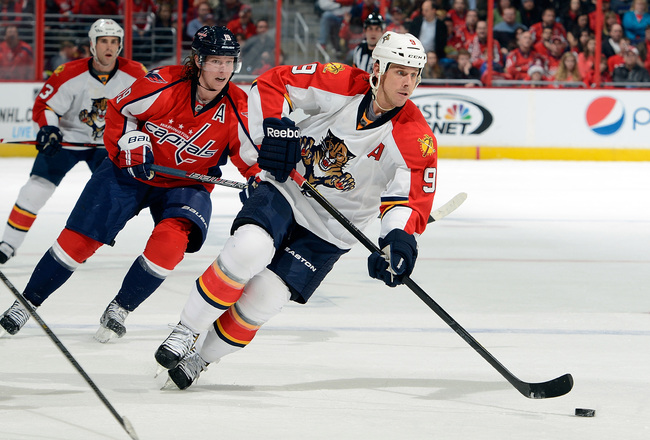 Greg Fiume/Getty Images
The first weekend of free agency has produced some rather dramatic movement in the NHL. Perhaps some thought the reduced salary cap would bring about some inactivity this year, but it has not.
Big names have traded in their old employers for new ones. Some moves have been predictable, while others have been shocking.
Some teams are feeling great about what they have done, and others probably wish they could do it over again. Here's a look at the winners and losers.
All contract terms and salary information are courtesy of CapGeek.com.
Winners: Detroit Red Wings
The Detroit Red Wings struggled through most of the 2013 season and were in danger of missing the playoffs going down the home stretch. However, when they needed to most, the Red Wings came through with four straight wins in the final week of the season and made the postseason as the seventh seed.
Once they got there, Mike Babcock's team continued its momentum, beating the Anaheim Ducks in seven games and extending the eventual Stanley Cup champion Chicago Blackhawks to overtime of the seventh game before losing.
With the Red Wings moving to the Eastern Conference, Babcock and general manager Ken Holland have no desire to go in as underdogs. In an effort to punch up their attack, the Red Wings added right winger Daniel Alfredsson (one year, $5.5 million) from the Ottawa Senators and Florida Panthers center Stephen Weiss (five years, $24.5 million).
The Red Wings should have plenty of momentum from their end-of-season finish, and their new stars could make them quite formidable in 2013-14.
Losers: Montreal Canadiens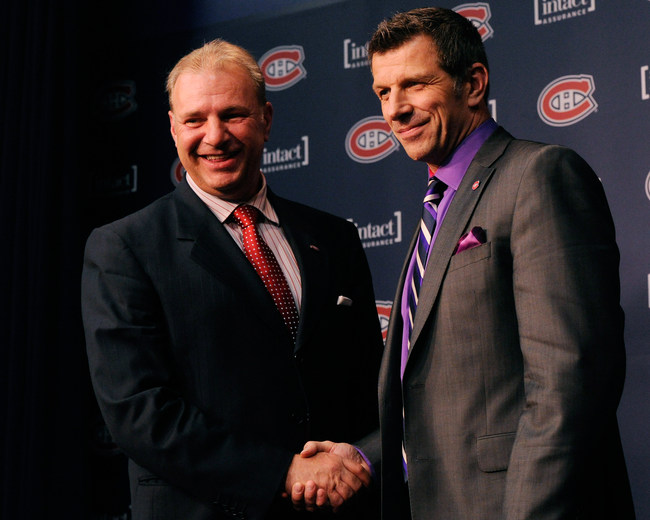 Richard Wolowicz/Getty Images
The Montreal Canadiens had a remarkable turnaround in 2013, finishing in first place in the Northeast Division and taking the second seed overall in the Eastern Conference.
However, the final weeks of the season were a struggle for the Canadiens, as their defense waned and Carey Price was no longer consistent in net. They were eliminated from the postseason in the first round by the Ottawa Senators.
The Canadiens lacked size and strength as well as defensive depth. That should have given general manager Marc Bergevin an offseason game plan.
However, they have not addressed their free-agency needs. They brought in former Philadelphia Flyer Danny Briere (two years, $8 million) to attempt to upgrade the offense. The Flyers bought Briere out after a disappointing 2013 season, but even if he bounces back, he's not going to help them on the defensive end or establish a physical presence.
Montreal traded for hard-nosed George Parros, but he has limited skills and is not going to help it with anything but fighting. The Canadiens appear to have wasted their time so far in the offseason.
Winners: Philadelphia Flyers
The Philadelphia Flyers came into the offseason motivated to make up for a poor year.
Owner Ed Snider does not like to miss the playoffs, but that's just what happened, as the Flyers had goaltending issues and defensive deficiencies. They bought out Ilya Bryzgalov and tried to address their needs between the pipes by signing Ray Emery (one year, $1.65 million) away from the Chicago Blackhawks.
Emery shared the goaltending duties with Corey Crawford in the regular season last year and finished with an impressive 17-1-0 record. He did not get a chance to play in the postseason, but he will have an opportunity to establish himself and see if he is better than Steve Mason, who came to Philadelphia in a late-season trade from the Columbus Blue Jackets.
The Flyers traded for defenseman Mark Streit, who was scheduled to become a free agent, but they changed those plans by signing him to a four-year, $21 million contract. They also signed center Vincent Lecavalier (five years, $22.5 million), who had been bought out by the Tampa Bay Lightning.
Philadelphia was troubled by injuries to defensemen last year. The addition of Streit and the return to health of the rest of the defensive crew, along with the upgrade in the net, should make the Flyers an Eastern Conference playoff team in 2014.
Losers: New York Rangers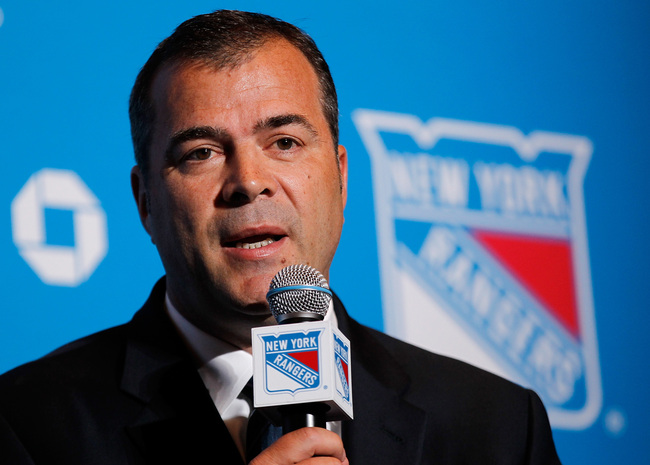 Mike Stobe/Getty Images
The Rangers fired head coach John Tortorella and brought in Alain Vigneault for several reasons. One of those reasons was to change the emphasis from defense and shot-blocking to making the team more creative and dangerous on offense.
If general manager Glen Sather wants to see the Rangers put the puck in the net more often, why did he bring in Dominic Moore (one year, $1 million), Benoit Pouliot (one year, $1.3 million) and Aaron Johnson (one year, $600,000) in free agency?
Moore is a solid and responsible player who has been out of the game for a year following a family tragedy. Pouliot is a depth forward with some skill who has rarely played with consistency. Johnson is a depth defenseman who could rarely get in the lineup for the Boston Bruins.
The Rangers needed one or two big-time scorers and they did not get any. Sather did not make Vigneault's job any easier with his uninspired performance in free agency.
Winners: Toronto Maple Leafs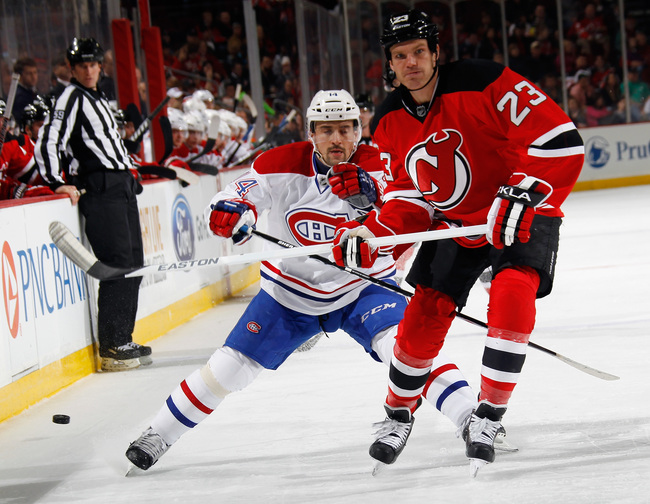 Bruce Bennett/Getty Images
The Toronto Maple Leafs have been criticized quite a bit for signing David Clarkson to a seven-year, $37.1 million contract.
Perhaps the Maple Leafs overpaid for the former Devil, but he gives the Maple Leafs a solid power forward. Clarkson scored 30 goals in 2011-12 and 15 goals last year. He is not afraid to go into the dirty areas, and that's what the Maple Leafs need.
They also upgraded their goaltending when they traded for Jonathan Bernier and then signed him to a two-year, $5.8 million contract. He should provide the Maple Leafs with a significant upgrade in goal.
The Maple Leafs also re-signed free-agent Tyler Bozak to a five-year, $21 million contract. Perhaps they overpaid for him, but he has an excellent rapport with high-scoring winger Phil Kessel and their chemistry should continue to improve.
Losers: New York Islanders
Paul Bereswill/Getty Images
The New York Islanders were one of the top stories of the second half of the season, as they surged from the depths of the Eastern Conference to earn the eighth spot in the standings. That allowed them to qualify for the postseason.
While they lost in the first round to the Pittsburgh Penguins, they had the Penguins on the run at several points during the series. If the Islanders wanted to capitalize on their momentum, they needed to make a couple of moves in free agency.
Their biggest weakness was in goal. Evgeni Nabokov got scorched in the postseason. He had a 4.44 goals-against average and an ugly .842 save percentage. The Islanders needed to go after a much better goaltender.
They did not. They re-signed Nabokov to a one-year, $3.25 million contract.
The Isles also brought in forward Pierre-Marc Bouchard (one year, $2 million) from the Minnesota Wild and re-signed young defenseman Travis Hamonic (seven years, $27 million). While Hamonic may be a future star, Bouchard is just ordinary and won't provide much help. The Islanders needed to do a lot more.
Winners: Edmonton Oilers
The Edmonton Oilers know they are getting closer. They are not a playoff team yet, but as their young talent matures, they have to get tougher and stronger if they are going to get there.
The Oilers addressed some of that need by signing free-agent defenseman Andrew Ference to a four-year, $13 million contract. The former Boston Bruin has been to the Stanley Cup Final in two of the past three years and knows what it takes for a team to survive and advance. He can communicate that to his new teammates. He is also a talented defenseman who can play the physical game and carry the puck out of danger.
The Oilers also signed center Boyd Gordon from the Phoenix Coyotes (three years, $9 million). While he's not a big-time scorer—he's never had more than eight goals in a season—he is a gritty player who can go into the corners and win the battles.
Newly signed backup goalie Jason LaBarbera (one year, $1 million) will give them more depth between the pipes.
Losers: Washington Capitals
George McPhee does not like to spend excess money on players in free agency.
That may be an admirable trait when it comes to being responsible with owner Ted Leonsis' money, but it has hurt the Washington Capitals in this offseason. Not only have they failed to sign any big-name free agents, they let center Mike Ribeiro get away. He was one of the keys to their turnaround last season, as he scored 49 points in 48 games.
Ribeiro eventually signed a four-year, $22 million contract with the Phoenix Coyotes and the Caps got nothing in return. The Caps don't have anyone to help Alex Ovechkin and Nicklas Backstrom carry the scoring load.
The Caps also lost forward Matt Hendricks to the Nashville Predators.
This inactivity could end up putting head coach Adam Oates under the gun in his second season.
Keep Reading