NHL Free Agency 2013: The 10 Biggest Takeaways from Signings so Far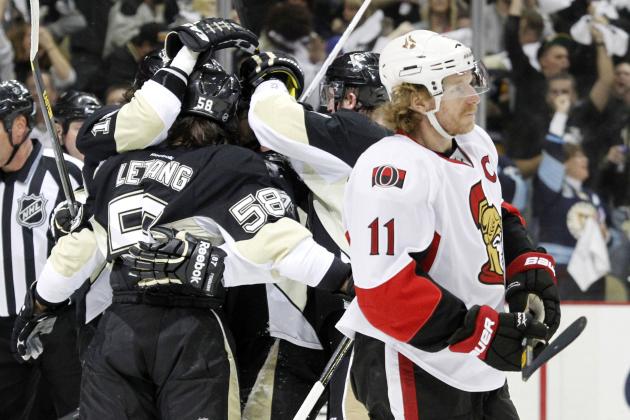 Charles LeClaire-USA TODAY Sport
Daniel Alfredsson made waves as free agency opened.
The past couple of weeks have been a whirlwind in the NHL.
No sooner was the Stanley Cup awarded to the Chicago Blackhawks on June 24 than the planning for the future began all around the league.
The lockout condensed the playing schedule during the regular season. It also rushed teams through the Cup celebrations, the draft and into free agency.
Perhaps everyone's eagerness to finally head to their summer holidays helped inspire the biggest first day in free-agent history.
The NHL news cycle will likely slow between now and September. Here's a look at our biggest takeaways from the 2013 free-agency period so far.
All statistical data from NHL, and all salary information from CapGeek
Begin Slideshow

»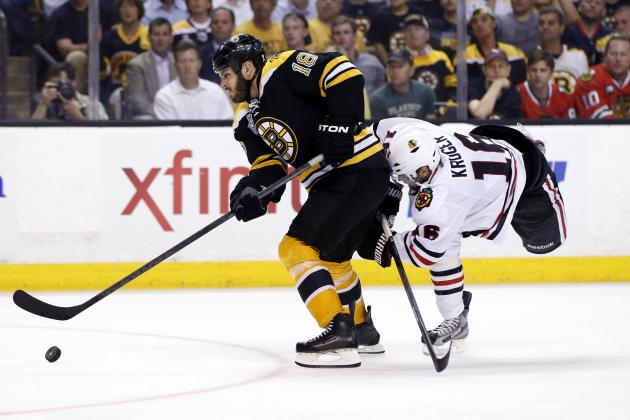 Greg M. Cooper-USA TODAY Sports
Nathan Horton scored the biggest free-agent payday.
On the first day of free agency, NHL teams awarded 63 free-agent contracts worth a total of $411.9 million—an all-time record amount according to Scott Burnside of ESPN.
With new term limits on contracts under the revised collective bargaining agreement, the single biggest deal was awarded to Nathan Horton. He will receive $37.1 million over the next seven years from the Columbus Blue Jackets despite needing shoulder surgery that's expected to keep him sidelined until December.
The salary cap is dropping from $70.2 million to $64.3 million, but some teams were able to free up cap space by using their compliance buyouts. Others will need to shed players to get under the cap as the start of the regular season approaches.
Lockout or not, when you get multiple NHL general managers competing to sign a player deemed to be a difference-maker, player costs will be driven up every time.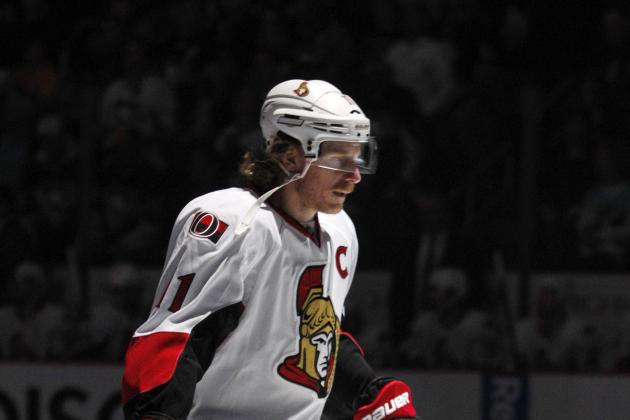 Charles LeClaire-USA TODAY Sport
Daniel Alfredsson shocked the league when he elected to sign with Detroit.
Free-Agent Friday started off with a bang when Daniel Alfredsson announced that he'd signed a one-year deal with the Detroit Red Wings.
A lifelong Ottawa Senator, it was assumed that if 40-year-old Alfredsson returned for another year, he'd be coming back to Ottawa. The change in direction surprised even Alfredsson himself, according to Ken Warren of the Ottawa Citizen:
I didn't really see myself making a change, if you had asked me a week ago. But then thoughts started creeping in. Everybody knows Detroit's goals are always to be at the top of the game and to win championships and they've done that in the past.
The Senators exceeded expectations in 2012-13 despite a rash of injuries. Young players stepped up, but Alfredsson was still the team's leader in the playoffs. It will be interesting to see how he jells with a Red Wings squad and how Ottawa fans receive him on his first return to the newly renamed Canadian Tire Centre.
Thanks to realignment, Detroit and Ottawa will be in the same division this fall and will meet five times.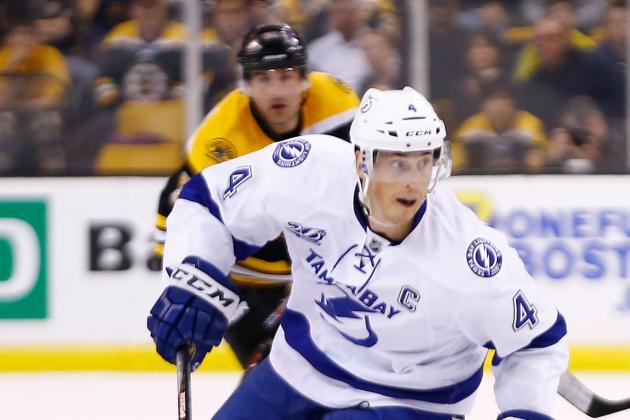 Jared Wickerham/Getty Images
Vincent Lecavalier will hit the reset button this year with the Flyers.
The Tampa Bay Lightning elected to cut ties with Vincent Lecavalier, buying out the remaining seven years of his contract at a cost of $32.667 million.
The Philadelphia Flyers stepped right in and signed the 33-year-old to a five-year deal worth a total of $22.5 million. So, instead of getting the $45 million from his original contract, Lecavalier will now receive more than $55 million. Big bucks for a guy who hasn't produced more than a point a game since 2007-08.
Lecavalier's not the only player who was able to parlay his compliance buyout into a great new opportunity. Danny Briere was bought out by the Flyers and signed a new two-year deal with the Montreal Canadiens, while Keith Ballard left Vancouver to sign on with his hometown Minnesota Wild. Between the buyout and the new contract, these players will also end up earning more than they would have on their old deal.
The financial security of their buyouts has allowed players like Mike Komisarek, Jeff Schultz and Rostislav Olesz to accept relatively meager deals with new teams, providing an opportunity to prove once again that they can be valuable players at the NHL level.
The biggest buyout name still on the sidelines is Ilya Bryzgalov. With $23 million in his pocket, will he catch on with another NHL team or take his game back to Europe?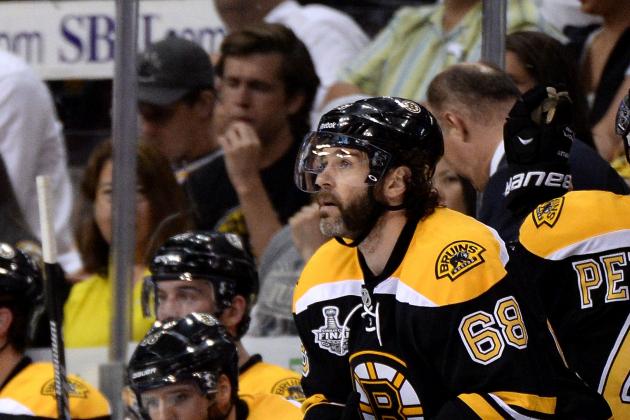 Harry How/Getty Images
Jaromir Jagr is a perennial All-Star looking for a new home.
Jaromir Jagr sits eighth on the NHL's all-time scoring list, with 1,688 NHL points in 1,391 games, and is tops among active players.
Now 41 years old, Jagr was a valuable contributor for the Dallas Stars last season. He didn't score a goal for the Boston Bruins during the playoffs, but still played meaningful minutes and helped his team march to the Stanley Cup Final.
Jagr's agent Petr Svoboda told the NHL website on Saturday that three teams are very interested in his client, including the Montreal Canadiens. With an expressed desire to stay in the NHL next year, Jagr will catch on before the puck drops on the regular season.
Pittsburgh Penguins playoff rentals Brenden Morrow and Douglas Murray are also still on the market, as are players such as Dustin Penner, Brad Boyes and Ryan Whitney.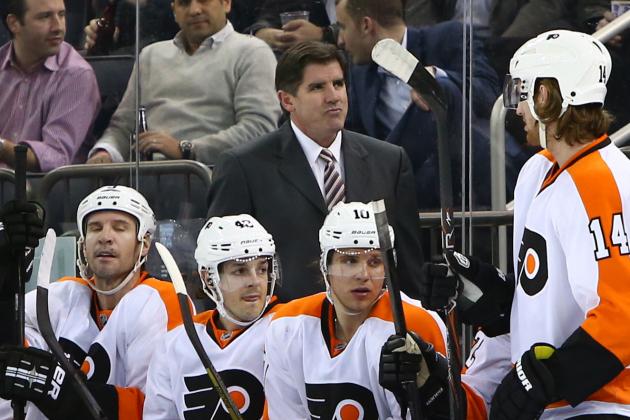 USA TODAY Sports
Philadelphia will need to make more moves to be salary-cap compliant.
The big spending of free agency has pushed a number of teams precariously close to the new cap ceiling of $64.3 million.
Some franchises are now carrying more players than they need, while others have roster spots to fill on very limited budgets.
The cap space Philadelphia created by moving out Bryzgalov and Briere was filled instantly with the acquisitions of Lecavalier and Mark Streit. After signing Raffi Torres and acquiring Tyler Kennedy, the San Jose Sharks have just over $200,000 available to add an eighth defenseman and a backup goaltender. Even Detroit is close to the upper limit after signing Daniel Alfredsson and Stephen Weiss.
For teams who can still take on salary, some very good players may be available by trade as the summer wears on. Big spenders will be looking to make their final moves to become cap-compliant.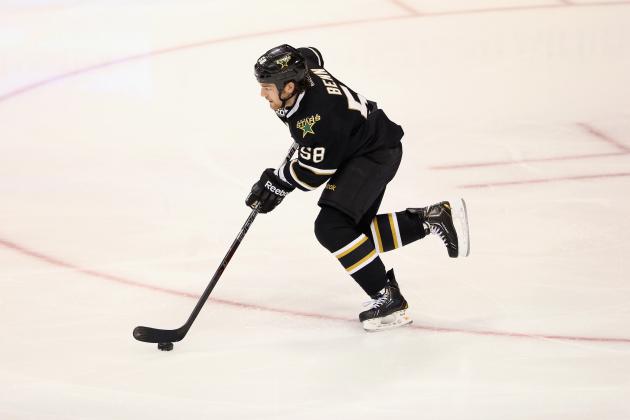 Ronald Martinez/Getty Images
Jordie Benn re-upped with Dallas at $700,000 a year for three seasons.
In 2013-14, the NHL minimum salary is $550,000. Nice work if you can get it for most of us.
The big deals get the headlines, but teams have been busy signing inexpensive players to stock their farm teams and, if they get lucky, play a role on the big squad. By Sunday, 57 of the UFA contracts handed out were for less than $1 million per season, and most of those were one-year deals.
Some mid-level players may have to wait to see where they land, but guys like Dallas' Jordie Benn and Phoenix's Kyle Chipchura were able to grab three years of security with their incumbent teams by re-signing at a reasonable rate.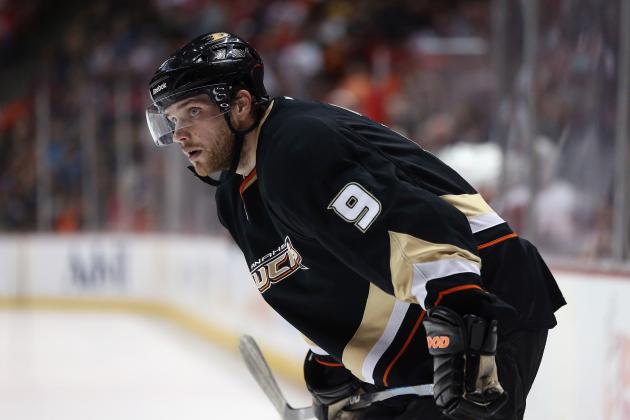 Jeff Gross/Getty Images
Bobby Ryan was the biggest name to be traded on Free-Agent Friday
While the majority of the wheeling and dealing on Friday was between general managers and NHL agents, trades are often part of the landscape as well.
This year, the biggest deal was Ottawa's acquisition of Anaheim winger Bobby Ryan in exchange for two prospects and a first-round draft choice.
At first glance, it looked like the trade was a response to the Senators' loss of Daniel Alfredsson, but Bryan Murray later clarified that the deal had been in the works for awhile. According to Ken Warren of the Ottawa Citizen:
Senators general manager Bryan Murray had been discussing a possible Ryan trade with Ducks general manager Bob Murray for a while — the original proposal called for two players off Ottawa's roster and a second-round pick — but it had been on the back burner. When the Senators failed in their quest to sign winger David Clarkson as an unrestricted free agent (Clarkson ended up in Toronto), the Senators and Ducks re-worked the deal.
Boston and Dallas also made waves on Thursday in a seven-player deal that saw Tyler Seguin, Rich Peverley and Loui Eriksson switching sides.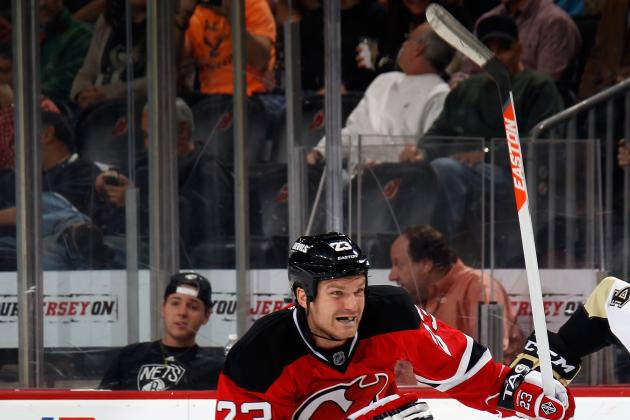 Bruce Bennett/Getty Images
David Clarkson is the new face of the Leafs.
The Toronto Maple Leafs made tremendous strides this season, reaching the postseason for the first time since 2004 and coming heartbreakingly close to defeating the eventual Eastern Conference champion Boston Bruins.
Rather than sticking with his nucleus, general manager Dave Nonis has elected to shake things up this summer in Hogtown. First, he traded backup goaltender Ben Scrivens for Jonathan Bernier, creating a potential battle for the No. 1 role in the crease next year. Then, he acquired Dave Bolland from Chicago on draft weekend for three picks, adding a pest factor that the Leafs have lacked.
Next, he used his compliance buyouts on Mike Komisarek and Mikhail Grabovski, the latter of whom left town with guns a-blazing.
Finally, Toronto dove into the free-agent pool and came out with highly coveted power forward David Clarkson. A seven-year term is a long commitment, but Clarkson will bring some grit to the Leafs' top forward line. He also has decent hands for a tough guy and is definitely an upgrade on Clarke MacArthur, a Leafs free agent who bolted for Ottawa.
When Toronto hits the ice this fall, fans should see a grittier team that's tougher to play against than in years gone by. That is, if all goes according to plan.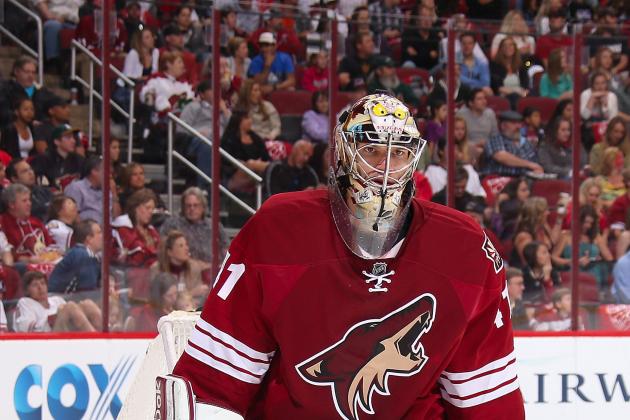 Christian Petersen/Getty Images
The Phoenix Coyotes locked up Mike Smith for six years.
Daniel Alfredsson notwithstanding, for many free agents, the best option is to stick with the situation they know.
Players may not be able to maximize the monetary value of their new deal, but they know where they stand in the organization and how they fit into a team's plans.
After choosing to let Ilya Bryzgalov explore unrestricted free agency two years ago, the Phoenix Coyotes filed the biggest returning UFA contract of the year when they inked Bryzgalov's replacement, Mike Smith, to a new six-year deal worth an average of $5.667 million per year.
Other big re-signings included Toronto re-upping with Tyler Bozak for five years and New Jersey extending its relationship with Patrik Elias for another three years.
Sometimes, you have to leave before you're ready to stay home. After winning the 2009 Stanley Cup with Pittsburgh, Rob Scuderi left for four fruitful seasons with the Los Angeles Kings and added another Cup to his resume before re-signing with Pittsburgh for four years on Friday.
Paul Bereswill/Getty Images
Matt Cooke is now part of the Minnesota Wild.
...but you'll love him on your team.
Fans of the Minnesota Wild and St. Louis Blues felt shockwaves on Friday when their teams signed noted superpests Matt Cooke and Maxim Lapierre, respectively, to free-agent deals.
Both have reputations as less-than-savory characters, but they also bring real hockey skills to the ice.
Cooke hasn't played in the Western Conference since he left Vancouver back in 2008. Much of the ire directed his way these days comes from cities like Boston and Ottawa, where he was involved in injuries to key players. He's still a great penalty-killer and insists he's worked to reform his game to make it less dangerous.
Lapierre is known more for his mouth. Blues fans are well aware of his agitating style from his tenures with Vancouver and Anaheim dating back to the 2010-11 season. His chippiness could fit in well on an aggressive Blues squad.
Just as San Jose Sharks fans warmed up to Raffi Torres once he started dishing out hits on their side of the ice, Cooke and Lapierre will also quickly find their groove in their new homes.
Thanks for reading. Follow me on Twitter for lots more NHL news.