If you went to sleep on Saturday night before UFC 162 was decided, you woke up to a new MMA world on Sunday. A world where there was a new UFC middleweight champion for the first time since 2006. That champion, Chris Weidman, had not had a single professional bout to his name when Anderson Silva became UFC champion.
What follows are some thoughts on that win, as well as some other observations on UFC 162.
What's Next for Mike Pierce?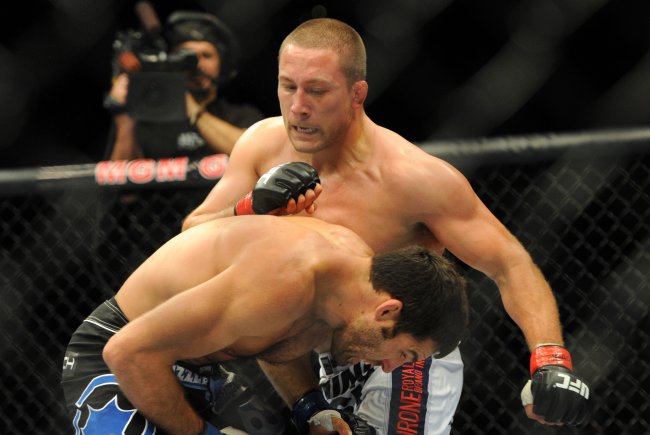 Jayne Kamin-Oncea-USA TODAY Spor
Mike Pierce extended his winning streak to four straight on Saturday, but was it enough to get him off the Facebook preliminary card fights?
Pierce has a rep as a "boring" wrestler who grinds out wins, but the reality is that he has five stoppage victories over the course of his WEC/UFC career, with the fifth coming over David Mitchell at UFC 162.
The UFC sent Pierce a message by putting him in the opening fight of Saturday's card. Pierce sort of got the message.
The early part of the fight was mostly Pierce doing his thing, working from the clinch against the fence and forcing Mitchell to carry his weight. That's the sort of part in this equation. Yes, Pierce did get the KO, but he led up to the stoppage by providing the type of fight the UFC does not want to see or broadcast.
The UFC has a tough decision to make on Pierce. It will be hard to deny him his due—he's earned a shot at an opponent in or near the top ten in the welterweight division—but the thought of watching him grind out a win in place of a fighter that "brings it" has to make the promotion a little uneasy.
Nice UFC Debut from Brian Melancon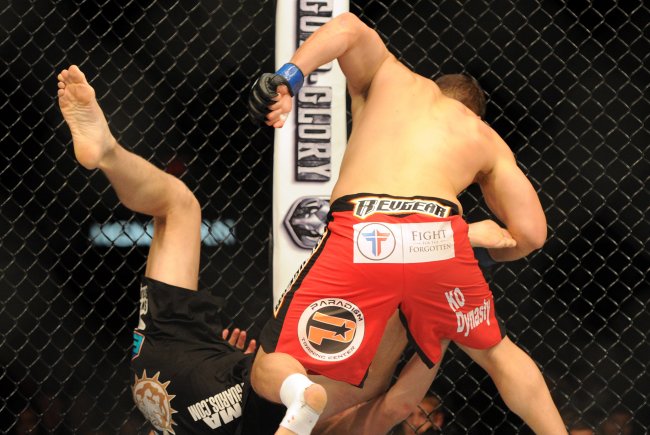 Jayne Kamin-Oncea-USA TODAY Spor
Brian Melancon made his UFC debut on Saturday night against Seth Baczynski. If you think Melancon's layoff between fights of almost two years had put some rust on Melancon, you would be wrong.
Melancon had Baczynski on the defensive from the word go. The UFC newcomer was landing strikes often and showing a lot of aggression. That aggression came into play with the clock ticking down in the first round.
Baczynski was on his back against the cage with 10 seconds left. Some fighters would have taken that time to get a little extra rest, but not Melancon: He threw Baczynski's legs to the side and dove in to land strikes, ending the fight at the horn.
OUCH!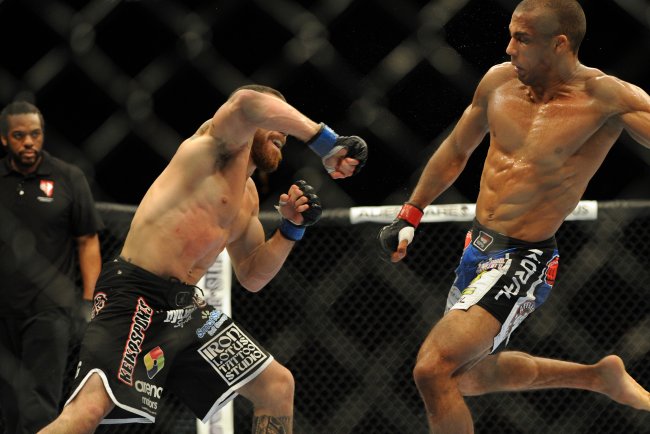 Jayne Kamin-Oncea-USA TODAY Spor
I could attempt to come up with some adjectives to describe the leg kicks that Edson Barboza put on Rafaello Oliveira on Saturday night, but I don't know if words can convey just how powerful, ugly and devastating those kicks were. The other thing is if I tried to describe the strikes, and you didn't witness the fight, you would probably shake your head and think I was using hyperbole.
Do yourself a favor and catch a replay of the contest at some point and watch how the lead leg of Oliveira went from flesh-colored to red and swollen to actually dripping blood before Herb Dean decided that he was going to mercifully call the fight at the 1:44 mark of the second round.
The kicks left Oliveira unable to walk out of the Octagon under his own power. The kicks also gave Barboza his second UFC stoppage via leg kicks, making him the only fighter in UFC history to stop two fights via leg kicks.
Dave Herman's Future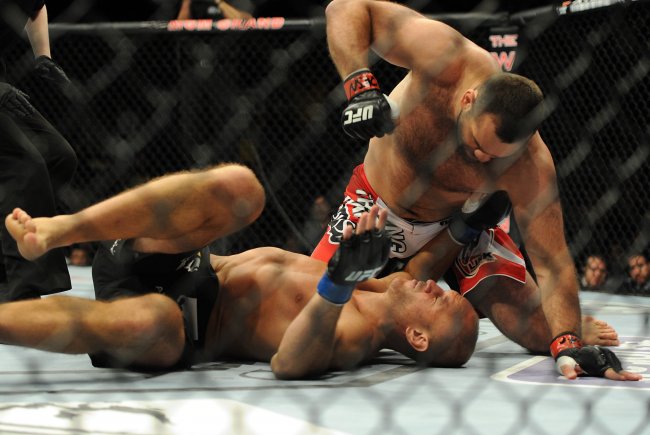 Jayne Kamin-Oncea-USA TODAY Spor
If Dave Herman remains employed with the UFC, odds are that it won't be for long. Herman entered UFC 162 on a three-fight losing streak. To go along with that losing streak, he had failed two recent drug tests. If there was one fighter walking around the MGM Grand on Saturday with the proverbial axe over his neck, it was Herman.
Seventeen seconds into his bout with Gabriel Gonzaga, that axe came down in the form of a right hand.
It was a surprisingly quick end to Herman's night, marking his fourth consecutive stoppage defeat inside the Octagon.
Strong Chins and Cheating Fighters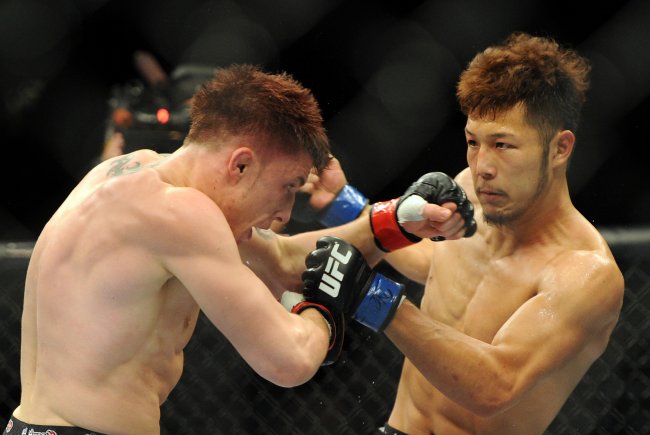 Jayne Kamin-Oncea-USA TODAY Sports
I understand that some fighters have stronger chins than others. I understand that a fighter that is aware that he can take a punch would sometimes throw caution to the wind and use the ability to take a punch to his advantage.
What I don't understand is why a fighter would just stand there and let his opponent tee off with overhand left after overhand left without even thinking about tucking his chin. That's what Kazuki Tokudome did during his bout with Norman Parke.
A strong chin will give a fighter an advantage in the moment, but somewhere down the road, that fighter will most likely pay the price of the accumulated trauma to his head. In short, just because you can take a punch doesn't mean you should take a punch.
The other troubling part of this fight came in the third round. With 4:10 left in the final stanza Tokudome went for the takedown, and he would have had that takedown had Parke not grabbed the fence. That fence grab allowed Parke to prevent the takedown.
I'm not saying the fence grab altered the outcome of the fight, but it altered the position, and that is a clear-cut violation that should have resulted in an immediate point reduction for Parke.
Sure, referee Steve Mazzagatti warned him of the hold, but so what? Once again, the message was clear: Just cheat. The worst thing that will happen is you'll get a warning or two.
Tough Decision Coming for UFC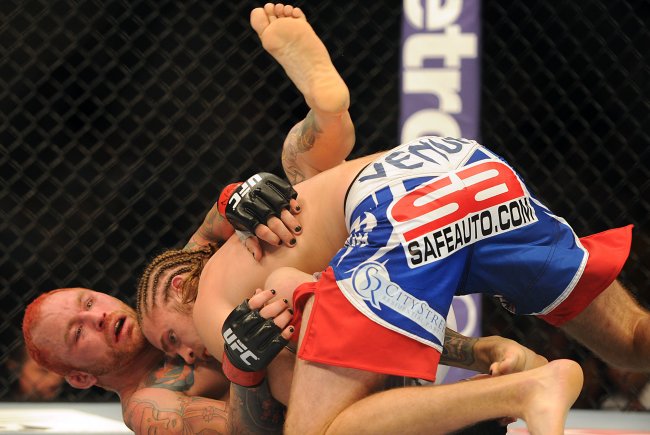 Jayne Kamin-Oncea-USA TODAY Spor
Speaking of useless referee warnings, I stopped counting after Yves Lavigne gave Chris Leben four warnings for holding the shorts of Andrew Craig. At least four warnings and possibly more with no point deduction? Yup, just cheat.
Leben's fouls did not help him secure the victory. He dropped a split decision to Craig, and now we have to wonder what's next for Leben.
The loss dropped Leben to 1-4 in his last five fights. Normally that would spell an end to a fighter's run with the promotion, but Leben has always been the good UFC soldier and a favorite of UFC president Dana White.
The problem is that Leben has a lot of baggage, something UFC president Dana White admits that he is concerned about:
I want Leben to get up every day and be a part of society, whether it's training, whether it's training other people. Chris Leben has the type of personality that can go off the deep end very easily in a lot of negative ways. I really care about the kid. I like him a lot, I love the kid, and I just, I have to figure this thing out.
White has a tough call to make on this one.
What's Next for the Featherweights?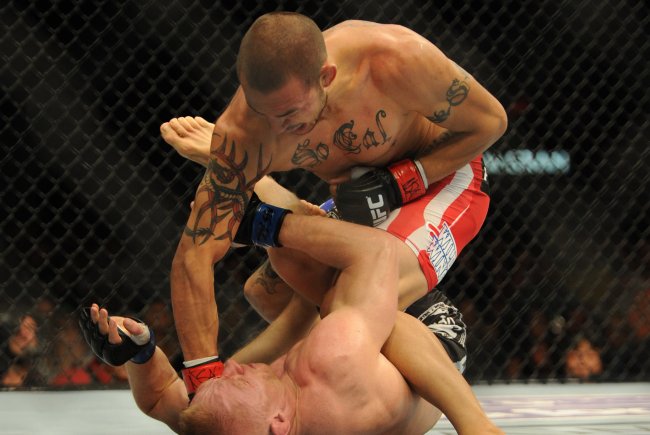 Jayne Kamin-Oncea-USA TODAY Spor
The featherweight division rankings will probably have some movement following UFC 162. No. 5-ranked Cub Swanson earned a third-round TKO win over sixth-ranked Dennis Siver, and Frankie Edgar, the third-ranked fighter in the division, took a decision win over Charles Oliveira.
The question now is: What's next?
With division champion Jose Aldo set to face Chan Sung Jung at UFC 163, top-ranked Chad Mendes scheduled to face Clay Guida in August and highly ranked Ricardo Lamas without a fight, the promotion has a lot of options for this stacked division.
It's going to take some real special matchmaking to make all these fighters happy in the short term.
Mark Munoz Removes the Black Cloud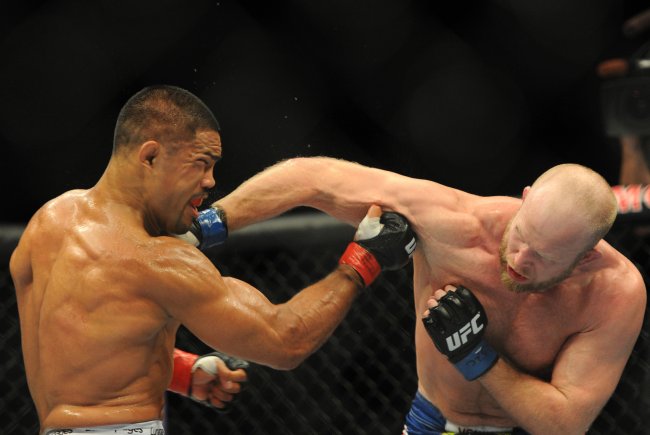 Jayne Kamin-Oncea-USA TODAY Spor
What can you say about Mark Munoz other than "very nice"?
Munoz fell into a funk after his loss to Chris Weidman and ballooned to 261 pounds. When he stepped into the Octagon on Saturday, he had shed all that weight and along with that weight, the black cloud that was hanging over his head disappeared.
Munoz was especially effective on the ground, landing 94 percent of his ground strikes. In total he landed 116 strikes on the ground, many of which were heavy body strikes.
I'll admit that I had concerns about Munoz's mental state entering UFC 162, but he more than answered those questions. Munoz picked up a ton of momentum and no doubt increased his self confidence with the win over Boetsch.
We should all keep an eye on what Munoz does next.
Weidman
Yup, there is a new champion in the UFC's middleweight division.
There has been a lot of talk about UFC 162's main event and a lot of vitrual ink spilled over the bout. I can honestly say that I'm stunned, but not really stunned.
Silva has been pulling the clowning act for years, and he got caught at his own game. Simple as that. Weidman was the better fighter on Saturday. He was one millisecond faster than every other opponent of Silva's in the past, and more importantly one millisecond faster than Silva.
I can't imagine the amount of pressure that was just heaped on the shoulders of Weidman. After all, he's the man that defeated the greatest MMA fighter of all time. The moment that belt was strapped around his waist, a huge target was put squarely on his chest.
All eyes will be on what Chris Weidman does next.
*All quotes were obtained by Bleacher Report unless otherwise noted.