Georgia Football: 7 Freshmen Who Will Make a Huge Impact During Fall Practice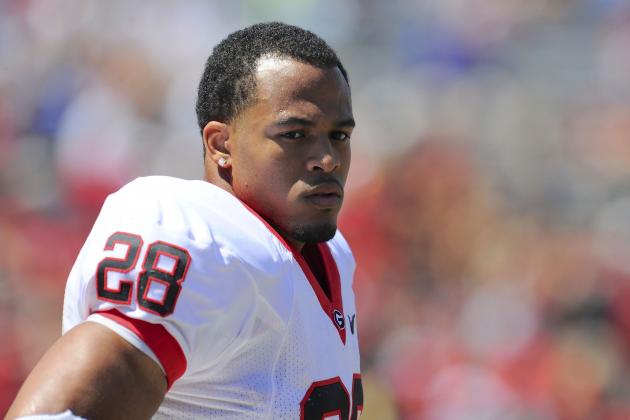 Dale Zanine-USA TODAY Sports

In nearly two weeks, the Georgia Bulldogs will be in Athens for fall camp to prepare for the 2013 season.
For the veterans, the goal is to improve and build on from what they accomplished last season. As for the newcomers, the goal is to find their role on the team and make an impact.
A few of the freshmen got a taste of what college football is going to be like when they took part in spring practice in April. So they will already have a leg up on the rest of the newcomers.
But there will be more freshmen that will look to catch the eyes of coaches. And when they do, they will be see a lot of playing time sooner than later.
Here are seven freshmen who will make a huge impact during fall practice.
Begin Slideshow

»
The safety position is not strong when it comes to depth. And with the loss of freshman Paris Bostick for the season along with the one-game suspension of Josh-Harvey Clemons, it's an area for concern with fall practice is right around the corner.
This is where Quincy Mauger comes in. The safety from Marietta, Georgia, has a chance to make an impact right away. He did participate in spring drills, so he will know what is expected of him in the fall.
In the spring game, Mauger recorded eight tackles and one pass breakup. He was one of the freshmen who impressed the coaches and players during spring practice, and that should continue in the fall, especially when he has an opportunity to get more looks because of the loss of Bostick.
Brendan Langley, who is also from Marietta, did not enroll early. So he is one of the many freshmen that did not take part in spring practice.
But Langley is participating in summer passing drills, and he is holding his own, according to UGA receiver Chris Conley (via Marc Weiszer of the Athens Banner-Herald).
Langley will have a chance to prove his worth during fall practice because of the lack of depth in the secondary.
Conley went on to say that Langley plays fearlessly and is not afraid to go up against anybody. That is the mentality Langley will need to move forward, and that also makes him a vital addition to the Bulldogs.
Conley was also impressed with Shaq Wiggins while watching him in the summer passing drills.
Wiggins, who hails from Tyrone, Georgia, will also have a chance to see a lot of playing time at the defensive backfield this season.
With the cornerback position short on depth, Wiggins will look to compete with players such as Sheldon Dawson, Devin Bowman, Reggie Wilkerson and even Langley.
Wiggins has showed toughness and the competitive spirit in the summer passing drills, and that should continue at the end of July and through August.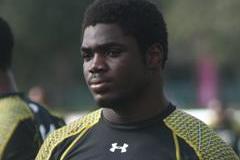 Photo credit: 247 Sports
A.J. Turman is another freshman that did not take part in spring practice this year. But it's nearly a guarantee that he will see some action this season because he will be one of only four scholarship running backs on the roster.
The 6'0", 205-pounder was considered as the seventh best "Big Back" in the country according to Max Preps. Turman almost fits into the mold of Todd Gurley because he has the size and the speed to frustrate defenders.
He arrived on campus in June and has trained daily to get ready for camp.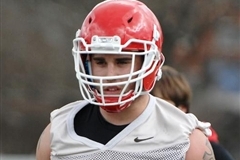 Photo credit: 247 Sports
If there is one freshman that is the most game-ready, it would have to be Ryne Rankin.
Not only did Rankin take part in the spring practice, he was able to participate in the Capital One Bowl practices back in December, via Marc Weiszer at dogbytesonline.com.
The Bulldogs lost three inside linebackers from last season (Alec Ogletree, Christian Robinson and Michael Gilliard), so it was important to have one of the younger guys come in early and get familiar with the system. Rankin, whom coach Mark Richt said is a "very physical guy," has been solid so far and has a chance to see the field starting on August 31.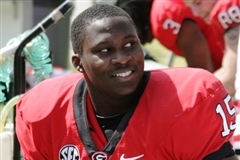 Photo credit: 247 Sports
J.J. Green is one of the wild cards in the freshmen class. He came into spring practice as a running back to help add depth. But Green was recruited to play wide receiver and defensive back, just like Malcolm Mitchell was in 2011.
Because Turman will be in the mix at running back, Green should have an opportunity see some reps at receiver and cornerback during fall practice. He impressed the coaches at running back during spring practice and has a strong G-Day game.
Green can also return kicks, and that could be the spot where he makes the biggest impact this season because he has great speed and even better vision.
Dale Zanine-USA TODAY Sports

The freshman who will make the biggest impact during fall practice will be the one who made the biggest impact during spring practice.
Tray Matthews had such a strong showing in the spring that he earned a spot with the No. 1 defense at free safety. He tallied four tackles in the G-Day game for the Black Team.
The coaches like the way Matthews is aggressive at the point of attack, and he rarely misses any tackles. The one thing they would like for him to do more of is be more aggressive in coverage and get the interceptions when the opportunity presents itself.
Because he is a true freshman, Matthews will have his share of mistakes. But if he continues to practice at a high level and learn from his mistakes, he could be an All-SEC player by the end of the year.