Silva vs. Weidman Results: What Weidman's Win Means to the UFC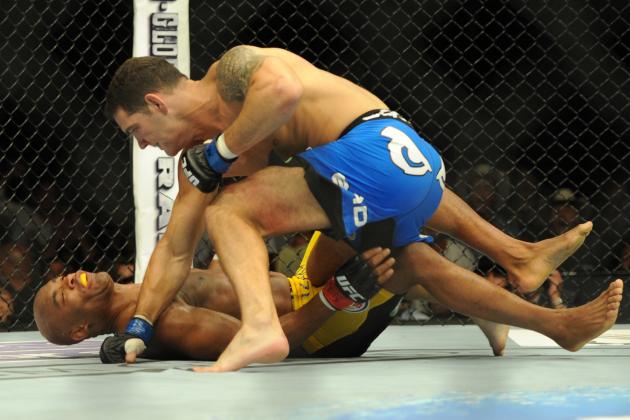 Jayne Kamin-Oncea-USA TODAY Spor
Weidman crushing a felled Silva while waiting for the referee to pull him off.
Unless you live under a rock, you have by now heard the story of how Anderson Silva danced his way out of the UFC middleweight championship at UFC 162. The always-elusive striker used his Matrix-inspired evasion a bit too often, and Weidman made him pay for it with a nasty left hand.
Oddsmakers suggested that Weidman stood a better chance of dethroning the champion than some of his recent foes. However, that doesn't make his knockout victory any less shocking to the viewing audience.
This victory has many repercussions for the Ultimate Fighting Championship as a whole. Here is a look at what Weidman's win means to the UFC.
Begin Slideshow

»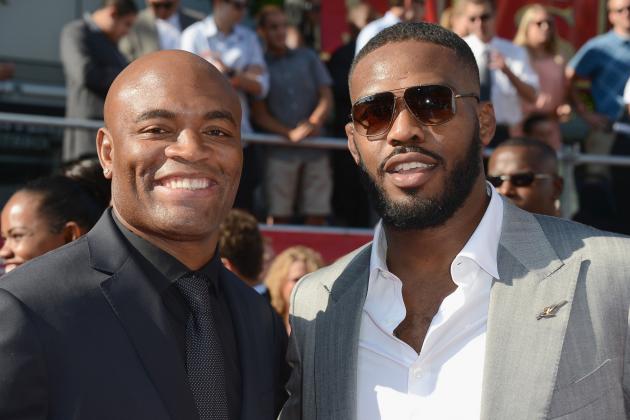 Frazer Harrison/Getty Images
Anderson Silva vs. Jon Jones was the most talked about superfight that could have been on the horizon
Before you start jumping in and screaming about potential weight-jumps for Jose Aldo and Benson Henderson, save your breath. While Aldo/Henderson or Henderson/GSP would make for interesting fights, they don't remotely have the appeal that once surrounded potential scraps between Anderson Silva and either Jon Jones or Georges St-Pierre.
With Anderson being the glue holding together the idea of high-profile superfights inside the Octagon, his loss last night essentially sent that car plummeting off of a cliff.
At this point, the word superfight shouldn't be on anyone's tongue. The biggest fight that the UFC can make at this time is a rematch from Saturday's main event.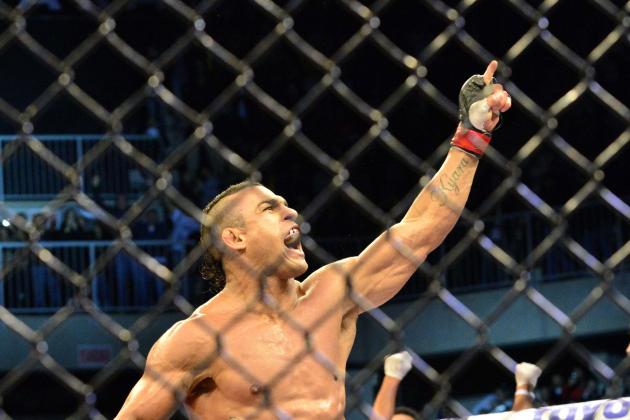 Jason da Silva-USA TODAY Sports
How many head kick knockouts does this guy need before he gets another shot at the belt
Only three days after Dana White told MMAJunkie.com that Anderson Silva vs. Vitor Belfort II would be a hard sell for "The Spider," it appears that a world of opportunity has opened for Mr. Belfort.
Obviously, the UFC wants to book a rematch between Weidman and Silva. That fight is pay-per-view gold. However, the former champion doesn't seem too keen on the idea. That leaves Belfort as the next-best option.
Belfort has been openly campaigning for a title shot. After vicious knockout wins this year against Michael Bisping and Luke Rockhold, plus Silva disinterested in a rematch, it will be difficult to say no to The Phenom.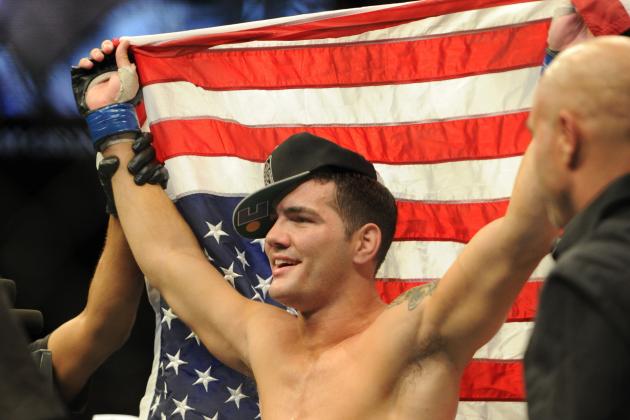 Jayne Kamin-Oncea-USA TODAY Spor
With his well-deserved win, Chris Weidman one of the UFC's biggest stars.
There are many ways for a new star to be born in the MMA world.
Some fighters deliver highlight reel knockouts that make them overnight stars (see Edson Barboza and Gabriel Gonzaga). Others gain this sort of fame by upsetting a legend (see Rich Franklin and Jake Shields).
At UFC 162, Chris Weidman compiled both of the aforementioned methods when he knocked out Anderson Silva on the UFC's annual Fourth of July weekend event.
Make no mistake about it: Chris Weidman became an international sensation with his win. If the UFC can orchestrate a rematch for the title, be ready for one of the biggest PPV buyrates in the history of combat sports.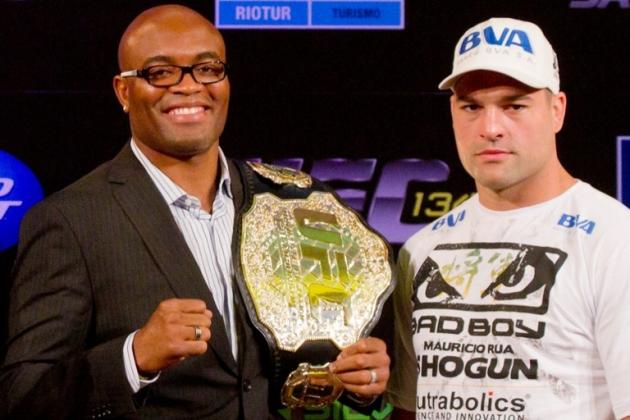 Anderson alongside Shogun Rua Photo: esporte.com.br
Anderson Silva doesn't seem to want to continue fighting for the UFC middleweight championship. Immediately after his loss, the former titleholder began talking about being tired and not wanting the belt.
After clarifying that he is not retiring from mixed martial arts, Silva reminded fans that he has 10 more fights on his UFC contract. He simply wants some time off from the sport that he has dominated for so long.
Upon his return, the rematch will certainly be on the table should he change his mind. However, Silva is a man who has plenty of options inside the Octagon.
If Silva is instead looking for a competitive striking engagement that poses a serious challenge, he could meet Cung Le in a battle of former champions.
What about a long-desired matchup between Anderson Silva and Michael Bisping? The Count has been calling out Silva for years. Since Bisping can't win enough fights to earn a title shot, this seems like the perfect time to let them go at it.
Should those choices not tickle your fancy, there are several intriguing options for The Spider at light heavyweight. Silva vs. Shogun? Silva vs. Evans? Silva vs. Gustafsson? Anderson vs. Wanderlei in a battle of Silvas?