UFC 162 Results: Post-Fight Stock Report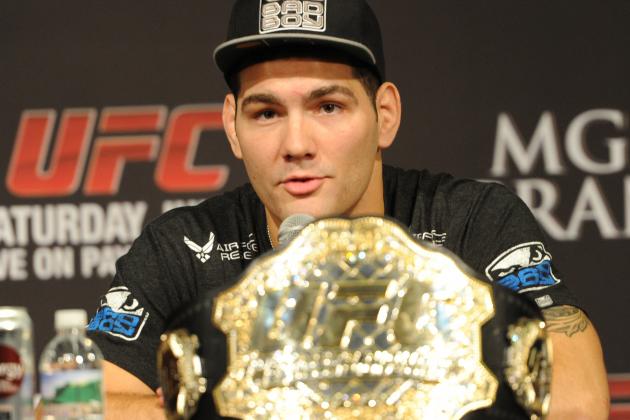 Jayne Kamin-Oncea-USA TODAY Spor
Chris Weidman sits behind his new belt
Say it with me: Chris Weidman knocked out Anderson Silva at UFC 162.
I understand that the shock and awe is still with you, but perhaps it's best to accept the reality of the situation: Weidman ousted the former middleweight king in a manner easily described as brutal. The outcome was stunning for staunch Silva supporters and vindicating for those who had always regarded Weidman as the heir apparent to the middleweight throne.
Though the main event caused the biggest stir, it certainly wasn't the only bout to send shock waves throughout mixed martial arts world. Divisions rose in prominence as clearly as the crumbling dreams of possible superfights.
Here's a breakdown of how stock rose and fell in the UFC 162 aftermath.
Begin Slideshow

»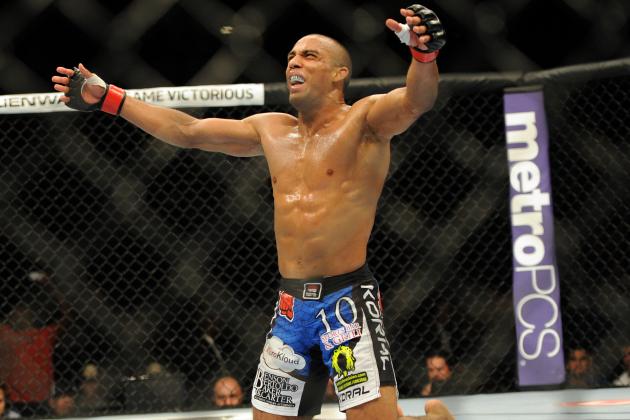 Jayne Kamin-Oncea-USA TODAY Spor
Edson Barboza celebrates victory at UFC 162.
UFC 162 marked Edson Barboza's return-to-form as one of the UFC's most lethal kickers.
He effectively tenderized the legs of opponent Rafaello Oliveira so relentlessly that the fight was waved off in the second round—Barboza celebrated his second victory via leg-kick TKO whereas Oliveira, unable to walk on his own power, had to be helped out of the Octagon.
The win, in all of its cringe-inducing glory, increased his record to 12-1 and has cemented him as a dangerous striker in the UFC's lightweight division. Expect to see this Brazilian Muay Thai champion standing across the cage from of a top contender on a future UFC main card.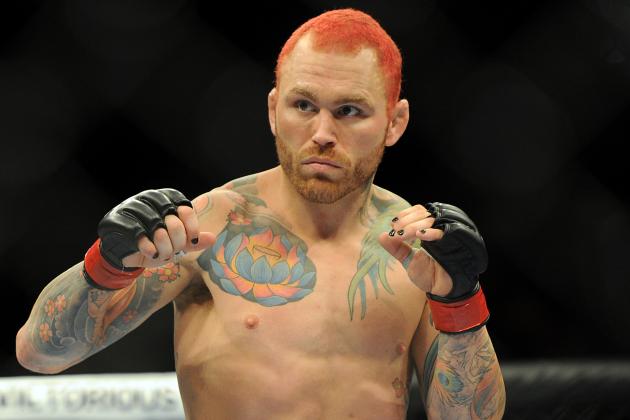 Jayne Kamin-Oncea-USA TODAY Spor
Chris Leben lost his third, consecutive fight at UFC 162.
At the UFC 162 post-fight press conference, UFC President Dana White vocalized his concerns regarding Chris Leben's future after last night's loss:
His style of fighting isn't a healthy style of fighting. He throws big shots and he doesn't have what you'd call hand speed. But if he catches you with one of those clubs, he knocks you out. I haven't really thought about it yet but I really care about the kid so we'll see.
The somber outlook was the only one left to take in the wake of Leben's split-decision loss to Andrew Craig. Unpleasant as it may be, the reality of the situation is staring White right in the face: Leben is no longer—nor has he recently been—a viable asset to the UFC.
Without a win since his 2011 knockout of Wanderlei Silva, perhaps it's time for this UFC veteran to rest on his laurels and start the next chapter of his life.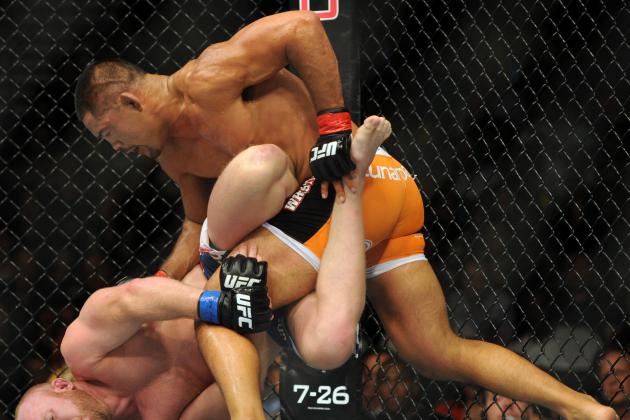 Jayne Kamin-Oncea-USA TODAY Spor

Without photographic proof, you'd never believe that the same, unstoppable Mark Munoz from UFC 162 had weighed over 260 pounds just a few months prior. Battling injury and depression, Munoz raised doubts of how he'd perform after a year on the shelf.
Well, a battered and broken Tim Boetsch confirmed that Munoz has returned in top form. 132 strikes punctuated the best performance we've ever seen from "The Filipino Wrecking Machine."
Munoz made a loud statement with last night's victory—he's here to pursue the upper echelon's of the UFC's middleweight division.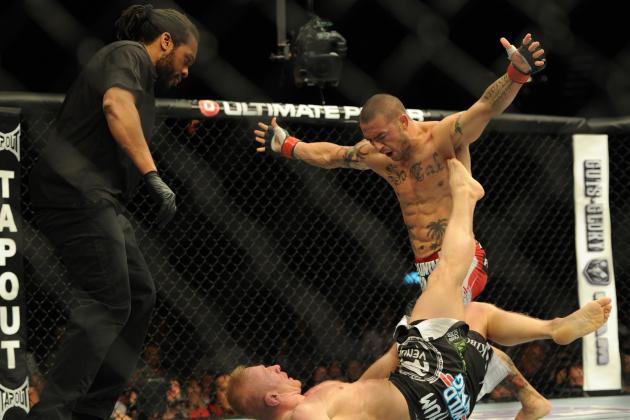 Jayne Kamin-Oncea-USA TODAY Spor
Cub Swanson knocks out Dennis Siver at UFC 162.
During his post-fight interview with Joe Rogan, Cub Swanson earnestly petitioned the fans for their support in the aftermath of his knockout victory over Dennis Siver. "I gotta let the fans decide. I gotta win them over to get a real title shot, so if the fans love me, it'll happen," said a clearly overwhelmed Swanson.
As a loud roar filled the arena, he likely felt the support he was asking for.
Swanson dropped an otherwise dangerous Siver via a series of brilliantly timed counter strikes and, in doing so, managed to rack up his fifth, consecutive victory. The performance earned him an extra $50,000 in the form a Fight of the Night bonus.
Featherweight title contention is now in his near future.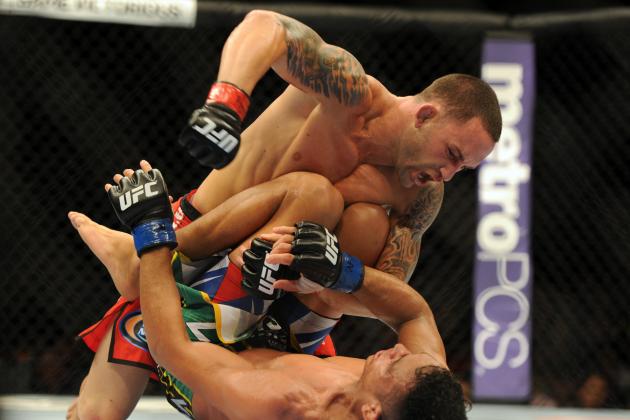 Jayne Kamin-Oncea-USA TODAY Spor
Frankie Edgar swarms on Charles Oliveira at UFC 162.
Cub Swanson vs. Dennis Siver wasn't the only bout to win Fight of the Night honors—UFC 162's co-main event featured an exciting back-and-forth war between Frankie Edgar and Charles Oliveira.
Oliveira may have been a game opponent, but last night served as a welcome break for Edgar—it was his first non-title fight in four years.
You'd never know it based on his performance.
Edgar pursued a larger and longer Oliveira in all corners of the Octagon. The bout climaxed with a series of shots in the final round that served to wobble his Brazilian opponent. Though unable to finish, "The Answer" secured a needed victory and established his position among some of the featherweight division's top contenders.
Jayne Kamin-Oncea-USA TODAY Spor
Cub Swanson lands a brutal kick on Dennis Siver at UFC 162.
The lower weight classes have received their fair share of criticism in the UFC.
Though speed and athleticism are the forefront of divisions below 155, finishing rates and explosive power are commonly considered to be absent.
Well at UFC 162, a pair of Fight of the Night awards went to four explosive and dynamic featherweight fighters. Cub Swanson managed to decisively finish Dennis Siver and Frankie Edgar reminded fans of his notorious fight pace in a unanimous decision victory over Charles Oliveira.
Through their combined efforts, these smaller fighters reignited an interest in the featherweight division among casual fans.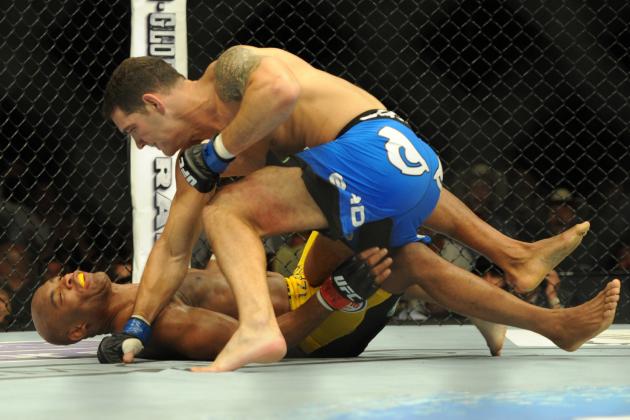 Jayne Kamin-Oncea-USA TODAY Spor
Chris Weidman stops Anderson Silva at UFC 162.
Let's not mince words: Anderson Silva's supremacy was laid to rest last night.
We can argue about the minutiae of where credit goes—whether it was the result of Silva's showboating or Weidman's superiority—but the reality remains such that Anderson Silva's unstoppable run has come to an end.
The loss doesn't change his position at the lead of the greatest-of-all-time conversation, nor should it take any deserved credit from Weidman for his achievement.
But for better or worse, Anderson Silva's mortal nature is now confirmed.
In the build up to UFC 162, Dana White told the media that Chris Weidman had "promised to f--k up all the superfights."
Little did we know that Weidman was hell-bent on turning that idea into a reality.
At the very instant that his left hook connected with Anderson Silva's jaw, a figurative needle poked a gaping hole in the ballooning possibility of future superfights. Anderson Silva was the link in the chain, his presence was needed to make any bout with either Georges St. Pierre or Jon Jones truly worthy of the superfight moniker.
As a result of Silva's reckless showboating and Weidman's brilliantly timed punch, you can lay to rest any anticipation of superfights featuring "The Spider"—for the foreseeable future, at least.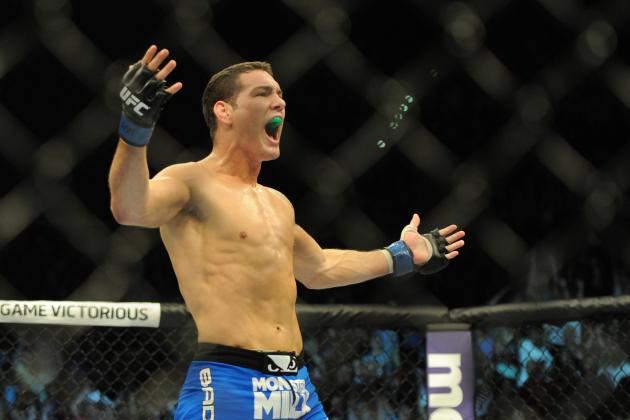 Jayne Kamin-Oncea-USA TODAY Spor
Chris Weidman celebrates his knockout of Anderson Silva.
Chris Weidman openly stated that Anderson Silva would be "foolish to not respect him."
Perhaps Silva should have considered the warning as a stern ultimatum.
From the opening bell, fans witnessed classic Silva showboating a la the Maia/Leites fights of years ago. Weidman had prepared for the possibility and pursued the champion in the midst of relentless taunting. He won the first round on points in spite of the momentary consensus being Silva may have already gotten inside of his head.
1:18 into the second round, Weidman confirmed that Silva's efforts were in vain.
As the former champion stepped back with hands at waist, Weidman threw a powerful left hook straight at his jaw. Silva collapsed to the canvas as referee Herb Dean quickly rushed in to prevent unnecessary damage.
Weidman is now the UFC's middleweight champion and the first man to stop Silva inside the Octagon. I'm inclined to say that, with only 10 fights under his belt, he has only begun to demonstrate what he's truly capable of.