Robert Lewandowski: Are Dortmund Right to Keep Hold of Striker for Further Year?
Use your ← → (arrow) keys to browse more stories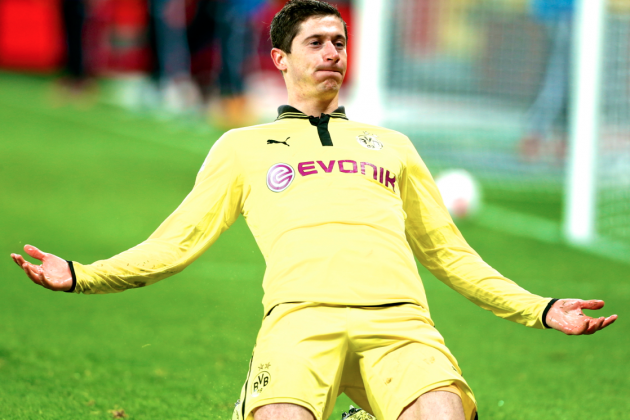 Borussia Dortmund coach Jurgen Klopp is resigned to losing striker Robert Lewandowski to Bayern Munich next summer, as he told Welt Am Sonntag (via Miles Chambers of Goal.com).
The Poland international had been strongly linked with a move to the European and Bundesliga champions this summer, with outgoing Bayern coach Jupp Heynckes claiming the player would soon follow Mario Gotze to the Allianz Arena after the Champions League final at Wembley in May.
Heynckes, whose team had beaten Dortmund 2-1 in the final, claimed Lewandowski "will not be hanging about too much" after the final, as the Daily Telegraph reported.
However, despite the arrival of Pep Guardiola to replace Heynckes, the deal to bring the 24-year-old to Bavaria has not gone through.
Instead, Lewandowski has been linked with Manchester United and Chelsea, as John Drayton of the Daily Mail reported.
Now, with one year remaining on his current contract, Klopp has revealed that Lewandowski will not join Bayern for another season.
I think it is a known fact that Robert is going to play for Bayern after the upcoming season. Now the only question is how to shape the time until then.

That is our concern and it is our commitment to our fans and members to ensure that we will have a more competitive team in the upcoming season.

Up to a certain point we were with Robert's desire for change and were ready to talk. But nothing happened so we had to eventually say: '[A sale] now no longer works for us.'

And now we want to prove that, with a quality player like Robert, we can be successful in the coming year. Our results in the coming season is what we're all about. I know that Robert and I see it the same way.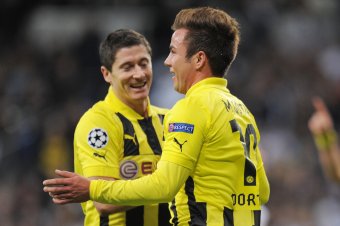 Denis Doyle/Getty Images
The announcement of the departure of Gotze in the hours after the Champions League quarterfinal win over Malaga was met with dismay and anger among Dortmund supporters and the club, who were still revelling in the late victory over Manuel Pellegrini's team.
Gotze's shirt was burned by some Dortmund fans, as Massimo Marioni of The Metro reported, while others made a banner which was displayed during the Bundesliga game with Bayern in May, as Yahoo! Sport reported.
The prospect of another major name leaving the Westfalenstadion for Bayern would not have been appealing to Dortmund supporters.
However, are the club wise to hold on to Lewandowski in the knowledge that he will be playing for their biggest rivals from the summer of 2014?
It is a moot point for all concerned, but what the Pole offers up front for Dortmund cannot be underestimated.
Lewandowski scored 34 times in 44 appearances for Dortmund last season, including the four-goal haul which set up the German club's Champions League semifinal victory over Real Madrid.
Before that, he had helped Dortmund secure successive Bundesliga titles following his 2010 move from Lech Posnan in his home country.
Lewandowski's ability to control the ball and keen eye for finishing have placed him firmly on the world football map.
Keeping hold of that level of talent would be key to the success of any team, but much will depend on how Dortmund supporters react to Lewandowski.
The club might miss out on a transfer fee for the striker this summer, but his form on the pitch could prove to be an unexpected financial and successful bonus.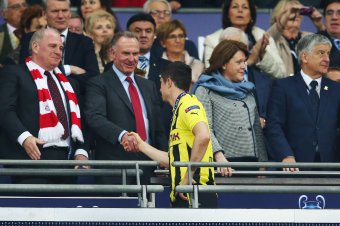 Alex Grimm/Getty Images
It has, arguably, been a disappointing period for Dortmund supporters, with Bayern comfortably reclaiming the Bundesliga title and defeating Dortmund in the Champions League final.
Throw the loss of Gotze to Bayern into the mix and the disappointment becomes even more severe. Then the possible loss of Lewandowski to the Bavarian club would have been a further blow for the fans to deal with.
Lewandowski not moving until next year merely delays that disappointment, but the situation is now largely down to the player himself.
Any slip in form will be perceived as not trying by some fans, while success on the pitch will serve to reinforce the loss in 2014.
It is a difficult situation for all concerned, but the answer will start to be revealed when Dortmund take to the field for their opening Bundesliga match at FC Augsburg on Aug. 10.
The acid test for Lewandowski and the fans, though, will come on Nov. 23 when Dortmund play host to Bayern for the first time in the Bundesliga next season.
Should Robert Lewandowski stay at Borussia Dortmund for another year before joining Bayern Munich? Let us know what you think in the comments below.