Stock Up, Stock Down for Chicago White Sox's Top 10 Prospects for Week of July 1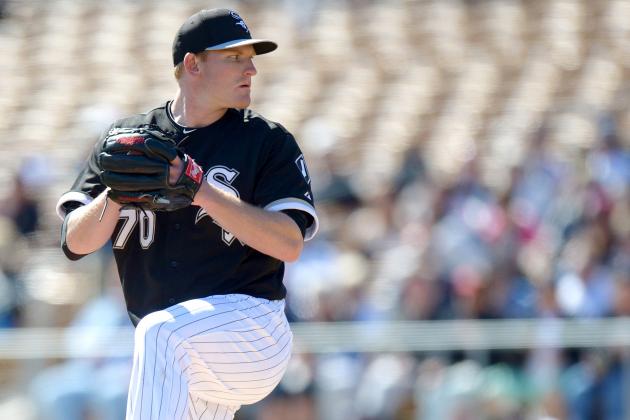 Jake Roth-USA TODAY Sports
Erik Johnson is on the seven-day disabled list.
As usual, the Chicago White Sox's farm system produced mixed results last week.
There was a flurry of activity as White Sox general manager Rick Hahn made some big-name promotions to Triple-A and called up catcher Josh Phegley and relief pitcher Simon Castro to the majors.
Castro—3.0 IP, 0 ER, 2 H, 4 K, 2 BB—was outstanding in his first appearance, and Phegley—2-for-7, 1 HR, 3 RBI—has responded to the expectations very well during his first two games.
For those still in the minors, however, it was the standard collection of successes and failures. For the first time in a while, though, the positives outweighed the negatives.
Here is the stock up/stock down report for Baseball America's top 10 White Sox prospects for the week of July 1-7.
Statistics courtesy of MiLB.com unless otherwise noted.
Begin Slideshow

»
2013 Stats
16 GS, 8-8, 3.08 ERA, 46 K, 32 BB, 87.2 IP
Chris Beck is the most consistent pitcher for the Class-A Winston-Salem Dash.
After losing two straight decisions in the middle of June, he has responded by winning the next two and only allowed four earned runs in 13.0 innings.
Dash broadcast Brian Boesch noted last Monday that Beck was the only full-time starter in the Carolina League who has yet to record a no decision. A hard-luck loser on two occasions, he has pitched at least five innings in all but three of his starts.
With the White Sox shuffling pitchers between the upper levels of the farm system, it should only be a matter of time before Beck gets a promotion to the Double-A Birmingham Barons.
Last Week's Stats
1 GS, 1-0, 3.00 ERA, 2 K, 1 BB, 6.0 IP
Stock
Up
2013 Stats
.183/.317/.293, 4 HR, 17 RBI, 77 K, 36 BB, 23 R
Jared Mitchell cannot seem to turn the corner offensively. He did hit a triple and drive in a run during the Barons' 4-1 victory on Saturday, but on the whole has failed to find any rhythm at the plate.
Since his demotion to Double-A, Mitchell has struck out 50 times in 138 at-bats. It is his propensity to strikeout that is holding him back. If he can cut down on those, he will be able to showcase the rest of his tools.
Mitchell's defense is not an issue. He continues to make fantastic catches in center field on a regular basis and is very good at limiting extra bases on balls hit to the gaps.
The White Sox need Mitchell to put his tools together, as the major league team will need some outfield help quite soon.
Last Week's Stats
4-for-21, 1 HR, 3 RBI, 8 K, 4 BB
Stock
Down
2013 Stats
.175/.243/.317, 2 HR, 8 RBI, 29 K, 6 BB, 6 R
Keon Barnum has been having a rough go of it for the Class-A Kannapolis Intimidators since coming off the disabled list.
Barnum has struggled most in two specific situations—against left-handed pitching and with runners in scoring position. Entering play on Sunday, the first baseman was hitless in 13 at-bats against lefties and has only collected one hit in 22 plate appearances with RISP.
Much leeway will be given to the 20-year-old, however, because of the spate of injuries he suffered to begin the year.
Last Week's Stats
6-for-25, 2 HR, 5 RBI, 9 K, 2 BB, 4 R
Stock
Even
2013 Stats
18 GS, 6-6, 4.47 ERA, 96 K, 36 BB, 100.2 IP
Andre Rienzo is on a tear for the Triple-A Charlotte Knights.
Over his last 48.1 innings, the right-hander has given up 11 earned runs and recorded 48 Ks. His record is only 2-3, but he has been dominant.
It is about time, too. Going into the month of June, the native of Brazil was 4-3, but had an ERA over 6.00 and was walking a batter every other inning. It was not good.
Sunday night, Rienzo pitched his first complete game of the year, giving up two runs on only five hits. Oh, the CG was a shutout, and he struck out four.
Last Week's Stats
2 GS, 1-0, 9 K, 1 BB, 3 ER, 17.0 IP
Stock
Up
2013 Stats
17 GS, 8-7, 4.56 ERA, 59 K, 33 BB, 96.2 IP
Scott Snodgress had an eventful last three starts for the Barons.
He went six innings on June 24, giving up one earned run en route to a victory, and then followed that up by allowing nine runs (four earned) in a loss on June 29.
Then, Snodgress threw what could be the best game of his young career when he tossed eight innings of shutout baseball in a no-decision on Independence Day.
When he is committed to the off-speed pitch, the left-hander can be dominating. It is when he begins to rely too much on his fastball that he becomes predictable.
If all goes well, Snodgress could be in line for a promotion to Charlotte in a few weeks.
Last Weeks's Stats
1 GS, 0-0, 0.00 ERA, 3 K, 1 BB 8.0 IP
Stock
Up
2013 Stats
.213/.326/.282, 1 HR, 19 RBI, 97 K, 43 BB, 51 R
Keenyn Walker continues to confound.
After compiling a .255/.375/.340 slash line in June, Walker has regressed mightily. In July, he is hitting a combined .231 and has already struck out nine times in only six games.
When Walker gets on base, he has the ability to create his own runs and has already collected 30 stolen bases this season. He is a dynamic baseball player.
Unfortunately, 43 of Walker's 86 total bases have come via the walk. That is a frightening statistic.
Walker needs to put himself in a position to use his speed, and that means staying in the hitting zone longer and letting unhittable pitches find the catcher's mitt.
Last Week's Stats
6-for-26, 1 R, 5 H, 9 K, 2 BB
Stock
Even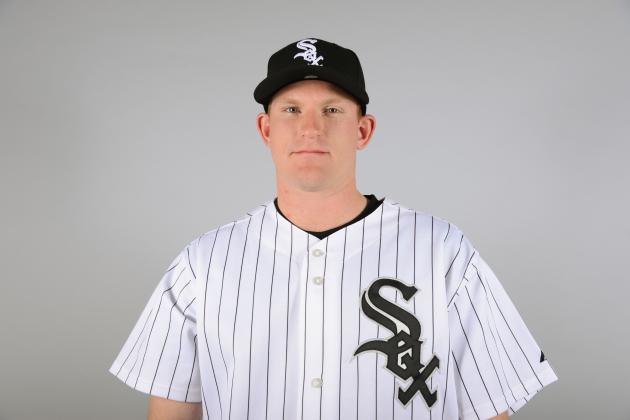 Kyle Terada-USA TODAY Sports
Erik Johnson, everyone.
2013 Stats
17 GS, 9-2, 2.24 ERA, 92 K, 27 BB, 100.2 IP
The good news is that Erik Johnson has shined since his promotion to Triple-A Charlotte on June 23, going 1-0 with a 2.25 ERA in three starts.
The bad news is that he left his start last Wednesday after three innings with "a right groin strain" and was scheduled to have a "precautionary MRI to determine the severity," according to the Chicago Tribune's Mark Gonzales.
According to MLB.com's White Sox prospect page, Johnson was placed on the seven-day disabled list.
Assuming that he can bounce back from the injury, Johnson will be on the South Side in due time.
Last Week's Stats
1 GS, 0-0, 3.00 ERA, 5 K, 0 BB, 3.0 IP
Stock
Even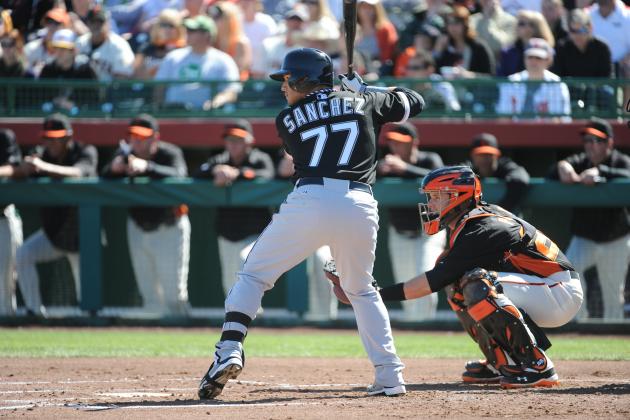 Rich Pilling/Getty Images
Carlos Sanchez has the ability, but has yet to put it all together.
2013 Stats
.236/.300/.289, 22 RBI, 53 K, 25 BB, 34 R
Carlos Sanchez has yet to find the groove that made him the darling of the White Sox's farm system last season. And it is not like he hasn't been given the opportunity.
In fact, it looked as though Sanchez was about to turn the corner in May and June, but July has not been kind to him. He is slugging a woeful .182 and his OBP is .250. Those are hardly numbers that will earn you a spot on the 25-man roster.
Even though Sanchez has struggled thus far, a solid finish may earn him a promotion in September when the roster expands.
Last Week's Stats
6-for-22, 1 RBI, 6 K, 2 BB
Stock
Down
2013 Stats
.245/.345/.401, 9 HR, 50 RBI, 87 K, 41 BB, 56 R
It wasn't the best week at Double-A for Trayce Thompson.
He went 0-for-21, whiffed nine times, was pulled from the game on July 3 for reasons unknown and then missed the next one.
Jim Margalus from South Side Sox postulated that perhaps a mental break was in order during what is turning into a horrific slump, and that may very well be the case.
See, Thompson is a very streaky hitter. And as is often the case, bunch hitters can get stuck in their heads a bit too much and become discouraged during a rough stretch. After hitting .314 in June, 0-for-21 is enough to make anyone a bit edgy.
Thompson needs to figure it out, though. Out of the four outfielders in the top 10, he is most likely to reach the majors first. That is, of course, if he can cut down on the strikeouts and put the ball in play.
Last Week's Stats
0-for-21, 1 BB, 7 K
Stock
Down
2013 Stats
.195/.278/.495, 15 HR, 41 RBI, 91 K, 19 BB, 30 R
Well, Courtney Hawkins can drive the ball, and that is about it. He is Winston-Salem's Adam Dunn. He strikes out more that 50 percent of the time and has more home runs (15) than singles (12).
That is astonishing.
His star is actually on the rise, though.
Hawkins is hitting .238 in July and has a .982 OPS with RISP this year. He is only hitting .246 in those situations, but has collected 28 RBI in 56 at-bats. That is a very acceptable rate of return.
On Sunday, Hawkins hit a two-run triple and his 15th home run of the season. What a way to end the week.
Last Week's Stats
5-for-28, 1 HR, 4 RBI, 7 K, 5 BB, 3 R
Stock
Up
Follow @MatthewSmithBR