Finally, the wait is over. For Andy Murray, you might say the weight of Great Britain residing on his shoulders is now lifted as well.
After 77 years, a British player has once again conquered Wimbledon, as Murray defeated Novak Djokovic in straight sets. From Bleacher Report:
Andy Murray becomes the first British man to win #Wimbledon in 77 years as he defeats Novak Djokovic 6-4 7-5 6-4 pic.twitter.com/Ze0FRTM2YE

— Bleacher Report (@BleacherReport) July 7, 2013
As shocking as it was for fans of the sport, Murray couldn't believe it himself.
Can't believe what's just happened!!!!!!!

— Andy Murray (@andy_murray) July 7, 2013
It took four championship points in an amazing final game, but Murray managed to finally defeat the resilient Djokovic. He'll forever be a legend now, as Richard Deitsch of Sports Illustrated eloquently noted:
You can now call him Sir Andy Murray.

— Richard Deitsch (@richarddeitsch) July 7, 2013
If you don't think this win was a huge deal, the Prime Minister of the United Kingdom, David Cameron, might make you reconsider that opinion:
It was a privilege to watch @Andy_Murray making history at #Wimbledon, and making Britain proud.

— David Cameron (@David_Cameron) July 7, 2013
Here's the final point of the match:
101 Great Goals captured in GIF form the moment Murray won the championship, along with a reaction from his girlfriend, Kim Sears: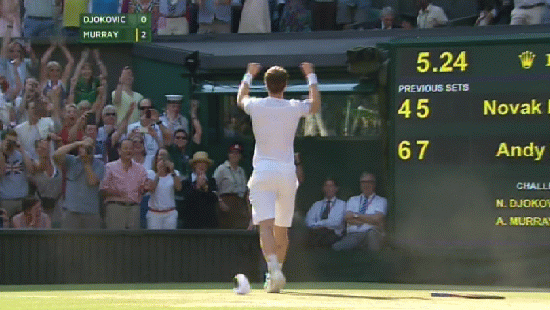 As you might imagine, the crowd went bonkers once Murray finally notched the final point. Feint Zebra caught one fan beside himself in the stands:
This guy is more than a little bit happy that Andy Murray won pic.twitter.com/olWjJWPXtL

— Feint Zebra (@feintzebra) July 7, 2013
The celebrities were out in full force too, excitedly checking out Murray win the title. Check out Bradley Cooper and Gerard Butler celebrating his victory: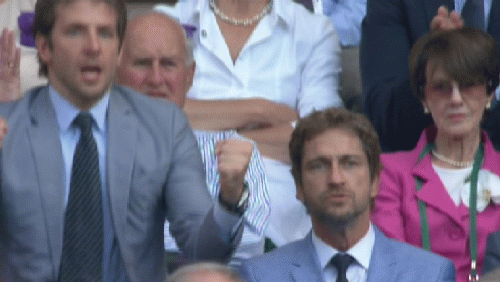 Don't be fooled, however—not all sports fans out there are impressed with Great Britain's years of suffering waiting for a Wimbledon champion, as Lost Lettermen joked:
"No Brit has won Wimbledon since 1936? Pssh, that's nothing…" - Cubs fans

— LostLettermen.com (@LostLettermen) July 7, 2013
Of course, with the crowd behind Murray, Djokovic found himself playing against both Murray and the entire stadium. As Joe Posnanski pointed out, that must have been a lonely feeling for the Djoker as Murray neared the title:
Has any athlete ever been lonelier than Novak Djokovic right now?

— Joe Posnanski (@JPosnanski) July 7, 2013
Yet as Kevin Negandhi of ESPN wrote, you have to respect Djokovic for his fight, especially with Murray playing so well and the crowd clearly in favor of the Scot:
If it's even possible, I appreciate Novak Djokovic's skills and mental game even more after this.

— Kevin Negandhi (@KNegandhiESPN) July 7, 2013
It has been a long, arduous journey for Murray to get to this point, and that's what makes this championship all the more special, as Jason Gay of the Wall Street Journal tweeted:
There are 2 ways a champion arrives. The first is suddenly, shockingly. The second takes time. Suffers. Agonizes. Perseveres. Andy Murray.

— Jason Gay (@jasonWSJ) July 7, 2013
It's a special time to be a tennis fan, with Murray, Djokovic, Rafael Nadal and Roger Federer all dueling for top billing. Andrew Brandt of ESPN says it best:
Truly compelling stuff. Again, in men's tennis, these are the good old days. #goldenage

— Andrew Brandt (@adbrandt) July 7, 2013
And as Colin Cowherd of ESPN noted, this moment for Murray was just about the pinnacle of what sports can represent:
The last hour of Wimbledon TV has just been everything sports can be. Including the fans--who elevated the moment.

— Colin Cowherd (@ESPN_Colin) July 7, 2013
The crowd erupting with every point. The weight of an entire kingdom's expectations on Murray's shoulders. A difficult opponent staring him down on every point. A long and winding road taken to reach this point. Years of waiting coming down to one, beautiful moment of triumph.
It doesn't get any better than that.