The frenzy of NHL free agency has died down a bit, but it does not mean that the offseason is over.
Far from it.
There are plenty of trade rumors with some star players involved, including goaltender Ryan Miller.
What's the latest buzz on these top players? Read on to find out.
Ryan Miller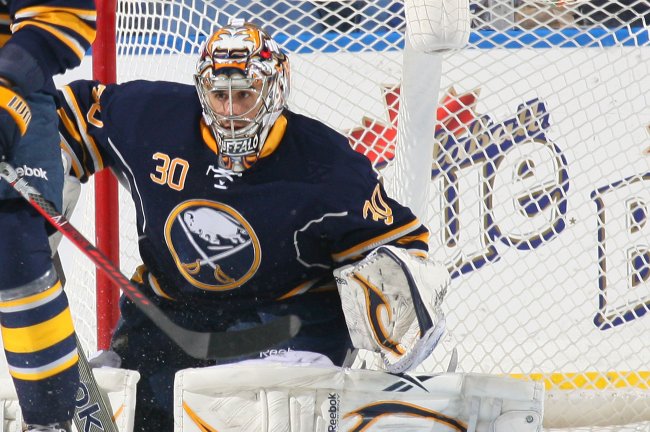 Jen Fuller/Getty Images
The Buffalo Sabres seem intent on moving goaltender Ryan Miller, although as Pierre LeBrun of ESPN notes, it's not clear when that might happen:
The Sabres remain intent on moving Ryan Miller but whether it happens this summer or at trade deadline next season remains to be seen...

— Pierre LeBrun (@Real_ESPNLeBrun) July 1, 2013
Miller had a bit of a down year last year, with just a 2.81 goals-against average. He was playing behind a poor Sabres defense that often left him out to dry.
Despite that, Miller would instantly improve any team's goaltending situation. According to LeBrun, the Blues inquired about Miller, but the talks didn't move too far:
Told that Buffalo and St. Louis spoke about Ryan Miller but price too high. Nothing happening on that front at this point

— Pierre LeBrun (@Real_ESPNLeBrun) July 5, 2013
When he's on the top of his game, there are not many better than Miller. He pretty much single-handedly led the Americans to a silver medal at the 2010 Olympics.
He would be a natural fit for the Islanders or Flyers, or perhaps the Edmonton Oilers—all teams who could benefit from an improved goaltender—although this is pure speculation.
Miller would bring back a nice haul for the rebuilding Sabres, perhaps a first-round pick and a top prospect. With his contract up after next season, according to CapGeek, and the Sabres unlikely to re-sign him, a trade would make the most sense for Buffalo.
James Neal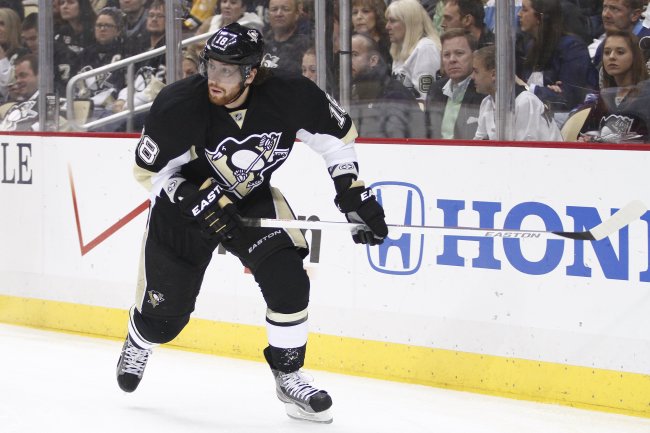 Justin K. Aller/Getty Images
With most of their cap room tied up between Sidney Crosby, Evgeni Malkin and Kris Letang, the Pittsburgh Penguins are simply not going to be able to keep all their stars.
One cap casualty might be James Neal. Bruce Garrioch of the Ottawa Sun reports that Neal could be on the block, with the Senators potentially showing a lot of interest.
It would be tough for the Penguins to lose Neal, who has blossomed as a top goal scorer in Pittsburgh. He scored 40 goals in 2011-12 and had 21 last season.
Neal is set to make $5 million through 2017-18, according to CapGeek. The Penguins have over $25 million invested in Crosby, Malkin and Letang, according to CapGeek. Neal is simply too expensive for them. The Penguins will have to build around the new core of Crosby, Malkin and Letang with cheaper players to stay in contention.
Because of the contract, Neal will have to go eventually. It may not be this offseason, however, as Rob Rossi of the Pittsburgh Tribune-Review reports:
#TribHKY There are no plans for the #pens to trade James Neal or use a compliance buyout on any player. Story to post soon.

— Rob Rossi (@RobRossi_Trib) June 20, 2013
Nevertheless, it will have to happen eventually. It's the only way the math will work.
Alex Edler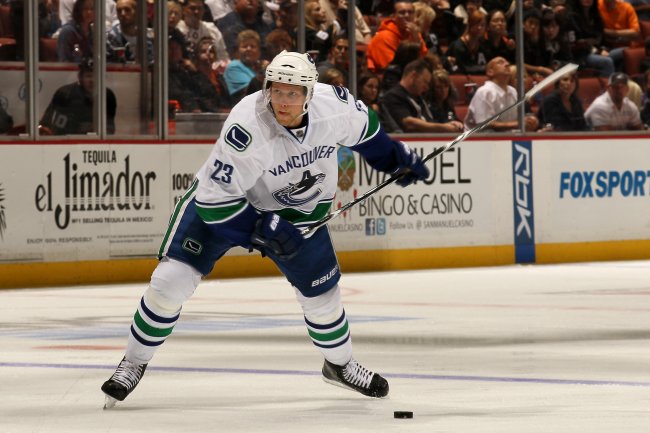 Stephen Dunn/Getty Images
There are conflicting reports on the status of the Vancouver Canucks defenseman.
According to Bruce Garrioch of the Ottawa Sun, the Flyers, Lightning, Senators, Sabres and Oilers have interest in the slick-skating Edler.
However, Darren Dreger of TSN reports that Edler will not be traded, at least not for the foreseeable future:
The Ballard buyout means Alex Edler is no longer a trade target.

— Darren Dreger (@DarrenDreger) July 3, 2013
Edler is set to make $5 million through 2018-19, according to CapGeek. With the Sedin twins up for free agency after next season, the Canucks might want to embrace a rebuild. Trading Edler would certainly be a part of that.
Edler is a talented defenseman with plenty of offensive upside. He may not, however, fit in new coach John Tortorella's more defensive system, which often constricts defensemen from leading the rush with authority.
He should garner a significant return for the Canucks, perhaps as much as a first-round pick and a solid roster player.