Andy Murray Wins Wimbledon 2013: 8 Moments That Made the Match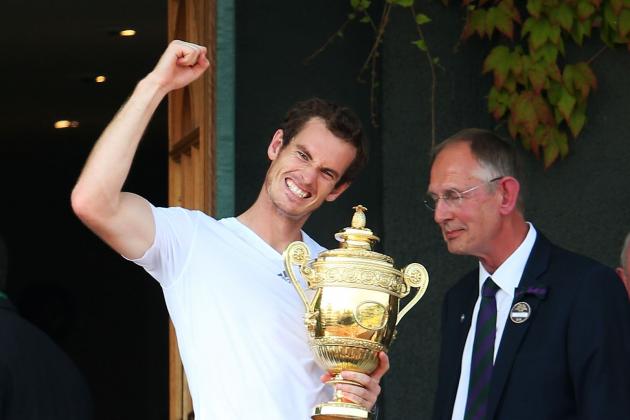 Julian Finney/Getty Images
Andy Murray, Wimbledon Champion 2013
There are many moments that make a match memorable.
For Andy Murray, champion of Wimbledon 2013, and the rest of the United Kingdom that anticipated this particular moment since 1936, the final point may have been the sweetest. However, it was the afternoon's minute-by-minute activity that gave the victory its context.
Here are the eight most memorable moments, plus one honorable mention, that made the match in Andy Murray's win over Novak Djokovic 6-4, 7-5, 6-4.
Begin Slideshow

»
Julian Finney/Getty Images
Andy Murray, left, defers coin toss to Novak Djokovic
Even before the match begins in earnest, there is the coin toss. A normally mundane process, this one is different.
As the coin settles on the lawn, and Andy Murray is proven to have called it correctly, he takes the first opportunity at gaining an edge. He defers. Murray allows Novak Djokovic to choose whether to serve or return first. It doesn't matter which he chooses. By forcing Djokovic's hand, Murray gains momentum.
ESPN analyst John McEnroe notes, "A little head game from Murray." McEnroe is wrong. It is a huge head game, and it proves to be pivotal.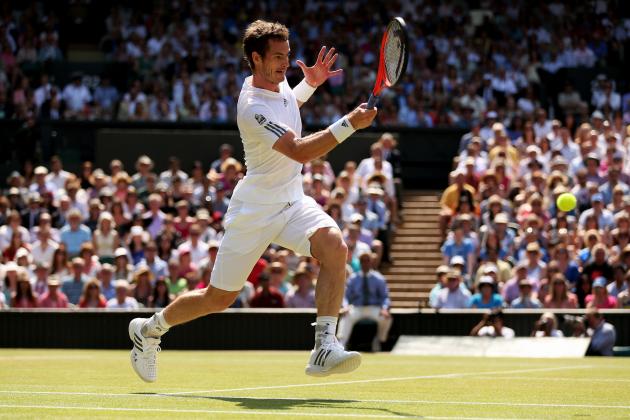 Clive Brunskill/Getty Images
Quick-footed Andy Murray, Wimbledon 2013
The mental edge Andy Murray gained from the coin toss carries right on to the first point struck in anger, as Bud Collins used to say when he covered the game.
A 20-shot rally gives the Scot the first point of the match. Although it could be said that the normally staid crowd makes too much noise during the point, it is Novak Djokovic's wide forehand that is truly audience-approved.
Murray uses his slice backhand and quick feet to prolong the point and shows his absolute determination to win his first Wimbledon.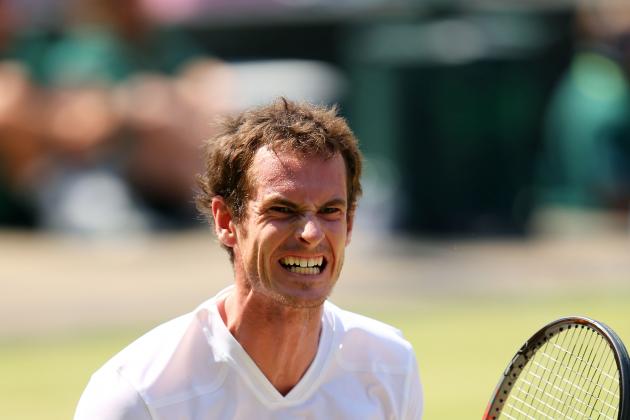 Julian Finney/Getty Images
Andy Murray Breaks for the Lead, Wimbledon 2013
On the seventh break point of the match, Andy Murray hits a backhand winner down the line. He now leads 2-1. This was the seventh break point Murray saw, but there was no surprise when he failed to capitalize on those.
The reason this point looms so largely in the championship is a simple fact: In the entire final between Murray and Novak Djokovic in the 2013 Australian Open, Murray never broke his opponent. Not once. He will go on to break seven times during this championship.
A break here, along with the roaring crowd that accompanies it, turns out to be hugely important. Rarely has a break so early in a match meant so much.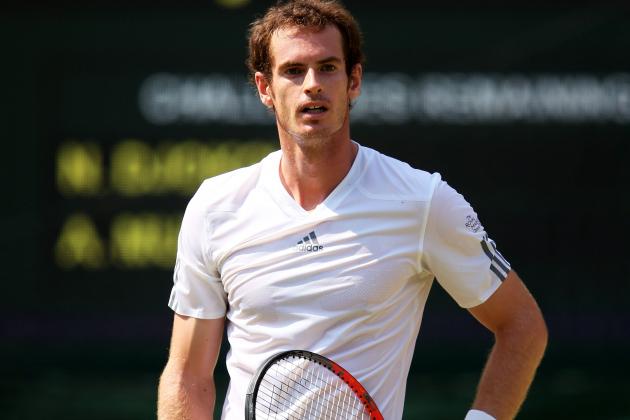 Julian Finney/Getty Images
Wry smile from Andy Murray, Wimbledon 2013
Andy Murray loses the opportunity to break Novak Djokovic when receiving at 15-30, 3-5 in the first set. Until the penultimate shot he has control of the point. An awkward forehand by Djokovic somehow finds the net cord tape, climbs it and falls over.
Murray's poor luck turns into a Djokovic hold, instead of a chance to win the set and serve first in the next. Yet he smiles at this turn of events. It is not a fully ironic smile, but it is not one of cynicism, either.
Allegedly Murray once remarked that he is more Scottish when having a bad temper and more English when reserved. If that is true, then he is a true British champion today already.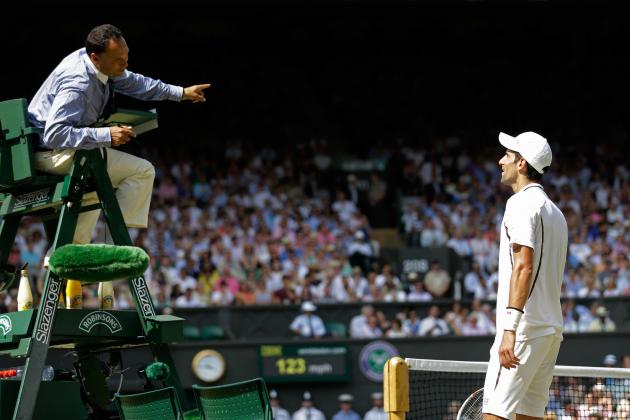 Pool/Getty Images
Novak Djokovic argues call with Chair Umpire Mohamed Lahyani
At 15-15, 5-5, Novak Djokovic quits on a point in the middle of the rally. He thinks, clearly, that Andy Murray's shot is well past the baseline.
With no challenges remaining in the set, all he can do is lift his arms. No out call comes, and his only recourse is chair umpire Mohamed Lahyani. As reported by The Guardian at 4:22 pm BST, Djokovic yells out, "What's going on? You've got to see this!"
Lahyani motions Djokovic to continue the service game. The rattled Serb nets a forehand unforced error. Murray now is up a break at 6-5. He then serves for, and wins, the second set.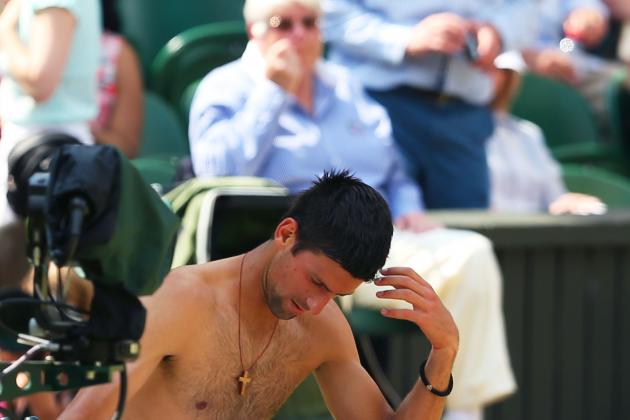 Julian Finney/Getty Images
Dejection on Novak Djokovic's face, Wimbledon championship 2013
At break point down in the opening game of the third set, Novak Djokovic hits a backhand long, giving Andy Murray the break.
However, it appears that the ball wasn't actually called out by a linesperson or the chair umpire. Murray has challenged the call.
He had already played the ball back, though, which should nullify the ability to challenge at all, according to the challenge rules posted on the official site of Wimbledon. Umpire Lahyani allows the challenge. The ball was long, and the break is Murray's.
This time, Djokovic has had enough of arguing with the umpire. He dejectedly heads to his chair.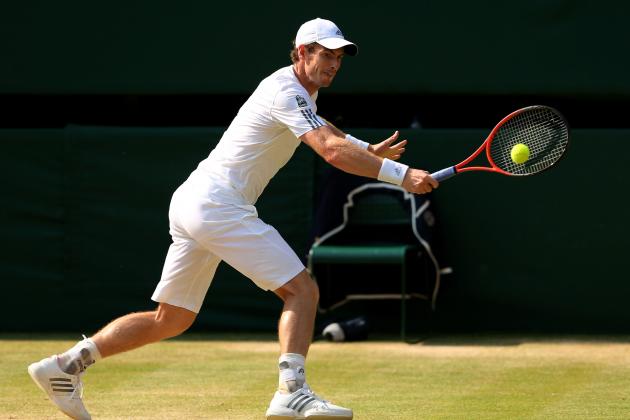 Julian Finney/Getty Images
Steady and strong legs, Andy Murray, Wimbledon championship 2013
For the early and middle part of the decisive third set, Djokovic begins a drop shot barrage. This works. Between points Murray stretches out his shoulders and back and pounds his thighs. Fatigue is setting in.
Serving at 15-15, four games apiece, Novak goes to the dropper again. Murray races to the net and places the ball back safely and fairly deeply. Novak throws a well-placed lob over him. It is seemingly the perfect play.
Somehow Murray reverses course and returns the lob. Djokovic drops again, but Murray is already there, delivering a powerful passing shot to Djokovic's forehand. When the Serb can't put the volley back in play, his hopes fade.
The reinvigorated Murray makes two more sprint winners to close out the game. He secures the break, giving him the chance to serve for the 2013 Wimbledon title.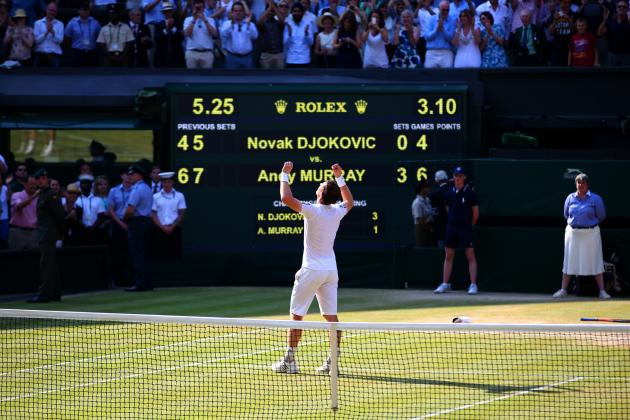 Julian Finney/Getty Images
Andy Murray celebrates his Wimbledon title, 2013
The final moment of the match comes as a result of Andy Murray's renewed legs. He serves for the match, yet wins it with his movement. This, despite the fact that he will admit later that he was feeling tiredness creep in.
Novak Djokovic fights gamely, driving groundies from sideline to sideline, corner to corner in the decisive game. Murray runs each one down and returns it even harder. Always the shot maker, he saves the best for last. Combining athleticism, grit, and talent, the match ends only after multiple championship points.
As the Associated Press would report, and as tennis fans around the world must know, Andy Murray becomes the first British man to win Wimbledon since 1936, 6-4, 7-5, 6-4.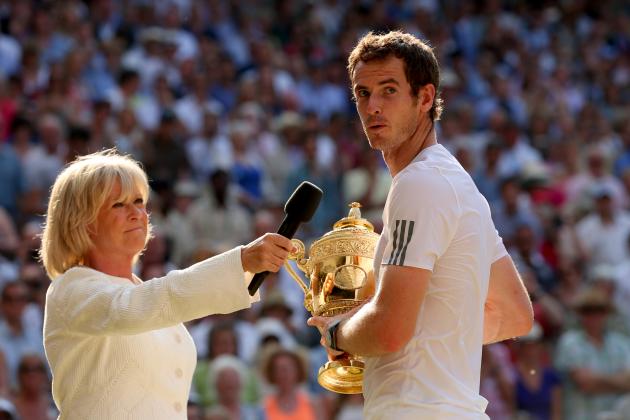 Clive Brunskill/Getty Images
Andy Murray looking to mum Judy? Wimbledon championships 2013
The only moment that Andy Murray doesn't seem to get right comes directly after his win.
Wishing to share with friends and family, he climbs into the stands. On the way, he remembers commentators Chris Fowler, John McEnroe and Patrick McEnroe with a handshake and brief word.
He arrives in his box and greets his girlfriend Kim Sears and his coach Ivan Lendl. Then, anxious to go down and receive his trophy, he begins his descent to the court.
It is only when he hears her calling behind him that he remembers his mum Judy and returns to give her a kiss and a well-deserved hug.