The drought is over.
Andy Murray defeated Novak Djokovic to become the first British man to capture the Wimbledon championship since Fred Perry in 1936. He did it in straight sets, 6-4, 7-5, 6-4, in front of a very supportive Centre Court crowd.
#Murray takes the #Wimbledon singles title 6-4 7-5 6-4 v #Djokovic #mensfinal #allinforAndy #bANDYwagon

— Wimbledon (@Wimbledon) July 7, 2013
Can't believe what's just happened!!!!!!!

— Andy Murray (@andy_murray) July 7, 2013
As expected, the tournament's top two seeds put on an often brilliant display of tennis. The final was the 19th meeting between the rivals, and it showed. During some of the extended rallies, of which there were many, it seemed like they each knew what the other player was going to do next.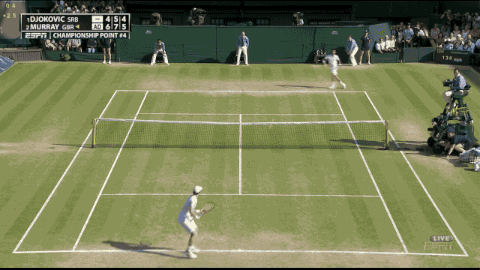 Murray's victory was his first against Djokovic since the U.S. Open final last year and gives him eight wins in 19 matchups. The world's top-ranked player had won the previous three encounters, including the Australian Open championship match earlier in the year.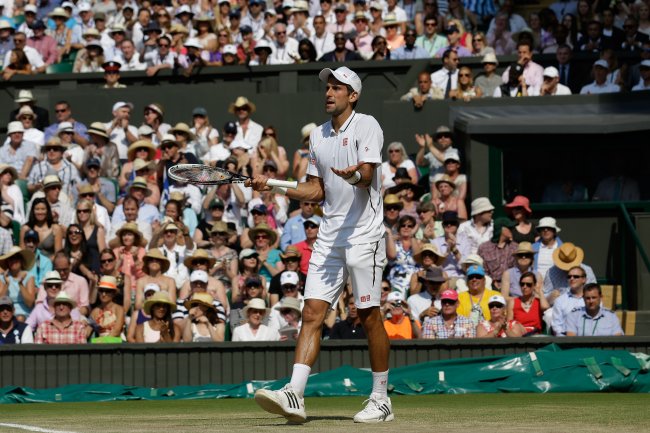 Pool/Getty Images
For the Wimbledon fan favorite, it marks his second career Grand Slam title and the second marquee victory at the All England Club in the past year. He captured the gold medal during the London Olympics last summer, which appeared to have a huge impact on his confidence level.
The difference between the two superstars was minimal throughout the match, but Murray was the better player from the outset.
He was able to make immediate inroads on the Djokovic serve. After he squandered a couple chances early, Murray finally got the first break to go up 2-1 in the opening set.
It was an impressive display of turning defense into offense.
First blood to Murray. He breaks Djokovic to take 2-1 lead. Will he consolidate? #mensfinal pic.twitter.com/EXuYcLHleb

— ESPNTennis (@ESPNTennis) July 7, 2013
Djokovic broke right back to level the set, though.
Both players settled in from there, embarking on some rallies that seemed to last longer than an Andy Roddick service game. The former top-ranked American weighed in on the proceedings.
37 minutes in and it's 3 all with most rallies going deep.... These guys are killing each other

— andyroddick (@andyroddick) July 7, 2013
Of course, the style of play didn't come as a surprise. Murray and Djokovic are two of the best defensive players in the sport. They were able to return shots other players would watch sail by, leading to the long, hard-fought games.
That said, Murray must have received Roddick's message telepathically, because he proceeded to break Djokovic in the very next game to go up 4-3. He then served out the set, giving him an early edge in a match where they were tough to come by.
Love service game. #Murray to take the opening set 6-4 v #Djokovic in exactly 1 hour. Centre Court crowd on its feet. #Wimbledon #mensfinal

— Wimbledon (@Wimbledon) July 7, 2013
The good news for Djokovic was that in each of his previous three wins over Murray, he dropped the opening set before coming back to claim victory.
After today's battle, who should be the US Open favorite?
Early in the second set, it appeared the momentum was beginning to shift. Djokovic grabbed an early break to go up 3-1 and then consolidated it.
Just when it looked like he was going to level the match, however, Murray fought back.
The No. 1 seed gave the break back with a double fault to watch his lead slip to 4-3. The next game became the turning point of the second set.
Djokovic had multiple opportunities to regain the break, but Murray was able to fend him off. The game went back and forth until the Scot showed the heart of a champion to hold. The set shifted back into his favor from there.
#Murray saves the 7th break pt on his serve with a 128mph ace - his 7th for match. Saves the 8th with a smash. Holds for 6-4 4-4 #Wimbledon

— Wimbledon (@Wimbledon) July 7, 2013
Murray scored another break to go up 6-5 and served it out at love once again to grab a two-set lead. Djokovic let a 4-1 lead in the set slip away.
The 2011 Wimbledon champion's fortunes didn't improve early in the third set. Murray charged right out, broke and held serve to grab a 2-0 lead. At that point, it looked like the championship was starting to slip away from the top seed.
Momentum all #Murray's. Holds to love for 6-4 7-5 2-0 v #Djokovic. 28 winners & 11 unforced errors to his name in the #Wimbledon #mensfinal

— Wimbledon (@Wimbledon) July 7, 2013
But like he has so often throughout his career, Djokovic fought back. Fueled by a pair of breaks, he went on a four-game winning streak to take command of the set.
He couldn't hold it.
Murray responded in spectacular fashion, winning the final four games of the match—including a marathon one at the end—to win the championship. Any lingering questions about his ability to win on the sport's biggest stages have now been completely erased over the last 12 months.
#Murray: "I understand how much everyone wanted to see a British winner at Wimbledon so I hope U enjoyed it. I tried my best." #Wimbledon

— Wimbledon (@Wimbledon) July 7, 2013
The champion finished with just five more winners but 19 fewer unforced errors than Djokovic. While the scoreline will show a straight-sets victory, it was anything but a blowout. Murray was just marginally better, but that's all it took for him to get back on top of the tennis world.
At long last, Britain's wait is over, as Andy Murray is the 2013 Wimbledon champion.