NBA free agency presents some harsh realities for both players and organizations. Under the umbrella of the new collective bargaining agreement, the league's middle class is shrinking rapidly.
While the inflated contracts we typically see at the start of free agency are still prevalent—and as egregious as ever (see Zaza Pachulia)—the free-agent spending spree has left some big names unaccounted for.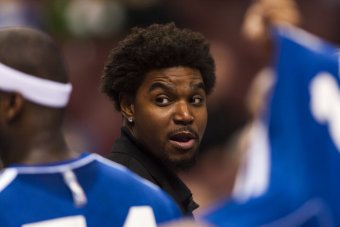 USA TODAY Sports
Of course, many of the players still on the market will eventually land the big contracts for which they search. But players like Andrew Bynum still present enough risk for teams to take their time in attempting to acquire them.
As Dwight Howard, Chris Paul, Andre Iguodala, Josh Smith and several more top scorers prepare to ink new deals when the moratorium ends on July 10 (when free agents are officially able to sign), it's time to look more closely at the remaining free agents and break down some of the top scoring talent still on the market.
Monta Ellis, G
Mike Ehrmann/Getty Images
That Monta Ellis hasn't found a new home yet isn't all that surprising. He's easily the best scorer available at this point—and he knows it.
According to CBS Sports, Sam Amico of Fox Sports and Marc Stein of ESPN, the New York Knicks, San Antonio Spurs and Atlanta Hawks are all interested in the combo guard, and the complete list is likely even longer:
.@KBergCBS reported the Knicks' interest in Monta Ellis http://t.co/CyxrC1B20Q and they traded for Bargnani: http://t.co/si1Nxdg3uH

— Eye on Basketball (@EyeOnBasketball) July 1, 2013
More NBA FA reported interest: Monta Ellis (Knicks, Spurs); Nick Young (Lakers); CJ Watson (Cavs); Josh Smith (Pistons); Kyle Korver (Nets).

— Sam Amico (@SamAmicoFSO) July 1, 2013
Just as they did at February's trade deadline, Hawks have Monta Ellis in their sights in July free agency. Linkage: http://t.co/wh2Vlcxw1w

— Marc Stein (@ESPNSteinLine) July 7, 2013
Ellis tallied 19.2 points and six assists per game with the Milwaukee Bucks last season, opting out of the final year of his contract in favor of finding a more lucrative deal on the open market. While Ellis may not be worth more than about $8 million per season given his defensive shortcomings and itchy trigger finger from 10-plus feet, he'll likely get an even bigger contract as the top scorer still available.
When the well starts to run dry, teams are especially willing to overspend. Inflated contracts are the norm, and Ellis should be expected to ink a hefty new deal in the very near future.
Andrew Bynum, C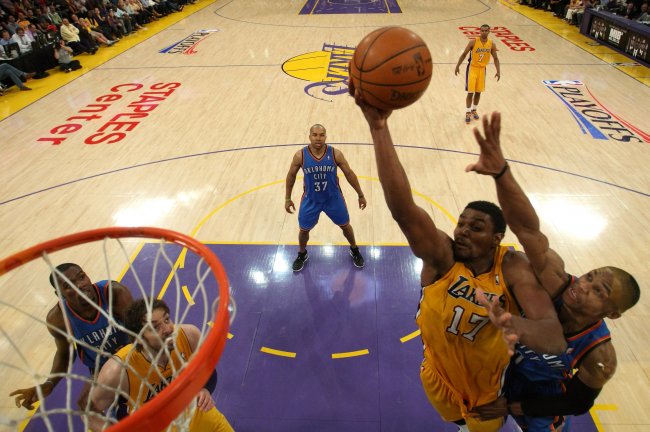 Stephen Dunn/Getty Images
Centers don't typically come to mind when thinking "scorer," but Andrew Bynum may be the lone available big man who warrants the distinction.
Bynum averaged 18.7 points and 11.8 rebounds with the Los Angeles Lakers in 2011-12 before his infamous bout with knee issues, and while it remains to be seen how he bounces back from those injuries, plenty of teams will be willing to take the risk given the shortage of top-tier big men still on the market.
As reported by SportsCenter and Amico, the Dallas Mavericks, Portland Trail Blazers and Cleveland Cavaliers could all be in the running for his services:
Mavs are carefully pursuing C Andrew Bynum following Dwight Howard's decision to join Rockets » http://t.co/Rt1iPYsKlZ

— SportsCenter (@SportsCenter) July 6, 2013
Trail Blazers and Cavs interested in free agent center Andrew Bynum, reports @HOOPSWORLD. Cavs definitely on lookout for another center.

— Sam Amico (@SamAmicoFSO) June 30, 2013
But as Steve Kyler of Hoopsworld noted, no team had Bynum at the top of its wish list this offseason, due in large part to his ailing knees:
Lets also be clear on Andrew Bynum... he is not anyone's first or second free agent option. He'll land where other miss.

— Steve Kyler (@stevekylerNBA) June 30, 2013
With dominoes falling by the minute, it shouldn't be long before the 25-year-old seven-footer inks a new deal. Just don't expect it to be fully guaranteed given the risk associated with locking him up to a big-money deal.
Andrei Kirilenko, SF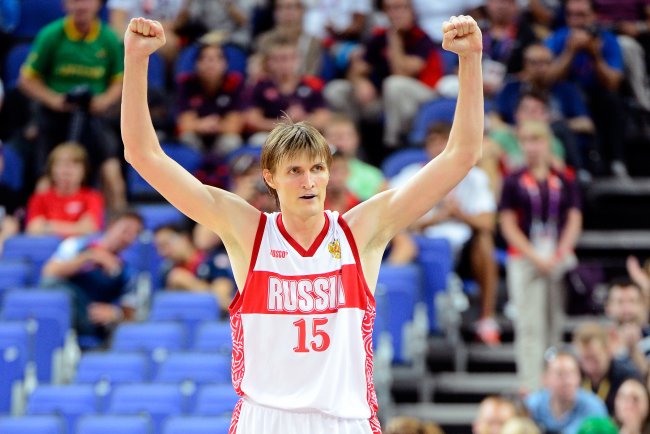 Ronald Martinez/Getty Images
As noted by Jeff McDonald of the San Antonio Express-News, AK47 opted out to hit the free-agent market, and he's likely headed for a lengthy contract should a team hope to acquire him with its mid-level exception:
Kirilenko opted out of $10.2 million. Only way to entice someone like that with MLE money is to overpay on the "years" portion of terms.

— Jeff McDonald (@JMcDonald_SAEN) July 4, 2013
Kirilenko averaged 12.4 points with the Minnesota Timberwolves last season, but he's always been a consistent 11-plus-points-per-game scorer, nine times eclipsing that mark in his 11-year career. It's hard to envision a scenario in which a team doesn't overpay to bring him in given the minimal risk associated with signing him.
Kirilenko is at his best coming off the bench in a sixth-man role, and while some teams may shy away from doling out a sizable contract for a bench scorer, well, the market is drying up. Expect it to happen.