Anderson Silva vs. Chris Weidman Fight Card: Ranking the Main-Card Fights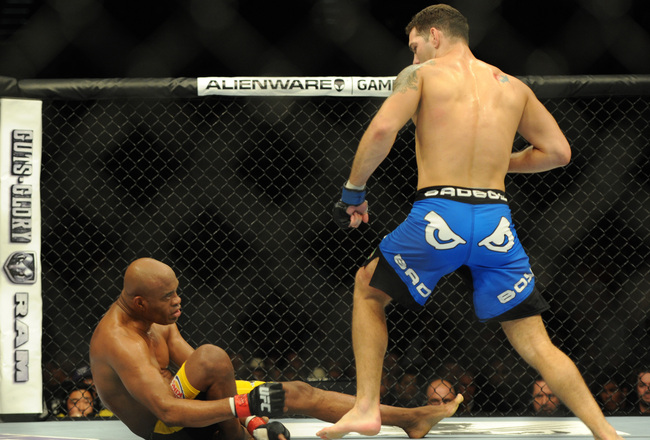 Jayne Kamin-Oncea-USA TODAY Spor
Signaling the end of an era, UFC 162 will go down in history as one of the most significant events in mixed martial arts history.
In the evening's main event at the MGM Grand Garden Arena in Las Vegas, Chris Weidman shocked the world by knocking out Anderson Silva in the second round for the UFC middleweight title.
But where does the historic matchup between Silva and Weidman rank among the rest of the main card? Here is a look at the main-card fights of UFC 162, ranked in order of pure awesomeness.
Ranking Criteria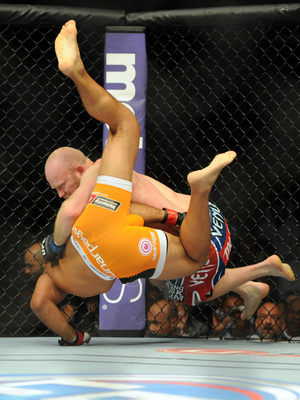 Jayne Kamin-Oncea-USA TODAY Spor
How does one fight get ranked higher than another? What makes Fight X better than Fight Y?
We take into account the following factors:
Entertainment value

Fight significance

Technique on display
5. Tim Kennedy vs. Roger Gracie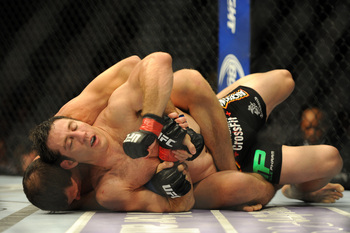 Tim Kennedy fending off the grappling advances of Roger Gracie
Jayne Kamin-Oncea-USA TODAY Spor
Tim Kennedy defeats Roger Gracie via unanimous decision (30-27, 30-27, 29-28)
Not every fight can be electric. Saturday night, the ultimate dud came in the form of the bout between Tim Kennedy and jiu-jitsu ace Roger Gracie.
Neither fighter seemed to have enough gas to go three full rounds, which led to an unhealthy dose of stalling up against the fence.
On a side note: Kudos to Tim Kennedy for playing on the ground with Roger Gracie and coming out unscathed.
4. Mark Munoz vs. Tim Boetsch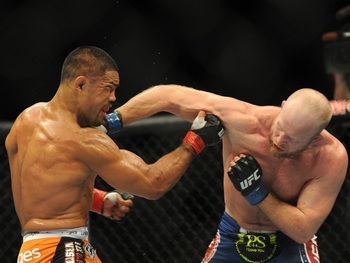 Tim Boetsch and Mark Munoz slug it out
Jayne Kamin-Oncea-USA TODAY Spor
Mark Munoz defeats Tim Boetsch via unanimous decision (30-26, 30-27, 29-28)
With wins over Hector Lombard and Yushin Okami, middleweight Tim Boetsch has developed something of the spoiler's reputation. At UFC 162, it looked as if "The Barbarian" might shock oddsmakers once again.
In the early moments of the fight, Boetsch nearly stopped Mark Munoz. The near-finish came after Munoz was slammed to the canvas from a rear waistlock. Boetsch then rained down a heavy-handed ground-and-pound that nearly put an early end to the return of the Filipino Wrecking Machine.
Munoz was able to rebound and win the rest of the round, however. Not only that, but he dominated in Round 2 and picked apart Boetsch with body shots in Round 3.
Still, this wasn't a completely one-sided beatdown. In a surprise move, Boetsch rolled for kneebars and threatened with assorted (albeit sloppy) submission attempts in hopes of catching Munoz off guard.
3. Frankie Edgar vs. Charles Oliveira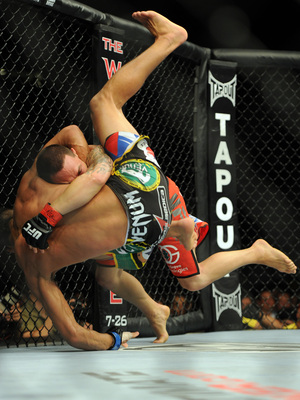 Jayne Kamin-Oncea-USA TODAY Spor
Frankie Edgar defeats Charles Oliveira via unanimous decision (30-27, 29-28, 30-27)
Winless since October 2011, Frankie Edgar earned his way out of the losers column. It was the first time that Edgar has competed in a scheduled three-round match since 2010, and the former lightweight champion earned a clean sweep on two of the three scorecards.
MMA pundits knew that Oliveira's best chances of victory came in a ground battle, and the Brazilian seemed to agree. On multiple occasions, Oliveira pulled guard to test Edgar's ground skills.
In the final round, both fighters let it all hang out. Edgar landed powerful strikes that wobbled Oliveira, and "Do Bronx" returned the favor. Luckily for Edgar, it didn't appear that Oliveira had the killer instinct to swarm and finish with blood in the water.
This was not only a great win to get Frankie Edgar back on track, but it also illustrated the true potential of Charles Oliveira, who, at 23 years old, looks like he could grow into a monster.
2. Cub Swanson vs. Dennis Siver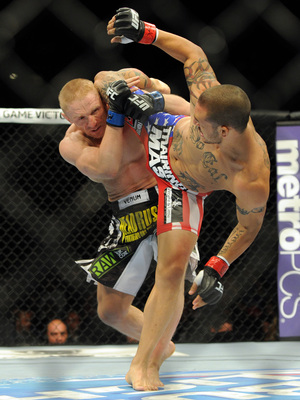 Jayne Kamin-Oncea-USA TODAY Spor
Cub Swanson defeated Dennis Siver via TKO (punches) at 2:24 of Round 3
For those predicting that Cub Swanson was going to walk through German kickboxer Dennis Siver, Round 1 of their UFC 162 clash was fairly soul-crushing.
After catching a high kick from Swanson, Siver drove through and scored an important takedown. From there, Siver was able to work his way into side control and do some damage to the body. Swanson got back to his feet, but he gave the round away.
The rest of the fight saw Swanson getting the better of striking exchanges, and he even turned the tides during a grappling exchange which led to a gorgeous judo throw in the second frame.
In the final round, Swanson's power striking got the better of Siver, and the surging featherweight earned yet another TKO victory.
On a side note: This was a terrible stoppage from referee Herb Dean. He allowed Dennis Siver to take way too much damage and never truly stepped in. The fight wasn't called off until Cub Swanson backed off and gave pause to his vicious ground-and-pound upon seeing the state of his beaten opponent, essentially doing Dean's job for him.
1. Anderson Silva vs. Chris Weidman
Jayne Kamin-Oncea-USA TODAY Spor
Chris Weidman defeated Anderson Silva by knockout in Round 2 to become the new UFC middleweight champion
UFC 162 will be remembered as the night that the rain came down and washed the Spider out.
Thrilling? Absolutely.
Shocking? You better believe it.
Undefeated American Chris Weidman was pegged by many as just another inevitable victim who would fall to middleweight kingpin Anderson Silva. Instead, he caught Silva with a flush left hand while the champion was clowning.
Apparently, Silva didn't control the matrix after all.
Keep Reading