UFC 162 Results: Top 10 Middleweights in the UFC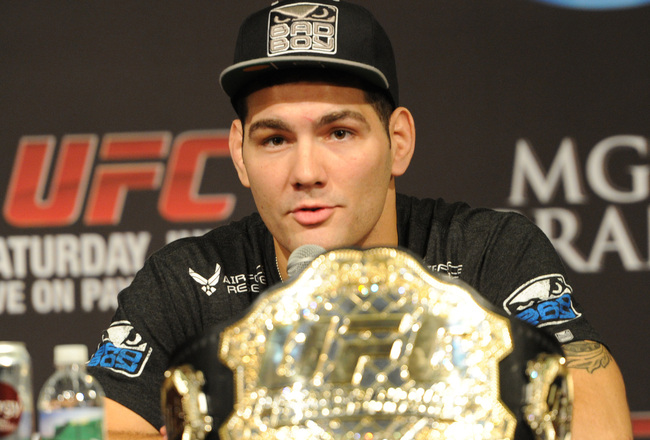 Jayne Kamin-Oncea-USA TODAY Spor
UFC 162 saw Chris Weidman claim the UFC Middleweight Championship by knocking Anderson Silva out. For the first time in years there is a new leader of the pack.
In total, four top-10 fighters were in action on Saturday night.
If fans wanted change in the division, they have it now. Weidman will usher in a new era at 185 pounds. New challengers will have to step up, and Weidman will have to begin to carry shows. It's a new day at middleweight.
Also in action at UFC 162, Tim Kennedy defeated Roger Gracie and Mark Munoz made a triumphant return against Tim Boetsch.
These are the 10 best middleweights in the UFC following UFC 162.
No. 10: Tim Kennedy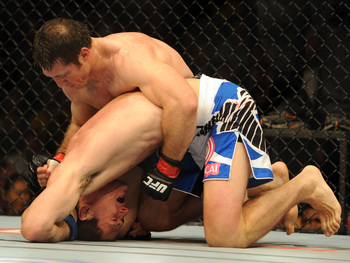 Jayne Kamin-Oncea-USA TODAY Spor
Tim Kennedy made a successful UFC debut at UFC 162, and that earns him a spot in the top 10.
Kennedy is 5-2 since 2010, and his two losses came against top-level competition in Luke Rockhold and Jacare Souza. The win at UFC 162 was his second in a row.
Kennedy has no problems going to the canvas with elite grapplers. He did it against Jacare, and he took down Roger Gracie on Saturday night. Kennedy is a well-rounded fighter, and he is entertaining as well. The win on Saturday helped solidify him as a top-10 middleweight.
It will be interesting to see which fighter the UFC pits Kennedy up against next. Regardless of who gets the call, they will need to be aware of Kennedy's grappling game. Kennedy showcased his ground skills at UFC 162.
No. 9: Mark Munoz
Jayne Kamin-Oncea-USA TODAY Spor
Also in action at UFC 162 was Mark Munoz. He made his return to the cage, and he did battle with Tim Boetsch.
Munoz is ranked No. 8 in the official UFC rankings, but I won't move him up too high just yet. He was coming off a loss in which Chris Weidman dominated him, and hadn't fought in a year. He looked excellent against Boetsch, but I need to see more.
Inactivity is what is holding Munoz back. Others in the top 10 have been more active and have shown more of their skills in recent months compared to Munoz.
If Munoz fights like he did at UFC 162 in his next outing, he could find himself shooting up the rankings and challenging for a top-five spot.
No. 8: Costa Philippou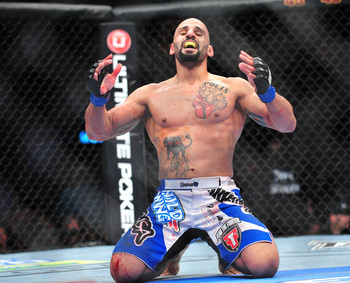 Gary A. Vasquez-USA TODAY Sports
Costa Philippou is 12-2 with one no-contest. He was scheduled to welcome Jacare to the UFC, but had to pull out of the bout with an injury.
Michael Bisping may be next for Philippou later this year, but that has yet to be made official.
Philippou is No. 6 in the official rankings, but I can't justify putting him that high yet.
He has won five straight, and he stopped Tim Boetsch in his last fight. That is impressive. If Philippou does similar work against Bisping, it will be hard to argue against him joining the top five. I just can't elevate him to that level just yet.
Philippou has excellent boxing, and is a teammate of the new UFC Middleweight Champion. He's getting better with every outing.
No. 7: Luke Rockhold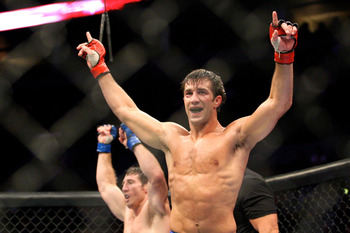 Scott Olmos-USA TODAY Sports
The former Strikeforce Middleweight Champion was rudely welcomed to the UFC by Vitor Belfort this year, but he remains one of the best middleweights in the world.
Luke Rockhold entered as an immediate middleweight contender, and he is still only a win or two away from a title fight.
Fans will remember the devastating spinning back kick from Belfort, but Rockhold simply got caught. That shouldn't take away from his skills, and when he returns we will see a better version of the former Strikeforce titleholder.
Rockhold is one of the better No. 7-ranked fighters on the planet. That is how talented the upper echelon of the middleweight division has become.
No. 6: Michael Bisping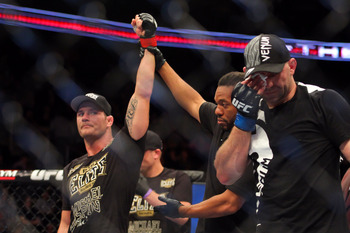 Brad Penner-USA TODAY Sports
Michael Bisping is 2-2 since 2012, but both losses were in middleweight title eliminators. Vitor Belfort and Chael Sonnen were the cause of those losses.
Bisping rebounded quickly from the Belfort loss with a decision win over Alan Belcher. He moved right back into title contention.
Bisping is No. 4 in the official UFC rankings, and that is fine. However, with his 2-2 record in the past two years, I hesitate to put him that high. But it is irrefutable that Bisping is still near a title shot. He will still fight top-10 competition, and until he loses consecutive bouts that will be the case.
If Anderson Silva was telling Joe Rogan the truth during his post-fight press conference when he said he no longer wanted to fight for the title, that clears the way for Bisping and others to get a title shot without having to wait for a long, long time.
No. 5: Jacare Souza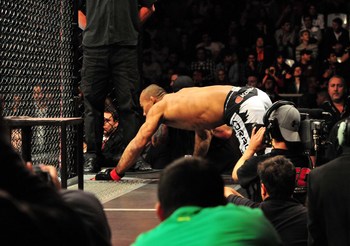 Jason da Silva-USA TODAY Sports
Ronaldo "Jacare" Souza made his UFC debut in 2013, and it was quick work for the ground specialist.
Jacare locked up a choke, and put Chris Camozzi to sleep.
Why is Jacare so high on this list with only one win inside the Octagon?
The win against Camozzi was his fourth in a row, and he showed his dominance over a solid fighter. We already knew Jacare was a top-10 caliber fighter from his days in Strikeforce, and the win in the UFC just showed that he is still improving. He made it look easy.
Jacare has both the talent and the win streak to move him into the top five. That will be put to the test in his next fight when he meets Yushin Okami.
No. 4: Yushin Okami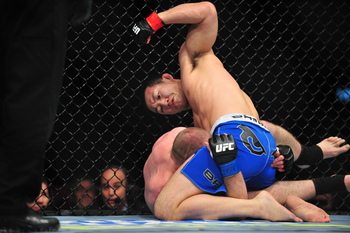 Gary A. Vasquez-USA TODAY Sports
Yushin Okami is a long-time top-five middleweight.
Since joining the UFC he has only lost four times, and three of those defeats came against top-three level talent: Anderson Silva, Chael Sonnen and Rich Franklin. His fourth loss, and most recent, was a come from behind victory for Tim Boetsch.
Okami rebounded. He has reeled off three straight wins to move himself right back into the thick of things at 185 pounds.
Okami is scheduled to meet Jacare Souza next. A win there could earn him another shot at the title. Time will tell if that occurs, but Okami is one of the most underappreciated fighters in all of MMA.
No. 3: Vitor Belfort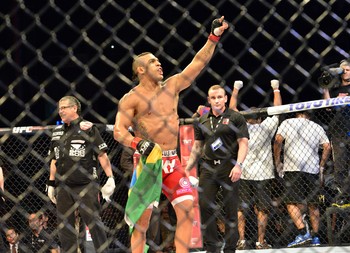 Jason da Silva-USA TODAY Sports
Since 2007, Vitor Belfort has only lost twice. Once to Anderson Silva, and once to Jon Jones. His two losses came against the two best pound-for-pound fighters in the world.
That says it all.
If Silva does not want to fight for the title anymore, Belfort is your next middleweight challenger. It will be hard to deny him that right after he opened 2013 with two knockouts over elite competition. Belfort has done everything he needs to do to be that man.
TRT will come up in discussing Belfort, but he has played within the framework of the rules to date. He has passed any and all tests since he was busted in 2006.
Until he loses or tests positive, Belfort should be recognized as one of the top three middleweights on the planet.
No. 2: Anderson Silva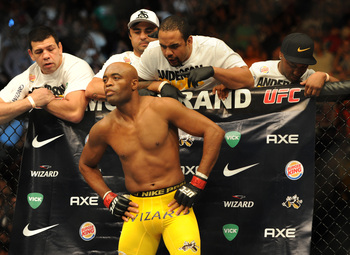 Jayne Kamin-Oncea-USA TODAY Spor
Yes, Anderson Silva lost, but did you expect him to fall anywhere past No. 2 on the list? No, you didn't.
There is no logical case to move him down any further. He obliterated both the next two on the list, and it was his first loss since a DQ loss in January of 2006.
Silva played around and got caught. That's all. His showboating finally caught up with him.
There is only so much to be said about the greatest MMA fighter of all time. If he loses his next fight, then he will fall more sharply, but one loss to the No. 1 contender while he was taunting does not erase all that he has done.
Silva is the No. 2 guy in the division, and the next title contender should he want that fight.
No. 1: Chris Weidman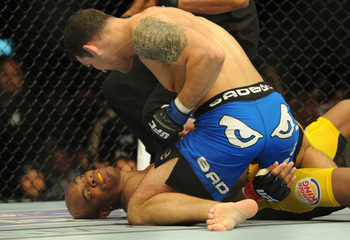 Jayne Kamin-Oncea-USA TODAY Spor
Forget his undefeated record.
Chris Weidman beat Anderson Silva. Period. That's all that matters. That's why he is No. 1.
Had Weidman not been ranked at all and he knocked Silva out, he would have jumped to No. 1. That is all it takes. However, there is more to Weidman than that as we all know.
Weidman has a fantastic ground game. He is a strong wrestler with great submissions, and he has an ability to punish opponents with excellent ground and pound. Weidman is a complete MMA fighter.
He earned his title shot, and he backed up everything that he said.
He finished Anderson Silva. Weidman is the new kingpin of the division.
Keep Reading