Predicting MLB All-Star Game Replacements for Injured, Unavailable Players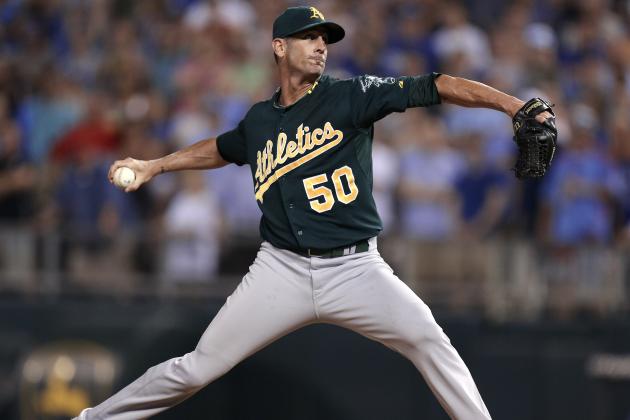 Ed Zurga/Getty Images
There should be an open spot for A's closer Grant Balfour.
Ballots are cast and votes are tallied. The 2013 AL and NL All-Star teams have been selected but not completed.
There were many stories, surprises and snubs during this season's All-Star voting process.
Baltimore slugger Chris Davis was the top vote-getter, receiving 8,272,243 votes, and will be one of three Orioles to start the All-Star Game along with shortstop J.J. Hardy and outfielder Adam Jones.
Rookie sensation Yasiel Puig of the Dodgers was left off the NL roster but collected 842,915 write-in votes, the most since Freddy Sanchez received 856,685 in 2007. He'll have one more chance to make the cut on the Final Vote ballot.
Six Detroit Tigers made the AL roster to lead the American League while the St. Louis Cardinals will send five players, tops in the NL. There were four All-Star selections from the Pittsburgh Pirates, the most since 1991. Yet there are only four representatives total from first-place teams the Athletics, Braves and Diamondbacks.
There may be respite in the near future for some teams and players who felt cheated out of a spot as replacements will be made in the next week or so. Let's take a look at the likely possibilities.
Begin Slideshow

»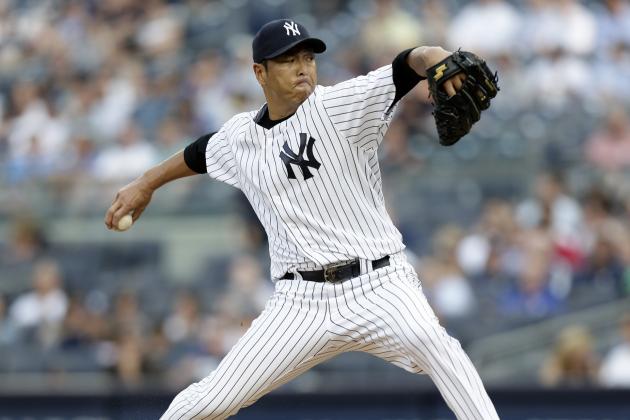 Jason Szenes/Getty Images
Kuroda's 2.4 WAR is second-best on the Yankees behind Cano's 3.8.
Boston's Clay Buchholz, who has not pitched in nearly a month, would have been a serious contender to start the All-Star Game for the AL had he not landed on the disabled list.
The right-hander has yet to lose a decision in 2013 and remains sixth in the AL in wins (9-0) despite not having appeared since June 8. He sports a 1.71 ERA and lays claim to the second-highest WAR for a pitcher in the AL at 4.0.
His likely replacement will be the Yankees' Hiroki Kuroda. Detroit's Anibal Sanchez and Texas' Derek Holland also have a chance at being chosen, but Kuroda has been a paradigm of consistency for New York during its up-and-down season.
The 38-year-old veteran has thrown 11 quality starts in 17 chances and owns a healthy 2.95 ERA. His 1.06 WHIP is near the top in the AL, and he has been a large reason the depleted Yankees squad has remained afloat in the AL East.
It would be Kuroda's first All-Star appearance.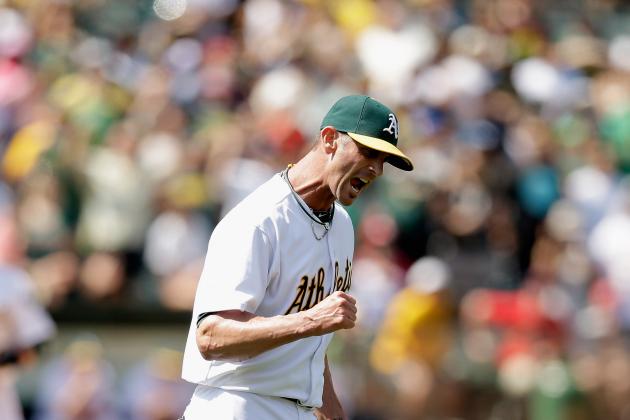 Ezra Shaw/Getty Images
Balfour has compiled a 1.82 ERA.
White Sox setup man Jesse Crain had pitched 29 consecutive shutout innings until he met the Kansas City Royals on June 23 when he allowed three unearned runs to score. That outing alone brought in half of Crain's total runs allowed all season. His three earned runs in 36.2 innings is good for a 0.74 ERA.
Unfortunately for the reliever, a stint on the 15-day DL (retroactive to June 30) due to a strained right shoulder will prevent him from pitching in the All-Star Game.
Oakland closer Grant Balfour is the logical choice to replace Crain on the AL roster. Balfour is one of the more glaring snubs, as he has become a lockdown reliever for the A's. His 22 saves ranks fourth in the AL. He has tied an A's milestone set by Dennis Eckersley by converting 40 consecutive save opportunities.
The AL will select another reliever with the Final Vote, as all five candidates are pitchers, but Balfour will bank on an injury replacement to make his first All-Star appearance.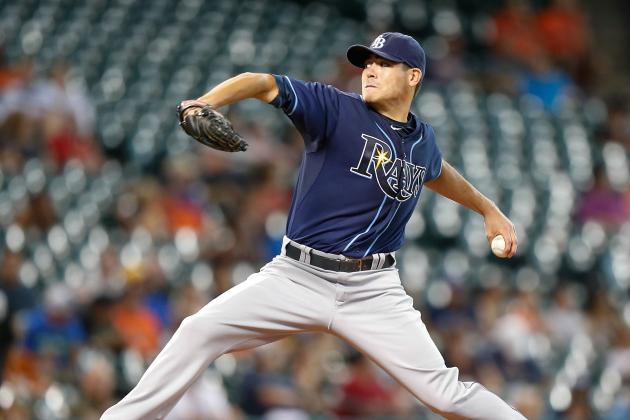 Bob Levey/Getty Images
Matt Moore may make his first All-Star appearance if the stars are aligned.
There are three worthy starting pitchers to replace Justin Verlander.
Manager of the Detroit Tigers and coach of the A.L. team, Jim Leyland, explained his flabbergasting choice to place Verlander on the roster in the first place, citing a bit of history, the pitcher's baseball fame and his 2013 stats.
However, Verlander will not pitch in the All-Star game due to his scheduled start the Sunday before the break.
His three possible replacements are Kansas City's Ervin Santana, Detroit's Anibal Sanchez and Tampa Bay's Matt Moore.
Santana is having a great comeback year after allowing a league-leading 39 home runs in 178 innings last season for the Los Angeles Angels en route to a 5.16 ERA. He currently has a 2.90 ERA through 118 innings and has recorded seven quality starts in a row.
Sanchez is another of Leyland's starters who may slither into a spot on the roster. He has the third-best ERA in the AL (2.70) and looked solid in his first start back from the disabled list on July 6, surrendering three hits and one run over five innings.
Moore should be and would be my selection to replace Verlander. The 24-year-old is second in the AL in wins with a 12-3 record and has been absolutely dominant over his last three starts, allowing just one run and 11 hits in 19.1 innings pitched. That's a 0.46 ERA over that span, which is accompanied by 26 strikeouts.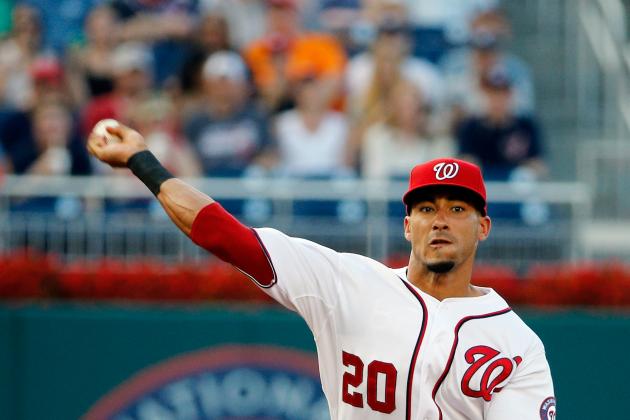 Rob Carr/Getty Images
Desmond has been a great contributor to the Nationals' lineup.
Without any setbacks, Colorado shortstop Troy Tulowitzki could return from the disabled list before the break. He has been battling a broken rib over the past few weeks and hasn't played since June 13.
Despite missing significant time, Tulo racked up 16 home runs and 51 RBI over the first two and a half months of the season, compiling an excellent 1.048 OPS.
If the Rockies choose to play it safe, either by waiting to reinstate him until after the break or asking him to forgo the All-Star game, Washington's Ian Desmond is the clear replacement at shortstop.
Desmond is batting .284 with 15 home runs and 49 RBI complimented by 10 steals. He had an electric June in which he batted .306 with 9 home runs and 28 RBI. That trend has continued into July as he's batting at a .391 clip through six games.
Desmond is on the NL Final Vote ballot, but if he gets snubbed again—which is quite possible with the inclusion of Yasiel Puig—an injury replacement may be the way to go.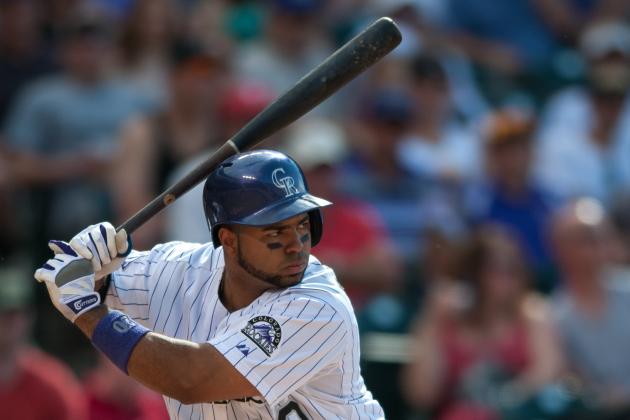 Dustin Bradford/Getty Images
Rosario could become one of the better catchers for years to come.
There was cause for concern after Cardinals catcher Yadier Molina left the ballpark before Saturday's game concluded for an examination of his right knee.
Molina has been a catalyzing force for St. Louis in 2013 with a .346 batting average and incredible leadership behind the plate. The irritation in his right knee is the same knee that was surgically repaired in 2007, and while the injury appears minor, an MRI will tell the true story.
If Molina can't play the All-Star Game, two catchers come to mind.
Russell Martin has been a solid addition in Pittsburgh, and he has been a key piece to the surging Pirates. He's contributing at the plate (he had a pinch hit walk-off single in the 14th inning against the Brewers on June 30) and has been stellar behind the dish, catching 20-of-41 attempted base stealers.
Wilin Rosario may beat Martin by a hair as the 24-year-old Rockies catcher is proving that his rookie season, in which he hit 28 home runs and drove in 71 RBI, was no fluke. Rosario is batting .273 with 13 home runs and 43 RBI so far in 2013. If Molina can't go, he'll get the nod.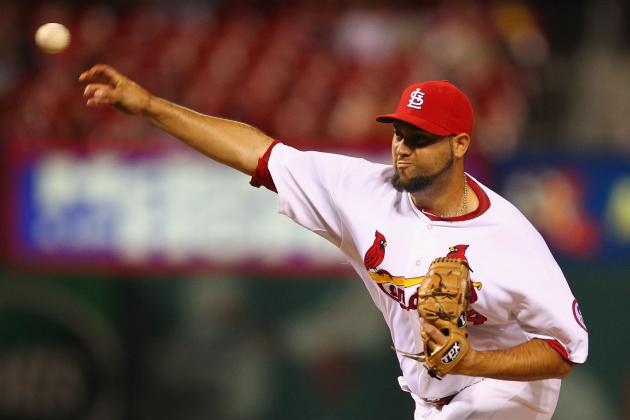 Dilip Vishwanat/Getty Images
Mujica is helping the Cardinals win games.
After the Cardinals shuffled up their rotation to ensure Adam Wainwright two more starts before the break, including the Sunday prior, the Cards ace won't be pitching in the All-Star game.
Wainwright is having another productive season on the mound, sporting an 11-5 record, 2.36 ERA and 117 strikeouts in 133.2 innings. He was a serious contender to challenge New York Mets' Matt Harvey for the start at Citi Field but plans have changed.
There are a handful of pitchers to replace Wainwright such as starters Shelby Miller (9-6, 2.80 ERA) and Hyun-Jin Ryu (7-3, 2.82 ERA) or relievers Rex Brothers (35.1 IP, 1.02 ERA) and Mark Melancon (41.1 IP, 0.87 ERA).
However, the most likely candidate to replace the Cardinals' starter is the same team's closer, Edward Mujica.
The Venezuelan hurler has converted 22-of-23 save chances and kept his ERA hovering at or under 2.00 for most of the season. He suffered his first blown save on July 4 against the Angels and his ERA boosted up to 2.62. After a successful save and a win in the following two days, Mujica's ERA now sits at a healthy 2.48.
Replacement announcements should start to roll in as the week progresses.