Northwestern Basketball: Every Projected Starter's Signature Highlight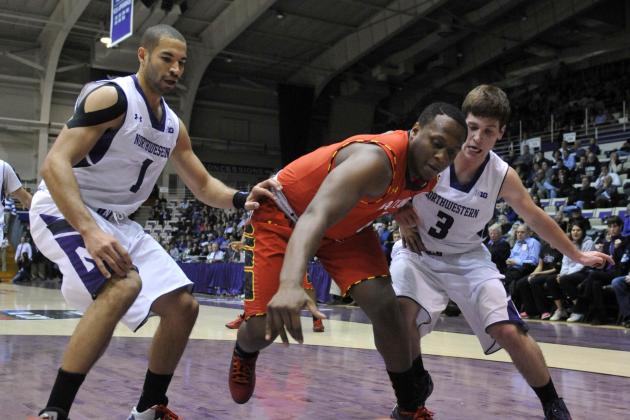 David Banks-USA TODAY Sports

After losing the school's all-time leading scorer in John Shurna following the 2011-12 season, expectations still remained high in Evanston for a basketball program hoping to make its first ever NCAA tournament appearance.
Following a JerShon Cobb season-long suspension, Drew Crawford season-ending injury and Jared Swopshire career-ending injury; however, the Wildcats missed postseason play for the first time since 2008.
Though this may or may not be the season that the Wildcats get over the hump, NU fans are excited about the addition of head coach Chris Collins. Here's a look at the 'Cats potential starting five with a video highlight of each player.
Begin Slideshow

»
After two seasons as the Wildcats starting point guard, Sobolewski is now an upperclassman and will be playing alongside two other veterans in his backcourt. Sobolewski's best asset is his assist-to-turnover ratio and hard-nosed play on both ends of the court.
His shooting is inconsistent, especially from the charity stripe in 2012-13. In this video, Sobolewski scores on a backdoor layup in the 'Cats Princeton offense. While Bill Carmody is no longer at the helm, Sobolewski's experience running his offense will be beneficial in his latter two collegiate seasons.
Up to this point, Cobb's career has been based more on potential than actual play. Cobb started as a true freshman and was a solid contributor in 2010-11. As a sophomore, he had lingering injuries that kept him from consistent playing time before a strong finish to the season.
In 2012-13, Cobb had to redshirt the entirety of the season due to a season-long suspension. He's back as a redshirt junior now, though, and the time is now for this lanky and athletic wing to step up. He is a great defender who can score both off the dribble and from the perimeter. In this video, you get a taste of what Northwestern's most touted recruit ever is capable of.
Crawford has spent most of his career as the second or third offensive option, behind the likes of Shurna and Michael "Juice" Thompson. Now as a redshirt senior, who missed 2012-13 due to shoulder surgery, Crawford will become the 'Cats go-to guy. He is one of the league's best athletes/dunkers.
In this video, Crawford's defense leads to easy offense. He is the son of NBA referee Danny Crawford and though his NBA draft potential may have taken a slight hit with his nagging shoulder problems, Crawford still has plenty of upside and has the ability to be a game-changer and single-handedly take over games.
Much like Shurna, Abrahamson is known for his unique jump shot. And like Shurna, Abrahamson is able to knock down three-point shots at a high clip as evidenced in this video. As a stretch 4, Abrahamson needs to improve defensively and physically against stronger Big Ten power forwards.
Abrahamson is far from a lock to start at power forward, depending on how big or small Collins decides to use lineups. Teams will focus in on Abrahamson as a shooter, where he takes nearly all his shot attempts, so he will need to add to his repertoire to become a consistent scorer for NU over the next three seasons.
After four seasons of the enigmatic Luka Mirkovic at starting center, true freshman Alex Olah was next in line to play the 5 position. Olah, who hails from Romania, had ups and downs like any freshman does. He improved as the season went on and became more confident in his abilities, though.
Olah flushes a dunk here in the regular-season finale at Michigan State over Derrick Nix in a near upset. Olah continued with a barrage of dunks against Iowa in the Big Ten Tournament. He is a true 7-footer who can hit a perimeter shot and is an excellent passing big man. Look for him to be one of the conference's most improved players as a sophomore.