UFC 162 Results: Ranking the Preliminary Card Bouts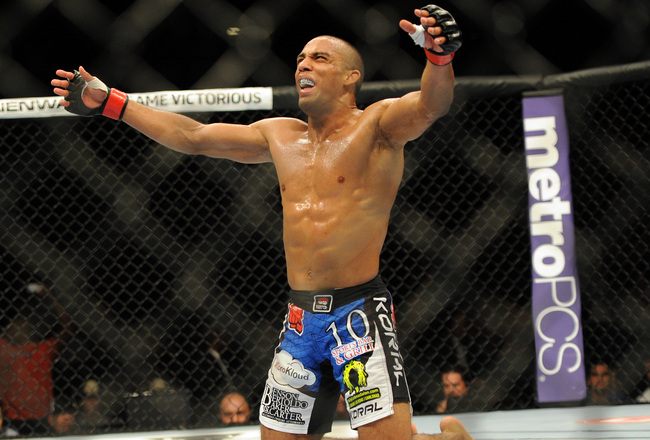 Jayne Kamin-Oncea-USA TODAY Spor
The UFC 162 preliminary card bouts are in the books, and we have the full recap and rankings of the six free fights.
Featured on the prelims, longtime veteran Chris Leben took on Andrew Craig in a fight that lasted all three rounds. The fight before that went the distance as well.
However, the first four contests all ended before the finally bell, making for an entertaining undercard.
Check out where each fight ranks.
No. 6: Chris Leben vs. Andrew Craig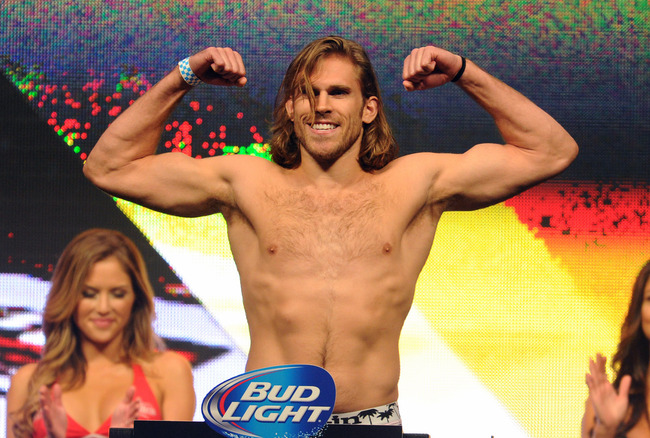 Jayne Kamin-Oncea-USA TODAY Spor
Result: Andrew Craig def. Chris Leben via split decision
The final bout of the preliminary card was supposed to increase the pay-per-view buys. But Leben and Craig didn't exactly put on the show expected of them.
The opening frame featured "The Crippler" looking to clinch, while Craig was more than game to battle for position. The second round was more of the same.
However, in the third and final round, Leben came out strong, looking to land his signature left hand, but it was Craig who came close to earning the stoppage.
Craig dropped Leben with a barrage of strikes, and Leben was on the brink of defeat. As he so often does, however, Leben somehow recovered, surviving the onslaught and the rest of the round.
The split-decision result went Craig's way, but it was hardly the barnburner that fans likely expected. It was a Chris Leben fight after all.
No. 5: Norman Parke vs. Kazuki Tokudome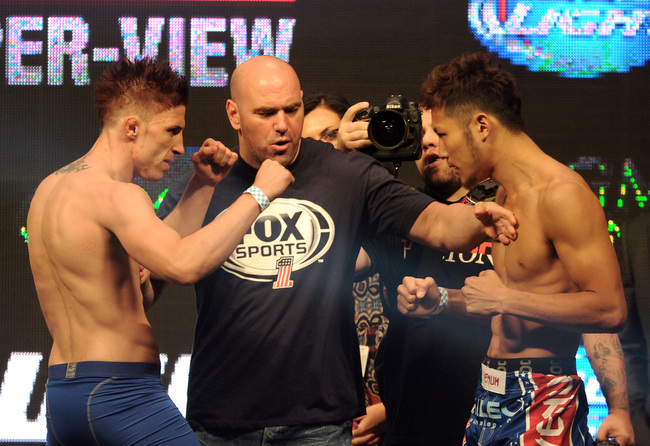 Jayne Kamin-Oncea-USA TODAY Spor
Result: Norman Parke def. Kazuki Tokudome via unanimous decision
Prior to the lackluster split decision between Craig and Leben, Norman Parke and Kazuki Tokudome also went the distance. And one fighter fought back from the brink of defeat in that fight, too.
Unfortunately, the fight was not as enjoyable as the fans would have hoped.
Parke managed to land his left hand early and often, battering his opponent. Tokudome took everything Parke had and fought through it.
But the underdog never was able to build much offense against Parke, struggling to earn positions of strength and failing to work combinations in the striking.
Parke would go on to win the unanimous decision, but this one was far from a Fight of the Year candidate.
No. 4: Mike Pierce vs. David Mitchell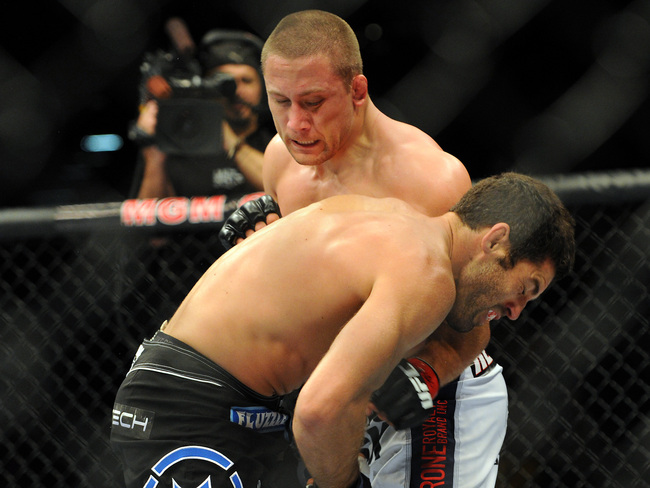 Jayne Kamin-Oncea-USA TODAY Spor
Result: Mike Pierce def. David Mitchell via TKO, Round 2
The opening fight of the evening began slowly, but the finish was anything but dull.
Pierce, who has fought mostly on undercards, looked to clinch early on, and the pair spent the majority of the first round without dealing or receiving much damage at all.
The second round was different.
Pierce once again looked to clinch, but after a brief separation, he landed a vicious shot that floored Mitchell. The underdog was unable to recover, thanks largely to Pierce's ground-and-pound.
After a boring start, Pierce pulled off an exciting finish, making him an early candidate for Knockout of the Night.
No. 3: Seth Baczynski vs. Brian Melancon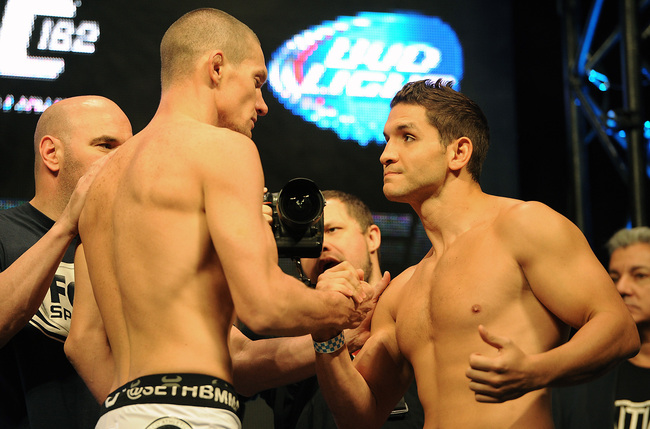 Jayne Kamin-Oncea-USA TODAY Spor
Result: Brian Melancon def. Seth Baczynski via KO, Round 1
Melancon probably couldn't have asked for a better UFC debut.
Against a much taller Baczynski, the UFC rookie worked his strikes to the body and the head, keeping his opponent guessing. Baczynski, the heavy favorite, attempted to use his length but failed to keep Melancon at a distance.
With 10 seconds left in the first round, Melancon found himself standing over Baczynski, who was alert on his back—likely expecting the round to end uneventfully.
Instead, Melancon unleashed a flurry to his downed opponent as the bell rang. Baczynski went out, and the fight was over.
Melancon had an impressive showing in his first UFC fight, which proved to be an interesting contest.
No. 2: Gabriel Gonzaga vs. Dave Herman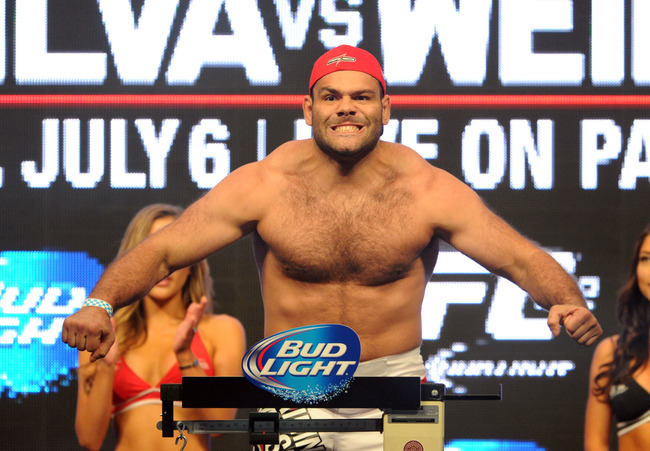 Jayne Kamin-Oncea-USA TODAY Spor
Result: Gabriel Gonzaga def. Dave Herman via KO, Round 1
It's not totally rare for a heavyweight contest to end quickly, so Gonzaga's first-round knockout win over Dave Herman wasn't shocking.
But it was entertaining. And fast.
The Brazilian needed just 17 seconds to put Herman away, landing a solid hook to send his opponent to the mat. A few follow-up strikes and the fight was over.
The win was so fast, the entire fight was replayed on the FX broadcast almost immediately. It was worth a second look.
Gonzaga is now 3-1 since returning to the UFC, while Herman has lost four straight. The fighter nicknamed "Pee-Wee" is likely on the way out. Still, all five of his UFC fights ended via stoppage, something the fans can appreciate.
No. 1: Edson Barboza vs. Rafaello Oliveira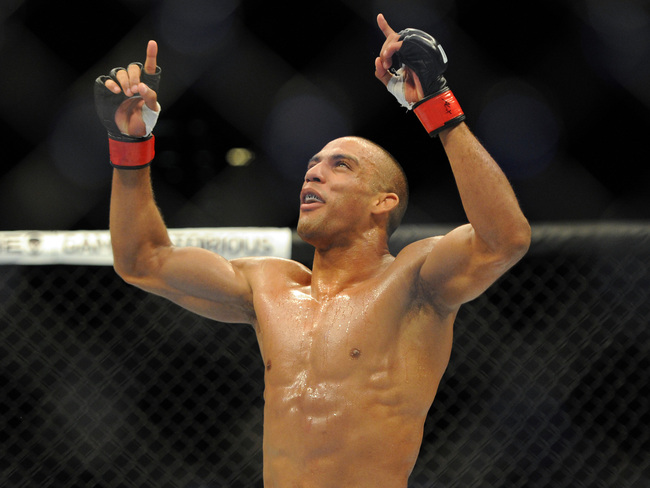 Jayne Kamin-Oncea-USA TODAY Spor
Result: Edson Barboza def. Rafaello Oliveira via TKO, Round 2
Barboza didn't score a Knockout of the Year candidate at UFC 162, but the manner in which he put away Rafaello Oliveira was brutal, not to mention rare.
Oliveira, the heavy underdog, managed to avoid damage to the head throughout the first round. Barboza had other means to victory, however, scoring leg kick after leg kick.
By the second round, Oliveira's lead leg was swollen, and Barboza honed in on it.
After a few more kicks, Oliveira collapsed, and the fight was stopped.
Barboza didn't score the flashiest finish, but it's uncommon for a fighter can stop his opponent with leg kicks. Ironically, he's done it twice in the UFC—he put away Mike Lullo with leg kicks at UFC 123.
Keep Reading