Wimbledon 2013: Final Report Card for the Top Stars at All England Club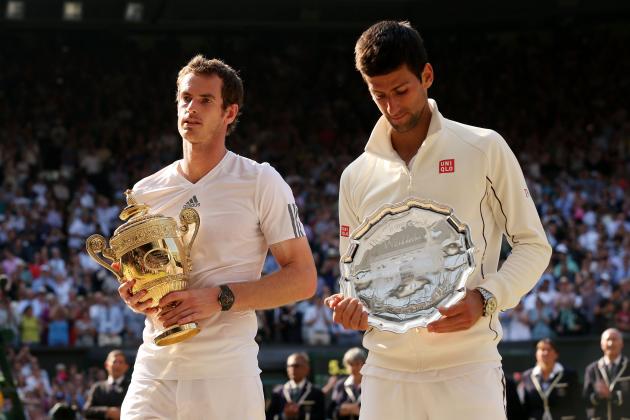 Clive Brunskill/Getty Images

Wimbledon 2013 is now in the history books. Early upsets and injuries dominated the headlines in the first week, but it followed with a handful of excellent matches in men's tennis. Andy Murray is now the reigning champion of Wimbledon, but what do we make of Roger Federer and Rafael Nadal bowing out so quickly? How does Jerzy Janowicz's run to the semifinals rate?
In grading the successes and failures of the stars, it's important to consider the relative expectations of these players heading into Wimbledon. There were only a handful of players with a realistic chance at winning the title.
This Wimbledon report card can be a barometer of how these stars will feel as they head towards the North American hard courts tour. Who will be feeling confident, and who needs to regroup?
Begin Slideshow

»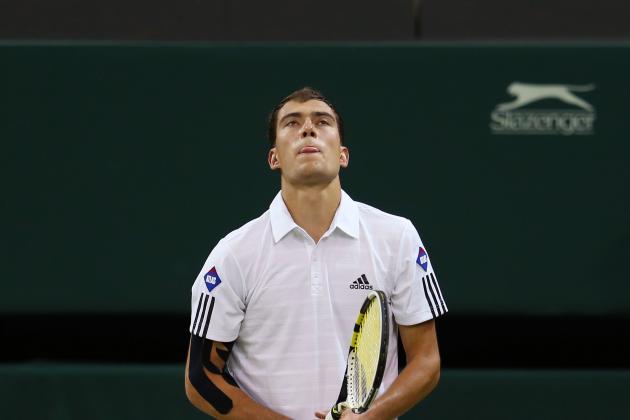 Julian Finney/Getty Images

While almost every tennis fan debated if Roger Federer or Rafael Nadal would win their "quarter of death," 22-year-old Jerzy Janowicz roared all the way to the semifinals. He was even up 4-1 in the third set before losing his edge against Andy Murray.
He is now a star and perhaps the biggest winner at Wimbledon. Few sports fans outside the tennis world knew about the powerful Pole who has already made history and become a hero for his home country.
Janowicz possesses an impressive arsenal of weapons—massive serve, big forehand and the touch and nerves to plant drop shots. He's a mentally tough player with a flamboyant passion for performing well. Tennis fans will watch to see if he can continue to elevate his stock this summer and contend for the U.S. Open title.
Grade: A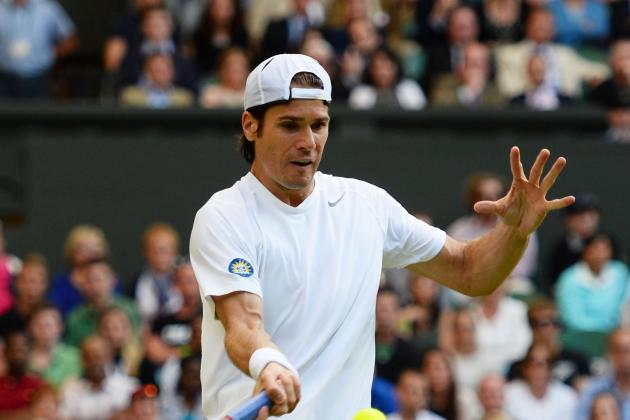 Mike Hewitt/Getty Images

The veteran Tommy Haas was considered a dark-horse Wimbledon contender after continuing to play well on all surfaces in 2013. He blitzed through his first three matches, dropping only one set but fell in the fourth round, a straight-sets loss to Novak Djokovic.
Though few people will call this a failure, it has to be a disappointment to Haas. He played well in the Djokovic match and produced two tight sets but was simply outclassed by a superior player.
Prior to the match, Djokovic had said there was no favorite, showing his respect for the wily player who had beat him at Miami a few months ago. There would be no letup here.
Haas will pack his bags for North America, knowing he did the best he could, but far from contending with the world No. 1.
Grade: C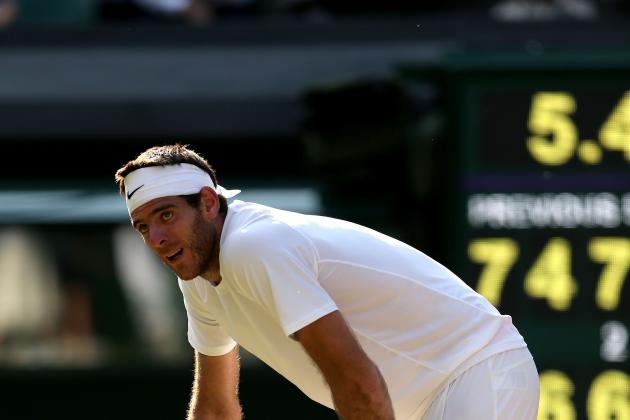 Clive Brunskill/Getty Images

For one of the few times in his career, Juan Martin del Potro had nothing left. He had hit thundering groundstrokes, endured knee pain and fought off match points in the semifinals against Novak Djokovic. He competed to the very end of the fifth set in one of the very best Wimbledon semifinals classics in recent history.
This was a redemption tournament of sorts. He did not drop a set en route to the semifinals, including a straight sets dismantling of David Ferrer. This was easily his best Wimbledon performance and perhaps the best tennis of his career.
It's been nearly four years since Del Potro captured his U.S. Open title. He has been on a roller coaster of sorts, battling through injuries and inconsistencies. At times he looks like a world beater, but alternatively ineffective.
Will he stay healthy and consistent or will he again step back behind the line of contenders? Right now, his stock is rising, and Wimbledon was a great success.
Grade: A-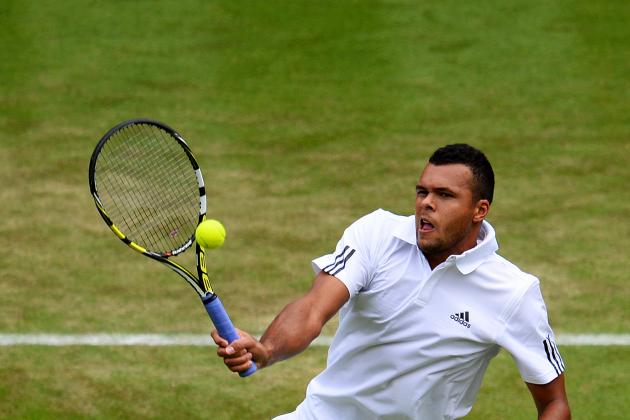 Mike Hewitt/Getty Images

After a great French Open run all the way to the semifinals, expectations were high for Jo-Wilfried Tsonga to use his power and athleticism on Wimbledon's fast grass. The draw wasn't too kind, but he handled a tough first-round opponent in David Goffin.
His second-round pairing against Ernests Gulbis would have been a difficult test at any rate, but after capturing the first set, Tsonga's left knee became troublesome, and his movement slowed. He dropped the next two sets before retiring from the match.
Injuries and extraneous factors are big parts of a tennis player's career. Ultimately, it may feel like Tsonga had an unfortunate lack of control with this setback, but he can only look ahead and get healthy for hard courts.
Grade: D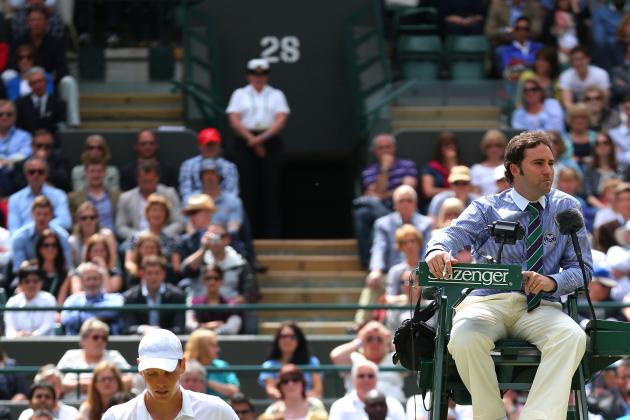 Julian Finney/Getty Images

Typical Tomas Berdych. He was very good against the challenges of Kevin Anderson and young Bernard Tomic, dealing them doses of his powerful groundstrokes and serve. When pressure is minimum, he is an awesome force of tennis success.
So really, his quarterfinals spanking at the hands of Novak Djokovic was less of a surprise than a foregone conclusion. Each of the three sets was progressively easier for the iron-willed Serbian, but as we noted three months ago, "when the lights are on and the trophy is placed on the table, Berdych vanishes like a prop in The Magic of David Copperfield."
He did win four matches, but that's about his limit, depending on the draw. It's now been three years since his appearance in the Wimbledon final. He continues to tease tennis fans with randomly strong appearances on various surfaces and venues, but there really is nothing to get excited about when wondering if he can win big matches.
Grade: C+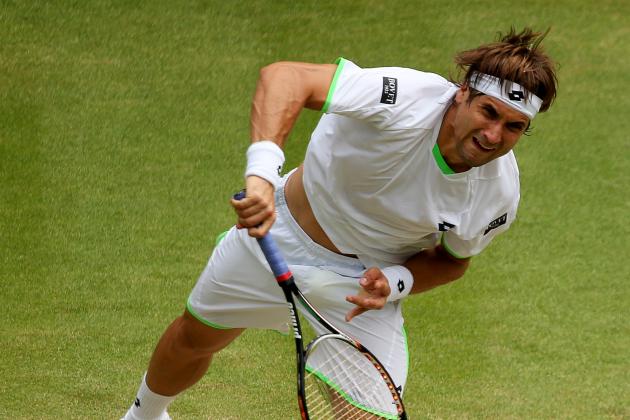 Clive Brunskill/Getty Images

Fresh off his French Open finals appearance, the Energizer Bunny, otherwise known as David Ferrer, had to feel the accumulative effects of continuing to run hard and play every match as if it were his last meal.
None of his matches were easy, and it's a tribute to his renowned bulldog spirit that drove him to a second consecutive Wimbledon quarterfinals. This is one view.
Ferrer has enjoyed the admiration of media and fans who applaud his continued career rise into his early 30s, but little was said about getting dusted by Juan Martin del Potro. Ferrer was upheld as the No. 4 seed by Wimbledon, so his quarterfinals loss was a case of underachieving. Right?
At some point, the magic carpet ride will end. Is it enough time to capture one Grand Slam title? Chances are slim, but in the Ferrer camp, anything less than that would be selling short their ambitions.
Grade: C-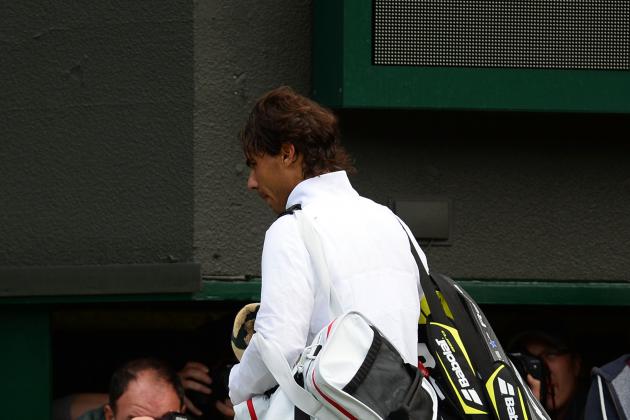 Mike Hewitt/Getty Images

The King of Clay had just bagged his eighth French Open title. He rested his weary body and knees rather than flying off to Halle for a grass-court tune-up. Wimbledon had hardly settled into its opening hours before Rafael Nadal was flubbing backhands and scrambling too late to pick up winners from Steve Darcis, the No. 135-ranked player in the world.
Two years in a row of severe failure at Wimbledon opens up more scrutiny about his chances of ever winning another Grand Slam title outside Roland Garros. It's a fair question to ask and one that will be reincarnated a thousand more times this summer.
The tennis world still does not know what to expect from Nadal. He has been the most successful player in 2013 with seven titles following a much-ballyhooed comeback in February.
The tennis season following Wimbledon has traditionally been difficult for Nadal, his knees and his results. Will he play a reduced schedule? How are his chances at the U.S. Open? There's a wide range of possibilities.
Grade: F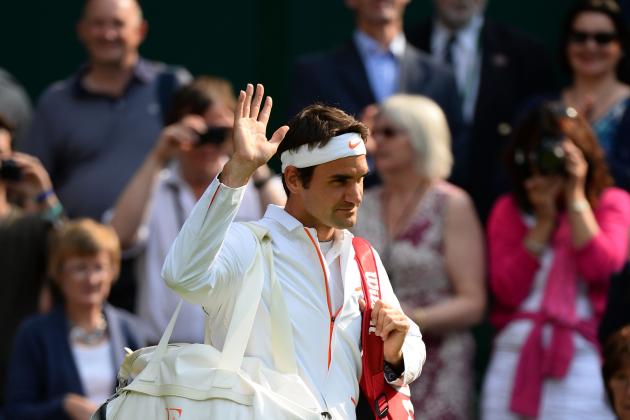 Mike Hewitt/Getty Images

It had to happen eventually. Roger Federer's second-round loss to Serhiy Stakhovsky was his earliest exit since losing at Wimbledon in 2002—a year before his first Grand Slam and at a time when Spiderman and Star Wars: Attack of the Clones were still battling it out for box office supremacy.
To be fair, Federer did not play badly, and his opponent played skillful serve-and-volley tennis that had John McEnroe gushing for adjectives. Federer's usually reliable forehand was flat, and suddenly he was packing his bags. It's extra disappointing as the defending Wimbledon champion where many thought he would win again.
The smart money says Federer will pick up the pieces and prepare to peak by late September.
He is still a great champion, but he will need some help along with his best tennis: kind draws, rest, and opportune upsets in other parts of the bracket. His most dominant days are long gone, but Federer is still very capable of winning his 18th Grand Slam.
Grade: F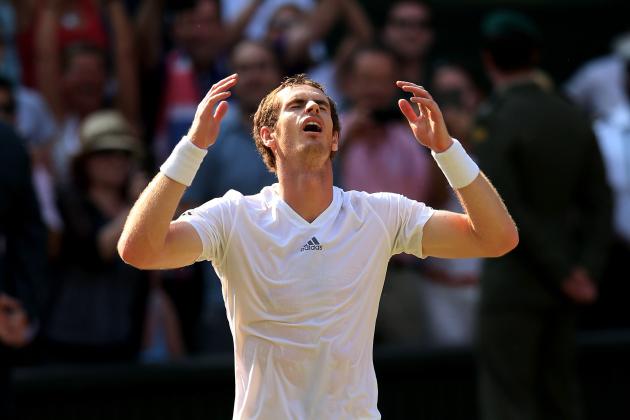 Julian Finney/Getty Images

Andy Murray enjoyed his easy first week, cruising through his first four matches as all of London awaited his real test. Then the quarterfinals dealt him a serious case of Fernando Verdasco forehands and a five-set scare. The dream could have ended then, followed by a series of colorful chastisements from the British media.
He also had to rally past young Jerzy Janowicz's enormous serve and deft touch. Trailing 4-1 in the third set, he shook off the doldrums and showed that he had arrived to bid for the Wimbledon title once again. These opportunities are hard enough, and Murray put himself in position to be the first British man to hold this trophy since the immortal Fred Perry in 1936.
The final was a dream fulfilled. He forced early break points, grabbed the first set and never quit pouring it on. This is the pinnacle of Murray's career, and no tournament will ever be so sweet.
He is given high marks for his quarterfinal comeback, his semifinal composure and his finals domination. Every Grand Slam win is an A+ performance, especially Wimbledon.
Grade: A+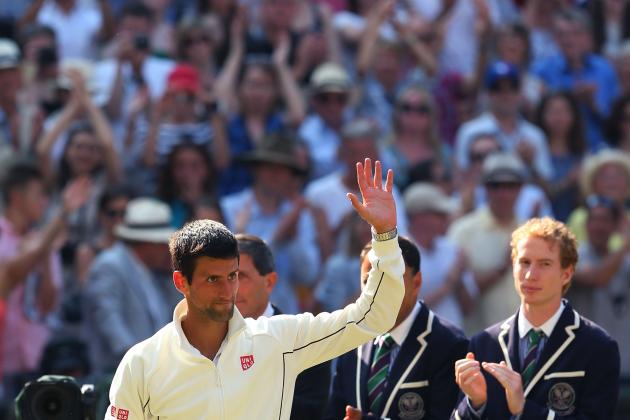 Julian Finney/Getty Images

When Djokovic wins, it's because he is supposed to win. When he loses, the vultures hover. It's an unfair standard in holding the mantle as the best player in tennis, but he carries this burden with willingness and competitive spirit. Even as he crushed Tomas Berdych and Tommy Haas, the consensus was still that he was merely doing his job.
Applaud Djokovic once again for dipping into the bottom of the well to defeat a hot Juan Martin del Potro in the semifinals, the greatest semifinal match since Patrick Rafter outlasted Andre Agassi in 2001. Djokovic has nothing left to prove when it comes to effort and heart. There are only a handful of people in the history of tennis who can be in this discussion.
The final was a very un-Djokovic performance. He did not move well, misfired at inopportune times and could not hold onto the brief momentum when he did seize it. He was outplayed by Murray in every facet of the match.
Djokovic will now have the onus on himself to respond at the U.S. Open. If not, he will increasingly look like an Australian Open specialist.
Grade: A-