UFC 162: Silva vs. Weidman Round-by-Round Recap and Analysis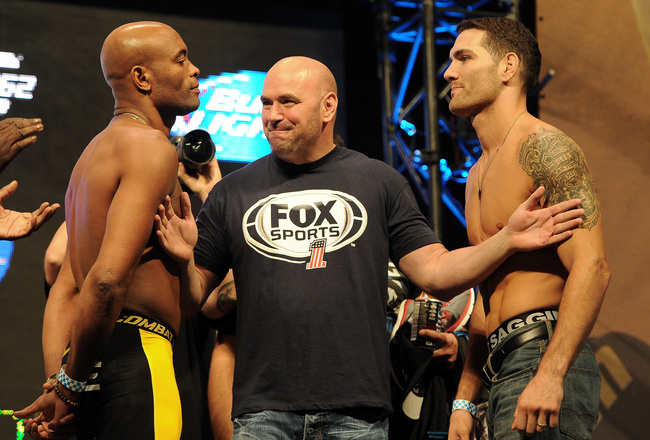 Anderson Silva and Chris Weidman fight at UFC 162.
Jayne Kamin-Oncea-USA TODAY Spor
Maybe you've heard something about it. At UFC 162 Saturday night, MMA's best consensus fighter, middleweight champion Anderson Silva, put his belt on the wire against Chris Weidman who, according to many, is the last best challenger to Silva in the 185-pound division.
Couldn't get the pay-per-view? Looking for some real-time-type analysis? Look no further. This is a round-by-round recap of the action, updated as the action unfolds.
Round 1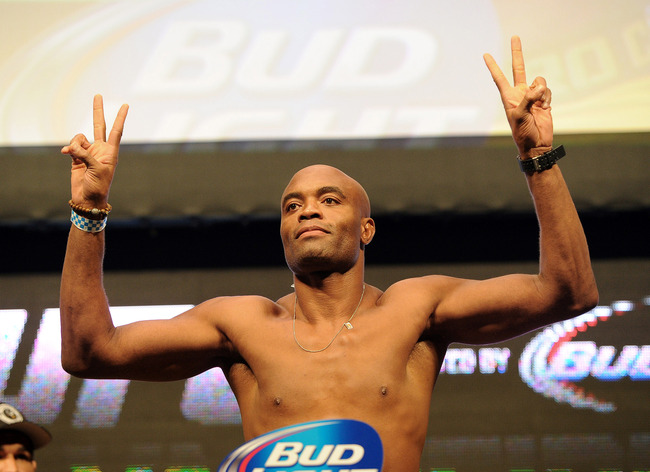 Anderson Silva
Jayne Kamin-Oncea-USA TODAY Spor
They are in the cage and ready to go.
Weidman extends a glove but Silva doesn't touch it. He bows, though.
Anyway, we're underway. Both men looking for their range. Weidman shoots in and gets it despite Silva's sprawl attempt. Now in Silva's guard, then half guard. Weidman punching Silva's face but Silva fending him off, preventing clean shots.
Weidman stands up at the 3:10 mark but looking for chance to get back in. He lands a clean shot to Silva's face. Now he's going for a leg on the ground but Silva appears to reverse. Now a heel hook attempt from Weidman. Looks good for a second but Silva spins out and now they're back on the feet.
Silva back up against the cage. Weidman walks away but Silva beckons him back and stands against the fence again. Weidman lands a right hand. Silva now with hands on hips and dodging punches with head movement - classic Anderson. Leg kick from Silva. Weidman trying jabs but Silva dodging easily. Silva appears to be luring Weidman into a standup exchange, though he hasn't landed much just yet.
Silva patting his leg, telling him where to kick him. Round ends and Silva gives him a kiss!
My score: Weidman, 10-9
Round 2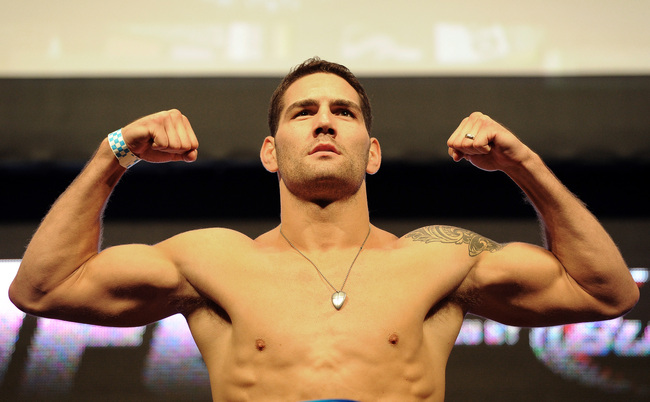 Chris Weidman
Jayne Kamin-Oncea-USA TODAY Spor
We'll see how Weidman responds to all that taunting. Will it get him off his game? So far, it has, as he's apparently moved away from the takedown attempts.
Now he shoots in, but Silva stuffs it. Back in the center of the cage now. Weidman fires a head kick but whiffs.
Oh my god! Weidman just landed a left hook and knocked him out! Silva was dancing and Weidman tagged him! He was out when he hit the ground! Academic ground and pound and it's over! New middleweight champion!
Official result: Chris Weidman def. Anderson Silva by KO, Rd. 2
Keep Reading