The 2013 MLB All-Star rosters have been unveiled, as the league's biggest stars are set to descend upon Citi Field in New York for the upcoming All-Star break.
The American League team will look to score a victory behind the hot bat of Baltimore Orioles slugger Chris Davis, who leads the league in home runs with 33. Davis will be joined by some of the biggest stars in the game as both sides try to earn a victory for home-field advantage in the World Series.
Davis led all players in voting in a historic showing for the Orioles, according to MLB Public Relations:
Chris Davis leads all of MLB w/ 8,272,243 votes. 3 @Orioles starting in #ASG for only 3rd time ever (1971, 1997).

— MLB Public Relations (@MLB_PR) July 6, 2013
Here's a full rundown of who the fans selected to represent each league, including starting lineups and the group for the final vote.
Information courtesy of the official Twitter account for Major League Baseball.
American League Starters
AL @AllStarGame starters 1B: Davis 2B: Cano SS: Hardy 3B: Cabrera C: Mauer OF: Jones OF: Trout OF: Bautista DH: Ortiz #ASG

— MLB (@MLB) July 6, 2013
National League Starters
NL @AllStarGame starters 1B: Votto 2B: Phillips SS: Tulowitzki 3B: Wright C: Molina OF: Beltran OF: CarGo OF: Harper #ASG

— MLB (@MLB) July 6, 2013
American League Reserves
AL reserves: Castro, Cruz, Encarnacion, Fielder, Gordon, Hunter, Kipnis, Machado, Pedroia, Peralta, Perez, Zobrist. #ASG

— MLB (@MLB) July 6, 2013
National League Reserves
NL reserves: Alvarez, Brown, Cabrera, Carpenter, Craig, Cuddyer, Goldschmidt, Gomez, McCutchen, Posey, Segura, Scutaro. #ASG

— MLB (@MLB) July 6, 2013
American League Pitchers
AL pitchers: Buchholz, Cecil, Colon, Crain, Darvish, Hernandez, Iwakuma, Masterson, Perkins, Nathan, Rivera, Sale, Scherzer, Verlander. #ASG

— MLB (@MLB) July 6, 2013
UPDATE: Thursday, July 11, at 3:38 p.m. ET by Kyle Vassalo
According to Rays Radio, Matt Moore has been added to the All-Star team:
Maddon opens Postgame press conference by announcing @MattyMoe55 has been named to the All-Star team.

— RaysRadio (@RaysRadio) July 11, 2013
Carlos Gonzalez has also been removed from the Home Run Derby according to the MLB PR's Twitter feed:
NEWS: #Pirates Pedro Alvarez will be in the @chevrolet #HRDerby, replacing Carlos Gonzalez (sprained finger).

— MLB Public Relations (@MLB_PR) July 11, 2013
---End of Update---
National League Pitchers
NL pitchers: Bumgarner, Chapman, Corbin, Fernandez, Grilli, Harvey, Kershaw, Kimbrel, Lee, Locke, Wainwright, Wood, Zimmermann. #ASG

— MLB (@MLB) July 6, 2013
American League Final Vote Candidates
AL #FinalVote candidates: Benoit, DET; Delabar, TOR; Robertson, NYY; Scheppers, TEX; Uehara, BOS. VOTE: http://t.co/Y2bjNMwF5G #ASG

— MLB (@MLB) July 6, 2013
National League Final Vote Candidates
NL #FinalVote candidates: Desmond, WAS; Freeman, ATL; Gonzalez, LA; Pence, SF; Puig, LA. VOTE: http://t.co/2uQtfOyL1h #ASG

— MLB (@MLB) July 6, 2013
Notable Storylines
Marco Scutaro's Inclusion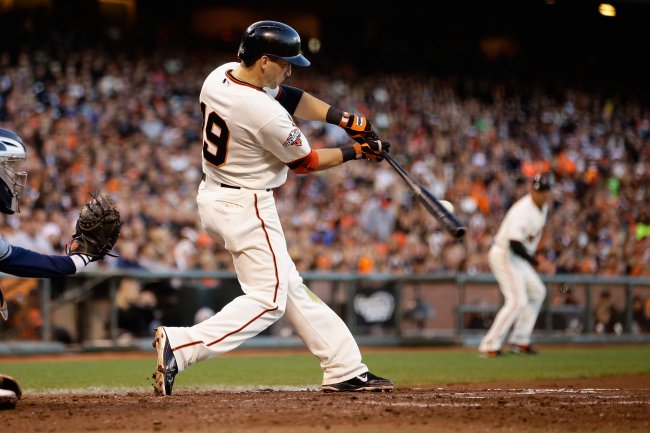 Ezra Shaw/Getty Images
Because these rosters are voted on by the fans, there are always some dubious additions to the roster that will leave some scratching their heads. This year, that addition is Marco Scutaro.
The San Francisco Giants second baseman was voted onto the National League team as a reserve despite numbers that wouldn't necessarily indicate that he's having an All-Star-caliber season. Through 72 games, he's hitting .313 with an on-base percentage of .367, but he has just two home runs and 19 RBI on the season.
Considering there are second basemen with much better numbers at the plate this season—including the surging Dan Uggla and San Diego's Jedd Gyorko—Scutaro's inclusion should raise some eyebrows.
Yasiel Puig Down—But Not Out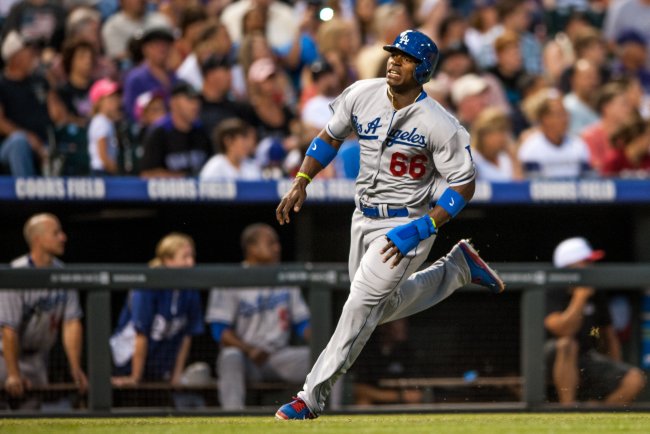 Dustin Bradford/Getty Images
Perhaps the most notable exclusion from the National League roster was burgeoning Los Angeles Dodgers star Yasiel Puig.
The 22-year-old outfielder has played in just 31 games this season, but it's been one of the most productive first 30 games a player has had. According to ESPN Stats & Info, he's joined Joe DiMaggio and Roy Weatherly as the only players to register 50 hits in their first 30 games, a feat that hasn't been accomplished since 1936.
Yasiel Puig: 3rd player to get 50 hits in his 1st 30 MLB games, joining Joe DiMaggio and Roy Weatherly (both in 1936) (h/t @EliasSports)

— ESPN Stats & Info (@ESPNStatsInfo) July 6, 2013
Puig's All-Star door hasn't been shut quite yet, though. He's part of the National League's group of players that are eligible to make the game in the final vote on Twitter:
NL #FinalVote hashtags #DesiIn13 #VoteFreddie #VoteTitan #VotePence #VotePuig

— MLB (@MLB) July 6, 2013
Puig's amazing production can't be denied, but it will be up to the fans to determine if that outweighs his short time in the league.
American League Final Vote Comes Down to Relievers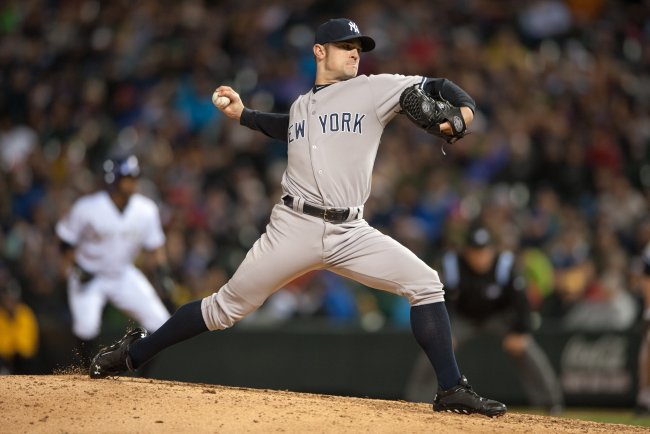 Dustin Bradford/Getty Images
Unless you're a middle reliever in the American League, your door to get into the All-Star Game is officially closed. The Final Group vote in the American League is comprised entirely of such pitchers.
That means bad news for some bats in the league that many feel are deserving to appear in the game, such as the Tampa Bay Rays' Evan Longoria and the Oakland Athletics' Josh Donaldson.
Donaldson leads the A's in just about every offensive category including home runs (15), RBI (57), average (.317) and on-base percentage (.385). Longoria leads the Rays with 17 home runs and 49 RBI, but neither will have a shot to make the final roster.