UFC 162: Edgar vs. Oliveira Round-by-Round Recap and Analysis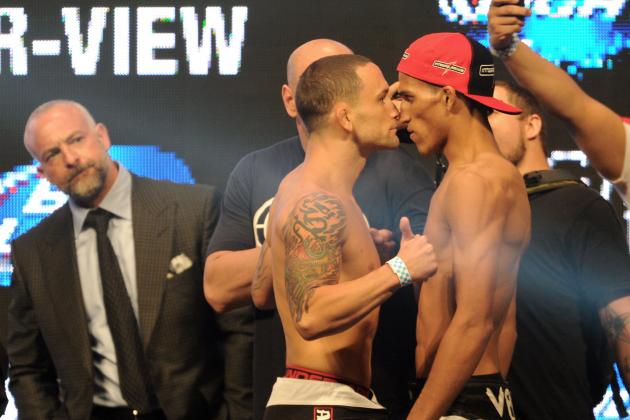 Jayne Kamin-Oncea-USA TODAY Spor

UFC 162 culminates Saturday night when Anderson Silva defends his middleweight title against Chris Weidman.
But Silva's not the only champion in action.
The co-main event features former UFC lightweight belt holder Frankie Edgar, who will fight for just the second time since dropping down to the featherweight division.
In his debut, Edgar dropped a well-fought decision to champion Jose Aldo. As such, he is now a loser in three straight, though all three were title bouts. Saturday night, he'll participate in a non-title match for the first time in more than three years when he faces 23-year-old young buck Charles Oliveira.
Here's a round-by-round recap of the co-main event action as it unfolds from Las Vegas.
Begin Slideshow

»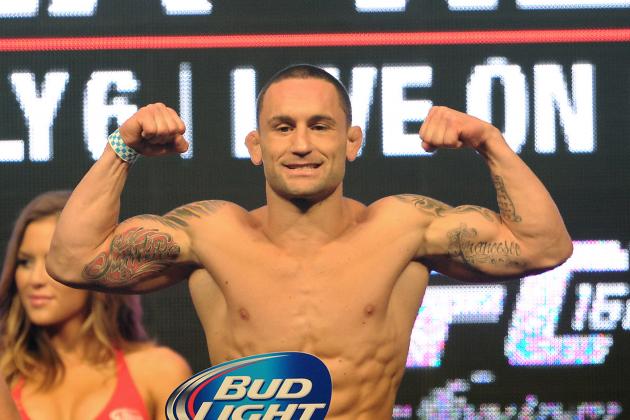 Jayne Kamin-Oncea-USA TODAY Spor
Frankie Edgar
Frankie Edgar sets the tone with his usual walkout music, "Kick in the Door" by Biggie Smalls. Oliveira comes out amped as well—he knows it's the biggest fight of his life.
Yves Lavigne is the referee. They touch gloves and are underway. Oliveira takes the center of the cage. Oliveira fires first, a body kick that Edgar catches.
Frankie tags Oliveira with a punch and "Do Bronx" takes Edgar to the mat. They're back up and a knee from Oliveira. Big takedown from Edgar—impressive on a much bigger opponent. Oliveira pulls guard and looks for hooks and then wrist controls. Oliveira sweeps but Edgar jumps out and they're back up.
Edgar throws a combination and Oliveria counters with a knee. Oliveira adding nice front kicks to his attack along with knees; might as well with that ranginess. Edgar darts in and Bronx tags him with an overhand.
One minute, 30 seconds left now. Edgar darts in but Oliveira ties him up. Edgar throws him down but not a big deal. Lots of terrific action in this one, as might be expected. Edgar lands a nice combination, darts out, throws a couple jabs. They hit the mat, and Oliveira wraps him up in guard, throws nice elbows to end the round.
My score: 10-9 Oliveira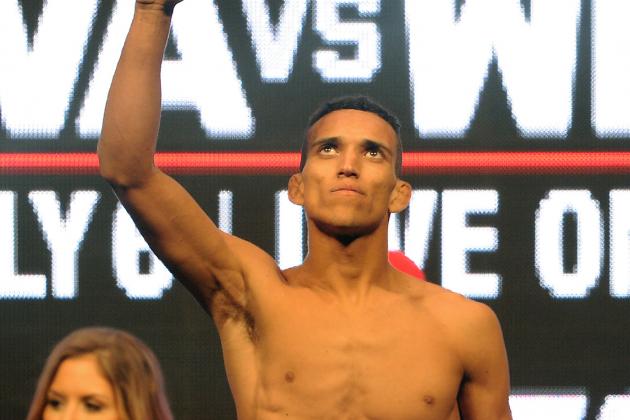 Jayne Kamin-Oncea-USA TODAY Spor
Charles Oliveira
After a close first round they resume the action. Edgar dances on the perimeter, seeking an opening. Big left from Frankie. Very heavy leg kick from Bronx. He tries another and Frankie catches it and throws a big right. Oliveira loses balance but back up.
Oliveira tries to tie up Edgar when he darts in, but now Edgar is landing takedowns. Edgar in Oliveira's guard but now Edgar landing more, clearly. Edgar gives Bronx a knee as they stand.
One-two from Oliveira. Nice left hook from Edgar. They exchange but nothing landing cleanly or heavily.
Edgar catches a leg kick and dumps Oliveira backward. Edgar lands a strong combination, starting with a hard liver shot. They clinch up along the fence. Edgar with a huge slam takedown at the end of the round! Lands in a Bronx guillotine but nothing doing.
My score: 10-9 Edgar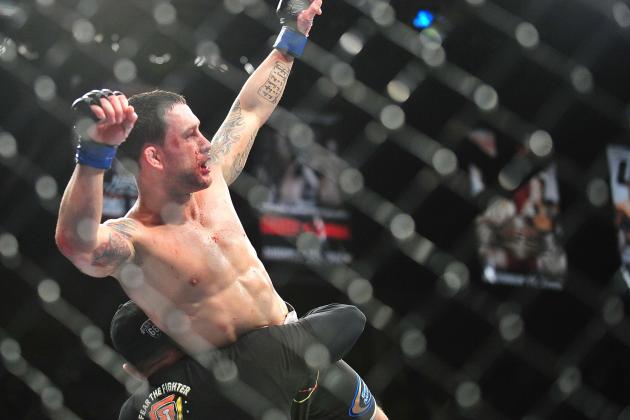 Gary A. Vasquez-USA TODAY Sports
Frankie Edgar
Final stanza here and Oliveira probably needs a finish with the first being so close.
Edgar's the one who comes out swinging, though. Another leg kick catch-and-dump by Edgar. Bronx might want to explore a different leg-kick strategy.
Oliveira trying different things, like a standing elbow and front kicks, but nothing is really getting through. A knee gets through just as I type that, though.
Edgar is pushing a great pace but Oliveira is keeping pace. He is fighting a very good fight here and is in excellent shape. Weird spinning kick but Edgar literally walks away from it.
Edgar throws a big right and Bronx is hurt. Big left then a big right. Bronx is wobbling at the 1:45 mark. Flying knee! He must smell blood.
Oliveira shoots but Frankie sprawls and drops into his guard. Oliveira has a pretty watertight guard on Edgar here. Edgar seems content to stay there, though. Crowd chants "Frankie." Great fight but Edgar should take it.
My score: 10-9 Edgar, 29-28 Edgar
Official score: Frankie Edgar def. Charles Oliveira by Unanimous decision, 30-27, 29-28, 30-27