Colin Kaepernick has angered some Niners fans by wearing the hat of an opposing NFL team, and he does not seem to care.
UPDATE: July 17, at 9:50 a.m. ET by Brandon Galvin
NFL.com's Dan Hanzus has the latest from Colin Kaepernick's teammate, NaVorro Bowman:
Teammate NaVorro Bowman didn't sugarcoat it when asked about hatgate during a Tuesday appearance on NFL Network's 'NFL Total Access.'

'This is a huge mistake by Kaep,' Bowman said. 'I'm sure he understands that now. In his defense, we're young, in our era these days we like to match our snapbacks with our outfits.'

'The hats now these days are very important to the outfit, so Kaep I understand what you did, but let's stay away from the NFL teams,' he added. 'Stick to NBA, go to college or the baseball hats.'
---End of update---
---Original Text---
On the Fourth of July, the San Francisco 49ers quarterback went to a party wearing a Miami Dolphins hat. A fan account on Twitter was able to get a photograph of the player:
49ers QB Colin Kaepernick at a 4th of july party Rocking a Dolphins hat.. pic.twitter.com/KkEjCWTbaO

— Miami Dolphins Fans (@DolFanBandits) July 5, 2013
While many saw it as a sign of disrespect that he was not representing his own team, Kaepernick feels differently. After the news came out, he posted this picture of himself with the hat on his Instagram account: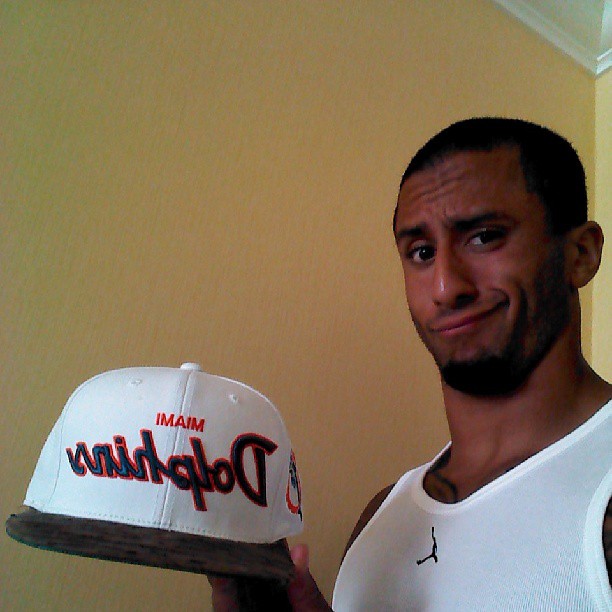 If the face in the picture did not say it all already, he also included this caption with the image:
This the hat y'all mad at? I'm goin wear what I want regardless of what you think, all you need to worry about is the fact that I grind for my teammates and the 49ers! I plan on doin this until they won't let me in the building! #ridiculous#y'allmustbebored
It is clear the quarterback does not feel as though this is a big issue.
Of course, this is not the first time Kaepernick has been called out for his appearance. During the regular season, his tattoos received notoriety when David Whitley of the Sporting News wrote a column comparing the quarterback to prison inmates in San Quentin.
Would you have a problem with your team's star wearing another team's hat?
In that case, the player's parents came through with a passionate response defending him.
Kaepernick gained national recognition last year after taking over the starting job for Alex Smith midway through the regular season. He burst onto the scene as a dual-threat star when the original starter was out due to a concussion.
The 49ers kept the young player in the lineup, and he ended up leading the squad to the Super Bowl, where they lost to the Baltimore Ravens. In the offseason, Smith was traded to the Kansas City Chiefs to clear room for Kaepernick to remain as the starter.
While he has succeeded on the field, he is now learning that being a superstar also means being criticized while off the field. If his Instagram message is any indication, however, Kaepernick will not let petty criticism stop his emergence as one the NFL's top young quarterbacks.
Follow Rob Goldberg on Twitter for the latest updates in sports.