2013 NHL Free Agency: Departed Players Teams Will Miss Most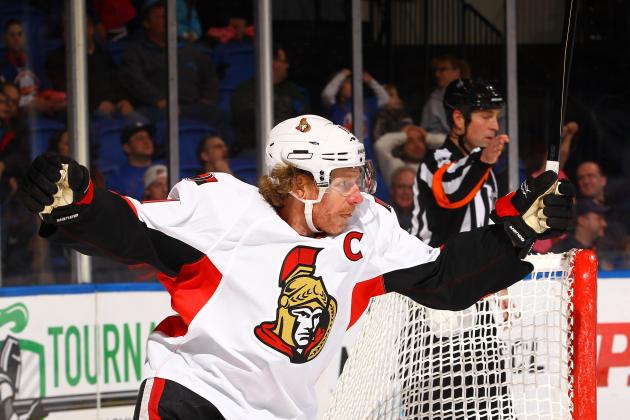 Al Bello/Getty Images

The 2013 NHL free-agency period has seen a lot of players change sides.
From the unfolding of the shocking Daniel Alfredsson situation to Mike Ribeiro deciding to take his talents to the desert, July 5 didn't have a shortage of surprises or big-money deals for players that have had even mild amounts of success at the NHL level.
Nothing like the smell of overspending in the morning, right?
Free agency causes even the sanest of general managers to lose their minds and hurl money at the nearest "big-name" player that can fill a perceived hole on the team. After all, one spot-on signing can put a team over the top for a Stanley Cup run.
On the other hand, teams that have lost players are left with incomplete rosters, digging around internally to replace that top-four defenseman or top-six forward that just received a massive payday elsewhere.
Begin Slideshow

»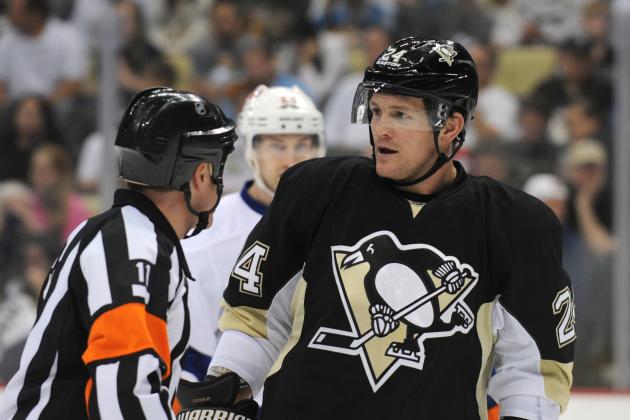 Vincent Pugliese/Getty Images

Previous Team: Pittsburgh Penguins
Why He'll Be Missed: Aside from being one of the top penalty killers in the NHL at this stage in his career, Matt Cooke is also pretty (damn) good at antagonizing his opposition. Players on the other team love to take runs at Cooke, and who can blame them?
A penalty is a penalty, though—however justified—and Cooke draws plenty of power plays for his squad.
He'll be missed for both aspects of his game and will be tough to replace on the PK. Cooke was also very well-liked in the locker room and had been an important part of the Penguins for several seasons before departing.
How He'll Be Replaced: Guys like Cooke aren't impossible to replace, and the Penguins didn't sit by idly during the free-agent frenzy.
Depth players such as Brandon Sutter and Joey Vitale will likely have a crack at plying their trade during penalty-killing situations this season for the Pens.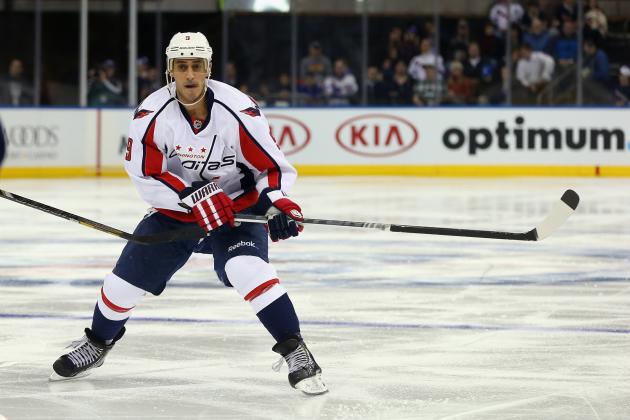 Bruce Bennett/Getty Images

Old Team: Washington Capitals
Why He'll Be Missed: When the Caps secured the services of Mike Ribeiro prior to the 2013 season, they filled a long-standing hole down the middle. The team had longed for the services of a true No. 2 center for several years before adding Ribeiro, and now that he's left town, it's right back where it started.
People will point out that a majority of Ribeiro's production came on the power play, which supposedly makes him easier to replace.
However, replacing a point-per-game player is never easy, and when compared to the other deals that have occurred during free agency so far, Ribeiro's four-year pact looks like a bargain.
How He'll Be Replaced: Washington put itself in a bit of a spot when it traded Filip Forsberg to the Nashville Predators. He'd be ready for a shot as the team's No. 2 center this season, but instead, the Caps have Martin Erat, who scored one goal in nine regular-season games after joining the team via trade at last season's deadline.
Now they'll have to hope that Tom Wilson is ready to play out of his mind or for Brooks Laich to have a bounce-back year after an injury-plagued 2013 campaign. Marcus Johansson is another interesting possibility, but he clicked far too well with Alexander Ovechkin in 2013 and shouldn't be bumped down.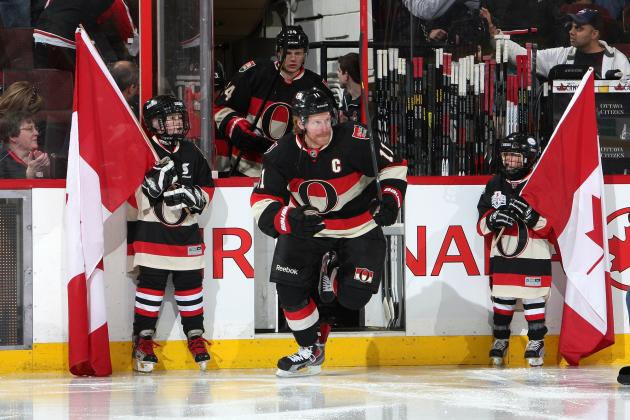 Francois Laplante/FreestylePhoto/Getty Images

Old Team: Ottawa Senators
Why He'll Be Missed: Where to begin.
Daniel Alfredsson went from team captain and national hero in Ottawa to public enemy No. 1 in about 18 hours. Details of what went wrong may never be known, and the breakdown (and subsequent breakup) of relations between Alfie and the Sens is foggy at best right now.
What we do know: Alfredsson will be wearing No. 11 for the Detroit Red Wings in 2014, a development no one saw coming.
How He'll Be Replaced: The Senators won't have issues replacing Alfredsson's output. He had 26 points in 47 games played in 2013, and Ottawa went out and traded for Bobby Ryan within a few hours of losing Alfie.
This move isn't about numbers, though. It's about a team losing a guy that has been around since 1995. Alfredsson was supposed to retire a Senator. He's always been a Senator. Yet that went off the rails somewhere along the line, and now both team and player must live with the repercussions.
How do you replace the soul of a hockey team?
To find out, keep an eye on the Senators in 2014.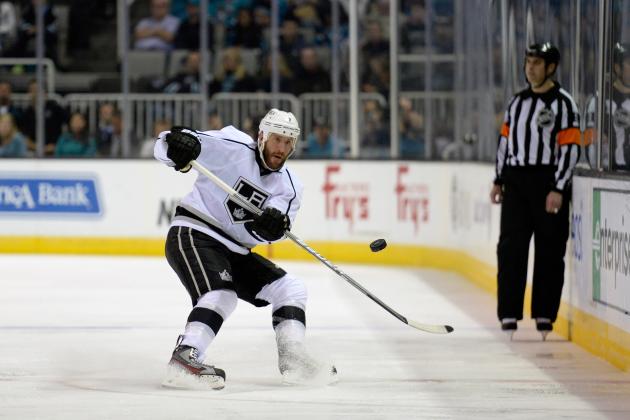 Thearon W. Henderson/Getty Images

Old Team: Los Angeles Kings
Why He'll Be Missed: The Pittsburgh Penguins refer to Rob Scuderi as "The Piece." He's a defensive defenseman and doesn't tend to make many mistakes with the puck. Scuderi is a well-documented battler and will sacrifice his body and will for the sake of victory.
And the Stanley Cup seems to follow him wherever he goes.
The Kings will find out in 2014 what the Penguins realized after they let Scuderi walk in 2009: that players with this kind of determination and work ethic don't come along every day, and that winning championships is just a touch easier with players like him around.
How He'll Be Replaced: The Los Angeles Kings have several outstanding defensemen. The question is, who among them is willing to put their face down in front of a Zdeno Chara slap shot without hesitation while protecting a two-goal lead with 30 seconds left to play?
That's the kind of player that Scuderi is. Can Alec Martinez and Slava Voynov duplicate that sort of effort on a nightly basis?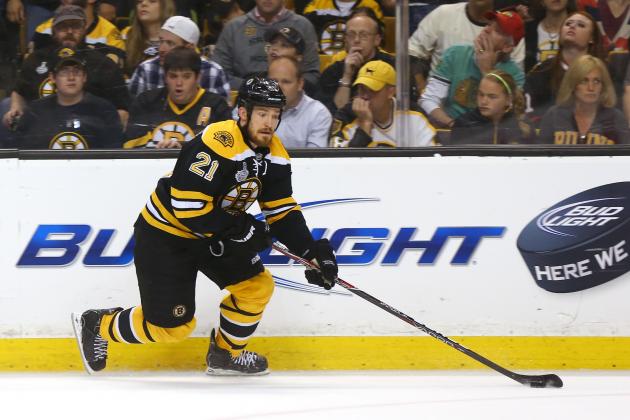 Elsa/Getty Images

Old Team: Boston Bruins
Why He'll Be Missed: Like Rob Scuderi, Andrew Ference is a meat-and-potatoes defenseman that doesn't play with a lot of frills. What he lacks in flash, Ference makes up for by making high-percentage plays that don't typically end up in the back of his net.
In a league that seems to be more and more geared toward defensemen being wingers in disguise, the importance of guys like Ference can not be understated or oversold.
He was a lynchpin for the Boston Bruins and was arguably as important to the blue line as Zdeno Chara.
How He'll Be Replaced: The B's were forced to let a few pieces of their team walk during free agency, but it isn't likely they'll miss anyone as much as Ference. They received prospect Joseph Morrow in the Tyler Seguin deal, but he's more of an offensive-minded player on the back end.
Look to Dougie Hamilton to get a long, long look beside Chara. If the two click, they could be one of the deadliest shutdown pairings in the NHL by the end of 2014.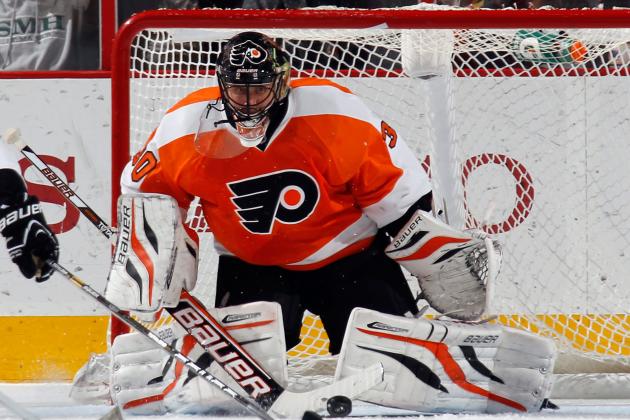 Bruce Bennett/Getty Images

Old Team: Philadelphia Flyers
Why He'll Be Missed: If the Flyers thought that Ilya Bryzgalov was bad, wait until they get a load of Steve Mason through an entire season (spoiler alert: He stinks).
After only one-and-a-half seasons in net for Philadelphia, Bryz was unceremoniously bought out of the ridiculous nine-year, $51 million contract that Paul Holmgren had traded the core of his team to make room for.
The buyout in and of itself isn't a bad move—it's how the team managed to get in the position to have to do that in the first place. And to think that Holmgren immediately ate up what little cap relief the Bryzgalov buyout brought, not on a defenseman, but on an aging center in Vincent Lecavalier.
There is no "big picture" or "plan of attack" in Philadelphia. Just a few itchy trigger fingers.
How He'll Be Replaced: With a punt and a prayer. Ray Emery was outstanding for the Chicago Blackhawks in 2013, but let's not forget that he was playing off-nights for the best team in the entire NHL.
And don't kid yourself: The gap between the 'Hawks and Flyers is massive, especially on the blue line.
If Emery falters and the job falls to Mason, Philly will be a lottery team in 2014. And that will somehow be Bryzgalov's fault as well.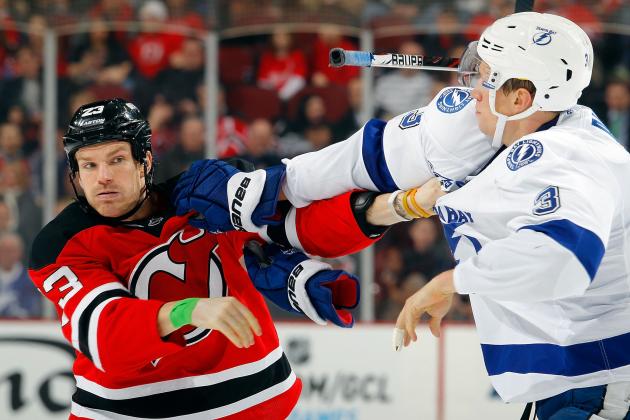 Jim McIsaac/Getty Images

Old Team: New Jersey Devils
Why He'll Be Missed: Players like David Clarkson don't come around very often. He's a true power forward that drives to the net, scores goals and isn't afraid to drop the gloves when needed. Clarkson isn't a 30-goal scorer—at least he won't be consistently.
He is a guy who should consistently put up 20, though—all while bringing a boatload of toughness and likability to the ice every night. Seriously, how many Clarkson jerseys will the Toronto Maple Leafs sell this summer?
Countless.
This is the kind of guy that fans fall in love with, and he's getting paid for that just as much as he's getting paid for his goal-scoring prowess. Clarkson is a tough customer and will inspire his teammates to play just that much harder.
How He'll Be Replaced: Jersey replaced Clarkson's production by signing Michael Ryder and secured another big-bodied forward in Ryane Clowe. We won't know if the sum of these parts will be better than the whole that is Clarkson, but kudos to the Devils for not just sitting idly by.
Perhaps five years and $24.25 million for a player that scored only three goals in 2013 is bit much, but who knows? If Clarkson can score 30, so can Clowe.
Right?