Anderson Silva vs. Chris Weidman Results: Live Blog For UFC 162's Main Event
UFC 162 goes live this evening on pay-per-view at 10 p.m. ET, and we've got you covered with the live blog of the main event.
The card is headlined by a middleweight title match between champion Anderson Silva and top contender Chris Weidman. Silva, the favorite, looks to continue his unbeaten streak in the UFC, while Weidman looks to keep his undefeated professional record intact as well.
Join us throughout the evening for live updates from the Las Vegas event.
And, as always, enjoy the fights.
Fight of the Night - 2 of 'em - Swanson vs. Siver and Edgar vs. Oliveira - both featherweights! KOTN - THE NEW CHAMP Chris Weidman!!

— UFC (@ufc) July 7, 2013
Unsurprisingly, Knockout of the Night goes to Weidman.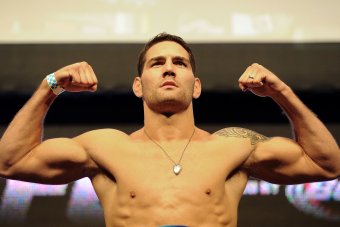 Jayne Kamin-Oncea-USA TODAY Spor
Stoppage comes in at 1:18 of the second round. Silva just lost his first fight in 17 UFC appearances.
Weidman says to Joe Rogan that he feels like he was destined for this. He also admits Silva is an idol of his.
The MGM Grand Garden Arena fills with boos as Rogan interviews Silva. "The Spider" says Weidman is the best middleweight. He also says he doesn't want to fight for the belt anymore.
Rogan asks if he is retiring. Silva says he is not, but it seems like he is hinting at superfights, or maybe a run at light heavyweight.
Silva shouts across the cage prior to the start of the second round, urging Weidman to fight him.
Round 2:
Silva takes a shot and mocks Weidman, pretending to be staggered. He's hopping around the cage now, and Weidman remains calm. He shoots for a takedown, but Silva stuffs it. Not a good sign for Weidman.
The champion continues to taunt. Huge punch lands for Weidman and Silva drops. He is badly hurt. Weidman with a few more shots and this fight is over. Historic win, and Chris Weidman is the new UFC champion.
And here we go. Herb Dean is the third man in the cage. This should be good.
Silva refuses to touch gloves.
Round 1:
Silva dancing around early on, keeping the distance. Weidman is very cautious at the moment. He shoots in for a takedown and gets it. Silva is on his back just 40 seconds into this fight.
Weidman advances to half guard, and Weidman is working his ground and pound. Chants of USA ring through the MGM Grand Garden Arena. Silva gets back to guard, and Weidman stands above him. Upkicks from Silva. The challenger lands some shots from the top. He rolls for a leg lock. Silva is in trouble here, but he looks like he will get out.
He does, and the two are back on the feet. Good start for Weidman, but he's back in Silva's world now.
Silva stands flat-footed against the cage, taunting Weidman. The contender lands some shots, but Silva continues to taunt him. Hands on his hips, Silva takes a shot and laughs at Weidman. Silva's hands are down, and Weidman lands. Again, Silva laughs, suggesting Weidman can't hurt him.
The champion is opening up, landing kicks and punches. He continues to urge Weidman to commit, and the challenger looks like a deer in the headlights. Silva dares him to engage, and Weidman avoids.
The bell rings and Silva gives him a kiss on the cheek during an awkward embrace.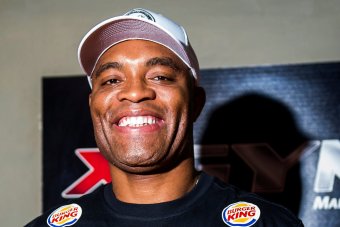 Buda Mendes/Getty Images
Walkouts going down now. Weidman out to some Tom Petty, Silva out to some DMX.
Tim Kennedy just earned the unanimous decision victory. It wasn't pretty, but he got the job done.
Charles Oliveira looks to overcome enormous odds against Frankie Edgar next.
Two fights down, two to go until the main event of the evening.
Mark Munoz just took home a decision after a dominant performance against Tim Boetsch. Roger Gracie vs. Tim Kennedy up next.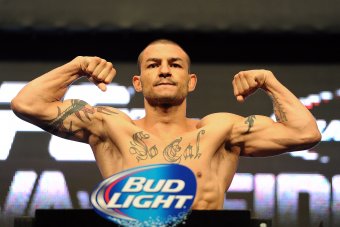 Jayne Kamin-Oncea-USA TODAY Spor
The UFC pay-per-view is underway, and Cub Swanson put away Dennis Siver in the third round of the opening fight. Tim Boetsch vs. Mark Munoz is underway.
Silva tals with Ariel Helwani about the interesting weigh-in staredown from yesterday.
This article is
What is the duplicate article?
Why is this article offensive?
Where is this article plagiarized from?
Why is this article poorly edited?