After eight days of action at the 2013 Tour de France, the peloton will now move to Saint-Girons and move West during Sunday's Stage 9 race before winding up in Bagneres-de-Bigorre.
Christopher Froome of Sky Pro Cycling took home the Stage 8 crown on Saturday. He was followed by teammate Richie Porte, Alejandro Valverde, Bauke Mollema and Laurens Ten Dem, all of whom showed impressive skills in navigating the first high-mountain stage of this year's event.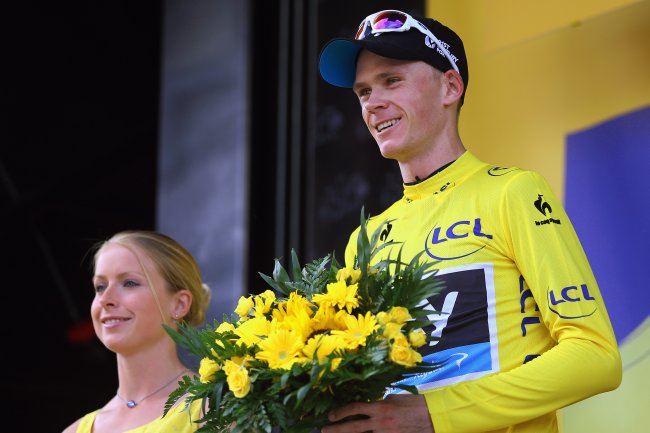 Bryn Lennon/Getty Images
Froome will have the yellow jersey when Stage 9 begins.
General Classification Standings after Stage 8
Place
Cyclist
Overall Time
1
Christopher

Froome

32:15:55
2
Richie

Porte

+00:51
3
Alejandro

Valverde

+01:25
4

Bauke

Mollema

+01:44
5
Laurens Ten Dam
+01:50
6
Roman

Kreuziger

+01:51
7
Alberto

Contador

+01:51

8

Nairo

Alexander Quintana Rojas
+02:02
9
Joaquin Rodriguez Oliver
+02:31
10
Michael Rogers
+02:40

11

Rui

Alberto Costa
+02:45

12
Andrew

Talansky

+02:48

13
Daniel Martin
+02:48
Other Leaders
Jersey/Title
Rider/Team
Green (Points)
Peter Sagan
Polka-Dot (Climber)

Froome

(worn by Pierre Rolland)
White (Youth)

Nairo

Alexander Quintana Rojas
Team

Movistar

Team
Combative

Nairo

Alexander Quintana Rojas
*For complete general classification standings visit LeTour.com.

Stage 8 was the first chance to see what the peloton would look like as the competition moved to the high mountains. At the end of the day, the classifications looked vastly different than they did when the day began.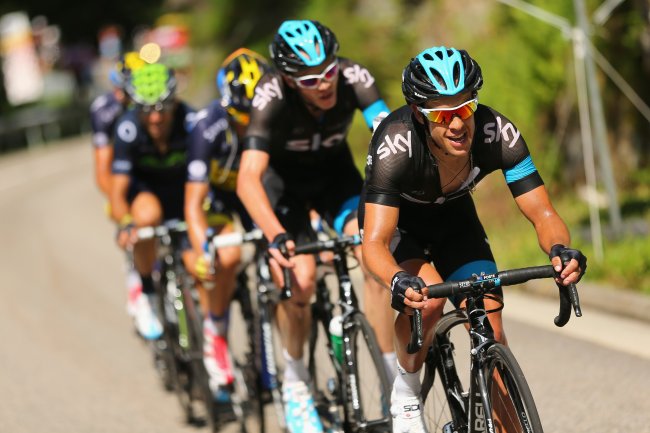 Bryn Lennon/Getty Images
Starting in Castres and ascending toward the Ax-3-Domaines, the riders dealt with a mostly uphill climb as stamina and strength were both tested in heavier fashion than speed.
It was Froome who emerged as the top climber on Saturday, and he completed a nice run to the finish line by putting the biggest distance we've seen between first and second place in the general classification standings so far.
Stage 9 will be the last stage before the riders get a day of rest of Monday. As noted by ITV Cycling on Twitter, it's a chance for General Classification hopefuls to prove they belong:
If Stage 8 wasn't enough, Stage 9 looks brutal: http://t.co/igpe3Iwv8N #tdf No hiding place this weekend for GC hopefuls

— ITV Cycling (@itvcycling) July 5, 2013
With valuable time up for grabs in the mountains and those who lost a step on Saturday needing to gain it back, Sunday's action could prove to be pivotal both in the short- and long-term outlook on this year's Tour de France.
Stage 9 Preview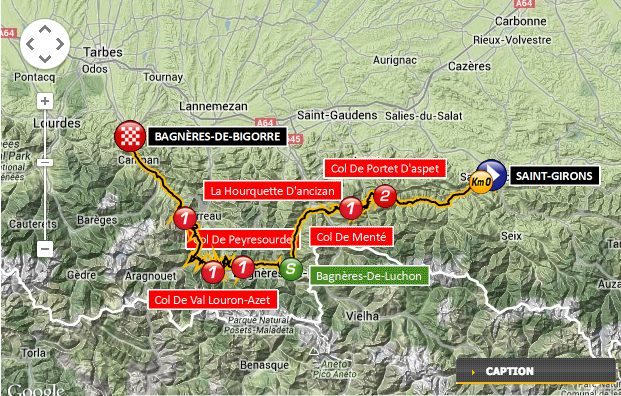 While both Stage 8 and Stage 9 carry the brunt force of a mountain climb, it's Sunday's race from Saint-Girons to Bagneres-de-Bigorre that continually tests the ability of the riders to adapt to changing elevations.
As noted by the stage preview on LeTour.com, Stage 9 is a different kind of mountain trip entirely.
At 168.5 kilometers, Stage 9 is a relatively short one. It likely won't feel that way for any of the riders, as the course will vary between ascending and descending at every twist and turn.
The first 20 kilometers of Sunday's stage will be flat. At that point, a steep, Category 1 climb will first test the riders in the early part of the race. Moving forward, an intermediate sprint will allow those who want to do their work early gain ground before the most grueling part of the day.
Cycling the Alps on Twitter had this profile of the stage to confirm:
#tdf stage 9 profile. http://t.co/ZIFd9NqkHf pic.twitter.com/OA67cq49EA

— Cycling the Alps (@cyclingthealps) July 6, 2013
Three more climbs take over the middle part of the race, as the variation between climbing and descending will be a major talking point during this segment of Sunday's action.
The final climb will be made at the Hourquette d'Ancizan.
A trip up this part of the mountain marks just the second time Tour officials have dispatched the landmark as a challenge for the riders, and it will be interesting to see who overcomes the steep grade to reach the home stretch in strong fashion.
The final 13 kilometers offer the sprinters one final chance to make up any ground they might have lost in the peloton over the two-day stretch in the mountains.
With a mix of flat racing and the steep climbs sure to test the mental and physical fortitude of everyone in the field, Stage 9 will be can't-miss action on Sunday before we get our first official break at the 2013 Tour de France.
Follow B/R's Ethan Grant (@DowntownEG) on Twitter.