Daniel Cormier Open to Fighting Fabricio Werdum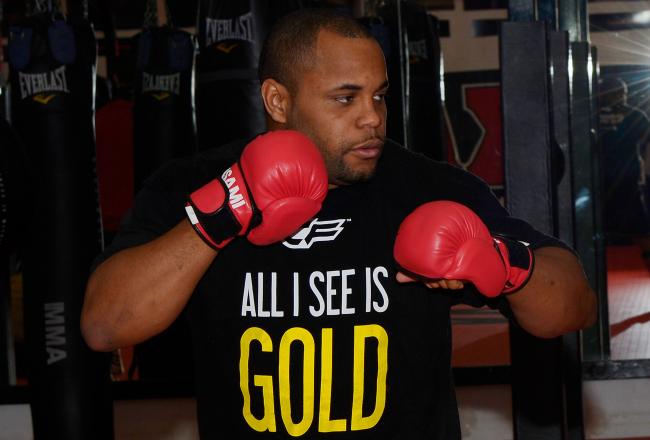 Thearon W. Henderson/Getty Images
Just a couple of days after Dana White dropped the suggestion to fans that UFC heavyweight Fabricio Werdum was gunning after Daniel Cormier, DC himself has said that he's down for the fight.
Speaking to MMA Junkie, Cormier said he's ready to fight anyone available in the 260 pound division, making a particular mention of Werdum, before he considers moving down a division.
On Thursday, during a UFC 162 pre-fight media scrum, White was asked whether rumours of a Werdum/Cormier fight were true. The UFC president replied (h/t Bloody Elbow):
"Werdum was in my office two days ago… That's probably where the rumour came from. That's who he wants to fight, but we'll see what happens."
Cormier's response was unambiguous:
"Why not? … Well, he asked to fight me. Someone said Dana [discussed it] in his scrum this week… I just need a date and know when I'm fighting."
Cormier and Werdum are both ranked No. 3 and No. 4 in the UFC rankings, respectively. Sitting at the top with the belt is Cain Velasquez, Cormier's teammate and training partner at American Kickboxing Academy.
Cormier, who's had a meteoric rise in the sport since his debut in 2009, has maintained that he would never fight Velasquez, which leaves the obvious option of him dropping down to 205 pounds to take on light heavyweight kingpin Jon Jones instead.
Indeed, DC said that he intends to drop down to 205 pounds eventually after having one more fight at 260 pounds, especially if the prospect of fighting Jones for the title is on the line.
"It's not about [Jones]; it's about me trying to be the champion and without fighting Cain Velasquez," said Cormier. "But if the champion is still Jon—and I don't see anyone actually beating him—then why not test yourself against the best in the world?"
Earlier, there was talk of Cormier facing heavy-hitting heavyweight Roy Nelson. However, after Nelson lost a unanimous decision to Stipe Miocic at UFC 161 in June, there seems to be less interest in that fight.
Werdum, on the other hand, has been charging up the UFC rankings since his return to the promotion in 2012; going on a three-fight winning streak capped with a sublime submission victory over Antonio Rodrigo Nogueira last month.
Cormier has an even more impressive record, having gone undefeated as a pro in 12 fights with his last victory coming against Frank Mir in April.
Both men are still unbooked for fights, and for Werdum, fighting Cormier would be the catalyst he would need to almost automatically guarantee a title shot. That could be a rematch against Junior Dos Santos, should he win against Velasquez later this year, or a first time contest against Velasquez himself.
For Cormier, a win could be the perfect set up for him to drop down a division and take on Jones for the belt.
This article is
What is the duplicate article?
Why is this article offensive?
Where is this article plagiarized from?
Why is this article poorly edited?