Coke Zero 400 2013 at Daytona: Live Results, Updates and Reaction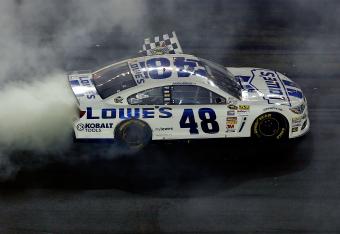 Scott Halleran/Getty Images
The Coke Zero 400 at Daytona was filled with excitement as the race started to come to an end.
Drivers started the race driving in a single file, but after the race really started to get underway, other lines emerged for drivers to race side-by-side.
Denny Hamlin and Jeff Gordon would continue to struggle with their bad luck, as both drivers would be taken out when the first big wreck of the night happened.
Jimmie Johnson would lead the most laps, and as the race came down to a Green-White-Checkered finish, Johnson remained out in front.
As they continued to race on the final lap, drivers in the back of the field started to wreck. NASCAR allowed the drivers to finish racing, and as another huge wreck occurred, Jimmie Johnson would cross the finish line in first.
Johnson swept both Daytona races, and has now become the only driver to win both races since Bobby Allison did it back in 1982.
Now the battle between Jimmie Johnson and Matt Kenseth continues, as both drivers are tied with four wins heading into the Chase.
Will these two drivers cross paths as NASCAR heads into New Hampshire?
Make sure to join us here on the Bleacher Report next week to find out.
Jimmie Johnson wins the Coke Zero 400 at Daytona.
Thanks for joining us here on the Bleacher Report for the Coke Zero 400. We'll see you next week at New Hampshire!
Solid second place finish for Stewart.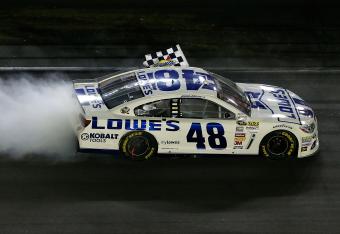 Johnson is the only driver since 1982 to win both Daytona races. The battle between Johnson and Kenseth continues.
Johnson gets out in front.
Top 10: Johnson, Harvick, Bowyer, Stenhouse, McMurray, Stewart, Kurt Busch, Gilliland, Patrick, Waltrip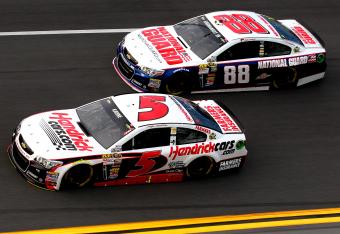 Kahne hits the inside wall, climbs out of his car.
Kahne spins, caution out.
7 Laps to go as we get ready to go green.
Race is back to a yellow flag.
Maybe the cause of Hamlin turning:
Red flag is out. NASCAR has to clean up the track.
Hamlin took a big hit. Looks to be OK.
There's the Big one. Caution out for a big wreck.
Top 10: Johnson, Harvick, Stewart, Kahne, Kurt Busch, Ambrose, Patrick, Mears, McMurray, Dale Jr.
Lap 145/160
I thought commercial free meant no commercials?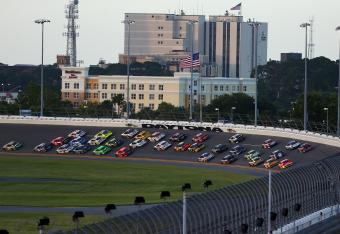 20 Laps to go. When will drivers make their moves to the front?
Top 10: Johnson, Kahne, Harvick, Stewart, Keselowski, Kyle Busch, McMurray, Kurt Busch, Bayne, Ambrose
28 Laps to go. Johnson is out in front.
Dale Jr. Wins the Sprint Cup twitter contest. Congrats?
This article is
What is the duplicate article?
Why is this article offensive?
Where is this article plagiarized from?
Why is this article poorly edited?