Tony Thompson Survives Knockdown; Comes Back to Stop David Price in Fifth Round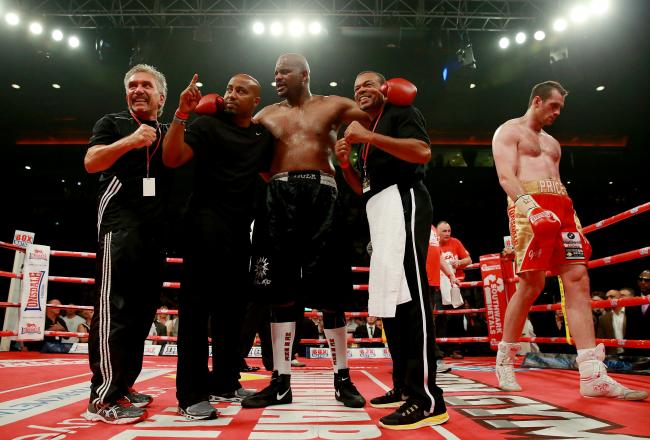 It was a repeat Saturday night in Liverpool as Tony Thompson knocked out David Price for the second time in five months.
Scott Heavey/Getty Images
Tony Thompson did it again!
The 41-year-old American heavyweight rallied from a second round knockdown to once again stop David Price in a rematch of their February contest.
Thompson (38-3, 26 KO) was dropped hard by a right hand shot in the second round. He was badly hurt, and he was lucky to survive to the bell. Price (15-2, 13 KO) seized on the opportunity and came out aggressive in the third round. Once again he had his opponent hurt, but he wasn't able to finish him off.
The Brit seemed to pay for his aggression, and when the fourth round began he seemingly had little left in the tank. That allowed Thompson to close the distance and unload power shots to the body and head.
When the bell sounded to start the fifth round it was obvious Price was in real trouble. Thompson began unloading on his exhausted opponent, and the referee was forced to administer a rare standing eight count to save him from further punishment.
When Price showed no signs of wanting to continue, the fight was waved off giving Thompson another knockout victory.
That'll do it for us fight fans! We hope you enjoyed our live coverage of Tony Thompson's fifth round TKO victory over David Price.
Stay tuned to us here at Bleacher Report for all your post-fight coverage!
Don't give price to much stick! Not his chin this time his heart! Jacked !!!!!!

— Tyson Fury (@Tyson_Fury) July 6, 2013
Absolutely. He turned away and quit on the fight. That's not going to help him going forward...if there is a going forward.
They don't make heavyweights like they used to. David Price was completely exhausted by the end of the third round and the end was near.

— Boxing Scene.com (@boxingscene) July 6, 2013
Gotta be impressed by Tony Thompson. He never panicked after the knockdown and stuck with the gameplan.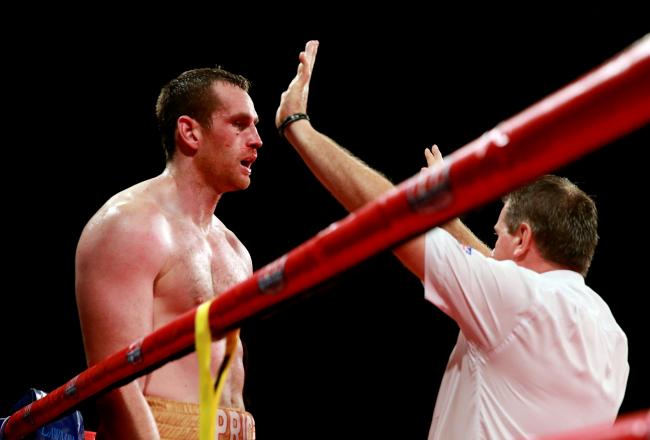 The first fight proved that David Price has no chin. Tonight he proved he has no stamina. He's done. Stick a fork in him.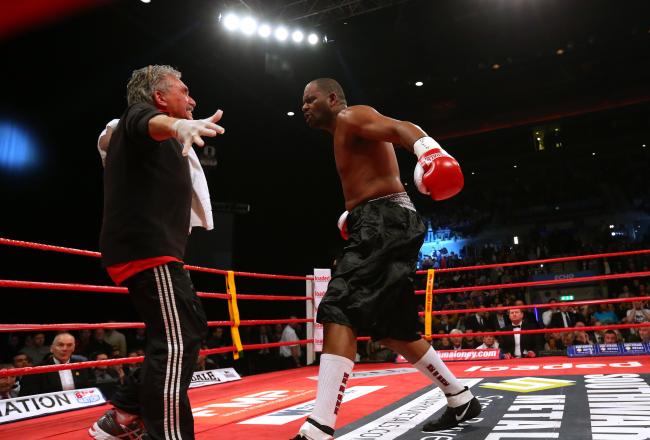 And it's OVER!!!
Tony Thompson rallies to stop David Price for a second time! This time by fifth round knockout!
David Price might not have long to go here...Thompson has his BADLY hurt in the fifth!! And the referee has given Price a rare standing eight count!
Pricey looks shattered and very sloppy here. He needs to pull a haymaker out here I think.

— Ricky Hatton MBE (@HitmanHatton) July 6, 2013
Price looks tired and unable to handle Thompson's inside power shots.
Thompson with a big rally to close the fourth round, and he appeared to have Price hurt! What a fight! Nothing but back and forth action thus far.
Gave that round to "The Tiger" who used a great body attack to setup his shots upstairs and had his man hurt at the bell.
38-37 Price after four.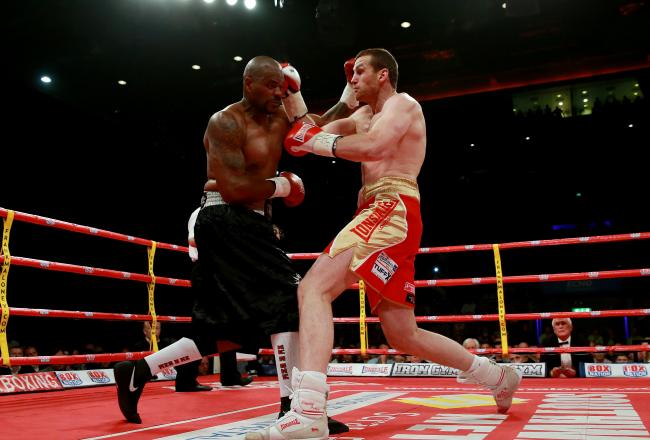 Tony Thompson's punches look like they're thrown in slow-motion.
Another good rd for Price in 3rd. He shoudlda had knockdown when ropes held Tony up. Tony also hurt him too. What a fight so far. #boxing

— Dan Rafael (@danrafaelespn) July 6, 2013
Price needs this fight on the outside. He really struggles to contain Thompson when it gets too close.
Price takes round three to pull ahead 29-27, but he better be careful. We know Thompson can hurt Price and now we know Price can hurt Thompson. David better pace himself and be careful not to leave himself open for big shots.
I would have been impressed if Price won a decision. If he scores a KO I gotta give him super props #boxing @WealthTVBoxing

— Douglass Fischer (@dougiefischer) July 6, 2013
You'd have to. Most felt this was a dangerous, if not stupid, fight to take.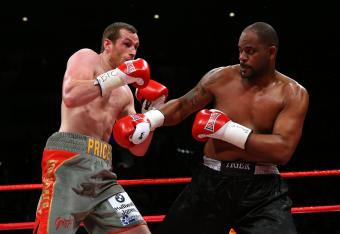 Thompson in bad trouble again at the start of the third. Every time Price lands a right hand it does serious damage.
What a turn around there by David Price! Thompson appeared to have landed some solid shots and he turned it right back on him.
Thompson down hard in round two! Price takes it 10-8 to pull ahead 19-18. But the way this is going the scorecards aren't gonna matter.
Now Price turns the tables and has Thompson in trouble along the ropes and DOWN goes Thompson!!!
Thompson closing the distance much more early in round two. He's landing some solid shots on Price and that must be making the crowd nervous.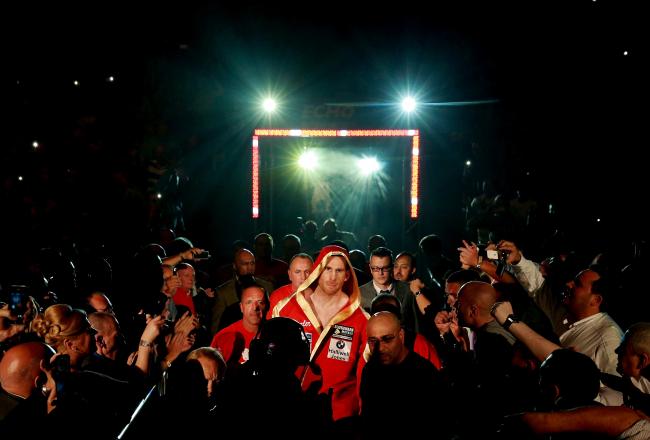 Price looks reluctant to let much more than that pawing left jab go in round one. Caution is probably a good thing after their last fight. Every time Thompson closes the distance Price backs up.
Gave Thompson the first round. Not that he did anything spectacular, he just threw his punches with a tad more conviction than Price.
10-9 Tony "The Tiger" after one.
Price opens the first round looking a lil like Lennox Lewis in there, he's pawing at Thompson with that left jab to find range.
Any Brit boooing the national anthem of America will be monitored by our security agencies... well more than usual #JustSaying

— Martin Mulcahey (@MartinMulcahey) July 6, 2013
Zing!!
So, assuming you didn't fall asleep during all the pre-fight "entertainment," who ya got?
David Price entering the ring second, even though Thompson knocked him out in their first fight.
After literally hours of waiting, Tony Thompson has begun making his ring walk into the arena here in Liverpool.
Wonder if this is Tony Thompson approved, or some kind of bad joke by the promoter to ensure America loses clout no matter what?

— Martin Mulcahey (@MartinMulcahey) July 6, 2013
Eventually they're gonna fight, right?
Well, that was a nice little music interlude. Can't beat fans singing Hey Jude in Liverpool #boxing @WealthTVBoxing

— Douglass Fischer (@dougiefischer) July 6, 2013
Are they doing everything possible to delay this fight?
You'd think with all the fights before the main event that Thompson and Price would be ready by now.
This article is
What is the duplicate article?
Why is this article offensive?
Where is this article plagiarized from?
Why is this article poorly edited?