UFC 162: Anderson Silva vs. Chris Weidman: Predictions You Can Take to the Bank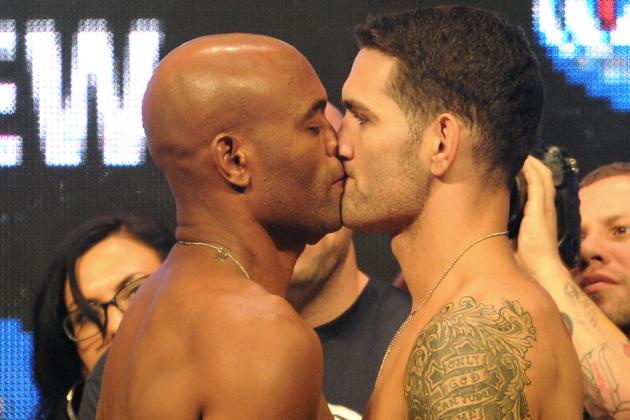 Jayne Kamin-Oncea-USA TODAY Spor

UFC middleweight champion Anderson Silva steps back in the Octagon to attempt to defend his title for a record 11th time when he faces undefeated contender Chris Weidman.
Leading into this bout, a huge number of fighters have come down on the side of Weidman, figuring him to be the perfect nightmare to end Silva's dream run in the UFC.
Weidman is a two-time All-American wrestler who mixes a strong ground game with his aggressive submission attempts. He has also finished any opponent he's faced whenever he's had a full training camp to prepare for the fight.
None of those opponents, however, have been named Anderson Silva.
The UFC's reigning and defending middleweight champion has never backed down from a challenge, and he's faced the absolute best during his time in the promotion.
When he meets Weidman on Saturday, Silva will be looking for his 17th consecutive victory since coming to the UFC in 2006. He's as devastating a fighter as there has ever been in MMA history, putting away 14 out of his past 16 opponents.
As the fight fast approaches, let's take a look at some of the key elements that will likely unfold when Silva meets Weidman in the main event of UFC 162.
Begin Slideshow

»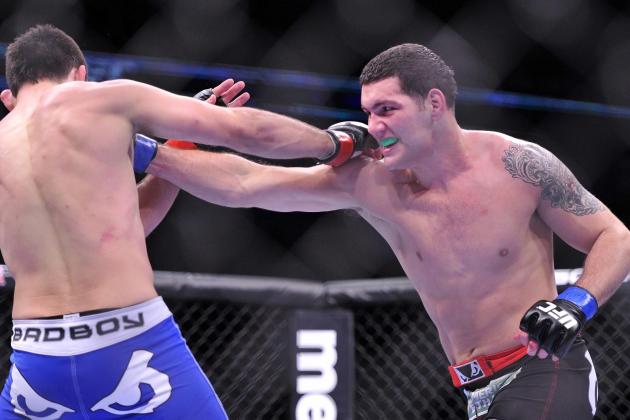 Mike Dinovo-USA TODAY Sports

The first round of any fight is pivotal, as it usually starts to give away the strategy of both competitors, but this time around, it's particularly interesting.
Weidman likes to start fast and typically looks to brutalize his opponents early. He is aggressive with his takedowns and lands at 72 percent accuracy when looking to get the fight to the mat.
Weidman has talked quite often about finishing Silva, so unless his words were just meant as a distraction, he will be out for blood as soon as the fight starts. Moving forward too fast in the opening parts of the first round could also spell doom for Weidman.
Silva is guaranteed to give Weidman a hard time early given his track record of seven first-round finishes since coming to the UFC. It doesn't get any easier with Silva in the second round either—he's finished five more opponents in that round.
Silva is traditionally a counter fighter who waits for his opponents to step forward, and then he usually delivers a punishing blow. Rarely will Silva ever let his opposition control the pace of a fight, so even if Weidman is backing off as the round begins, Silva will gladly sit back like a cobra waiting to strike.
Weidman has to keep Silva guessing in the opening minutes of the fight and not give him any room to breathe. The more space Silva has to work with, the easier it is for him to paint a picture on the canvas with Weidman's fallen body.
It also can't be ignored that Weidman is coming back after a year off and a serious shoulder surgery. This is also his first pay-per-view main card bout.
Weidman could come storming out of the gates, looking to hurt Silva, and if things don't go his way, the next few minutes could go awfully wrong for him.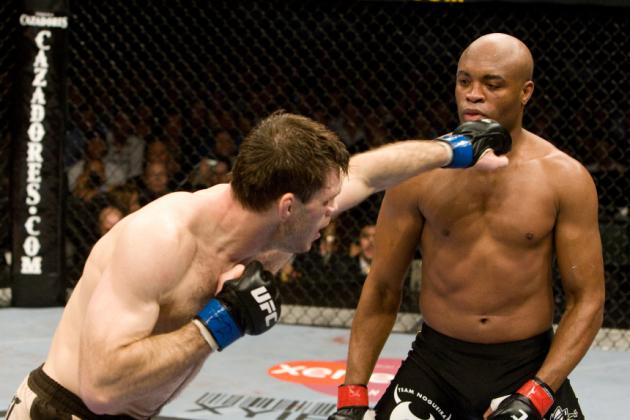 For all the great things that Anderson Silva is capable of doing, one of the most amazing parts of his game is how he can seemingly fool around during a championship fight and still come away looking like perfection.
Routinely, Silva loves to mess with his opponents while the fight is in full swing.
During his last bout against Stephan Bonnar at UFC 153, Silva literally stood against the cage, just waiting for his opponent to do something. When Bonnar finally threw a spinning back kick, Silva casually stepped out of the way and then moved right back into the same spot.
Silva also loves to use his dramatic head movement to keep his opponents guessing. As crazy as it looks as Silva bobs his entire head and body around in these wide, up-and-down and in-and-out motions, whoever is trying to hit him rarely connects with much of anything.
It may be an exaggeration to use the word "clowning," but it seems as if Silva always has a way to make a show out of his fights, and he does it almost every single time he steps foot in the Octagon.
It's not likely he'll choose to do something different against Weidman.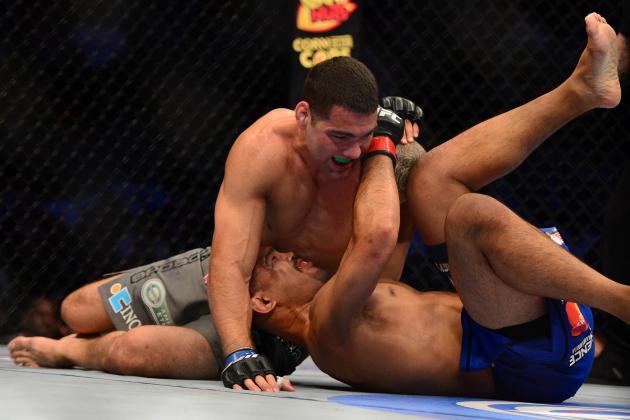 Kyle Terada-USA TODAY Sports

Unlike Silva, who has plenty of championship experience, Weidman will be doing all of this for the first time on Saturday, so there's not going to be much of a feeling-out process for him.
Weidman has confidence in his boxing due to his work with longtime trainer Ray Longo, who also worked with former welterweight champion Matt Serra for most of his career (and developed one of the best right hands in all of MMA).
Still, Weidman wants no part of Silva on his feet unless he's setting up a takedown, and that's what he'll be doing often in this fight.
Weidman has the highest takedown rate of any active middleweight on the UFC roster, hitting 4.47 takedowns per fight. He's landed 13 takedowns in 18 attempts during his UFC career.
Weidman's style also favors his chances of getting Silva to the mat because he loves to use a body lock and then transition to either a trip takedown or a single-leg takedown from inside. Weidman doesn't typically shoot far out away from his opponent, which will do him well against a long, rangy striker like Silva, who is unbelievably accurate at distance.
Throughout his five-fight UFC career, Weidman has outstruck every opponent he's faced, but it's a safe bet to say this won't be the case against Silva.
What Weidman will do is forge ahead with strikes and try to bring the fight to the mat as quickly as he can get it there. Rinse, wash, repeat.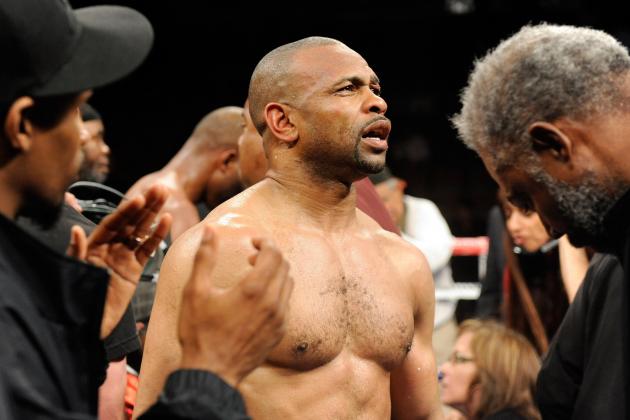 Ethan Miller/Getty Images

The UFC loves to build what's next for any fighter in a championship bout, but Silva is probably the biggest prime candidate for this because his name is already attached to three potential fights should he win on Saturday night.
There is the proposed superfight against UFC welterweight champion Georges St-Pierre that's been talked about for the better part of the last five years (although, recently, it seems St-Pierre wants no part of facing Silva, and really, who can blame him?).
UFC light heavyweight champion Jon Jones is also a possible matchup for Silva if he wins. Silva has made a few contradictory statements about Jones over the last week—first professing that he believes he'd lose to him if they fought and then proclaiming that he in no way fears Jones as a competitor.
Finally, there's Roy Jones Jr., who will be in attendance as a guest of UFC president Dana White.
Silva has been talking for years about boxing Jones, and while there's probably little to no chance that he would actually get to fight him in a boxing ring, White insists that he's talking to the former champion while he's at the event on Saturday.
Will the UFC ever pull the trigger on any of those fights? Given the track record thus far, don't hold your breath on seeing Silva against any of them in the near future.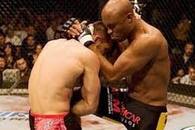 Anderson Silva has an arsenal of weapons at his disposal somewhere near that of the United States military. He's knocked out opponents with short jabs, front kicks to the face, a barrage of knees and reverse elbows.
The course of any Silva fight can literally change in a matter of seconds. Silva is the most accurate striker in UFC history, landing 67.8 percent of his significant strikes, but he's not a volume puncher by any means.
When Silva lands something on an opponent, whether it's a fist, foot or otherwise, the end is usually near. He doesn't have to punish an opponent over 25 minutes to get them to drop to the mat. If Silva connects, he generally only needs one split second to make an opponent pay.
Silva has the ability literally explode forward at a moment's notice with a variety of strikes. He may launch at Weidman with a flying knee or uncork a straight front kick to land right in Weidman's mouth.
The point being: Watch closely, because when Silva decides to unleash something, it will be fast, deadly and accurate. Most fighters Silva faces are being woken up by the referee before they have a chance to realize what just happened.
Chris Weidman might just be the next victim.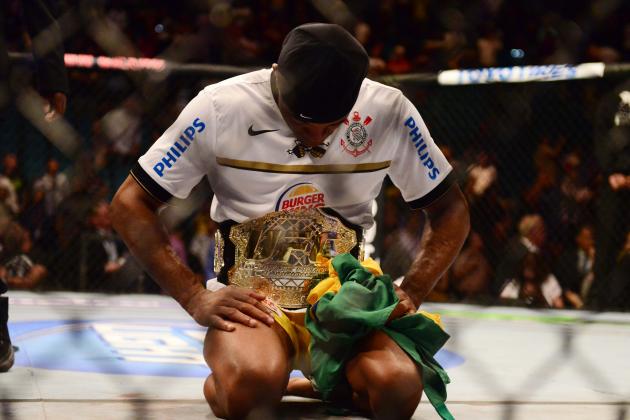 Mark J. Rebilas-USA TODAY Sports

On paper, Chris Weidman is a very intriguing opponent to face Anderson Silva. He has the kind of wrestling skills that gave Silva fits for about 25 total minutes when he faced Chael Sonnen on two different occasions (note: Silva won both fights against Sonnen).
Weidman also has a submission game that may not be as good as Demian Maia or Thales Leites, but when mixed in with his top control as a wrestler, makes him a very dangerous grappler as well.
The problem is that Weidman just isn't ready yet.
He's 9-0 as a pro with five fights in the UFC. He beat an admittedly broken down Mark Munoz in his biggest win to date. He's submitted Tom Lawlor and Jesse Bongfeldt in quick order, but those fights are not the kinds of tests necessary to get ready to face the best of all time.
Weidman has also been out for a year and went through surgery to repair a bum shoulder.
There's a good chance (probably better than good) that Weidman will one day wrap the UFC middleweight gold around his waist. He's a phenomenal talent that only continues to get better with each fight.
It's just not his time right now.
Silva is the deadliest finisher in the world, and once he gets his timing down, even the best wrestlers struggle against him. He was taken down in the first round by an Olympic caliber wrestler in Dan Henderson and by the second round, Silva was timing his moves and unleashing his attack to finish the fight.
Silva has fought better grapplers, and none of them have been able to submit the Brazilian since he lost by a flying scissor heel hook in his last legitimate defeat to Ryo Chonan, all the way back in 2004.
Expect Silva to sit back early and wait to see what Weidman will do first. Once he figures out how Weidman plans to set up his takedowns, Silva will reign down hell like he's done to so many other worthy contenders that were supposed to be the perfect matchup to end his time as champion.
Final Prediction: Anderson Silva wins by TKO, Round 2