NCAA Football 14: Complete Analysis for Top Team and Player Ratings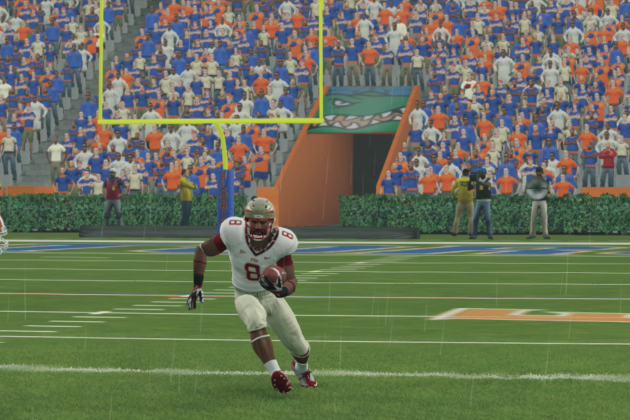 image from NCAA 14
Player and team ratings on college football video games are obviously based on real-life players and teams. You'll never see the actual names included in a retail version of a college sports video game, though.
College football players are amateur athletes whose names can't appear in video games because they would have to be compensated monetarily. Since collegiate athletes can't be paid, therein lies the reason players in NCAA Football 14—and every other college sports game—are simply known by their numbers.
Dedicated gamers utilize the ability to edit rosters to put in the authentic depth charts every year. Those rosters are usually available via the roster share feature shortly after release.
How do we know who's who? We totally expect Not-Johnny Manziel to be just as awesome in NCAA Football 14 as the real-life version was for the Aggies last season when he won the Heisman trophy.
After playing a few games with him, I can tell you for sure that he is.
If you know the players and teams who are expected to be standouts this college football season, you won't be disappointed in most of the ratings in NCAA Football 14.
Check out this slideshow that breaks down the best of the best.
Begin Slideshow

»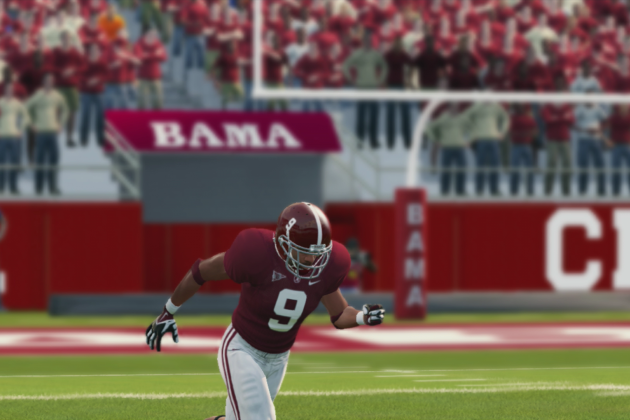 image from NCAA 14
Though Texas A&M has a stud QB and offensive lineman who will be recognized later, the Aggies passing game is a little behind Alabama's.
Not only is QB No. 10 (AKA A.J. McCarron) rated a 97 overall, but WR No. 9 (AKA Amari Cooper) is rated a 91 overall and the lowest rating on the offensive line is an 84 overall.
The Crimson Tide love to pound teams with the running game, but this year's team has a formidable passing attack as well. The weapons in the passing game make Bama not just the best passing offense, but also the best overall offense on NCAA Football 14.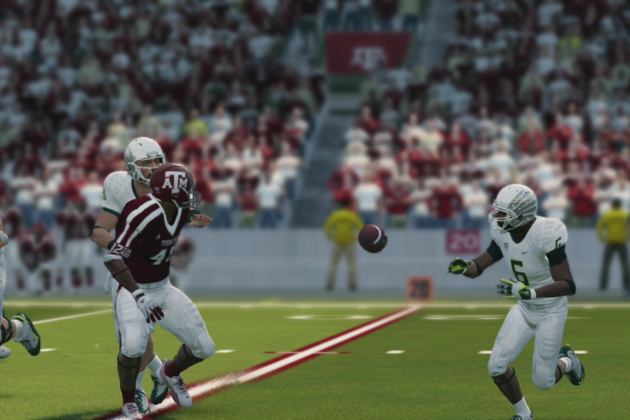 image from NCAA 14
We've already talked about Bama's offensive line, but sophomore HB No. 4 (AKA T.J. Yeldon) is a 90 overall and the perfect back to take advantage of the holes the big uglies provide.
While the Crimson Tide do have a dominant running game to match their elite passing attack, I couldn't ignore the Oregon Ducks' run game.
With the Option play functioning as well as it does in NCAA Football 14, the Ducks' offense is exceptional. Led by HB No. 6 (AKA De'Anthony Thomas)—who has the highest rating of any back in the game at 97—this team can and will run the ball against you.
The speed from all the ball-carriers makes them almost impossible to contain on the ground.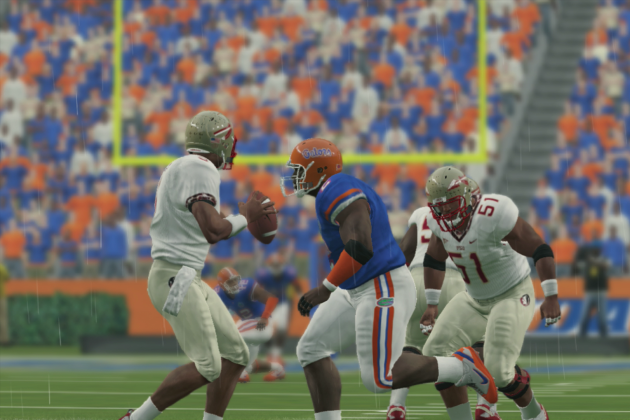 image from NCAA 14
There are several teams with vaunted secondaries and some with great pass-rushers, but the Gators have both. The defensive line is led by stud NT No. 44 (AKA Leon Orr).
He's obviously a presence against the run, but his 77 in finesse pass-rushing move makes him a danger for opposing quarterbacks as well.
In the secondary, no player has a rating lower than an 83 in his conventional four-defensive back set. Even if they extend out to a dime package, the weakest link is still the 83 from SS No. 10 (AKA Valdez Showers).
South Carolina and Florida State deserve a mention here, but the Gators edge them both as overall pass defense goes.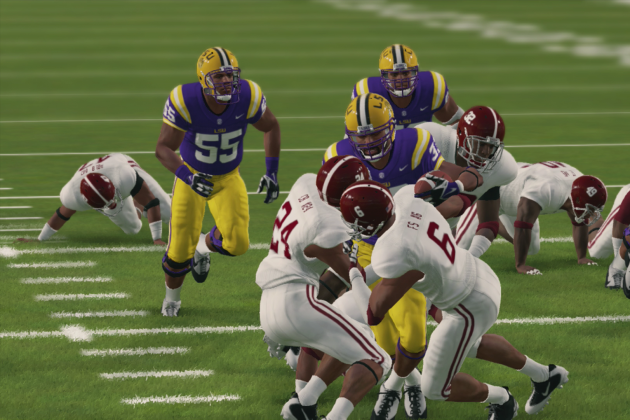 image from NCAA 14
This category was close, but Bama gets the nod because of its overall balance. Running off the edges will be tough because the Crimson Tide's defensive ends should be able to set the edge well.
DE. No. 49 (AKA Ed Stinson) and DE No. 8 (AKA Jeoffrey Pagan) have overall ratings of 93 and 91, respectively. If the front four have a weakness, it is up the middle. But an all-world middle linebacker in MLB No. 32 (AKA C.J. Mosley) provides stellar second-level support.
The combination of speed and block shedding from this front seven makes it the best run defense in the game.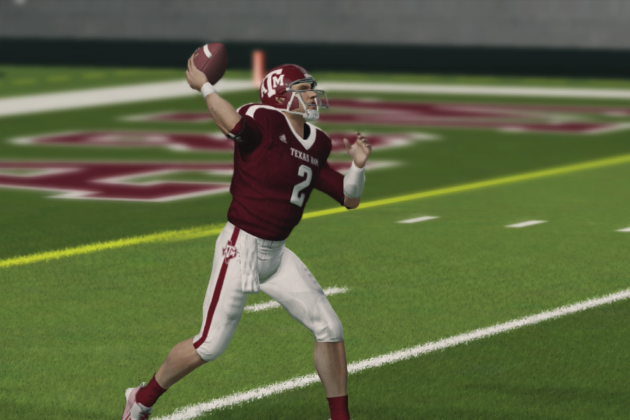 image from NCAA 14
Both the Aggies QB No. 2 (AKA Johnny Manziel) and Bama's QB No. 10 (AKA A.J. McCarron) are rated a 97 overall, which is tops at the position in the game.
OB No. 2 is obviously the better athlete with an impressive 91 speed rating and a 90 throwing power mark, but QB No. 10 has pristine accuracy.
His 95 throwing accuracy rating is the best in NCAA Football 14. If you're choosing a team to play with based on the QB, you'll probably want Texas A&M as this signal caller has excellent wheels.
However, if you're playing against the CPU, expect Bama's QB to give you fits with his pinpoint passing ability.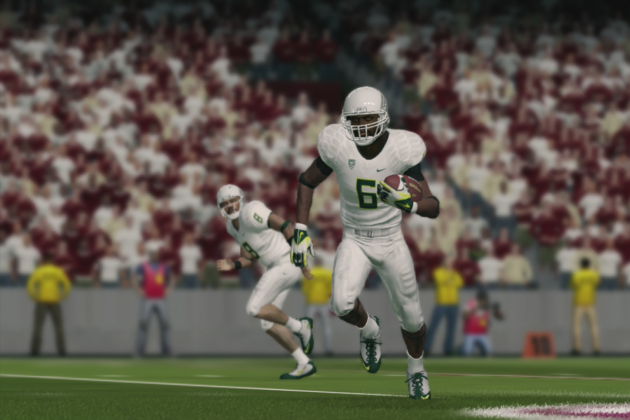 image from NCAA 14
Oregon's HB No. 6 (AKA De'Anthony Thomas) is the most electrifying ball-carrier in NCAA Football 14. Though he's only 5'9" and 176 pounds, he has ratings of 98 in speed, 96 in agility, 99 in acceleration, 87 in breaking tackles and a 98 in elusiveness.
Overall, he has a rating of 97.
Translation: He can turn the lights off and be in the bed before the room gets dark. With the use of Oregon's Spread Offense and the Option, this guy is one lethal Duck.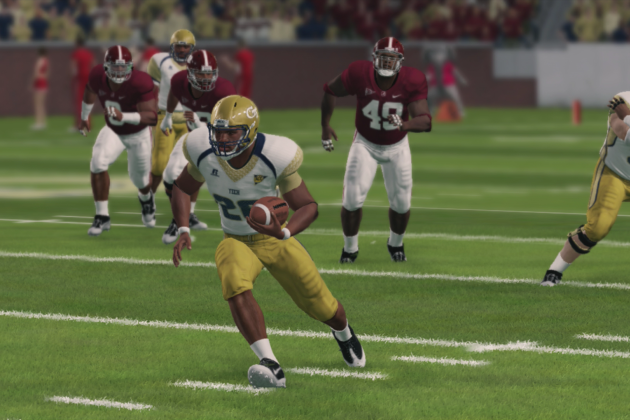 image from NCAA 14
On most teams, Georgia Tech's FB No. 20 (AKA David Sims) would be a power HB. But with the Yellow Jackets running the Wishbone, No. 20 is a FB who will see his share of opportunities carrying the ball.
He's rated a 91 overall with a speed mark of 87. His truck (87) and break tackles (89) ratings prove he has the muscle to run through would-be-tacklers.
If you fancy the Yellow Jackets' three-headed backfield, No. 20 will probably be one of your best weapons.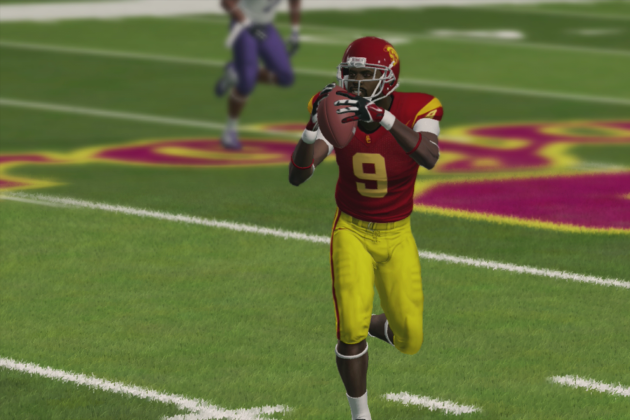 image from NCAA 14
The WR with the best overall rating is USC's WR No. 9 (AKA Marqise Lee). The Trojans' star wideout isn't the fastest, but he has plenty of quickness with a 93 speed rating.
His acceleration isn't the best, but it is more than sufficient at a 97 rating. Likewise, his catch rating is a 95 and his spectacular catch rating is a 90.
Though No. 9 isn't the best at any one thing, he's the most balanced receiver in the game. He can hurt teams over the middle or up the sidelines for a big play.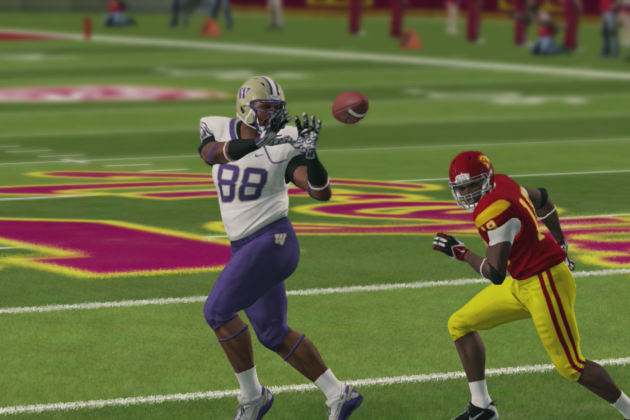 image of NCAA 14
Tight ends can be game-changers in the passing game and keys to the running game. Washington's TE No. 88 (AKA Austin Seferian-Jenkins) is the best on NCAA Football 14.
He has a 92 overall rating, an 80 in speed, 88 in catching ability and an 80 in run blocking. At 6'6" and 266 pounds, he is a force no matter how you use him.
Don't sleep on the strong side of the line.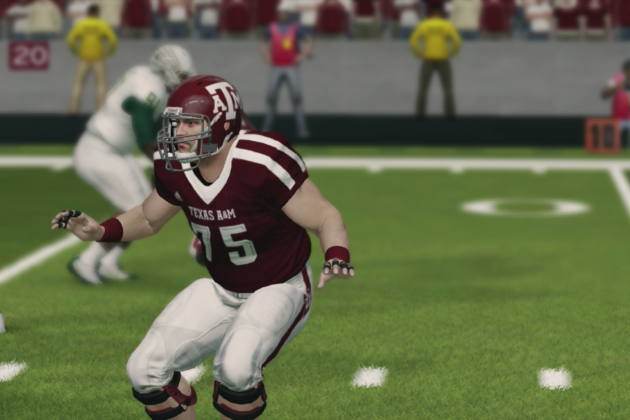 image from NCAA 14
Both the Aggies' No. 75 (AKA Jake Matthews) and Wolverines' No. 77 (AKA Taylor Lewan) are rated 96 overall. The Michigan star is a slightly better athlete than the Aggies' bookend with a 94 acceleration rating compared to an 83 for the Aggies' No. 75
Aside from that detail, the two are virtual equals in every other category. No matter if you roll with A&M or Michigan, your QB's blind side should be well protected.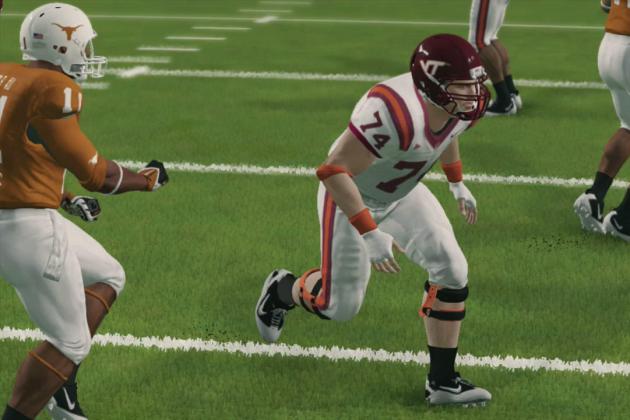 image from NCAA 14
Centers don't get a lot of love in football, but they help key the running game and play an integral role in organizing protection schemes on the fly.
In NCAA Football 14, Virginia Tech's No. 74 (AKA Andrew Miller) is the highest rated at a 93 overall.
He moves well in case you need him to pull to spring runners on outside runs. His 65 speed and 83 acceleration ratings are much better than average for an interior offensive lineman.
He's a big reason the Hokies' running game is so good in this year's game.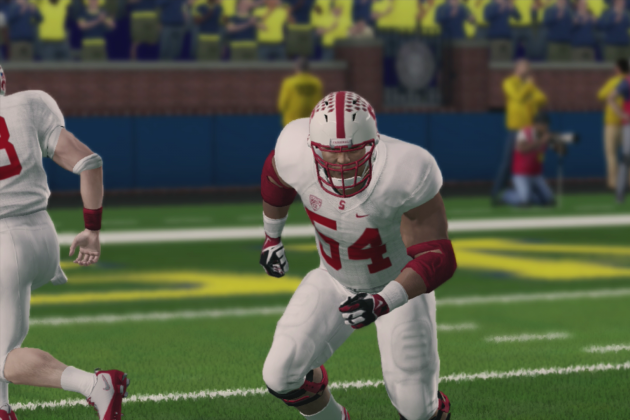 image from NCAA 14
The best guards in NCAA Football 14's virtual country are Texas' No. 72 (AKA Mason Walters) and Stanford's No. 54 (AKA David Yankey). Both are rated a 94 overall.
While Texas has a long tradition of studs from almost every position—except quarterback—it seems the Cardinal have been producing an increasing amount of great O-linemen.
No. 54 seems like he'll continue to drive the tradition for Stanford. Just look at him in the picture above. It looks as though he can't wait to lay a hit on someone.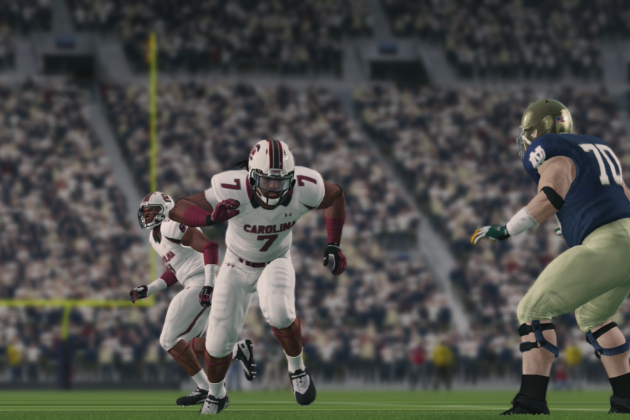 image from NCAA 14
The only player on the game rated 99 overall is South Carolina's beastly defensive end No. 7 (AKA Jadeveon Clowney). At 6'6" and 256 pounds, his 85 speed rating is second highest amongst players at his position.
The same can be said for his 91 strength rating. Perhaps no player in the game is as sure of a tackler or as hard of a hitter. No. 7's tackle rating of 92 and hit power rating of 99 makes him an absolute load off the edge.
No. 7 is the single biggest difference-maker on the defensive side of the ball in NCAA Football 14.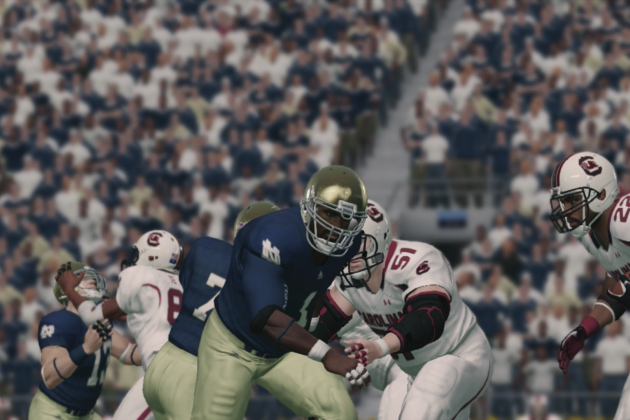 image from NCAA Football 14
At 6'3" and 347 pounds, the Fighting Irish's No. 1 (AKA Louis Nix) is the premier interior defensive lineman.
He's rated a 94 overall and is freakishly strong with a 96 strength rating. There are other players stronger, but those players don't have agility ratings as high as No. 1's mark of 82.
Notre Dame's defense will be strong again this season and everything starts up front. No. 1's strength at the point of attack is key to the Irish's stingy front four.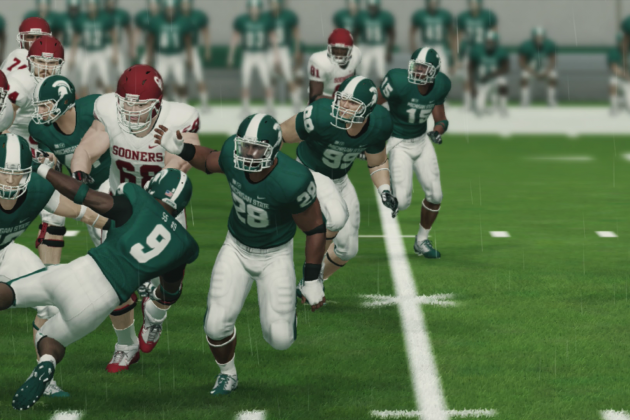 image from NCAA 14
The Spartans' ROLB is just 5'11" and 225 pounds, but his 95 overall rating is tops amongst all OLBs in NCAA Football 14.
No. 28, (AKA Denicos Allen) has an 84 speed rating and a 94 rating in awareness and tackling. He can excel as a blitzer, in pass coverage or as a run-stuffer. While playing with the Spartans, I forced three fumbles with him, on three different occasions.
The redshirt senior is in his last year at East Lasing, so gamers need to enjoy him while they can.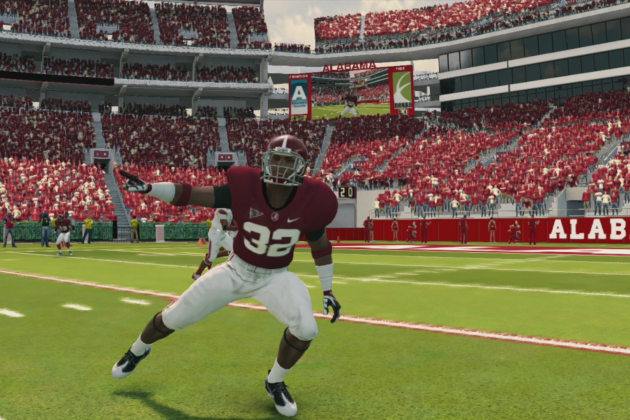 image from NCAA 14
Meet the QB of the nation's best run defense, Alabama's No. 32 (AKA C.J. Mosley). He has an overall rating of 97, which is three points higher than the next best ILB.
His 89 speed rating is on par with the swiftness of a slow wide receiver. With a 92 acceleration and 94 awareness ratings, No. 32 can keep pace with any player in short distances.
He's 6'2", 232 pounds, so he matches up well with tight ends in pass coverage. His 94 tackling rating provides the skills necessary to corral backs and tight ends.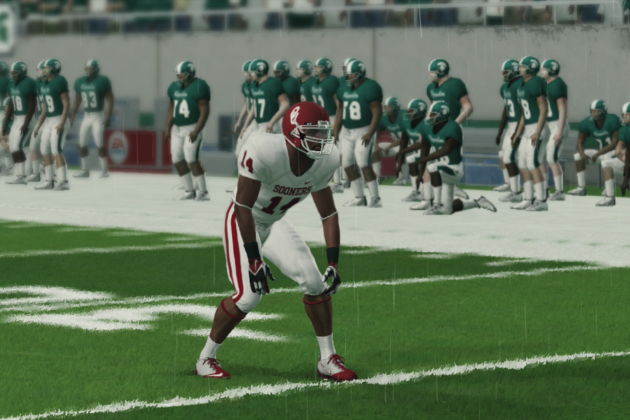 image from NCAA 14
The race for best cornerback in NCAA Football 14 is a close one, but the Sooners' No. 14 (AKA Aaron Colvin) gets the nod by one point. He has an overall rating of 92 with three players rated a 91 overall.
Speed, awareness and tackling are his best attributes.
He's rated a 93 in speed and maxed out with a 99 in awareness. The senior is 6'0" and weighs 181 pounds. He isn't huge, but he's big enough to match up with most receivers.
While most of the better corners in the game can cover, none of them tackle like No. 14. He has a 90 tackling rating, which really sets him apart as the most well-rounded corner in the game.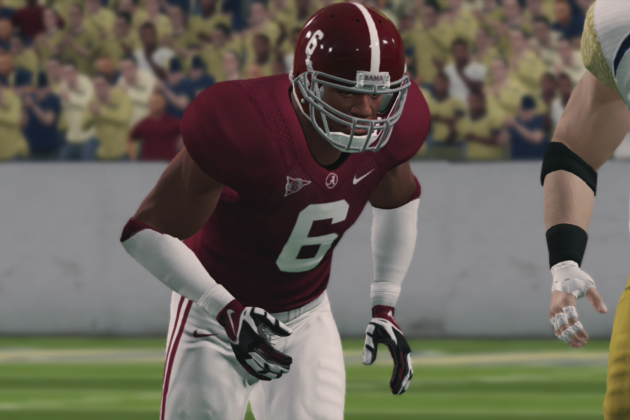 image from NCAA 14
Here's yet another reason Alabama's defense is so good in NCAA Football 14. No. 6 (AKA Ha'Sean Clinton-Dix) checks in with an overall rating of 93 to lead all free safeties.
He's 6'1", 209 pounds with a speed rating of 91, so he should have no problems providing assistance to corners against speedy receivers.
No. 6 isn't the biggest hitter, but his awareness rating is a 92 and his catch rating is a 74. Those ratings are the tools needed to be a true ball hawk in the secondary.
If you're playing against Bama, beware of No. 6. He's likely lurking and looking to pounce on errant throws.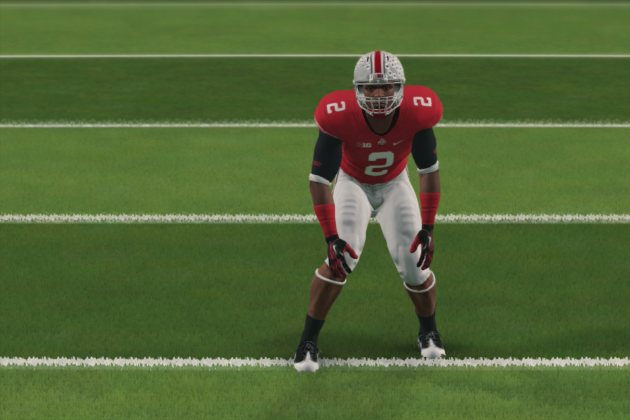 image from NCAA 14
Ohio State's No. 2 (AKA Christian Bryant) may not be the biggest safety at 5'10" and 192 pounds, but he's an efficient tackler who can pack a punch and the highest-rated SS in the game with a 93 overall score.
His tackling rating is an 87 and his hit power is set at 79.
No. 2's 89 speed rating doesn't make him blazing fast, but it is more than sufficient for the coverage assignments a strong safety should draw.
A 90 awareness rating also doesn't hurt much in the grand scheme of things. No. 2 is a key component for an Ohio State Buckeyes team that may be able to give SEC squads a run for their money this season.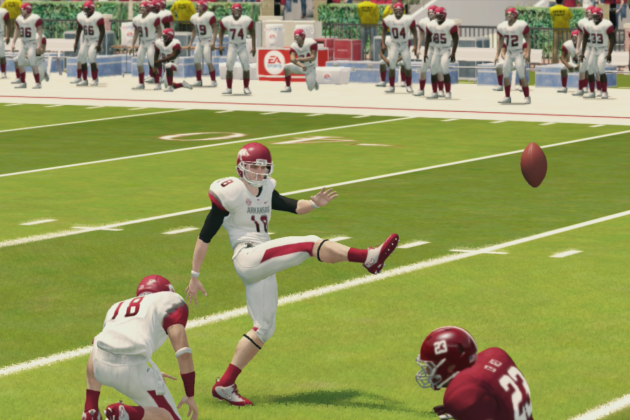 image from NCAA 14
Nobody respects the kicker until they need that scrawny little dude to kick a game-winning field goal. If the Arkansas Razorbacks find themselves in that situation, they will have the best in the nation to do the honors—at least according to NCAA Football 14.
No. 18 (AKA Zach Hocker) is rated a 93 overall with a stellar mark of 97 in kick power and a 90 in kick accuracy. There is one kicker in the nation with a stronger leg and a few who have a higher accuracy rating.
However, No. 18's combination of leg strength and accuracy is unmatched.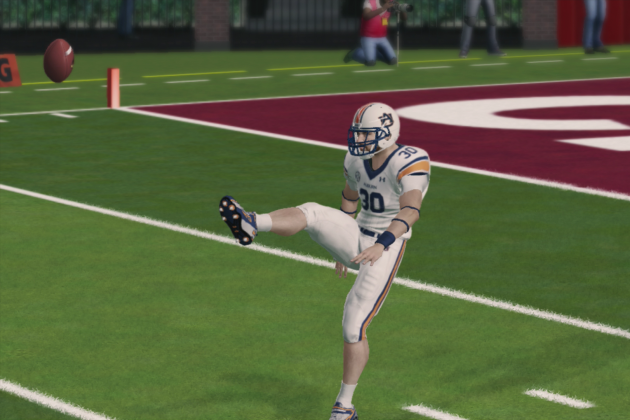 image from NCAA 14
Not enough gamers punt during NCAA Football 14 games. If you have a field-position weapon like Auburn's No. 30 (AKA Steven Clark), you should really be utilizing his abilities on fourth downs.
His overall rating of 94 is tops amongst punters in the game.
A 93 kick power is definitely solid for a punter, but this kid truly shines in kicking accuracy. His 95 rating in that category makes him a legitimate threat to pin opponents deep when given the opportunity.
Come on guys, play it like real football and punt.
Follow me and Franchiseplay, my sports video game alter ego.