NCAA Football 14: Gameplay Review and Features for Hit Video Game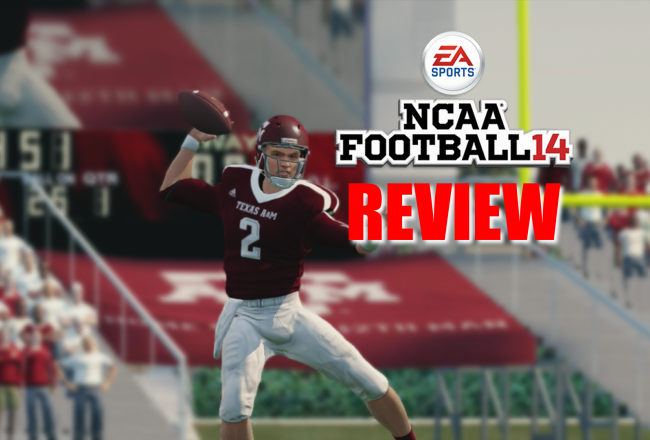 image from NCAA 14

Based on the demo and wealth of information released for NCAA Football 14 prior to release, there was legitimate reason to be excited about the retail version dropping on Tuesday.
After spending a good amount of time with the game, this newest version is fit to be thoroughly reviewed. Before we get started, it is important to mention what the expectations were for this game before the evaluation began.
The maintaining or improvement of visual appeal, enhanced presentation, gameplay and features that add longevity to the title were the most coveted qualities. If the game meets those standards, then it will be deemed a success.
Take a look at the review of each aspect of the game to find out if this year's version falls short, meets or exceeds expectations.
Graphics and Animation: 9.35 (Last Year's Rating: 9.25)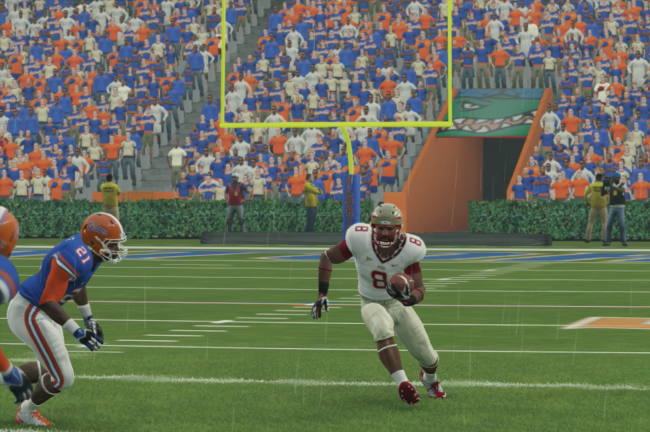 Quite honestly, sports video games have pushed the visual limits of the Xbox 360 and PS3 to the max. Any expectations for groundbreaking new achievement in the graphics for the last games set to appear on these consoles is impractical.
That said, NCAA Football 13 was a solid looking game and NCAA Football 14 looks just as good or better. In some areas, the visuals surpass NCAA Football 13 because of the use of a real-time physics engine that aids the animation. The engine is called Infinity, and though it appeared in Madden 13 it wasn't used in NCAA Football 13.
Infinity is in its second version and it is the primary factor that spurs the game's visual improvement.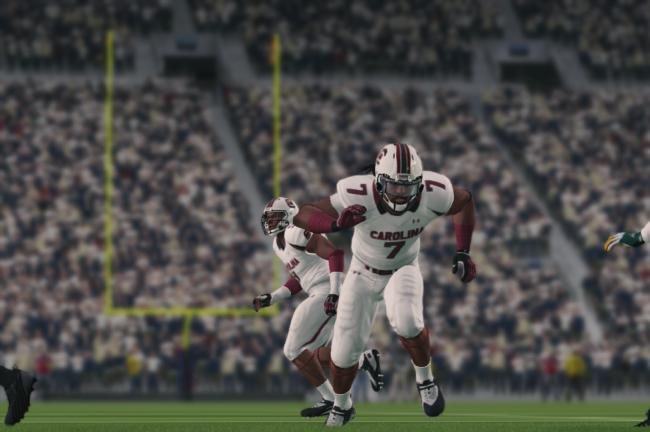 The lighting and shadows are still very good and the progression from day to night is far more realistic this year. To take things a step further in bringing realistic environments to the virtual gridiron, the look, movement and deterioration of the grass is great.
You can really appreciate this quality if you watch slow-motion replays while zoomed in on the action.
Some other new visual enhancements are the inclusion of distinct uniform details like logo gloves and other new equipment. While complete overhauls and improvement of player models and such wasn't realistic, it also wasn't needed.
The developers still did a solid job paying attention to a few important details and cleaning up the look of the game even more. You'll get no complaints or serious gripes from me on NCAA Football 14 from a visual standpoint.
Gameplay and Realism: 9.25 (Last Year's Rating: 9)
The last thing you want from the NCAA Football series is for it to play exactly like the Madden series. It isn't because Madden offers a poor playing experience; it's just that a difference between the two games is best because the college game is different from the pro game.
Those contrasts should shine through in the video games as well.
Thanks to the new ways to execute the various versions of the Option, and other college-football-specific formations and plays, NCAA Football 14 creates the most appropriate separation between it and Madden.
The Read Option requires a renewed amount of strategy and attention to the reactions of your opponent. Executing this play properly is one of the most fun and realistic things I've experienced in a sports game in a while.
Once you've committed to control the man with the pigskin, the new ball-carrier resources are at your disposal. This year's game gives you more control over cuts, spins, stiff arms and other moves. In this way, the real-time physics makes for more realistic happenings on the field.
The passing game is largely the same as it has been with the exception of receiver A.I. On sideline passes, your receivers are more conscious not to aimlessly drift out of bounds on out patterns or swing routes.
Now they seem to be more aware of the sidelines and back of the end zone the way a real player would.
On defense, players don't miss as many easy interceptions and the CPU A.I. is much tougher. They adapt a bit quicker to your tendencies than in previous versions.
There are a good number of positives with NCAA Football 14, but none of those bright spots outshine the improvements to the gameplay.
The new gameplay enhancements can also be appreciated from a variety of new playable camera angles. Some of them may not be your cup of tea, but it is always nice to have options.
Sound and Presentation: 8.5 (Last Year's Rating: 7)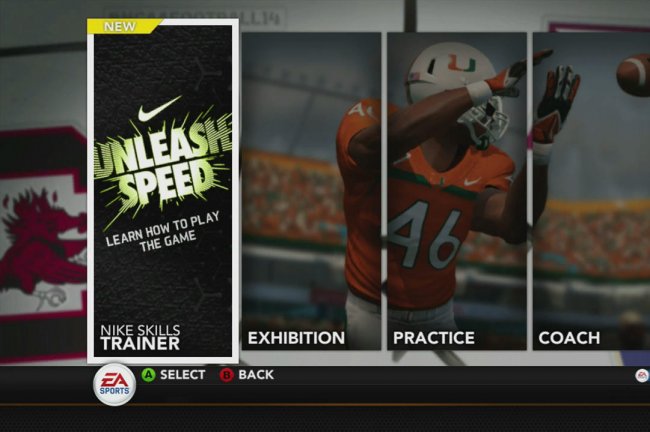 The audio and video presentation has long been an area in need of improvement for the NCAA series. This year, there are some very clear steps in the right direction, but things still aren't perfect.
The improved commentary can best be appreciated in Dynasty mode when the season-specific dialogue adds to the audio package. Branching storylines are the best aspect of the game's commentary, but there are still a few too many repeated lines.
In all fairness, without named rosters it is difficult to incorporate non-generic lines. Games like Madden, NBA 2K and the NHL series can depend on gamers' knowledge of real-life players.
The NCAA series doesn't have that luxury. Still, there are a few untapped ways for the series to inject even more life into the game's commentary. Getting creative in describing the physical traits of players, or comparing their in-season accomplishments to the records referenced in the game would add some flavor.
That said, NCAA Football 14 is noticeably improved over NCAA Football 13 and other previous versions in regards to in-game commentary.
One subtle—but significant—addition is the more timely, accurate and appropriate stat overlays for players and teams. You will never have to wonder what players are doing as their day's work constantly appears on screen.
It isn't intrusive and is easy to tune out, though I don't know why anyone would want to.
The biggest new presentation feature is the addition of a pregame and halftime show. For years, I have longed for this in the NCAA series, but now the features have finally made it in.
The pregame analysis is pretty solid and the halftime show features the best plays from the first half. However, it would have been nice to have the comments from Rece Davis and David Pollack be more related to the first-half action.
The comments from the ESPN crew are smooth and sound like a conversation from a College Gameday broadcast, but the banter doesn't reference the highlights, which would be ideal.
The new menu presentation is more attractive and less confusing, but the audio additions stand out most. Even with the omission of a few details that would put the presentation on an elite level, there is no disputing the strides made in overall presentation.
Fans should be excited about what EA Sports does next in this regard—especially on the next-gen consoles.
Options and Modes: 9.25 (Last Year's Rating: 9)
Dynasty and Season Mode
Dynasty mode is still the biggest draw in the NCAA Football 14 series. It offers the most longevity, and when you add in the prospects of an online version it becomes even more attractive.
Beyond playing through the games—which has become more exciting—the biggest aspect of Dynasty mode is recruiting.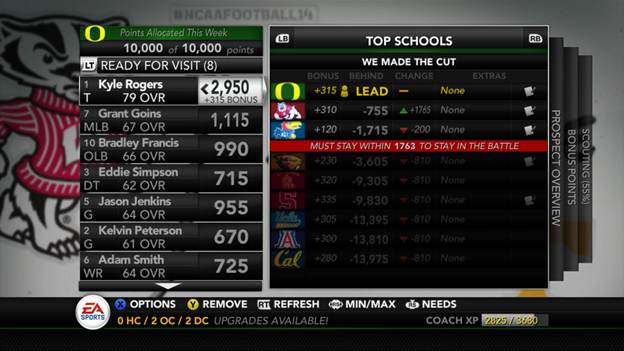 In previous games, recruiting has been a long task that can be a bit boring at times. In this year's version, the process has been streamlined to allow gamers to handle the bulk of the tasks quickly.
Using a points allocation method, you are now able to designate how much attention you want to pay to each prospect each week. Deciding how long you chase a blue-chip athlete and your overall recruiting strategy isn't new to the process, but compressing it is a fresh approach.
The amount of points each program has in recruiting is dictated by its prestige. Those point totals can increase or decrease through bonuses and subtractions based on performance and other factors. Among those other factors are things like geographical location.
There are cool new factors in the process like deal-breakers and management trees.
Deal-breakers are instances where your program doesn't meet a prospect's prerequisite desires to allow recruitment. It may be cruel or angering, but it's realistic. If a prospect wants to play for an established coach and you're not quite there yet, he won't even listen to your overtures.
Management trees are the collection of coach skills possessed by the head coach and his coordinators. These skills affect a roster's performance during the season, but some of them can enhance the program's recruiting ability.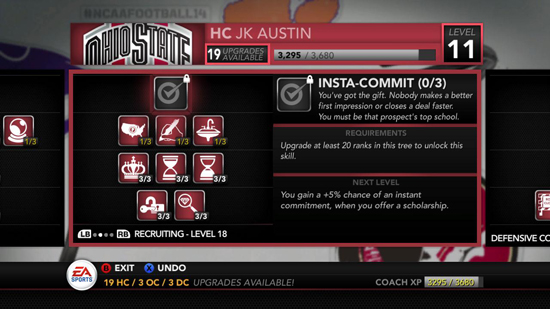 Recruiting and management tree skills are the best aspect of the new Dynasty mode.
They add a layer of depth to the experience while not bogging gamers down with tasks that aren't compelling or fun.
I would like to see a bit more presentation when a high-profile recruit announces he'll attend your school, though. I'd also love for national signing day to somehow be incorporated in the game as well.
In building on the management tree skills' concept, NCAA Football 14 puts an emphasis on coaching careers and development like no game before it. The series had coaches play a role before, but this year you are truly in charge of the coach's career more so than the program.
As you acquire and improve management tree skills, you will have the opportunity to take those skills with you to any job you take in your coaching career. If you're a defensive or offensive coordinator, you'll need to find a job with a head coach whose management tree skills meld with yours.
This element really adds realism and meaning to the coaching carousel.
For those that want all the in-season fun—sans the recruiting and such—the season mode is for you. You get all of the on-field action, rankings, statistics and more, but you don't have to bother with any of the administrative work.
Team Builder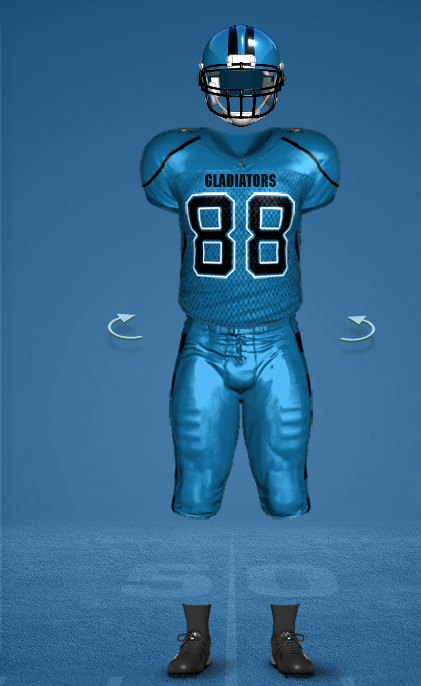 My created school is called the Southside University Gladiators. I created this school with the PC/Mac-based online application called Team Builder. This isn't new to the NCAA series, but it is one of the more under-utilized features in sports gaming, in my opinion.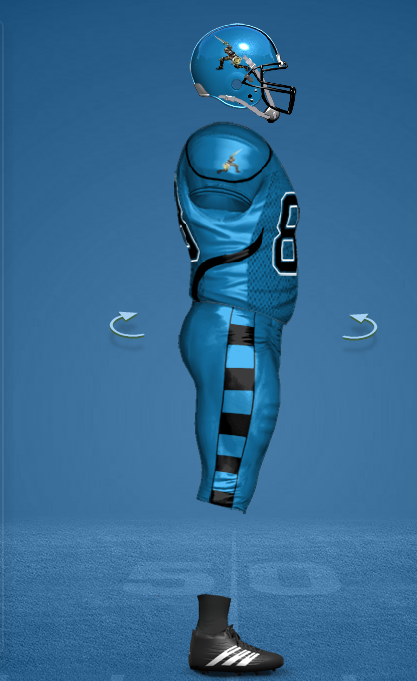 How often have you used Team Builder?
The feature gives gamers a chance to create schools from scratch with control over every aspect of the team's identity.
You design the logo with the ability to take a preloaded image or you can upload your own. You pick color schemes, uniform and field design and you can customize every player on the roster.
Once you're done, you can plop your creation into your Dynasty mode and play through multiple seasons with them.
You can even use your creation online or in Play Now mode.
Ultimate Team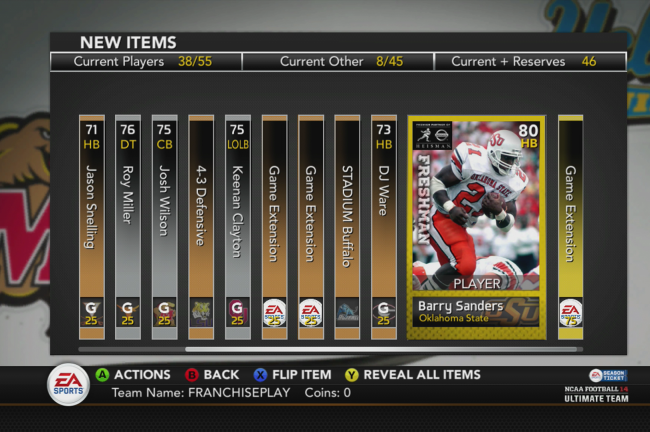 The mode that has become all the rage in the Madden, NHL and FIFA series makes its way to the NCAA franchise. It works just as well here as it does in other EA Sports games. The packs of virtual cards gives players college greats from the past like Bo Jackson and Peyton Manning.
Gamers will start with an initial pack of virtual cards that gives them a starting roster, but through accomplishing goals and purchasing packs, you are able to add more prestigious players.
This year a new twist on the concept comes in the form of head-to-head 10-game season modes. Competing against other gamers' Ultimate Teams adds some freshness, but overall simply having the popular mode in NCAA Football 14 is a plus.
Road to Glory
RTG is largely unchanged this year, which may draw the ire of some hardcore fans of the mode. The good news is that nothing has been removed and the two new additions do enhance the experience—though only moderately.
Gamers can now use the GameFace extension app to base their created RTG player on their own photo. It is a cool addition that allows you to customize your player and give him a more distinct identity. Since I love hip hop, my created player bears a striking resemblance and is named after the greatest MC of all time. His name is: Rakim Aloysius Dunbar.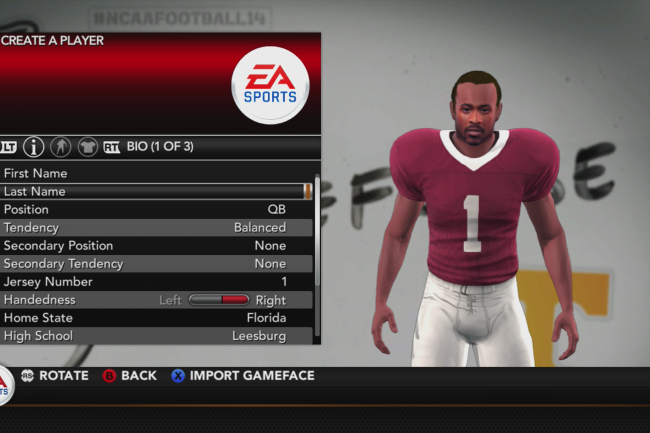 The other addition to this mode is the ability to play through an RTG career using different camera views. Before, gamers had to use the player lock camera exclusively. Now you can craft your player's legacy with any of the varied camera views available in the game.
Nike Skills Trainer
"Practice, practice, we talking about practice." Yes, in a video game you still have to practice. The Nike Skills Trainer is designed to help newbies learn the game from top to bottom, and it gives experienced players a chance to grasp the new gameplay enhancements.
As an incentive, gamers can unlock some Ultimate Team goodies by completing the tasks in this mode.
Exporting Draft Classes Is Back
One of the most underutilized features in sports video games is the ability to export draft classes from NCAA to Madden. That feature has returned after not being included last year and not working properly in 2011.
It works as an appropriate link between the two EA Sports franchises and more people that play both games should take notice.
Overall: 9 (Last Year's Rating: 8.5)
The things that were already successful with the NCAA series have been maintained. The areas in need of enhancement have clearly improved.
The gameplay is the best it has been in the series' history, and the new features added to Dynasty mode make this the best NCAA in the franchise's history.
You need this in your life.
Follow me and Franchiseplay, my sports video game alter ego.
This article is
What is the duplicate article?
Why is this article offensive?
Where is this article plagiarized from?
Why is this article poorly edited?