While the journey to the finals at Wimbledon didn't go exactly as planned from the beginning of the tournament, fans will still be treated to the final that most expected to see at this point—top-seeded Novak Djokovic taking on No. 2 seed Andy Murray.
The build up to this point didn't feature the familiar faces that fans have come to expect to see in the semis. Names like Roger Federer, Rafael Nadal, Jo-Wilfried Tsonga and David Ferrer were nowhere to be found.
But that doesn't mean that fans weren't treated to a wonderful prelude to the potentially epic finals matchup. Both semifinal matchups of Juan del Potro vs. Djokovic and Jerzy Janowicz vs. Murray provided fans with great tennis.
Here's a look at the keys from each match and how they set up a huge showdown for the championship.
Djoker Survives Five-Setter Against del Potro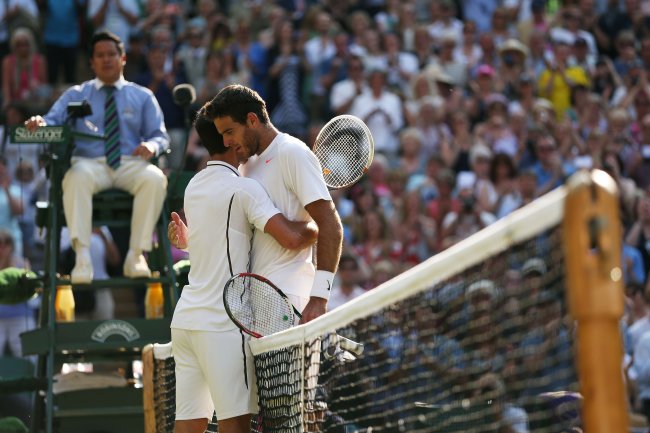 Clive Brunskill/Getty Images
Fans hoping that del Potro's struggles with a knee injury wouldn't put a damper on the semifinals got their wish. Djokovic and the feisty Argentinian put on an instant classic.
The two stars engaged in a five-set match that saw the world's No. 1 ultimately advance to the finals, 7-5, 4-6, 7-6 (7-2), 6-7 (6-8), 6-3. According to ESPN Stats & Info, it was the longest semifinal match in Wimbledon history.
Djokovic - del Potro match goes 4 hours, 43 minutes - 42 minutes longer than previous longest men's semi in #wimbledon history

— ESPN Stats & Info (@ESPNStatsInfo) July 5, 2013
Djokovic had a golden opportunity to win the match in the fourth set. All he had to do was beat Delpo in the tie break, but it wasn't meant to be. As Tennis Stats tweeted out, del Potro did an excellent job of breaking Djokovic's serve throughout the day.
Break points won: Tournament Today Novak Djokovic 32% 15% JM Del Potro 40% 33% #wimbledon

— Tennis Stats (@TennisStatistic) July 5, 2013
Ultimately, Djokovic prevailed, but not without being tested in ways that he hasn't experienced throughout the tournament. Up to this point, he hadn't even dropped a single set.
Murray Halts the Meteoric Rise of Janowicz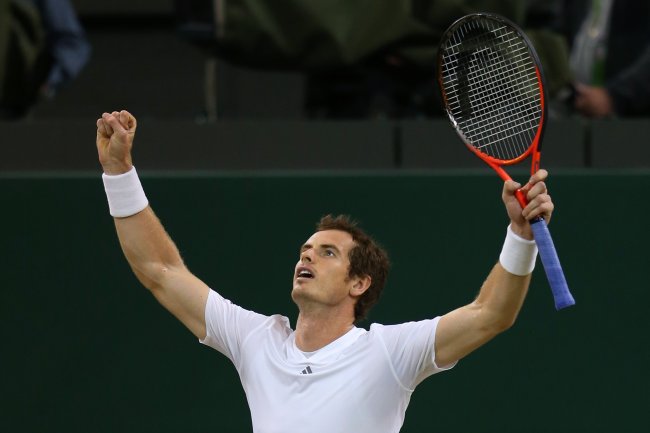 Julian Finney/Getty Images
Jerzy Janowicz emerged as one of the biggest winners in the entire Wimbledon field this year, but Murray taught him that getting to the Wimbledon final is an achievement that may take some patience.
After all, Murray appeared in the tournament's semifinal round three-consecutive years before finally breaking through to the final in 2012.
Early on, it appeared that Janowicz was ready to make the leap. He utilized his dominant service game and variety of shots to efficiently keep Murray guessing and took the first set in a tie break.
However, it was Murray who consistently took the upper hand, even dominating the service game with 20 aces compared to Janowicz's nine. As Howard Bryant of ESPN notes, it was Murray's excellent placement that made his serve nearly unhittable.
We fall in love with velocity, but Murray overcame a 15-40 deficit with aces of 105, 113 and 112. Placement is just as important...

— Howard Bryant (@hbryant42) July 5, 2013
Murray officially took the match in four sets, 6-7, 6-4, 6-4, 6-3. While Janowicz came up short, it's not likely the last time we see the 22-year-old in a semifinal.
Epic Final on the Horizon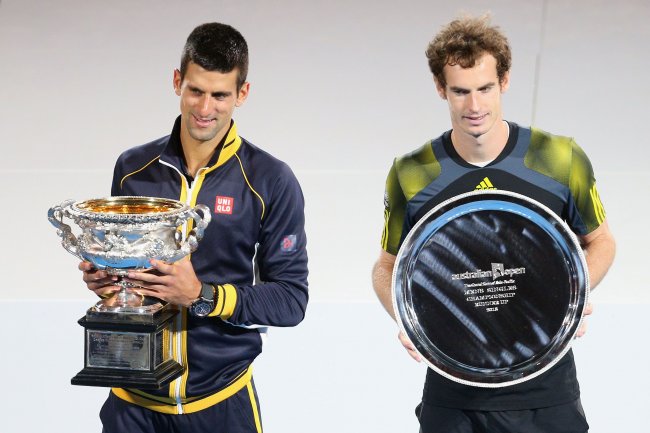 Lucas Dawson/Getty Images
As great as the two semifinal matches were, the crowd at the All England Club should be treated to an even more intense finals match.
Even though del Potro and Djokovic was an instant classic, the atmosphere for a Murray-Djokovic final should be even more wild. As ESPN Stats & Info notes, Murray is seeking to become the first British player to win Wimbledon since 1936.
Andy Murray will have another chance to become 1st British man to win #Wimbledon since Fred Perry in 1936

— ESPN Stats & Info (@ESPNStatsInfo) July 5, 2013
It's not like the stakes aren't high for Djokovic either. He'll be playing for his seventh Slam title and second of the season.
With both stars displaying tremendous resolve and ability in getting past a hungry field of challengers, they've set up the kind of highly anticipated match that makes Slam tournaments so intriguing.