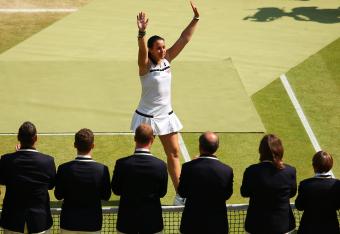 Julian Finney/Getty Images
A wide-open draw ended with a convincing victory as Marion Bartoli played the best tennis of her life to capture the Wimbledon title on Saturday.
The No. 15 seed thoroughly dominated the ladies' final on Saturday at the All England Club, defeating No. 23 seed Sabine Lisicki 6-1, 6-4. After Bartoli dropped her first service game then broke right back, the match was never in doubt.
With so many upsets in the draw, Bartoli didn't lose a set in the tournament, but never faced a higher-seeded player than herself.
The victory marks Bartoli's first-ever Grand Slam championship after a tumultuous year in which she split from her father as coach, eventually signing on with Amelie Mauresmo. The relationship between father and daughter has been acrimonious, but all was forgiven on Saturday. Marion's father was in the box to watch his daughter be awarded the Venus Rosewater Dish at Centre Court.
Bartoli was in control from start to finish, wavering only slightly in the second set after being unable to convert three championship points at 5-1. She served out the match in strong fashion to add her name to the legend of Wimbledon champs.
Marion Bartoli defeats Sabine Lisicki 6-1, 6-4 in 81 minutes to win the Wimbledon ladies' championship.

Bartoli is also full of emotion as she speaks to the crowd. She talks about dreaming of the moment since she was six years old and feels a bit of disbelief as she thanks everyone who helped get her to the big moment.
Though she was the lower-seed, Sabine Lisicki was widely seen as the favorite going into the final. She captured the imagination of the Wimbledon crowd with her unexpected win over Serena Williams and looked like she could right that momentum to a championship.
In the end, Marion Bartoli's steady determination won the day. She effectively dismantled Lisicki's big serve and answered back with power in her own game, taking the championship without ever losing a set.
Marion Bartoli defeats Sabine Lisicki 6-1, 6-4 to win the Wimbledon Ladies' Championship.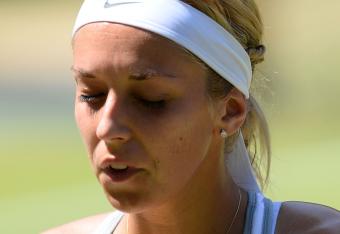 Smiley Sabine lets the tears flow as she conducts her post-game interview.
She's worried that this may be the only chance she gets at a Wimbledon title. That kind of pressure can be absolutely crushing and may have been her undoing after showing so much calm throughout the tournament.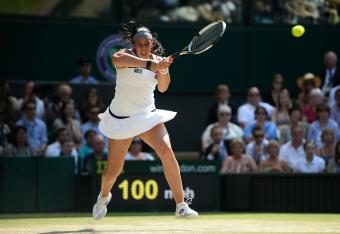 In this game, Bartoli is back on the attack, making no mistakes.
She wins the game at love, and that's the championship.
Marion Bartoli wins Wimbledon 6-1, 6-4 and heads straight to her box to celebrate with her loved ones.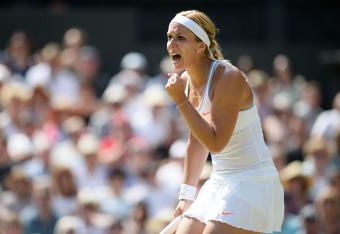 This is getting interesting. Lisicki holds serve.
It's now 5-4, with Bartoli serving for the match once again. How heavy is the pressure right now?
Will the past predict the future?
Remember Genius lost to Boom Boom here when she had 3matchpoints in 2011

— Brad Gilbert (@bgtennisnation) July 6, 2013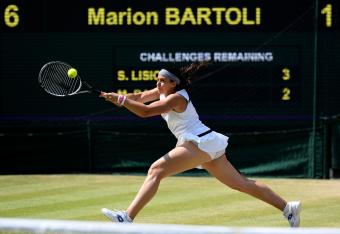 Hold that thought.
With the win in hand, Bartoli is broken for the first time since the first game.
Lisicki is now serving, down 5-3.
The prestige of winning Wimbledon is massive. The paycheck's not so bad either:
The Genius Bartoli with the easy 2.412 million today

— Brad Gilbert (@bgtennisnation) July 6, 2013
Lisicki has fought off three championship points on her serve, then hits an ace to win the game.
Her two fastest serves of the match keep her alive. Bartoli will now serve for the championship.
Bartoli leads 5-2.
So sad to see Boom Boom who has been smileing all tourney crying in the middle of last game

— Brad Gilbert (@bgtennisnation) July 6, 2013
The long journey to the final looks like it's taken a toll on Lisicki. Her matches have been longer and more intense, against better players. Bartoli hasn't lost a set in this tournament and it looks like she isn't going to.
Bartoli breaks again. She's now two games away from the championship.
If Bartoli claims the@Wimbledon title, she would become 1st Wimbledon champ to win without facing a top 10-ranked opponent. #ESPNWimbledon

— ESPNTennis (@ESPNTennis) July 6, 2013
So far, this final has been less than scintillating as we hit the one-hour mark.
Sabine Lisicki, down 1-6, 1-3, takes a deep breath before serving. More desperate measures may be required

— Christopher Clarey (@christophclarey) July 6, 2013
Lisicki hits a service return wide to the right, allowing Bartoli to hold serve.
Bartoli is serving an average of 101 mph on her first serves and has now won 76 percent of those points.
Despite a higher average speed of 105 mph, Lisicki has won just nine first-serve points in the match—43 percent.
Set 2: Bartoli leads 3-1
Lisicki has been in some tough spots along her road to the final, but perhaps the pressure of being the favorite has proven to be more than she anticipated.
Now Lisicki is experiencing the pressure of being a favorite. Adds perspective to t/ grand slam champs she beat en route to her 1st GS final

— Josina Anderson (@JosinaAnderson) July 6, 2013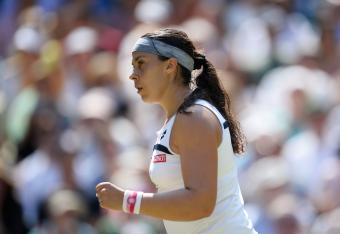 Bartoli is effectively neutalizing all of Lisicki's strengths.
She breaks her again to go up 2-1 in the second set.
Lisicki has won just 44 percent of her first serve points, compared to 73 percent for Bartoli. That's the key stat of the match so far.
As Lisicki steps up her game, Bartoli fights back to ensure she doesn't drop an early break.
The second game goes back and forth and Lisicki has her chances, but Bartoli keeps her running around the court and eventually takes the game.
Set 2: 1-1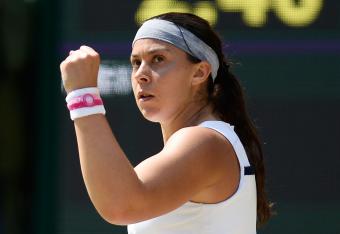 Bartoli is known for her frenetic on-court style—constantly moving and bouncing. She's looking much calmer today, pouring all of her energy into her serves and rallies.
At last, a dominating service game from Lisicki!
She holds to go up 1-0 in the second set.
Sabine Lisicki takes a little time before coming back onto the court with a smile on her face.
So far, she's hit just eight winners against 14 unforced errors.
She looks determined to hit the reset button and find the groove that has brought her to the final, and wins her first two points in convincing fashion.
Bartoli wins another game at love. She seems calm and focused, making it look easy.
She needed just 30 minutes to take the first set, continuing her streak of success in this Wimbledon Tournament.
Bartoli wins first set 6-1.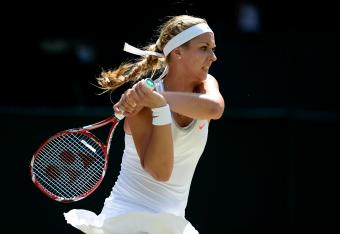 After a double-fault, Lisicki hits a long ball to lose the game.
She calls for a challenge but the call stands. A third-straight break goes against Lisicki.
Set 1: Bartoli 5-1
Lisicki's fighting hard to get her service game on track, but up 40-15, she slides back to deuce and gives the advantage to Bartoli with an unforced error.
An ace gets her back to deuce, leading to some serious back-and-forth action.
Smiley Sabine's face is showing real tension as she finds herself under the gun for the first time in the tournament.
A long rally earns her another advantage after great touch on a drop shot, then she hits into the net again. Still at deuce.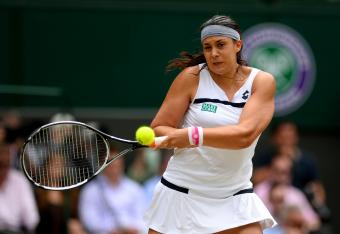 Bartoli cruises through her next service game without giving up a point to take a 4-1 lead.
She's winning 67 percent of her first-serve points, compared to just 29 percent so far for Lisicki.
Lisicki's serve was her strength in her semifinal match against Radwanska.
She's been broken in her first two service games here in the final.
Set 1: 3-1 Bartoli
Bartoli serves up her first ace of the match and freezes Lisicki to hold serve.
Set 1: 2-1 Bartoli
Now Lisicki is down 15-40 in her service game. She serves an ace but double-faults herself to hand the break right back to Bartoli.
First Set: 1-1