8 Baltimore Orioles on the Verge of Historic Achievements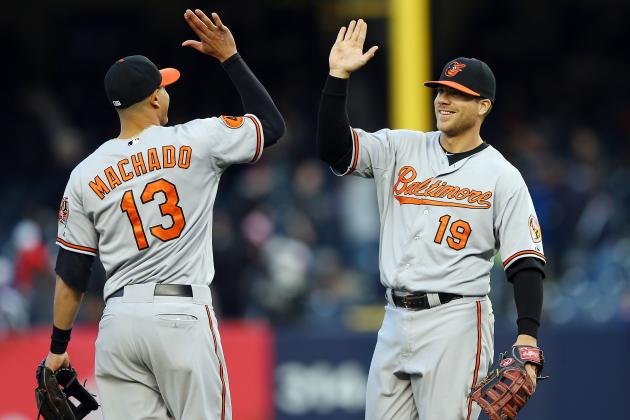 Elsa/Getty Images

Chris Davis and Manny Machado have finally arrived at the half-way point of what could turn out to be two of the most amazing seasons in baseball history.
The common Orioles fan might be under the illusion that they're the only ones, but they'd be wrong in that assumption. In fact, there are several other members of this year's Baltimore squad who are on the verge of making their own history.
Yes, Davis and Machado get all the attention, and deservedly so. But how much love is thrown Matt Wieters way?
Yes, he narrowly missed out on his third consecutive All-Star appearance, but he's still putting together a pretty fine season both at the plate and behind it.
And what about Chris Tillman?
Yes, his performance Sunday wasn't the most impressive, but he still has 10 wins at the All-Star break. I dare an O's fan to name the last Baltimore pitcher to accomplish that!
And J.J. Hardy?
For Pete's sake, Hardy is one of the most underrated shortstops in the game today, and maybe ever. He deserves all the attention afforded to a man making his second All-Star appearance and then some.
So, without snubbing our noses at what Davis and Machado have accomplished, let's take a moment to appreciate the historic achievements that these players are about to accomplish.
Begin Slideshow

»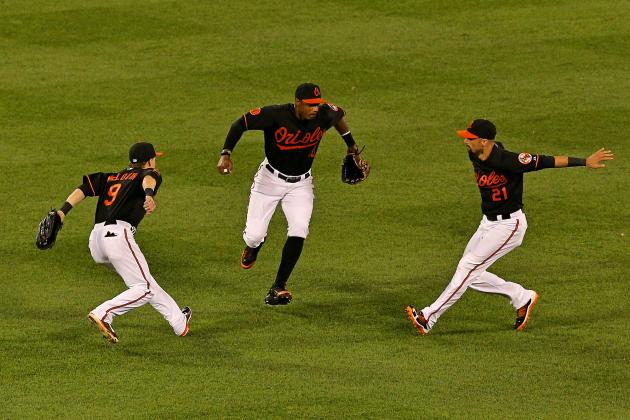 Patrick Smith/Getty Images

Once upon a time the Orioles were widely considered one of the top defensive units in baseball. Of course, that was also back in the days when they have perennial Gold Glove caliber defenders like Mike Bordick, Roberto Alomar and Cal Ripken Jr.
Since the turn of the millenium, though, the O's have dropped off that pace and have been a middle-of-the-pack defensive squad.
This year, that's going to change.
In 87 games, the O's have only committed a league-low 29 errors, and they currently lead all big-league squads with a .991 fielding percentage.
If they can keep up the pace, they will shatter the lajor league record set in 2007 by the Colorado Rockies (.98925).
They would also top the American League for the first time since 2007 and the Majors for the first time since 1998.
Furthermore, as it stands right now, the Orioles have several players with solid cases for Gold Glove honors. Their credentials are listed below, along with statistics that they currently lead the A.L. in at their position in bold.
C Matt Wieters:
74 games played (first in AL)

40.6 CS% (third)

.994 fielding percentage (t-fourth)

512 putouts (third)

4 total runs saved (t-first)
1B Chris Davis:
83 games played (second)
.996 fielding percentage (fourth)
707 putouts (first)
81 double-plays turned (first)
SS J.J. Hardy:
87 games played (first)

.980 fielding percentage (fourth)

223 assists (second)

119 putouts (first)
58 double-plays turned (t-first)
4 total runs saved (second)

3B Manny Machado:
87 games played (first)
.981 fielding percentage (first)
197 assists (first)

65 putouts (second)

21 double-plays turned (second)

16 total runs saved (first)
LF Nate McLouth:
69 games played (fourth)

1.000 fielding percentage (t-first)

141 putouts (second)
CF Adam Jones:
83 games played (t-first)
.990 fielding percentage (sixth)
197 putouts (t-third)
RF Nick Markakis:
81 games played (t-first)
1.000 fielding percentage (first)
164 putouts (second)
4 total runs saved (t-fourth)
Last year, Wieters, Hardy and Jones took home Gold Gloves. This year, Markakis, who last won one in 2011, could join them, as well as McLouth, who won his last with Pittsburgh in 2007. Davis is the long-shot, having never won the award, although he is performing at an incredibly high level this season.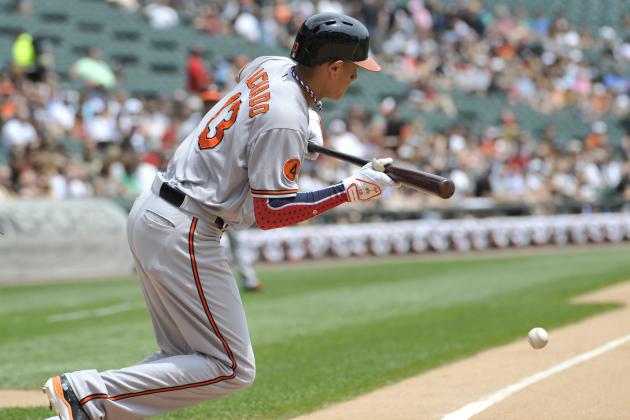 David Banks/Getty Images

What Machado is attempting to do at the plate has been well-documented.
As of today Machado has 39 doubles, putting him on pace for a major league-record 72, or five more than the current record-holder Ed Webb. It doesn't garner as much attention, but the 21-year old is also hitting .315, well above what anyone expected from him, even considering his status as a former No. 3 overall pick.
As impressive as Machado's performance at the plate is, his defensive play has been just as spectacular. That story is also well-known. A lifelong shortstop, Machado was called up to the majors to play third base, a position he never played in the minor leagues. Not only did he solidify the position for the Orioles down the stretch last season, he looked right at home at the hot corner, routinely making sensational plays.
This season has been more of the same. As noted in the previous slide, the Orioles are on-pace to set the major league record for highest team fielding percentage in a single season. Machado is a massive reason why. At .981 he leads all American League third baseman in the individual stat, and he also tops the circuit in putouts and is second in assists. His 16 total runs saved is the highest at any position in baseball this season.
He's also rocking a 2.6 defensive WAR, which is 1.1 wins higher than the No. 2 guy on the list, Boston's Dustin Pedroia, and tops in the American League. He ranks behind only Andrelton Simmons (3.1) for the top mark in all of baseball.
If Machado can keep up his current pace, he's projected to finish in some pretty legendary company.
He's currently projected to finish with a defensive WAR around 5.0-5.2. The major league record for any position is 5.4 and only two players have ever finished above 5.0. Even if he doesn't challenge that mark, he should be in good position to give the current record-holder for third baseman, Brooks Robinson (4.5), a run for his money.
He's projected to finish with 30-32 total runs saves. The big league record there is 40. Only 26 players have ever posted a number of 30 or higher, and of that group Machado would be the youngest.
With 198 assists through 86 games, Machado is on-pace for 373. The big-league record for third basemen of 412 might be just out of range, but he has a good shot to crack the top-15.
Last but not least, Machado is projected to finish with an overall WAR of 9.4, which would place him tied for 87th all-time. It would also be the third-highest WAR posted by a player 21-years or younger, trailing only Rogers Hornsby's 9.9 in 1917 and Los Angeles Angels outfielder Mike Trout's 10.9 last year.
A 9.4 would rank fourth all-time among Orioles, as well.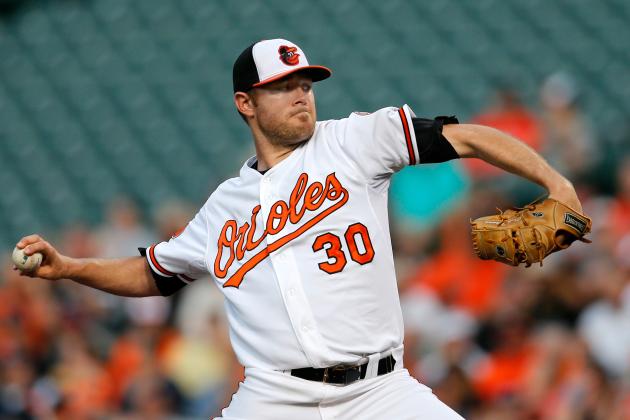 Rob Carr/Getty Images

With a 10-2 record heading into the All-Star break, Tillman is poised to put together one of the finest pitching campaigns by an Orioles' starter in nearly two decades.
For starters, here's a breakdown of the last time an Orioles' starter reached 13 or more wins in a single-season.
13: Erik Bedard, 2007
14: Erik Bedard, 2006
15: Erik Bedard, 2006
16: Mike Mussina, 1999
17: Mike Mussina, 1999
18: Mike Mussina, 1999
19: Mike Mussina, 1996
20: Mike Boddicker, 1984
Tillman is on pace for a 19-4 record, which would give him the highest individual win total in 17 years, and with just one more victory he could post the highest total in nearly 30 years.
He's also on track to post an .826 winning percentage, which would place fourth all-time in Baltimore history.
Interestingly enough, Tillman posted the third-highest single-season winning percentage last season, going 9-3 (.833).
Tillman could also become the first O's starter since Jeremy Guthrie in 2011 to throw 200 innings.
Whether he can reach Mussina or Boddicker, Tillman has already proven he's the ace of this Baltimore squad.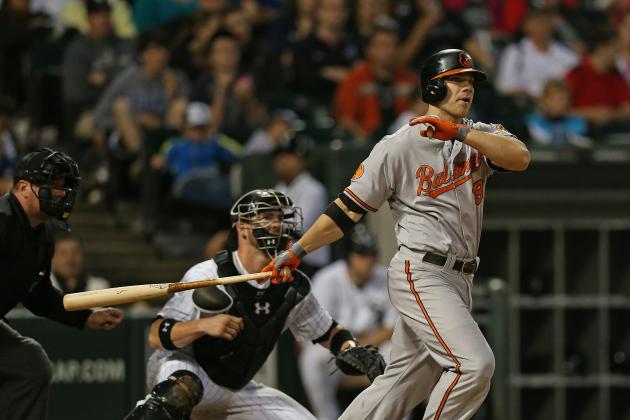 Jonathan Daniel/Getty Images

Each night the legend of Chris Davis grows more and more.
It really is hard to quantify just how amazing Davis' season has been so far and assuming he maintains the same level of production, he could be producing one of the most impressive seasons in major league history.
Let's start with the home runs.
Through 87 games, Davis has swatted a major league-high 33 homers. That's the same number that he hit in 200-more at-bats last season and five fewer than he hit in his first two big league seasons combined.
With his next home run, Davis will crack the top-20 for most home runs by an Oriole in a single-season, and we're not even at the All-Star break yet. Considering he's sending one out of the ballpark every 9.7 at-bats, he should eclipse the team-record of 50, set by Brady Anderson back in 1996, by the middle of August.
That 9.7 AB/HR is the 17th-highest mark in major league history, by the way, just a hair off the pace of Roger Maris in 1961 and slightly ahead of Sammy Sosa's 1998 campaign. The only players with fewer at-bats per home run are Maris, Hank Greenberg, Mickey Mantle, Jim Thome, Mark McGwire, Sammy Sosa, Babe Ruth and Barry Bonds. Pretty good company.
Speaking of Maris, Davis is currently on pace for 60 home runs, which would place him one shy of tying Maris' American League record. Even if he just hits 60, that would be good enough for the eighth-highest single-season total in major league history.
He could also be the first player in major league history to hit 50 home runs and 50 doubles in the same season. The only player to have as many as 50 homers and 40 doubles is Babe Ruth.
Okay, enough with the home runs. Let's move on to some other achievements that Davis is attacking at a historic pace; like total bases.
With a major league-best 227 total bases through 87 games, Davis is on pace for 420. The major league record is 457, set by Babe Ruth in 1921. Just to put Davis' production in this department in perspective, the only two players to crack the all-time top-10 since 1948 are Sammy Sosa and Luis Gonzalez. If Davis could get to 420, that would tie him with Chuck Klein for ninth all-time. Other names in the top-ten include Rogers Hornsby, Lou Gehrig, Jimmie Foxx, Stan Musial and Hack Wilson.
Moving on to extra base hits, of which Davis has 59. The big league record there is 119, also by "The Babe" in 1921. Davis is currently on a pace that would bring him to 109, which would place him third all-time; two ahead of Barry Bonds' record-setting HR campaign of 2001.
Davis could also become only the second player in history to reach 100 base-out runs added, already reaching the half-way point with 50.51 and just the third to reach 10.0 in win probability added. He's at 5.1 in that category.
And last, but not least, we turn to slugging percentage and OPS. Davis' slugging is currently at .717, a number that leads the majors by quite a large margin. He already checks in at 26th place all-time, and with a strong second half, he could find his way into the top-20.
His OPS of 1.113 is also the highest in baseball, and currently ranks him 68th all-time. Not bad for a guy who is on pace for close to 200 strikeouts.
And just for fun, let's compare Davis' projected season stats with some of the top offensive campaigns of all-time.
| | | | | | | | | |
| --- | --- | --- | --- | --- | --- | --- | --- | --- |
| | AVG | OBP | SLG | 2B | HR | RBI | R | WAR |
| Davis, 2013 | .325 | .401 | .717 | 49 | 60 | 156 | 117 | 8.1 |
| Ruth, 1921 | .378 | .512 | .846 | 44 | 59 | 171 | 177 | 12.9 |
| Bonds, 2001 | .328 | .515 | .863 | 32 | 73 | 137 | 129 | 11.9 |
| Maris, 1961 | .269 | .372 | .620 | 16 | 61 | 141 | 132 | 6.9 |
| McGwire, 1998 | .299 | .470 | .752 | 21 | 70 | 147 | 130 | 7.5 |
| Rodriguez, 2007 | .314 | .422 | .645 | 31 | 54 | 156 | 143 | 9.4 |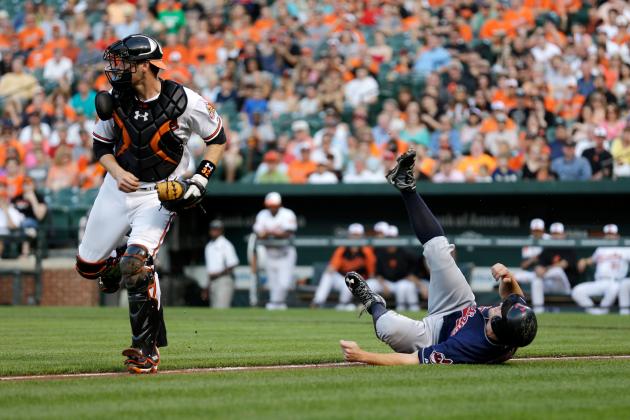 Rob Carr/Getty Images

Say what you will about Wieters' low average--.227 as of July 6--but there's no denying he's one of the top all-around catchers in baseball, and arguably the best in the American League. Few other catchers in baseball history have had his combination of sheer power and incredible athletic and defensive prowess.
This season both have been on display. With 11 homers through 86 games, Wieters is on pace for his third-consecutive 20-plus home run season. Behind the plate he's never been better, throwing out a career-high 41 percent of base-runners, 16 percent above the league-average.
Assuming he doesn't forget how to throw to second base, Wieters should be a lock for his third consecutive Gold Glove. Only 19 other catchers in baseball history have three or more, a testament to Wieters' understated defensive value.
Another metric that receives very little attention is total runs saved. Wieters led the A.L. in both 2010 and 2012 and he's at the top once again this year. Only four other catchers in American League history have led the circuit in total runs saved three or more times (Ivan Rodriguez, Bob Boone, Jim Sundberg and Yogi Berra).
Wieters may not be the offensive juggernaut that many fans expected when he took the reigns of the Orioles pitching staff a few years ago, but having one of the top defensive catchers in the game is nothing to be ashamed of.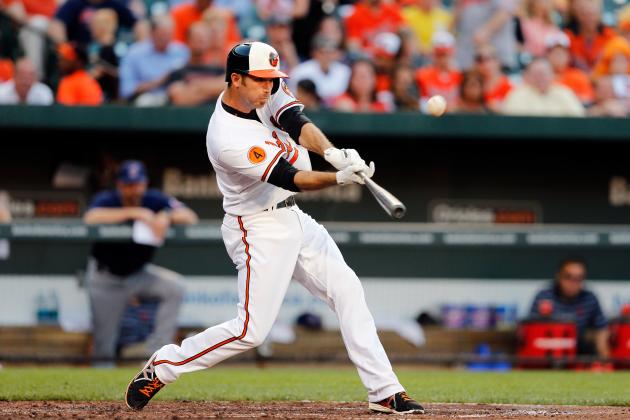 Rob Carr/Getty Images

With 15 home runs through 87 games, Hardy is on pace for 28 home runs.
If he does achieve such a feat it will mark the fifth time in his career he's topped 20.
While hitting 20 homers doesn't seem like much of an accomplishment, take into account that if he does indeed crack 20, Hardy will be only the eighth shortstop in big league history to have five seasons of 20 or more home runs. The others? Cal Ripken Jr., Alex Rodriguez, Ernie Banks, Miguel Tejada, Jose Valentin, Vern Stephens and Nomar Garciaparra.
Not even Jimmy Rollins or Derek Jeter can lay claim to such a statistical feat.
With 146 career home runs, Hardy currently ranks 28th all-time among shortstops. If he does indeed hit 28 this season that would give give him 159 for his career and bump him all the way up to 23rd all-time, ahead of Shawon Dunston, Pee Wee Reese and Honus Wagner.
With five more seasons of 20 or more home runs, Hardy could find his way into the top-five all-time.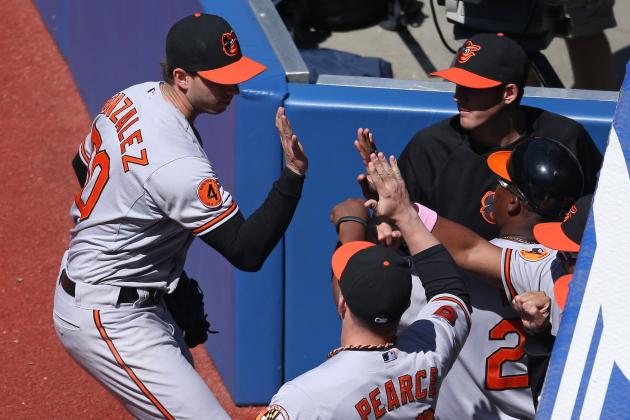 Tom Szczerbowski/Getty Images

The last time the Orioles had three pitchers record at least ten victories was 2005, when Bruce Chen (13-10), Rodrigo Lopez (15-12) and Daniel Cabrera (10-13) all cracked double digits.
To find the last time that the O's had three pitchers with at least ten wins and a winning record, one would have to go all the way back to 1997, when Mike Mussina (15-8), Scott Erickson (16-7), Jimmy Key (16-10), Scott Kamieniecki (10-6) and reliever Arthur Rhodes (10-3) all posted winning seasons with at least ten victories.
As luck would have it, the 2013 Orioles are on the verge of doing the same.
Miguel Gonzalez is 6-3 at the half-way point, Jason Hammel is 7-5 and Chris Tillman is already 10-3, putting them on pace for 11-, 13- and 19-win seasons, respectively.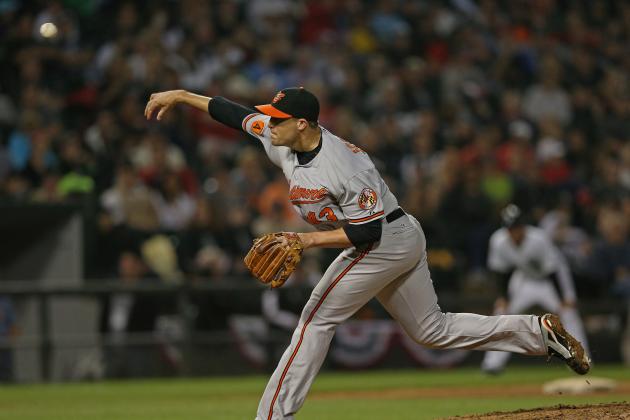 Jonathan Daniel/Getty Images

Johnson set a Baltimore record with 51 saves last season and posted the ninth-highest total in major league history.
This season, despite several less than desirable outings, including a major league-high six blown saves, Johnson is on pace for 54 saves, which would not only best his own team-record set a year ago, but also rank him fifth all-time for a single-season performance.
Even more impressive, another 50+ save campaign would allow Johnson to join Mariano Rivera and Eric Gagne as the only two pitchers in baseball history with two 50+ save performances.
As noted above, Johnson's performance this season has been shaky, but Buck Showalter has been incredibly loyal to J.J., so it should surprise no one if he finishes the season out as the team's closer.