What Every Fan Needs to Know About the 2013 Detroit Lions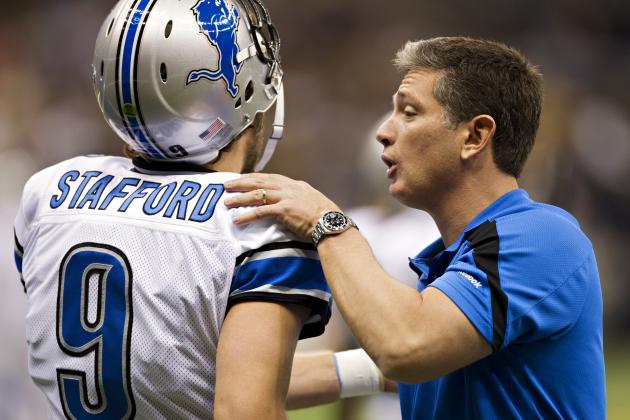 Wesley Hitt/Getty Images
Schwartz and Stafford look to turn things around for the Lions in 2013.
Today the Detroit Lions have a markedly higher NFL profile than at any other time in their history. No longer are they the league's doormats. Okay, some people still think they are, but in reality the Lions are a dangerous team to face.
4-12 might not make you think "dangerous" but they are a better team than their record from last year suggests. However they might not be quite as good as their 10-6 record was from the year before.
The truth lies somewhere in the middle.
With a core of elite young talent, teams better not take the Lions for granted anymore.
Calvin Johnson, Matthew Stafford and Ndamukong Suh lead the resurgence, and the Lions hope they've put enough talent around them for another run to the playoffs. Those three need to stay on the field and perform at a high level for the Lions to be successful in 2013.
Here are some more things every Lions fan should know about this year's team.
Begin Slideshow

»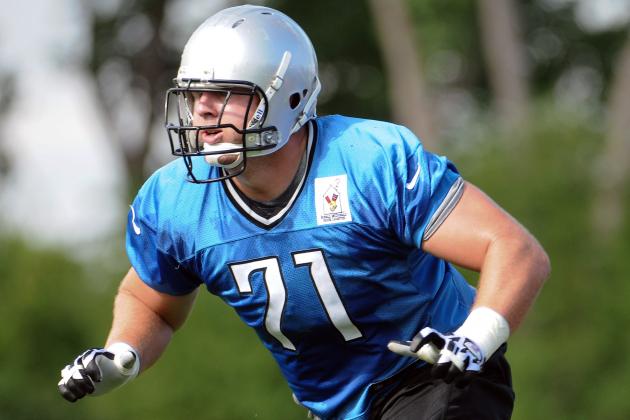 Tim Fuller-USA TODAY Sports
Reiff is the key to the new-look offensive line for the Lions.
When the Lions' offensive line takes the field in Week 1, some fans might do a double take. Gone are familiar faces like Jeff Backus, Gosder Cherilus and Stephen Peterman.
The Lions' front five underwent a face lift. Not quite as drastic as Joan Rivers or Jerry Jones mind you, but a significant change, nonetheless.
Riley Reiff, Larry Warford and a combination of Jason Fox and Corey Hilliard are the men the Lions will call upon to replace the aforementioned departed veterans. There is very little NFL starting experience among them.
That's not to say the line won't gel and ultimately prove to be a more adept unit as the season goes on. Reiff, Warford and Fox are all original draft picks of Detroit. If the Lions didn't think they could play they wouldn't have selected them.
On the other hand, change always brings anxiety. Particularly when the unit's primary job is to protect the Lions' most important player: Matthew Stafford.
Let's be honest, the Lions aren't going anywhere without him at the helm.
Stafford threw the ball 720 times last season, and for the most part his protection was solid.
Yet fans still complained. If the Lions' current group doesn't come together fast, fans will really have something to complain about.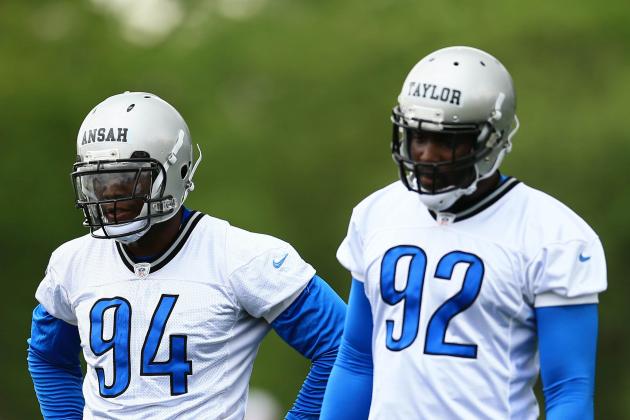 USA TODAY Sports
Rookies Ansah and Devin Taylor will help determine the success of the Wide 9 in Detroit.
According to ESPN, the Lions defense last season ranked 24th in rushing yards allowed per attempt, 27th in points allowed per game and only 20th in sacks per game.
Those numbers are an indictment of the Wide 9 defensive scheme the Lions have employed since Jim Schwartz took over as head coach.
Basically the scheme puts defensive ends in a better position to get to the quarterback by pushing them out wide, outside the offensive tackle or tight end. This gives pass-rushers more space to maneuver and create havoc behind the line of scrimmage.
However, what the defense gains in rushing the passer, it loses in stopping the run. Linebackers are supposed to plug the holes left by the defensive ends, but that didn't happen consistently enough last season for Detroit.
The defense gave up far too many rushing yards per game and far too many long runs—plays that not only resulted in points but were demoralizing for the Lions.
Despite all that, Schwartz is sticking to his defensive guns, so to speak. If there was any thought the Lions would adjust their scheme, think again.
They brought in Wide 9 guru Jim Washburn to rally the troops and they drafted Ezekiel Ansah, who is as raw as they come but who seems to fit the Wide 9 to a T.
Obviously Schwartz, like many head coaches, believes in a certain way of doing things and he's not about to change after one bad year. He believes in the scheme and he believes in the talent assembled to run it.
Whether he succeeds or fails, Schwartz at least can say he did it his way.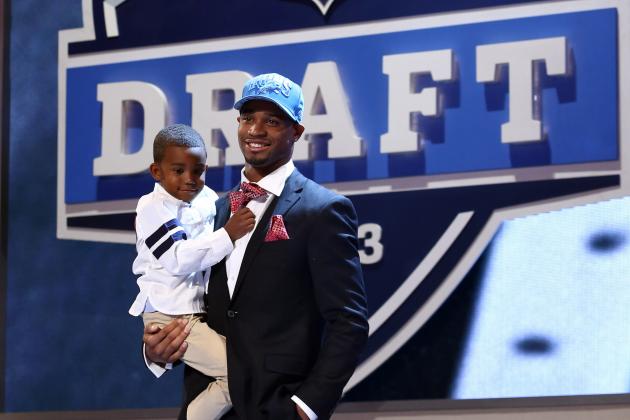 USA TODAY Sports
Slay is one of five rookies likely to start for the Lions this season.
On both offense or defense, the Lions will rely heavily on rookies to assume starting roles and contribute immediately.
I already mentioned Ansah. He'll start from Week 1, and the Lions need him to produce. His physical tools are truly amazing, but can he overcome a lack of technique to be a successful pass-rusher in his first year?
The Lions are banking on it.
Larry Warford was the Lions' third-round pick this year, and they expect him take over for Stephen Peterman at right guard. According to ESPN, the rookie guard has a mean streak and is a "mauler" in the running game. He could set the tone for the Lions' new-look offensive line.
The Lions selected cornerback Darius Slay in the second round. While he hasn't been handed the starting job, the Lions are hoping he earns it during training camp, especially since second-year man Bill Bentley is more suited to the nickelback position.
Like Ansah, Slay is an athletic freak who is still raw in the technique department. He might be the best playmaker the Lions have, though, and that's exactly what the defense needs.
Finally, Sam Martin will take over punting responsibilities for the way-past-his-prime Nick Harris.
The Lions used a fifth-round pick on the Appalachian State alum, and for that he better turn out to be the best darn punter in the NFL next season—or at least a dramatic improvement over Harris.
Five rounds of the draft; five probable starters. It's not unheard of, but there is risk associated with relying so much on so many young players.
Regardless, youth rules for Detroit in 2013.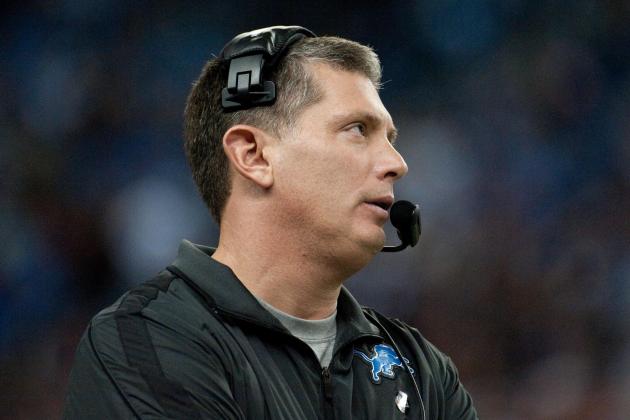 Tim Fuller-USA TODAY Sports
Schwartz's motto for this year: "Just win, baby!"
It's not like an ultimatum was given to Jim Schwartz.
WIlliam Clay Ford did not say, "win or else," to the Lions' head coach, and rumors of his replacement have not been circulating around Ford Field. That doesn't mean that if the Lions have a repeat of 2012, Schwartz won't find a pink slip in his locker. And unlike Ricky Vaughn in Major League this one won't be a trick.
The reality is that Schwartz needs to win now. The talent is there, and the Lions should be able to make the playoffs—at the very least.
He has had some success. A 10-6 record and playoff birth in 2011 was the high point.
He also managed to turn around the loser mentality that permeated the Lions' locker room before he arrived. However he's drawn criticism over the years for not reining in some of his young players.
Titus Young, Mikel Leshoure and Nick Fairley come to mind. Lions ownership assuredly were not pleased last year when their mug shots were plastered all over the news.
Ultimately it's Schwartz's 22-42 record as a head coach that stands out. If the loss column continues to swell in 2013, the Lions will opt to make a change.
Who could blame them? Another losing season would signify that the team is going in the wrong direction.
Schwartz was brought in to turn the Lions into winners and four losing seasons out of five will be the straw that breaks the camel's back.
All he has to do is win. If that happens then forget everything I just said. With a winning record, Schwartz will stick around and could actually buy himself a couple more years in Detroit.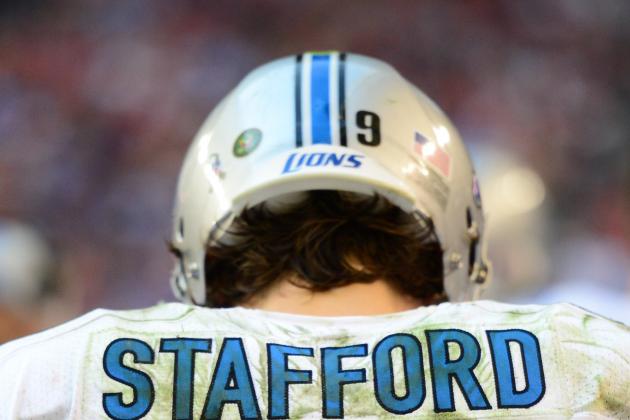 Mark J. Rebilas-USA TODAY Sports
Stafford looks to rebound from a frustrating 2012.
As every NFL fan knows, the most important player on the football field is the quarterback. With the Lions that statement cannot be any truer—and not only because they were built to be an offensive juggernaut.
The Lions have talent across the board, but they are very young. As I've already said, they have a number of players in key positions that have been given the "raw" or "great potential" label. They also have a number of players with very little starting experience penciled in as starters.
Those players need leadership and Stafford, being the field general, needs to assume that responsibility. I'm not saying that he needs to morph into Ray Lewis overnight. That kind of transformation would be artificial and no one would respect him for it.
For Stafford, leadership means getting it done on the field.
In other words, he needs to play better. It's true he threw for nearly 5,000 yards last season, but it wasn't pretty. More importantly he wasn't efficient, and he didn't connect with receivers enough when and where it matters most—in the red zone.
Many "experts"—such as ESPN's Seth Wickersham and Michael David Smith of nbcsports.com—have cited Stafford's mechanics as a reason for his up-and-down play.
Personally, I don't think there's anything wrong with his mechanics. I think he uses creative methods to try and make plays. It's not like he sits back in the pocket and calmly underhands the ball to his receivers. He's often pressured or is running for his life when he attempts off-balance passes.
Regardless, his touchdowns and completion percentage were down in 2012, and he has to do better with his decision-making and command of the offense.
The addition of dual-threat rusher/receiver Reggie Bush will certainly help give Stafford another weapon to target besides Calvin Johnson.
Just as important as his on-field performance is his on-field attitude. As the season wore on last year, Stafford was frequently seen screaming at receivers. While every great quarterback has dressed down a receiver from time to time, there is a time and a place.
He needs to learn that, and act accordingly. He's not free from blame, and there is just as much to gain from him taking accountability when a play goes bad than criticizing receivers on national TV.
Stafford needs to realize that he is not a finished product either. He makes his fair share of mistakes, and no one screams at him to get his act together.
Maybe someone should, but no one will: The Lions just made a gigantic investment in Stafford, one that will keep him around through 2017. So, the team is now officially his.
Still, Stafford should heed the advice of Uncle Ben for success in 2013: "With great power comes great responsibility."