5 Potential Successors for Andrea Pirlo in Italy's Midfield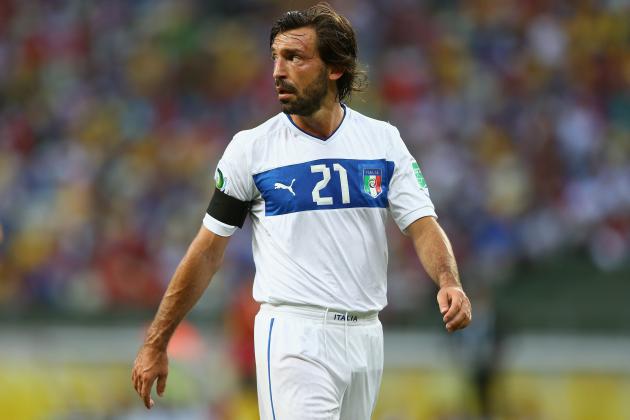 Clive Mason/Getty Images

For the last half-decade, there has been an ongoing search amongst Italian fans and media for the Next Andrea Pirlo.
The deep-lying playmaker has been the engine behind the Italian machine for nearly 10 years. Rarely is a single player so important to a national team on the elite level at which the Azzurri play.
His importance was magnified during the debacle that was the 2010 World Cup. Pirlo was unavailable due to injury for all but the last 34 minutes of the final match, and Marcello Lippi's team looked absolutely lost.
Consider the following: In the two games plus 56 minutes that Pirlo was unavailable, the Italians scored two goals, one from a corner and one from a penalty kick. In the 34 minutes that Pirlo played against Slovakia, the Italians put the ball into the net three times—one goal was controversially called back for offside—all from open play.
With Pirlo confirming that next year's World Cup will be his last tournament in Savoy blue, Cesare Prandelli will be faced with the prospect of being permanently without his talisman for the first time since the early part of the century.
Who can he call upon to take Pirlo's place? Let's look at some of the best players available.
All stats are from WhoScored.com
Begin Slideshow

»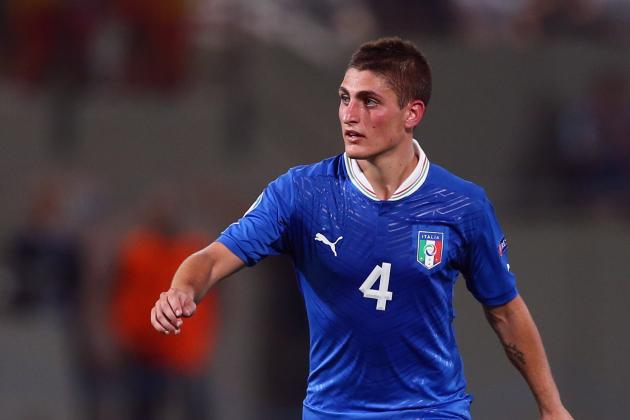 Alex Grimm/Getty Images

Age: 20
Club: Paris Saint-Germain
Senior Caps: 3 (1 goal)
Chief amongst the candidates is 20-year-old Marco Verratti.
The youngster made a name for himself when Zdenek Zeman moved him to the deep-lying regista position in the coach's 4-3-3 scheme. Comparisons with Pirlo were immediate and were only fueled by the fact that the legend was Verratti's favorite player.
After leading Pescara to promotion to Serie A in 2011-12, transfer speculation was rife. Many thought that Verratti would move to Juventus, where he would understudy the man himself and learn from the master.
But French nouveau-riche club PSG had other ideas and swept in to sign the starlet from the Delfini. WhoScored tallied him at a pass completion rate of 89.4 this past season in Ligue 1 play—higher than Pirlo's number in Serie A play.
He didn't quite pace l'architteto in assists—Pirlo won that count 7-4—and is not close to being the set piece magician that his idol is. He is, however, a far superior defensive player than Pirlo, tallying 2.4 tackles per game in Ligue 1 and 3.8 in the Champions League.
That nose for defense also contributes to his greatest weakness, which is discipline. Verratti was booked 10 times and sent off once in league play. He also garnered three bookings in the Champions League and three in four games in the recent U-21 European Championships.
That, however, is a problem that age and maturity will take care of. Of all the potential replacements to Pirlo, Verratti looks to be the most promising.
Alex Grimm/Getty Images

Age: 22
Club: Roma
Senior Caps: 2
A player with more of a nose for goal than Verratti, Alessandro Florenzi took advantage of Daniele De Rossi's feud with Zeman at Roma this year to firmly plant himself as a key part of Roma's future.
Like De Rossi, Florenzi is a native Roman and came up through the team's youth system. He debuted with the team at the end of the 2010-11 season, and after spending last year on loan at Crotone ,he immediately made an impact.
He scored in Roma's 3-1 victory over Inter in September and added two more scores to go along with five assists in 25 starts and 11 sub appearances.
Florenzi has also found the field in a pair of friendlies for Prandelli this past year, and he scored a goal in the Azzurrini's run to the U-21 European Championship final last month.
Florenzi plays much higher up the field right now than Pirlo or Verratti, so he isn't the volume passer either of those two are. His completion percentage is also a bit lower owing to the added traffic he has to deal with in those areas.
It's still conceivable that he could replace Pirlo, however. Pirlo himself played in that advanced role for the early part of his career, so if it is necessary he could adapt to a deeper position.
Florenzi is one of the reasons that Roma is considered one of the most talented squads in the Serie A, and he will be a difference maker on both the club and international level. The question is where on the field that difference will be made.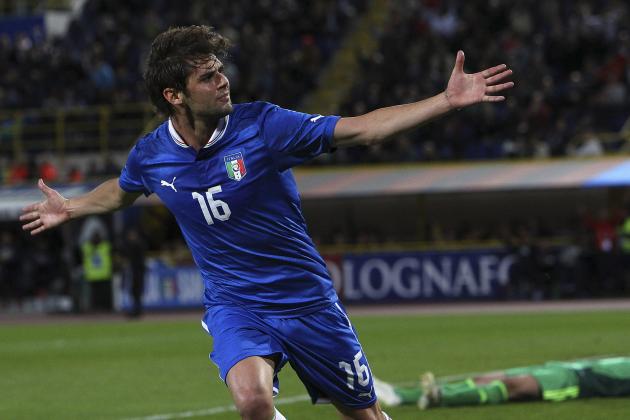 Marco Luzzani/Getty Images

Age: 23
Club: Sampdoria
Senior Caps: 3 (1 goal)
Andrea Poli will not be a Sampdoria player for much longer. The deal is not official, but Football-Italia reports that Sampdoria has allowed him to begin training with the Rossoneri while the last phase of the deal—a co-ownership with Bartosz Salamon—is ironed out.
If Poli is to be turned into a regista, some work may be needed, and he's going to be playing on a Milan side with a ready-made regista in Riccardo Montolivo. Still, the talent is there, and his ability to play short passes is a promising sign. He also brings a defensive element that Italy does not have in Pirlo.
Still, Poli is young, and can be a creative force in his moments. Should the need arise, he could be trained in the role.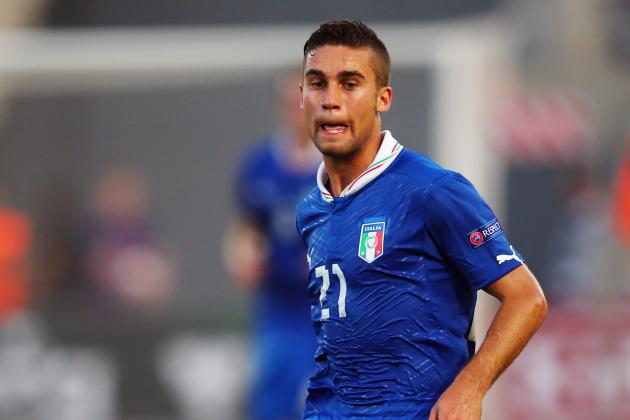 Alex Grimm/Getty Images

Age: 22
Club: Juventus
Senior Caps: 0 (25 U21 caps)
Fausto Rossi has yet to make his debut for Juventus at the senior level, but he has showed great potential in loan spells at Vicenza and Brescia and for the Azzurrini.
Rossi played in all five games of the recent U-21 European Championships. He completed 87.3 percent of his passes and averaged 4.4 successful long balls per game.
That last statistic is one of note. Pirlo is renowned for his prowess with the long pass. He could probably hit a dime from 60 yards in a snowstorm.
Of the other four players on this list, only two are in the neighborhood of Rossi in terms of his long ball average—and one of them played more defensively this past season and so made more of them by nature of his position.
Rossi is in crowded situations for both club and country. Juve's midfield is one of the best—if not the best—in the world, and it has depth in Paul Pogba and Emanuele Giaccherini.
At the international level he may be blocked by players like Verratti and Florenzi, as well as current regulars in the senior squad like Daniele De Rossi and Juve teammate Claudio Marchisio.
But his talent can't be ignored, and no one can predict the future. Rossi has the skills to play a deeper position, and he will be in the mix long-term to replace Pirlo both at Juve and for Italy.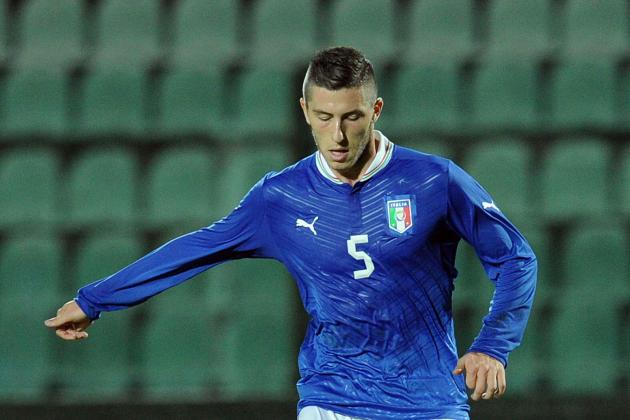 Giuseppe Bellini/Getty Images

Age: 23
Club: Juventus
Senior Caps: 0 (31 U21 caps, 1 goal)
Luca Marrone's future as a midfielder may be in doubt at the moment, but there's no question as to whether he has the potential to fill the role.
Marrone played more as a center-back in Antonio Conte's three-man defense this year, and when he did play in midfield, the results were mixed.
In some games, like the Coppa Italia quarterfinal against AC Milan, he left a lot to be desired. In others, like Juve's penultimate game of the season against Cagliari, he did well, completing 86 percent of his passes and an impressive 11 of 12 long balls.
If he stays at Juve, he may end up being converted into a full-time center-back simply due to the wealth of quality depth the team has in midfield. But his staying at Juve is not a given.
Marrone has been mentioned in several transfer scenarios for Juventus. Most significantly was a Football-Italia report in May that had him included in a deal for Stevan Jovetic.
In truth, with playing time in the midfield so limited, it could be in Marrone's best interests to develop as a midfielder elsewhere. He has the talent and the potential. It may be time for a new team to give him reps in the midfield to get him where he could take full advantage of those talents.