After days of meetings and a retreat to Aspen, Colorado, Dwight Howard has emerged from the mountains and decided to become a Houston Rocket.
UPDATE: "His decision is final & firm. He will be a member of the Houston Rockets." - @StephenASmith on Dwight Howard's decision.

— SportsCenter (@SportsCenter) July 6, 2013
Howard sent out an official statement on his Twitter feed Friday evening confirming his decision:
"I've decided to become a member of the Houston Rockets. I feel its the best place for me and I am excited about joining the Rockets and I'm looking forward to a great season. I want to thank the fans in Los Angeles and wish them the best."
USA Today's Sam Amick was the first to report on the story early Friday afternoon, but the hours following that initial report were filled with innumerable backtracks and conflicting reports on the decision. Howard's agent, Dan Fegan, told Yahoo! Sports' Adrian Wojnarowski that no decision had been made and that it would take until either later Friday or early Saturday for the verdict to get rendered.
The one thing that was clear was that the decision would come down to the Los Angeles Lakers and the Rockets. The Dallas Mavericks, Golden State Warriors and Atlanta Hawks were informed early Friday that they were no longer in the running for the 27-year-old All-Star.
For Houston and Los Angeles, the final moments of this chase were filled with mass uncertainty. At different points on Friday afternoon and evening, each side seemingly had the edge. ESPN's Dave McMenamin reported that Howard was having a particularly tough time deciding on whether to pass on the extra $30 million the Lakers could offer him in a contract:
What's the big hold up? "It's hard to walk away from $30 million," said a source close to Dwight Howard. "Harder than we thought."

— Dave McMenamin (@mcten) July 6, 2013
In the end, that's exactly what he did. The Rockets' potential as a juggernaut in the league with James Harden and Chandler Parsons on the wings along with their all-out efforts to land Howard ultimately pushed Houston over the edge. It also couldn't have hurt that Houston is making a push for a sign-and-trade deal for Josh Smith, a coveted free-agent forward and former AAU teammate of Howard, per Zach Klein of WSB-TV in Atlanta:
NBA league source tells me Hawks and Rockets working on sign and trade for Josh Smith

— Zach Klein (@ZachKleinWSB) July 5, 2013
Even if Houston doesn't land Smith, they still found a way to best the Lakers in a massive coup. Los Angeles general manager Mitch Kupchak released a statement on Howard's decision, via the team's official website:
"We have been informed of Dwight's decision to not return to the Lakers. Naturally we're disappointed. However, we will now move forward in a different direction with the future of the franchise and, as always, will do our best to build the best team possible, one our great lakers fans will be proud to support. To Dwight, we thank him for his time and consideration, and for his efforts with us last season. We wish him the best of luck on the remainder of his NBA career."
And with that folks, it's over. After 20 months of back-and-forth waffling, Dwight Howard has finally found a place he wants to play basketball—we think. This will be his third franchise in as many seasons, and he'll go down as one of the first in league history to ever spurn the Lakers.
As one would expect, social media was abuzz during the saga and when Howard's decision became official. Here is a look at all the best tweets from Friday afternoon and evening.
Grantland's Zach Lowe perhaps best encapsulated the reaction of both fans and (especially) writers with a simple declarative sentence:
And may God have mercy on all our souls.

— Zach Lowe (@ZachLowe_NBA) July 6, 2013
Kobe Bryant's reaction was equally simple, sending out an Instagram shot of he and Pau Gasol embracing, with the hashtag #vamos: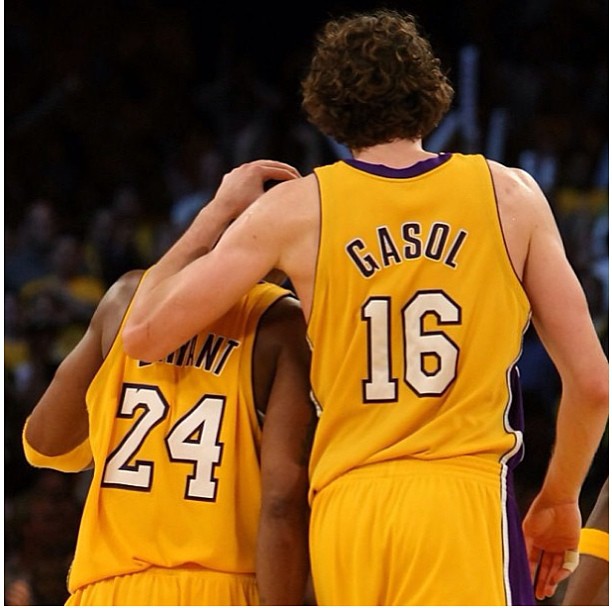 ESPN's Darren Rovell pointed out that Kobe and Dwight are no longer social media BFFs:
It Just Got Real: @KobeBryant has unfollowed @DwightHoward within the last hour.

— darren rovell (@darrenrovell) July 6, 2013
Howard himself spoke to the media in a series of calls after the announcement went down. ESPN's Dave McMenamin had a few choice tweets on Howard's thoughts on Los Angeles and whether Kobe Bryant played a factor into his decision:
Dwight: "The timing in L.A., it wasn't right for me. Maybe two years ago, or 2-3 years from now it would have been the right time"

— Dave McMenamin (@mcten) July 6, 2013
Dwight: "The timing in L.A., it wasn't right for me. Maybe two years ago, or 2-3 years from now it would have been the right time"

— Dave McMenamin (@mcten) July 6, 2013
Mark Medina of the L.A. Daily News got an answer on an underrated thing to monitor going forward—the health of Howard's back:
More Dwight Howard: "My back is feeling a lot better and stronger." Said since his fishing vacation, he's worked out every day @ 8 a.m.

— Mark Medina (@MarkG_Medina) July 6, 2013
When news of Howard signing with Houston first came to light earlier Friday, Sports Pickle's Twitter feed was not ready to call Houston a "winner" of this whole saga quite yet:
Rockets lose Dwight Howard sweepstakes, sign Dwight Howard.

— SportsPickle (@sportspickle) July 5, 2013
Gawker contributor Jeb Lund was more worried about how to explain Dwight Howard's decision to the Twitterverse, a group that usually seems more concerned with Mad Men and Game of Thrones. He gave it his best shot:
Hmm, how can I make this Dwight Howard news understandable to the internet? After being a mad man, now he's being a real khaleesi. #nailedit

— Jeb Lund (@Mobute) July 6, 2013
Known for his waffling, Howard finally seems comfortable in his own skin and made a strong decision—or did he? Comedian Frank Caliendo is saying Dwight may be confused about which Houston sports franchise he's headed to:
BREAKING: sources say Dwight Howard has decided to play in Houston next year- For the Rockets... or possibly the Astros.

— Frank Caliendo (@FrankCaliendo) July 6, 2013
Grantland's Rembert Browne envisions spending an evening watching Netflix with Dwight. We agree things would probably take longer than normal:
imagine Dwight trying to pick a movie on Netflix

— Rembert Browne (@rembert) July 6, 2013
Bomani Jones of ESPN thinks maybe the long-term stability of a contract might calm down Howard's unsureness:
in fairness to dwight, he seemed sane until the first last year of his contract. maybe stability will help him.

— Bomani Jones (@bomani_jones) July 6, 2013
The Lakers will walk into the 2013-14 season with an innumerable amount of questions about their roster composition. Bryant's Achilles injury may keep him sidelined well into the regular season, and the inconsistencies of Pau Gasol and Steve Nash are equally concerning. However, Andres Alvarez of TheNBAGeek.com made a particularly salient point of the effect the league's new collective bargaining agreement played:
Man recent CBA completely screwed Lakers. More cap hit, no S+T for Dwight, more revenue sharing. Enough to make me almost feel bad.

— Andres Alvarez (@NerdNumbers) July 6, 2013
Being a man of the people, Paul Pabst of The Dan Patrick Show is thinking of all those No. 12 jerseys going to waste. He has a suggestion for the Lakers:
The Lakers should sign any free agent with the last name Howard..give him #12 and stick him on bench. Lots of defunct jerseys out there.

— Paul Pabst (@PaulPabst) July 6, 2013
Rubbing a little salt into that wound, many Lakers fans have bemoaned the day the team spurned Phil Jackson and hired Mike D'Antoni. Well, don't look for that to change anytime soon with this tweet by HOOPSWORLD's Alex Kennedy:
When asked if Phil Jackson being coach would've affected decision, Dwight Howard said he asked Lakers to hire Jackson earlier in the season.

— Alex Kennedy (@AlexKennedyNBA) July 6, 2013
Legendary wrestler The Iron Sheik is either a Lakers fan or just doesn't like Howard. Regardless, this is hilarious:
Goodnight Twitter NEVER respect the Dwight he the biggest jabroni I know

— The Iron Sheik (@the_ironsheik) July 6, 2013
If you're wondering how D12 will look in a Rockets uniform, NBA Legion's Twitter feed had a capture of Howard's new Twitter avatar:
Dwight Howard (@DwightHoward) has changed his Twitter picture to this. pic.twitter.com/2n9A5SDNC2

— NBA Legion (@MySportsLegion) July 6, 2013
Rovell has a theory on said avatar. Apparently while we were all white-knuckled and waiting for his decision, Howard was merely waiting for someone to perfect the Howard-to-Houston jersey ratio:
Guess while we were wondering if Dwight was going back to the Lakers, he was waiting for someone to photoshop his avatar?

— darren rovell (@darrenrovell) July 6, 2013
Throughout the D12 recruitment process, plenty of celebrities came out and gave their opinions on where the big man should play basketball. None of them resonated quite as well as rapper Slim Thug, who wasn't exactly concerned about the X's and O's the Houston coaching staff could give.
Let's just say the Houston rap legend was more concerned about the NSFW entities his city could provide. Ethan Strauss of ESPN.com noted on Twitter that perhaps we should already be giving Slim Thug some strong consideration for Executive of the Year:
Slim Thug for Executive of the Year?

— Ethan Strauss (@SherwoodStrauss) July 5, 2013
Something tells us that Rockets general manager Daryl Morey—the man who executed perhaps the greatest 12 months for a team executive in NBA history—wouldn't be so thrilled about that. Then again, as Grantland's Bill Simmons points out, perhaps Morey is too busy having his Rocky moment to even care:
Footage of Dork Elvis getting the Dwight news. http://t.co/1sGqHI3Nmh

— Bill Simmons (@BillSimmons) July 5, 2013
Hmm, maybe Simmons' tweet wasn't actually in jest. Yahoo! Sports' Adrian Wojnarowski spoke with Morey after Howard's announcement and got the Houston general manager's initial reaction—if only there was a GIF of that moment:
Daryl Morey on reaction to Dwight Howard's phone call formalizing agreement. "I screamed," Rockets GM told Y! "I wasn't very presidential."

— Adrian Wojnarowski (@WojYahooNBA) July 6, 2013
ESPN's Jemele Hill also makes a great point, noting that this was a sour marriage from the beginning—one both sides were better off ending:
Seriously: Lakers and Dwight Howard didn't need each other. Dwight's reservations were legit & Lakers need a superstar they can trust.

— Jemele Hill (@jemelehill) July 6, 2013
Former Sports Illustrated writer Jack McCallum is already envisioning a scenario where this marriage goes south as well:
If I'm not mistaken, Dwight just complained that James Harden is driving too much, keeping him from getting space on the block.

— Jack McCallum (@McCallum12) July 6, 2013
Coming to Houston is supposed to help alleviate the spotlight from Howard. He's now away from the bright lights of the Staples Center and seemingly in a better place to win. ESPN's Michael Smith claims that there's going to be a more pressure on him to do that now than ever before.
Leaving LA actually puts even more pressure on Dwight to deliver.

— Michael Smith (@michaelsmith) July 6, 2013
We'll just have to see if Howard made the right decision.
Follow Tyler Conway on Twitter: