The early exits of Rafael Nadal and Roger Federer opened up the Wimbledon draw for No. 1 seed Novak Djokovic and No. 2 seed Andy Murray to traverse the field without much resistance.
Sort of.
Both competitors experienced their share of late-round scares in the tournament—Murray needing a two-set comeback to defeat Fernando Verdasco and Djokovic pulling out a thrilling five-set instant classic against Juan Martin Del Potro to secure his finals berth. While Murray and Djokovic weren't challenged much prior to those matches, neither player was simply handed a finals appearance.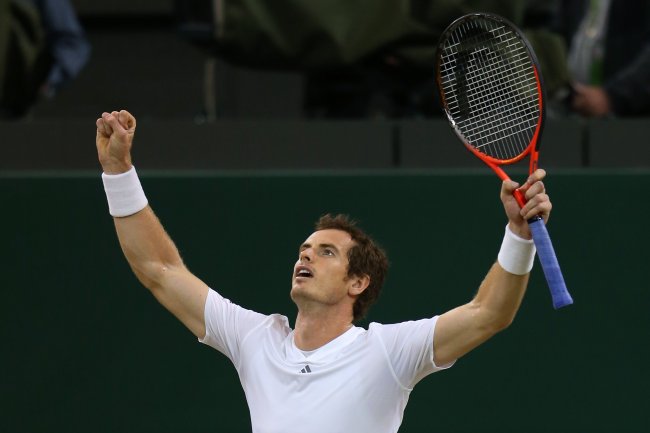 Julian Finney/Getty Images
But Djokovic and Murray also needed a test to prepare for their matchup on Sunday. In what should prove to be a Wimbledon championship for the ages, those late-round matchups could make all the difference.
Let's take a look at each player's tournament run to this point and highlight the key contests that will give the pair a great deal of confidence heading into the championship match.
Novak Djokovic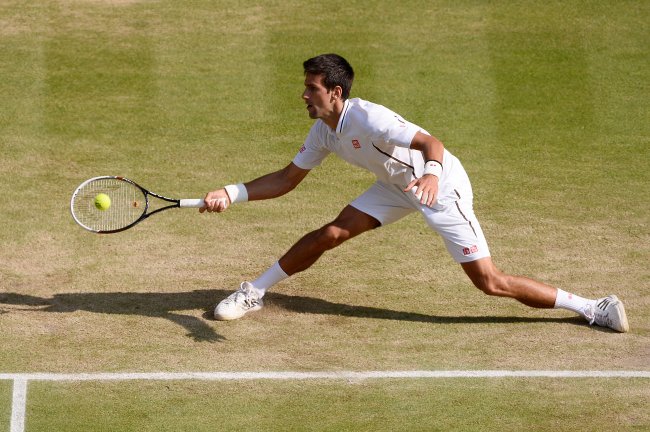 Dennis Grombkowski/Getty Images
Five matches, 15 sets, five victories. Djokovic was absolutely tremendous through the quarterfinals at Wimbledon.
In those first five matches, the Serbian bested a couple very capable challengers in No. 13 seed Tommy Haas and No. 7 seed Tomas Berdych, but it was his semifinals clash that will set the tone for Djokovic's finals performance.
On Friday, the world No. 1 went toe-to-toe with No. 8 seed Juan Martin Del Potro and escaped in five grueling sets in truly exciting fashion. Del Potro put up a remarkable fight, but Djokovic's intensity, tenacity and unwavering focus were simply too much.
Djokovic out-aced the powerful service specialist 22-4 in that contest, highlighting how well-rounded he has been throughout the tournament. There isn't a facet of Djokovic's game that hasn't been in top form.
Against Haas in the round of 16, the 26-year-old's focus seemed to waiver for a period in the second set and again in the third when Haas battled back to force a tiebreak. In that span, Djokovic also looked frustrated and slightly tired—two shortcomings that wouldn't resurface in his two ensuing matches.
With six impressive wins under his belt and the confidence of escaping perhaps the best match of his career—as he alluded to in this Wimbledon tweet—Murray will have a hard time stopping Djokovic on Sunday.
#Djokovic: "Credit for him for fighting and coming up with some big forehands. Was a v.high level of tennis today. Managed to stay tough."

— Wimbledon (@Wimbledon) July 5, 2013
#Djokovic: "It was one of the best matches that I have been a part of. One of the most exciting definitely.Was so close really." #Wimbledon

— Wimbledon (@Wimbledon) July 5, 2013
"Staying tough" may be the most important aspect of his semifinals victory. Despite a couple setbacks in the fourth set, Djokovic remained focused and poised in the face of adversity. He willed himself to victory.
Murray may have the home crowd on his side, but it won't be an easy test.
Andy Murray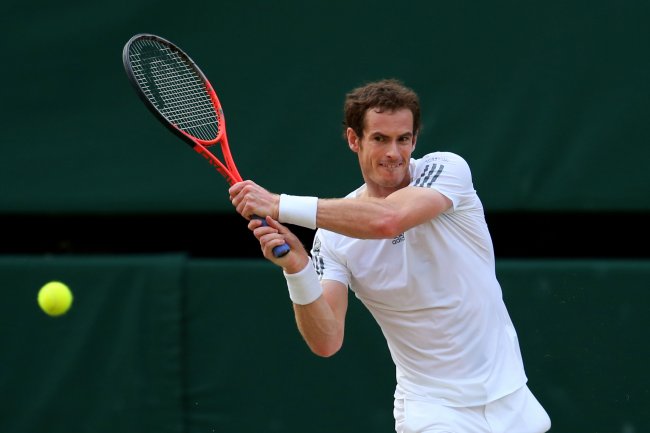 Julian Finney/Getty Images
Like Djokovic, Murray traversed the first four rounds of the tournament with very little resistance, winning each contest in straight sets.
But unlike Djokovic, Murray faltered in the quarterfinals against an inferior opponent. If not for a late rally down two sets, the world No. 2 would be watching the finals from the stands.
The unseeded Verdasco gave Murray everything he could handle, and the result was some frustration and anxiety on the part of Murray. As he noted in this Wimbledon tweet, Verdasco's service game was a lot to overcome:
#Murray: "(Verdasco) really went for it. He served extremely well. Wouldn't say I was surprised at pace he served. Serving well all tourn."

— Wimbledon (@Wimbledon) July 3, 2013
Djokovic's serve has been tremendous, and if Murray hopes to become the first British player to win Wimbledon in 77 years, he'll have to avoid the same mistakes he made in the quarterfinals.
Make your pick for the Wimbledon finals.
The semifinals were a different story, though, and Murray should have plenty of confidence heading into the finals.
Jerzy Janowicz took the opening set of that contest via tiebreak to turn the screws on Murray, but the No. 2 seed battled back with a decisive 6-4 win in the second set. Following an early-set scare in the second stanza, Murray again came barreling back to win 6-4 and set up a strong 6-3 finish to close out the match.
It wasn't a five-set showdown like we saw in Djokovic's semifinals tilt, but Murray did manage to overcome some early adversity to notch the win. As he explained after the match, it was the hardest contest he's participated in at Wimbledon:
#Murray: "Obviously delighted with that. V.tough match. More difficult than any match I've played here." #Wimbledon pic.twitter.com/JelIMzA1vA

— Wimbledon (@Wimbledon) July 5, 2013
If both players truly are coming off the hardest matches of their Wimbledon careers, they should be prepared for a hard-fought battle on Sunday. Murray and Djokovic have been tested enough to this point to be ready for nothing less.