It wasn't easy, but world No. 1 Novak Djokovic eluded heavy-hitting Juan Martin del Potro in the semifinals in five sets to secure his second Wimbledon finals berth.
Djokovic was the favorite to win the match, but it was to be expected that Del Potro would put up a tremendous fight. The No. 8 seed had no reason to hang his head following the loss.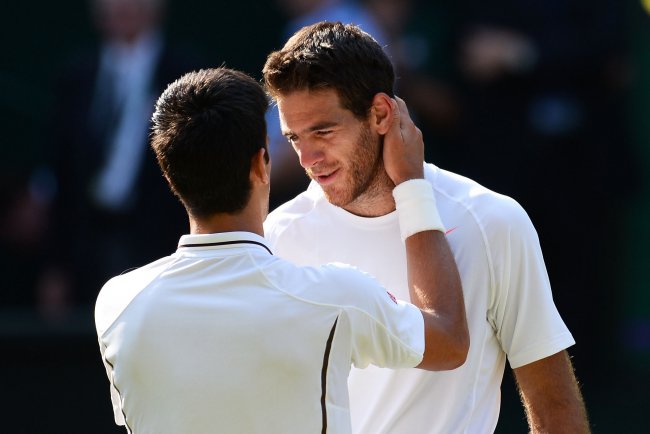 Mike Hewitt/Getty Images
As ESPN Tennis noted during the contest, Djokovic and Del Potro battled it out in the longest match in Wimbledon semifinals history:
Current match time: 4 hours, 3 minutes. Longest semifinal in @Wimbledon history. Watch now on ESPN

— ESPNTennis (@ESPNTennis) July 5, 2013
While match length isn't a true indication of quality, there's no denying the intensity both players showed, providing the excitement one would expect from two exceptionally talented players in pursuit of a Wimbledon title. It was a classic display of versatility, skill and mental acuity.
Del Potro is left to reflect on those aspects as he looks ahead to his next tournament. Djokovic, on the other hand, will have a showdown in the final to prepare for.
As the Serbian prepares for one final obstacle in his pursuit of a second Wimbledon title, he'll likely do so reflecting on what he has done well to this point—which, to be honest, covers nearly every facet of the game.
Let's take a look at a couple key areas in which Djokovic excelled against Del Potro ahead of his final showdown of this year's tournament.
Service Game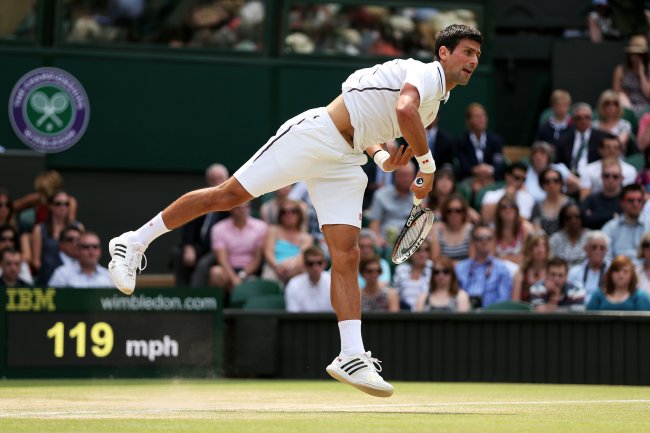 Clive Brunskill/Getty Images
There really isn't an area in which Djokovic needs to improve based on his tournament run to this point. He has had short moments of fleeting fitness and lapses in focus, but as a whole, there's nothing he is in desperate need of fixing.
Nothing was more true on Friday.
Will Novak Djokovic win his seventh Grand Slam title at Wimbledon this year?
Djokovic was superb in his demanding five-set win against Del Potro, finding his rhythm in the return game against a powerful hitter, prolonging points he easily could have let slip away and clearly showing no desire to give in.
But perhaps the most impressive aspect of his performance was how well Djokovic was serving. In a match many thought Del Potro could steal with his tremendous serve, it was the Serbian who out-aced his opponent 22-4 and kept Del Potro on his heels all match.
Del Potro was terrific and has no reason to think otherwise—the world No. 1 was simply in top form.
If Djokovic can continue serving with elite power and accuracy in the final, there's no reason to believe he won't notch his seventh Grand Slam victory on Sunday.
Tenacity and Confidence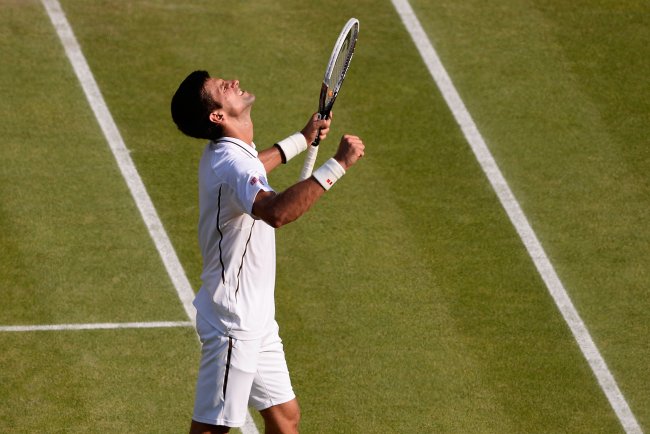 Dennis Grombkowski/Getty Images
Statistics only go so far. At its core, Djokovic's semifinals win was all about grit and determination.
The 26-year-old never backed down in the face of the challenge, despite Del Potro's best efforts to close out time and again. Even after dropping a heartbreaking fourth set he could have won, Djokovic rallied in the fifth with the intensity one would expect from the top player in the world.
Djokovic's confidence hasn't wavered throughout the tournament. As he noted following the match, his win over Del Potro was one of the best matches he's ever been a part of, as quoted by Wimbledon's Twitter feed:
#Djokovic: "It was one of the best matches that I have been a part of. One of the most exciting definitely.Was so close really." #Wimbledon

— Wimbledon (@Wimbledon) July 5, 2013
There's certainly no denying that point. Djokovic did everything he had to do to pull out the victory, and the hard-fought win will only contribute to his confidence in preparing for the final.