Ranking Jrue Holiday's 5 Most Dangerous Offensive Moves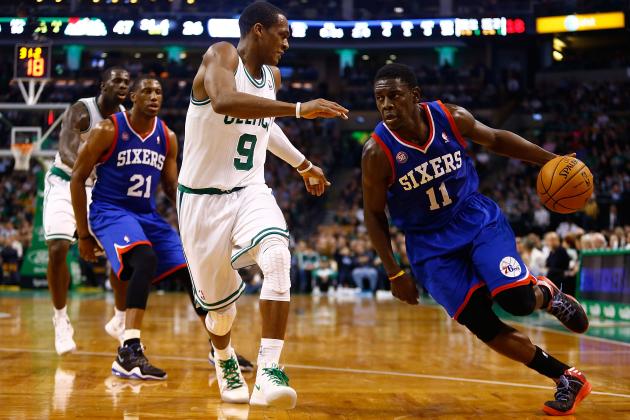 Jared Wickerham/Getty Images
Jrue Holiday will be taking his talents from Philadelphia to New Orleans next season
Throughout his first four years in the NBA, Jrue Holiday has established himself as one of the best point guards in the league.
With his tight handle, quick dribble, dazzling moves and needle-threading assists, there's no wondering why his 2012-13 season earned him his first career All-Star selection.
On June 27, the Philadelphia 76ers sent Holiday off to the New Orleans Pelicans in exchange for sixth overall pick Nerlens Noel and a 2014 first-round draft pick. It was a shocking move for most around the league, but there's no doubting that the Pelicans received their point guard for the present and future.
Here's my list of Holiday's top five offensive moves that Pelicans fans can expect to see for years to come.
Begin Slideshow

»
If there's anything that Holiday has become known for so far in his time in the NBA, it's his crossover.
As he displays here on Detroit's Brandon Knight, Holiday's crossover can be lethal.
Granted, we must give Knight the benefit of the doubt that his feet may have been tangled with those of Spencer Hawes. But still, Holiday's crossover clearly fooled Knight and mixed up his footwork.
As shown in this video, when Holiday pulls off his trademark crossover, it will likely lead to two easy points, as well as a fair share of embarrassment for the defender.
Not only can Holiday be lethal on the dribble, but he's also shown that he can be just as deadly in the air.
This nice finish against the Orlando Magic shows just that.
As Holiday enters the paint, he encounters two Orlando defenders. In fact, at one point in the video, you can see all five Magic players in the paint trying to defend Holiday.
However, instead of kicking the ball out to a teammate for an easy three-pointer, Holiday decides to attack the rim.
Using a beautiful double-clutch move in the air followed by a gorgeous scoop layup, Holiday scores and looks good in the process.
Although Holiday can be dazzling and sometimes magical in his dribbling, he shows his assertiveness in this play, followed by a little finesse in his finish.
As shown here, Holiday has no problem in going up against one of the elite players in the NBA.
When facing Russell Westbrook, arguably a top-three point guard in the league, Holiday treats him like an average player with this pretty behind-the-back move.
With three seconds remaining on the shot clock, Holiday has no option but to take Westbrook one-on-one. Holiday starts out on his favored right hand, then completely fakes out Westbrook with a dazzling behind-the-back move onto his left hand.
To finish it off, Holiday completes the move with a scoop layup off the glass for an easy basket.
With this move, Holiday takes one of the league's best players in Westbrook and turns him into a world of embarrassment.
So far, we have seen Holiday's athleticism and finesse. Now, it's time to see his power.
Not many people can say that they have dunked on the world's best basketball player. With this move, Holiday can say he has.
After evading three Miami Heat players—Mario Chalmers, Chris Bosh and Dwyane Wade—Holiday finds himself in the paint coming up against LeBron James.
However, instead of backing down against the 6'8", 250-pound superstar, Holiday takes him on and gets rewarded for it.
With this dunk, Holiday sends the Philly crowd into a frenzy, as he should. Not many players are lucky enough to have speed, athleticism and power, but this move shows Holiday has all three.
Sticking with the embarrassment of Miami Heat defenders, Holiday sure does accomplish that with this move.
After first crossing up one of the league's best players in Wade, Holiday makes Bosh look like a statue with one of the nastiest spin moves in the league.
Over the years, Holiday has proved that his signature move may well be this spin move. As seen here, it is a move that can prove to be absolutely devastating for defenders. It is a potentially ankle-breaking move and one that could end up on SportsCenter's Top 10 plays the next day.
And most importantly, it's a move that the New Orleans Pelicans organization and its fans should get used to seeing for years to come.