Dwight "conflicting reports" Howard appears close to picking a franchise to suit up for during the 2013-14 season.
The star center has held the free-agent market captive since things opened up at 12:01 a.m. ET on Monday, meeting with the Houston Rockets, Golden State Warriors, Atlanta Hawks, Dallas Mavericks and Los Angeles Lakers about joining—or re-joining—their franchise.
Don't look now, but it appears the Warriors are heavy in the conversation to woo the 27-year-old to the Bay Area.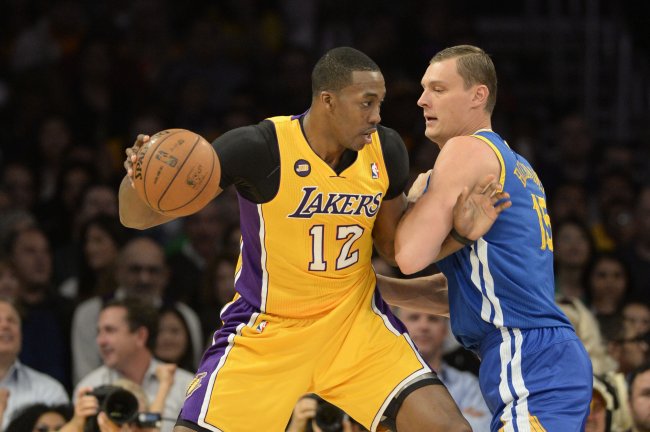 Richard Mackson-USA TODAY Sports
Per this tweet from Janis Carr of the Orange County Register, the world will know Howard's decision some time over the weekend:
Dwight has made his decision. Said he will announce his destination via Twitter possibly this weekend

— janis carr (@janiscarr) July 5, 2013
If Golden State comes out of Howard's mouth (or his Twitter account) as the decision, ESPN's Tim MacMahon thinks it would be the shock of the NBA offseason:
The Warriors ending up with Dwight Howard would be the biggest NBA stunner since the 2011 Mavs' title run.

— Tim MacMahon (@espn_macmahon) July 5, 2013
According to NBA columnist Mark Heisler, the Warriors were leading the chase for Howard on Friday morning:
#D12 update: 1. #Warriors, closing in on that max slot. 2. #Rockets… Honorable mention: #Mavs, #Hawks, #Lakers… http://t.co/NqHkTujeDb

— Mark Heisler (@MarkHeisler) July 5, 2013
Heisler also notes that the Warriors have done their due diligence in finding potential takers for three of their biggest contracts (Richard Jefferson, Andrew Bogut and Andris Biedrins). By moving two of the three in trades, a sign-and-trade with the Lakers would no longer be necessary to sign Howard:
Source: #Warriors are expected to get #D12's max slot by packaging expiring deals w/No. 1 picks... If that's all Dwight needs, he's theirs.

— Mark Heisler (@MarkHeisler) July 5, 2013
That being said, it might still happen (per Heisler):
Sources: #Warriors want S&T to keep JJack--so they'll dump Biedrins, RJ first, showing #Lakers they can do it w/o them just by dealing Bogut

— Mark Heisler (@MarkHeisler) July 5, 2013
Sources: If it's clear #Warriors don't need S&T for #D12's max, they'll get #Lakers' best offer: Maybe Barnes but not Klay, Bogut, No. 1.

— Mark Heisler (@MarkHeisler) July 5, 2013
This tweet from ESPN's Bill Simmons is pure conjecture, but it's another interesting situation to monitor if the Lakers and Warriors end up negotiating a deal to trade pieces and send Howard to Golden State:
PS: Don't be surprised if Nash (expiring in 2015) ends up in a GSW/Howard sign-and-trade, would give Lakers even more 2014 cap space.

— Bill Simmons (@BillSimmons) July 5, 2013
CBS Sports' Ken Berger weighed in on the cap situation surrounding the moves it's going to take to clear max-contract space. He listed the Hawks, Cleveland Cavaliers and Utah Jazz as potential landing spots for two of those three contracts listed above.
Fox Sports Ohio's Sam Amico confirmed that Cleveland was one of the team's interested in relieving cap space and getting a future first-round draft pick from the Warriors:
Hearing rumblings Cavs have talked to Warriors about relieving some of that cap space in Warriors' pursuit of Dwight Howard.

— Sam Amico (@SamAmicoFSO) July 5, 2013
That report falls in line with what ESPN's Marc Stein listed as a trade partnership between the Jazz and the Warriors about sending Andrew Bogut back to the state in which he played his college ball:
Just added to ESPN's latest Dwight story: Sources say Warriors and Jazz have opened talks on trade that would send Andrew Bogut to Jazz

— Marc Stein (@ESPNSteinLine) July 5, 2013
Jazz have expressed strongest interest to date in Bogut, sources say. No surprise after Al Jefferson's departure and Bogut's college ties

— Marc Stein (@ESPNSteinLine) July 5, 2013
The Warriors have roughly $34 million invested between Biedrins, Jefferson and Bogut, but finding a home for each would be ideal to both prove to Howard that he's wanted and to clear cap space to avoid any kind of contact with L.A. about a sign-and-trade.
That being said, clearing cap isn't all about D12.
Per Berger's report, the Warriors are moving contracts around in an attempt to sign another max-contract guy this offseason should the Howard situation not go in their favor. One such player could be free agent wing Andre Iguodala, who played with the Denver Nuggets last year.
However, it's clear that Howard is Golden State's primary focus. That focus could lead to a deal for the big contracts on the roster before Howard's decision is final, which would signal a tip from the center's camp that he's made up his mind about coming to the Bay Area.
D12 appears to change his mind faster than many of us can blink, and at this point it wouldn't be a surprise to see any of the five teams he met with emerge as the suitor for his services.
Golden State was a dark horse at first, but by Monday morning Howard could be forming a new tandem with Stephen Curry at the top of the Western Conference contender list.
Follow Bleacher Report FC Ethan Grant (@DowntownEG) on Twitter.