The NHL free-agency period is heating up fast as players are seemingly signing left and right this July.
Friday marks the first day that teams can offer contracts and players can sign, setting the stage for a whirlwind stretch of player movement. And with a number of notable names having already agreed to new deals, some changing locations in the process, the list of available talent is shrinking quickly.
Here we'll break down some of the latest free-agency buzz around the league.
Detroit Red Wings Close to Landing Stephen Weiss?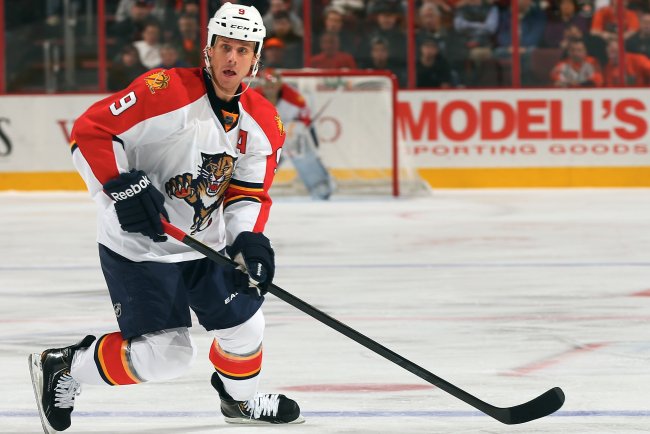 Elsa/Getty Images
The Detroit Red Wings have been very active in free agency this summer and are close to adding Stephen Weiss, according to MLive.com's Ansar Khan and ESPN's Pierre LeBrun on Twitter:
Wings are trying to work out a deal now with Stephen Weiss, who has been their primary target to fill second-line center spot.

— Ansar Khan (@AnsarKhanMLive) July 5, 2013
Wings still waiting to hear on Weiss to see if they got him or not

— Pierre LeBrun (@Real_ESPNLeBrun) July 5, 2013
Weiss only played in 17 games for the Florida Panthers last season, scoring just four points before suffering a season-ending wrist injury.
But the veteran center has been lighting up the league over the course of his NHL career. He scored a career-high 61 points in 2008-09 and scored 60 points the very next season.
In 2011-12, he had 57 points in 80 games while leading the team to the Stanley Cup playoffs.
At age 30, Weiss would be an ideal center on Detroit's second line. A team that came one win away from a berth in the Western Conference Final, the Red Wings are seemingly doing everything they can to return to the top next season.
Damien Brunner and Craig Adams Hit the Market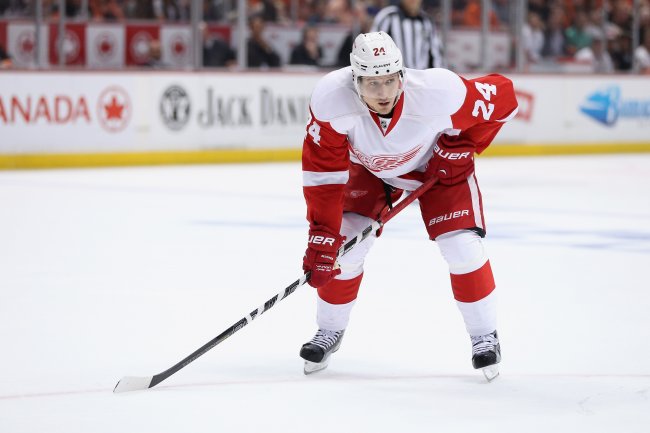 Jeff Gross/Getty Images
Detroit Red Wings center Damien Brunner and Pittsburgh Penguins right winger Craig Adams will both take to the free-agent market this summer according to ESPN's Pierre LeBrun on Twitter:
Damien Brunner and Craig Adams both hitting UFA market

— Pierre LeBrun (@Real_ESPNLeBrun) July 5, 2013
Brunner recorded 26 points in 44 games for Detroit last season and did well in the playoffs, leading the team with five goals in 14 appearances.
Just 27 years old, Brunner has a bright future in the NHL, playing previously overseas in the Swiss National League.
Meanwhile, Adams, who is 36, didn't play a huge role for Pittsburgh this past season, recording just nine points during the regular season and going unnoticed during the playoffs. Still, Adams can offer experience to a team looking for it this summer.
Chicago Blackhawks Searching for Backup Netminder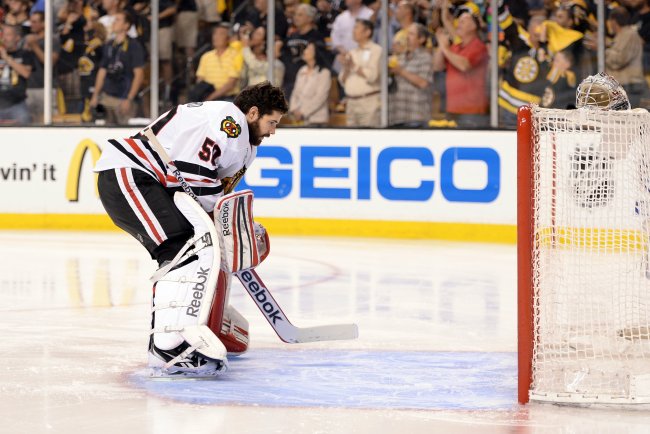 Harry How/Getty Images
Apparently the Chicago Blackhawks aren't all that confident in backup goalie Antti Raanta, the 24-year-old Finnish star who they signed last month according to ESPN's Craig Custance.
According to Custance on Twitter, the Stanley Cup champions are looking for another backup to play behind Corey Crawford in the absence of Ray Emery, who signed a one-year contact with the Philadelphia Flyers on Friday:
Even with Raanta on board, Blackhawks currently looking for a veteran backup for Corey Crawford to replace Emery.

— Craig Custance (@CraigCustance) July 5, 2013
The Hawks agreed to terms with Raanta in early June but clearly were hoping to hang on to Emery in order to head into 2013-14 with some depth in the crease.
Crawford was sensational during Chicago's impressive playoff run, but if he goes down for any significant amount of time next season, head coach Joel Quenneville is likely going to want someone with NHL experience at his disposal.
Follow Bleacher Report Featured Columnist Patrick Clarke on Twitter.