Analyzing Strengths and Weaknesses of the Red Sox's Top 5 Pitching Prospects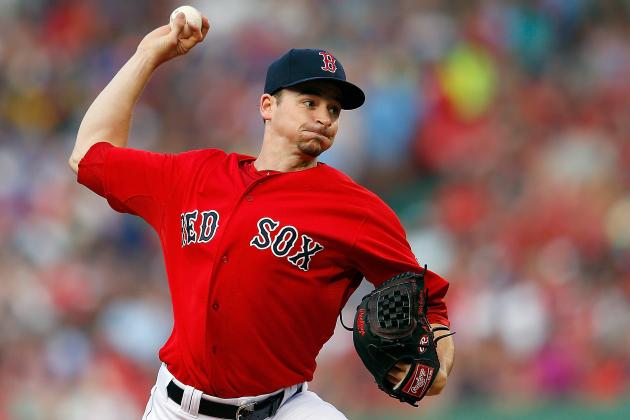 Jim Rogash/Getty Images
Allen Webster has already emerged from the Sox's farm system to make an impact in 2013.
The Boston Red Sox have totally restocked their farm system, which had been depleted towards the end of the Theo Epstein era due to trades and failed prospects. A combination of key trades, shrewd drafting and excellent player development has elevated the caliber of the Sox's pitching prospects as a whole, and indeed the MLB team has already benefited this season from this strong organizational depth.
Things have taken such a positive turn that SoxProspects.com now ranks six pitchers in the top 10 overall players in the Sox's farm system, a huge shift from recent years. Other than Felix Doubront, the Sox haven't introduced a full-time starter into the rotation for quite some time, but given the strong list of upcoming players, it seems that ignominious streak is nearing its end.
Let's take a look at the strengths and the weaknesses of each of the Sox's five best pitching prospects.
Begin Slideshow

»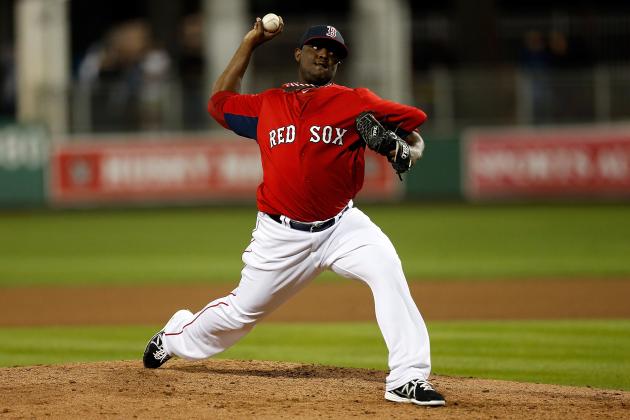 J. Meric/Getty Images

Strengths: Powerful fastball, strong changeup
Weaknesses: Health, slider consistency
The most MLB-ready of all the Sox's minor league hurlers, De La Rosa has already gotten a taste of the big leagues both in 2011 and in 2013. The 24-year-old is being babied along by the Sox, who have only had him throw 58.1 innings over his 15 starts thus far this season.
The strategy seems to be working, though, as De La Rosa was named to the International League All-Star team and appears to be a prime candidate to return to Boston at any time. He had pitched between five and six innings in four consecutive starts prior to a shorter stint his last time out, so it appears he is fully recovered from surgery and is now ready to help the big club.
Strengths: Curveball movement, size
Weaknesses: Command, physical build
Owens moved up to High-A ball this year and has had a strong season to date. In his 15 starts, he's posted a 2.91 ERA and struck out 90 hitters in just 77.1 innings. The Sox have to like that figure from the 20-year-old lefty, who has been working to improve his overall command after posting a less-than-stellar 1.45 WHIP last season.
One of the Sox's several huge starter prospects (he's 6'7"), Owens only figures to get better as he adds a bit more size to his 200-pound frame. While he certainly needs more minor league seasoning, there's a lot of promise here so long as he continues on his current upward trajectory.
Strengths: Curveball, minor league success
Weaknesses: Fastball consistency, health
Ranaudo has been the breakout star of the Sox's minor league system this year, rebounding after a tough 2012 to post dominant numbers in Double-A Portland. The 6'7", 230-pound right-hander has posted a 2.68 ERA with 91 strikeouts over 84.0 innings thus far in 2013, leading the Sea Dogs staff and beginning to fulfill the potential he displayed in his college days at LSU.
Ranaudo's biggest obstacle to MLB at this point is himself, particularly his health. He'll need to prove he can stay healthy for a full season before the Sox can get too excited about these wonderful early returns. If he does stay on the field, though, Sox fans can expect to see him in Boston before 2014 is out.
Strengths: Fastball velocity, mechanics
Weaknesses: Consistency, changeup deceptiveness
Perhaps the Sox's best pitching prospect, the Connecticut-born Barnes has hit a bit of a speed bump since opening the season with Double-A Portland. While Drake Britton and Anthony Ranaudo have grabbed the spotlight from the right-hander, Barnes continues to make steady improvement, and at 23 years old has the benefit of youth on his side.
While his struggles with runners on base are a concern, Barnes is also gaining valuable experience by learning to make the in-game adjustments he'll need to master to compete at the MLB level. The Sox certainly haven't lost faith in him, and given that he only has 67.2 career innings at Double-A under his belt, fans shouldn't either.
Strengths: Size, fastball velocity
Weaknesses: Lack of secondary pitches, inexperience
Taken at No. 7 overall by the Sox in the 2013 MLB draft, Ball is a left-hander with a lean frame and huge potential. He only just turned 19 and has tantalizing potential given that he can already top his fastball out at 95 MPH.
Because he didn't throw much off-speed stuff as a high schooler, Ball has a long way to go in terms of becoming a professional-caliber pitcher. However, the Sox's scouts are no fools; they would not have used such a high pick on someone unless they believed he could contribute at the top of the MLB rotation a few years down the road.