Ranking the 10 Biggest MLB All-Star Snubs of the Last 10 Years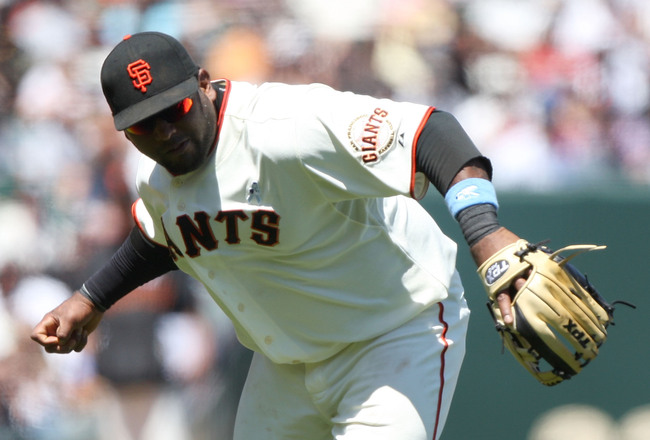 It took way too long for Pablo Sandoval to receive national recognition at the All-Star Game.
Jed Jacobsohn/Getty Images
Every season, Major League Baseball makes mistakes when assembling its rosters for the All-Star Game. In the last 10 years, actually, there have been plenty of blatant snubs on both the AL and NL sides.
So long as the selection process doesn't change, we'll always see deserving individuals left off.
MLB fans—many of whom are biased and/or ill-informed—vote on the starting position players, and they're allowed to do so dozens of times from multiple accounts. We have seen Derek Jeter, Dan Uggla and countless others elevated to All-Star status in years when their first halves weren't exceptional.
Another rule requires all 30 teams to have at least one representative at the Midsummer Classic. That leaves fewer spots for the players whose accomplishments merit inclusion.
This article lists the biggest snubs from 2004-2013, ranking 10 overly-qualified guys based on their superiority to All-Stars who shouldn't have made the cut.
10. DH Edwin Encarnacion (Toronto Blue Jays, 2012)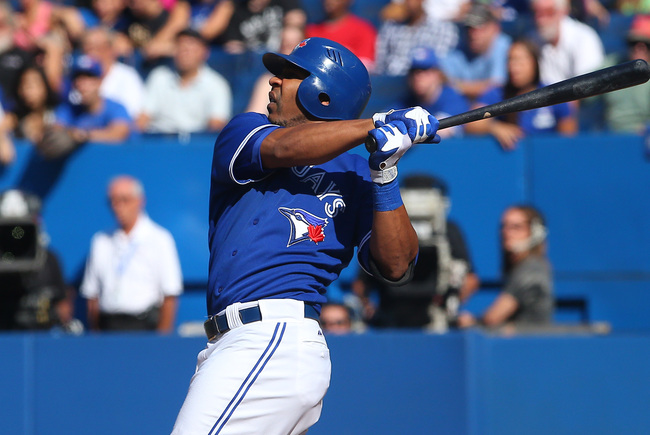 Tom Szczerbowski/Getty Images
From a competitive standpoint, it made no sense to snub Edwin Encarnacion from the 2012 American League squad.
His .947 OPS at the break was noticeably higher than that of Adam Dunn or Billy Butler, both of whom made the roster. Encarnacion also provided more defensive versatility at the infield corners, something that must be considered if the All-Star Game actually decides home-field advantage in the World Series.
We can continue nitpicking about baserunning and strikeout-to-walk ratio, but FanGraphs' WAR statistic illustrates the injustice on its own.
This AL leaderboard from the first half ranked Encarnacion at No. 15. You'll find Dunn and Butler on the second page at 36th and 48th, respectively.
Stats comparison
All-Star Billy Butler: .290/.361/.487, 16 HR, 52 RBI in 346 PA
Encarnacion: .295/.382/.565, 23 HR, 58 RBI in 356 PA
9. RHP Heath Bell (San Diego Padres, 2007)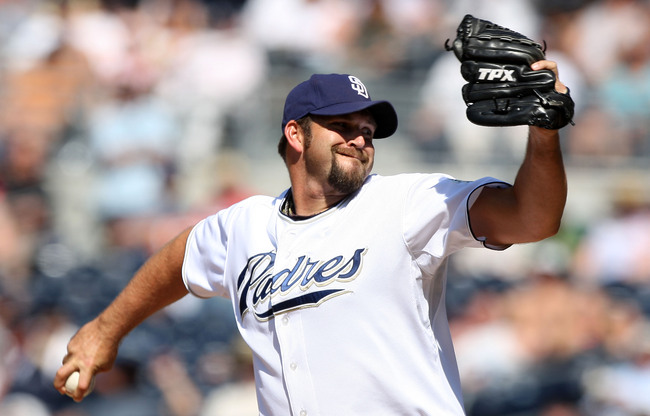 Donald Miralle/Getty Images
All six relievers included among the 2007 NL All-Stars ranked among the league's top eight in saves. That attests to how blindly we used to evaluate the worth of bullpen guys.
San Diego Padres setup man Heath Bell didn't make the cut, even though he pitched more innings than any of them with comparable quality. Four of those aforementioned relievers had higher earned run averages. Brian Fuentes, in particular, didn't fit in, surrendering a half-dozen home runs during the first half and performing barely above replacement level.
It just didn't seem right to let Trevor Hoffman on the team while rejecting the dominant right-hander who made his job so much easier.
Stats comparison
All-Star Brian Fuentes: 4.06 ERA, 2.82 K/BB, 20 SV in 37.2 IP
Bell: 1.78 ERA, 3.79 K/BB, 0 SV in 50.2 IP
8. RHP Johnny Cueto (Cincinnati Reds, 2012)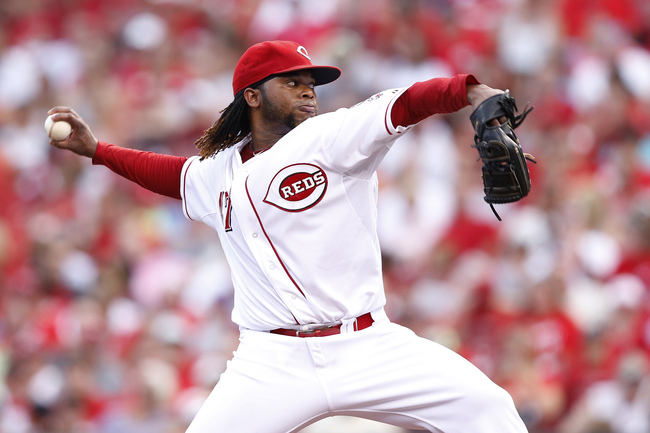 Joe Robbins/Getty Images
This escalated into a childish, yet compelling, story when Cincinnati Reds manager Dusty Baker told the Cincinnati Enquirer that Tony La Russa was purposely snubbing his stars (h/t Bernie Augustine of the New York Daily News).
Leaving Johnny Cueto out of the 2012 festivities did indeed look suspicious. Among NL starting pitchers, only R.A. Dickey reached the midway point with more complete games. In 120.1 IP, Cueto allowed just one stolen base (six caught stealing) and maintained an elite 2.39 ERA with home starts coming at hitter-friendly Great American Ball Park.
By comparison, several selections pitched significantly fewer innings with inferior command.
Stats comparison
All-Star Lance Lynn: 11-4, 3.41 ERA, 2.92 K/BB in 103.0 IP
Cueto: 10-5, 2.39 ERA, 3.37 K/BB in 120.1 IP
7. 2B Aaron Hill (Arizona Diamondbacks, 2012)
Norm Hall/Getty Images
Aaron Hill was supposedly over the hill when the Arizona Diamondbacks acquired him in August 2011.
He debunked that belief upon arrival, however, and continued to dominate the following season. Through three-plus months of 2012, Hill combined a .300/.355/.505 batting line with splendid defense at second base. The 30-year-old even had a pair of cycles before the All-Star break to serve as signature moments.
Fans deserve all the blame for his exclusion by reserving a spot for Dan Uggla, who finished the first half with a nauseating 8-for-81 slump. He and Hill were virtually tied in home runs, runs batted in and on-base percentage, but Hill held tremendous advantages in every other significant offensive category.
Perhaps American League fans selfishly swayed the vote, remembering how Uggla choked under the bright lights in 2008.
Stats comparison
All-Star Dan Uggla: .221/.351/.395, 12 HR, 45 RBI in 356 PA
Hill: .300/.355/.505, 11 HR, 40 RBI in 341 PA
6. RHP Takashi Saito (Los Angeles Dodgers, 2006)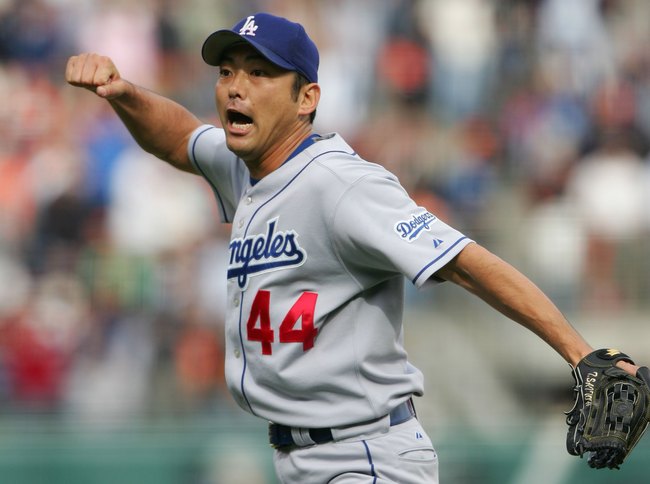 Jed Jacobsohn/Getty Images
Like Heath Bell (and many relievers before him), Takashi Saito was penalized because he didn't spend the entire season in the closer's role. He earned that responsibility in mid-May after a few too many Danys Baez implosions.
The 36-year-old rookie complemented a gaudy 12.21 K/9 with a polished 2.36 BB/9, but he suffered a mini slump at the worst possible time. Saito's stretch of 15 straight scoreless appearances ended during the first week of July when rosters were being finalized.
Even so, his absence from the 2006 All-Star Game is baffling in hindsight.
Stats comparison
All-Star Derrick Turnbow: 4.74 ERA, 2.09 K/BB, 23 SV in 38.0 IP
Saito: 2.14 ERA, 5.18 K/BB, 8 SV in 42.0 IP
5. SS Alex Gonzalez (Toronto Blue Jays, 2010)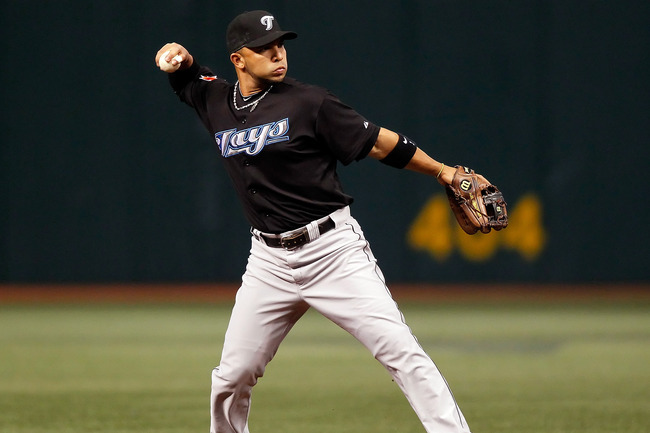 J. Meric/Getty Images
Alex Gonzalez finished a distant fifth place in fan voting at his position despite a remarkable first half.
Baseball-Reference.com valued him at 3.6 WAR, largely because of his 43 extra-base hits and 13 Defensive Runs Saved.
The American League only chose two shortstops: Derek Jeter and Elvis Andrus. Jeter made it as a fan-elected starter with eight home runs compared to Gonzalez's 17 and less effectiveness in the field, while Andrus entered the break with only a .683 OPS.
At 44-45 and double-digit games out of first place, Toronto traded Gonzalez to the Atlanta Braves on July 14, mere hours following the Midsummer Classic. We'll never know how an All-Star honor would have affected those negotiations.
Stats comparison
All-Star Derek Jeter: .274/.340/.392, 8 HR, 43 RBI, 9 SB in 404 PA
All-Star Elvis Andrus: .280/.361/.322, 0 HR, 25 RBI, 23 SB in 382 PA
Gonzalez: .259/.296/.497, 17 HR, 50 RBI in 328 PA
4. Josh Donaldson (Oakland Athletics, 2013)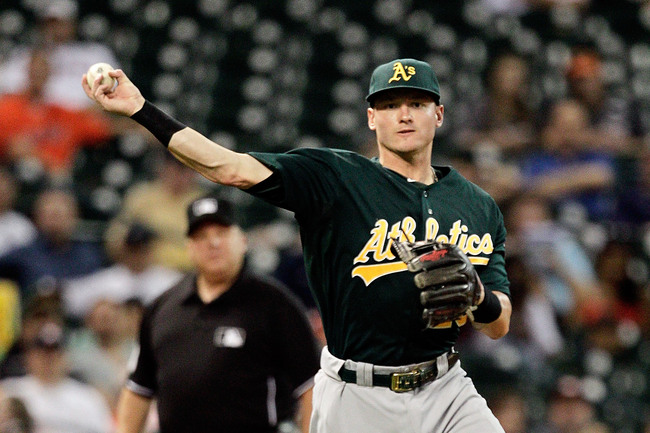 Bob Levey/Getty Images
Even Ben Zobrist finds his own selection surprising, according to Marc Topkin of the Tampa Bay Times.
The Oakland Athletics, with the second-best record in the American League, have only one member on the 33-man roster? That just ain't right.
Via Twitter, ESPN's Jayson Stark quantifies Josh Donaldson's production with runners on base and overall value. Zobrist pales in comparison.
Stats comparison (as of July 8)
All-Star Ben Zobrist: .262/.348/.375, 5 HR 45 RBI in 376 PA
Donaldson: .319/.388/.536, 15 HR, 57 RBI in 366 PA
3. 3B Pablo Sandoval (San Francisco Giants, 2009)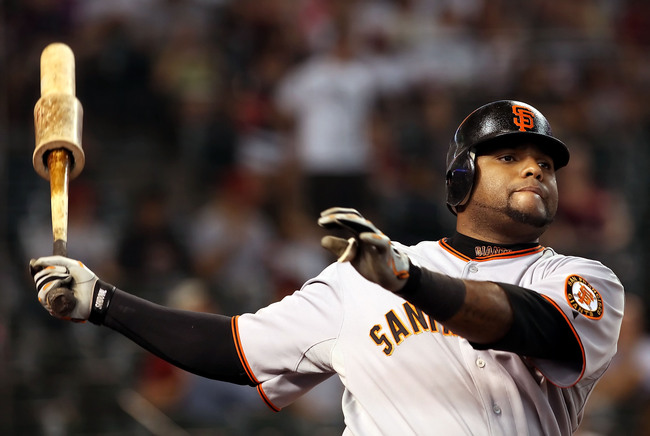 Christian Petersen/Getty Images
When Pablo Sandoval was abiding by a stricter diet in 2009, he performed as one of the best players in all of baseball. In a down year for NL third basemen, he seemed like a lock for the 2009 All-Star Game.
The 22-year-old batted .333/.385/.578 in the first half, including .394/.459/.745 during June. When you consider that most of the production came at cavernous AT&T Park, it's almost impossible to ignore.
So, what happened?
David Wright received ample fan support (the New York Mets weren't totally irrelevant...yet). Then, Ryan Zimmerman made the roster as the mandatory representative from the Washington Nationals, despite slumping from Memorial Day onward.
Most inexplicably, though, NL skipper Charlie Manuel used his authority to choose Ryan Howard as a reserve. With four first basemen, there wasn't room for Sandoval at the hot corner.
Stats comparison
All-Star Ryan Zimmerman: .288/.354/.473, 14 HR, 52 RBI in 387 PA
Sandoval: .333/.385/.578, 15 HR, 55 RBI in 335 PA
2. RHP Dan Haren (Los Angeles Angels, 2011)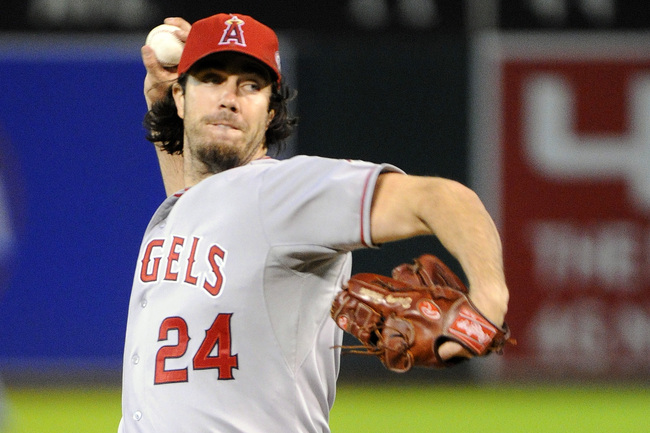 Thearon W. Henderson/Getty Images
This was the year when 84 MLB players earned the All-Star distinction.
Numerous American League starting pitchers—Justin Verlander, CC Sabathia, Felix Hernandez and James Shields—needed replacements after taking the mound on the final Sunday of the first half. There's no logical explanation for why Dan Haren didn't sneak in the back door.
He maintained a 2.61 ERA, 0.95 WHIP and .217 BAA. Moreover, the right-hander boasted the best strikeout-to-walk ratio among qualified rotation members while logging the sixth-most innings in the AL.
Maybe Los Angeles Angels ace Jered Weaver overshadowed him, or maybe Ron Washington of the Texas Rangers preferred to reward his own players over Haren, a division rival. It must have been a mix of both.
Stats comparison
All-Star Alexi Ogando: 9-3, 2.92 ERA, 3.39 K/BB in 104.2 IP
Haren: 10-5, 2.61 ERA, 5.75 K/BB in 134.1 IP
1. 1B Paul Konerko (Chicago White Sox, 2004)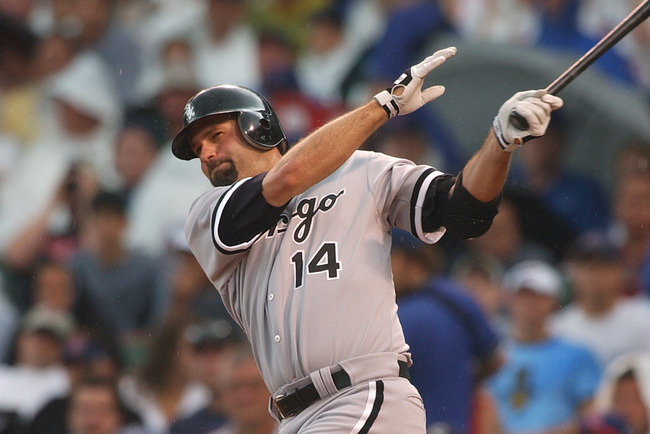 Jonathan Daniel/Getty Images
Jason Giambi epitomized inconsistency throughout the pre-All-Star break portion of the 2004 summer.
He enjoyed brief periods of dominance in early April and early May, hitting bombs and drawing walks with regularity. On the other hand, he spent just as much time sidelined. A sprained ankle sent him to a disabled list, and then an intestinal parasite robbed him of several games in late June.
Overall, Paul Konerko crushed him in the triple-slash categories, .296/.384/.567 to .241/.377/.439. He launched twice as many home runs and wasn't quite as terrible as Giambi at first base.
Fans subconsciously punished Konerko for his frustrating 2003 campaign while propping up Giambi because of his team's success and prominence.
At least everything else worked out for the Chicago White Sox icon. He would go on to become an official captain and world champion (and earn five more All-Star selections).
Stats comparison
All-Star Jason Giambi: .241/.377/.439, 11 HR, 35 RBI in 260 PA
Konerko: .296/.384/.567, 22 HR, 59 RBI in 328 PA
Keep Reading